As the host or admin of a group on Guild you can decide to make you group 'discoverable' or keep it hidden and private so that only those you invite in can find it. Following are further details on making your group(s) discoverable.
1. What are the benefits of making your group(s) discoverable?
If you want to grow the membership of your group then you should make it discoverable - you still get to vet and approve any prospective new joiners.
Your group has its own public landing page and URL that you can send prospective members to. Or you can embed the request to join link anywhere you want. Anyone, including existing members of your group, can share the URL of your group's landing page so that new members can find out more about your group and request to join.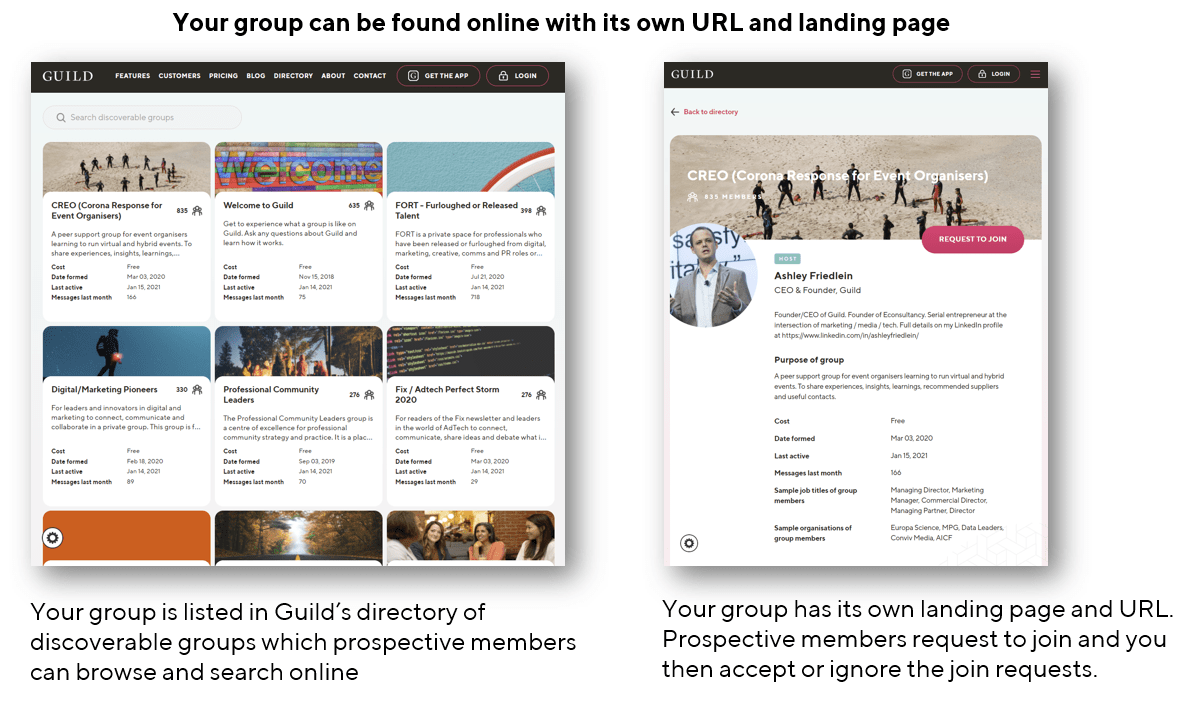 This also means that your group's page appears in Google's search results:

And your group can also be found, by browsing or searching in the 'Discover' tab of the Groups section, by any Guild member within the mobile or web app: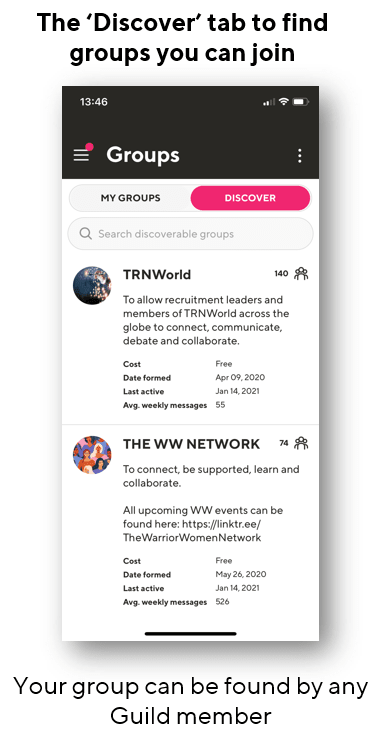 ---
2. How do you make a group discoverable?
By default groups are not set to be discoverable. But you can enable discoverability when first creating a group: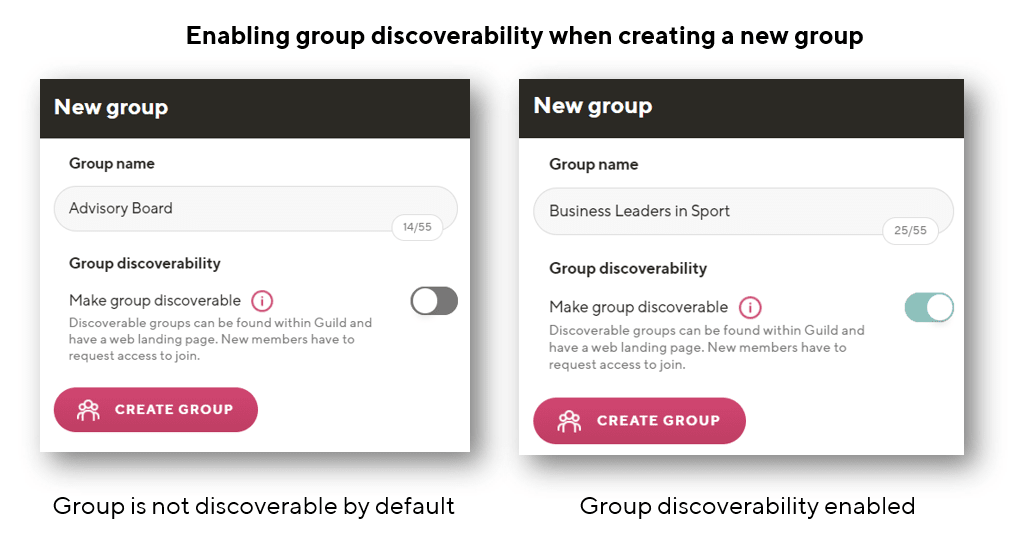 Or, once the group is created, you can enable or disable discoverability via the front end of the app as host/admins via the group info screen and 'edit group':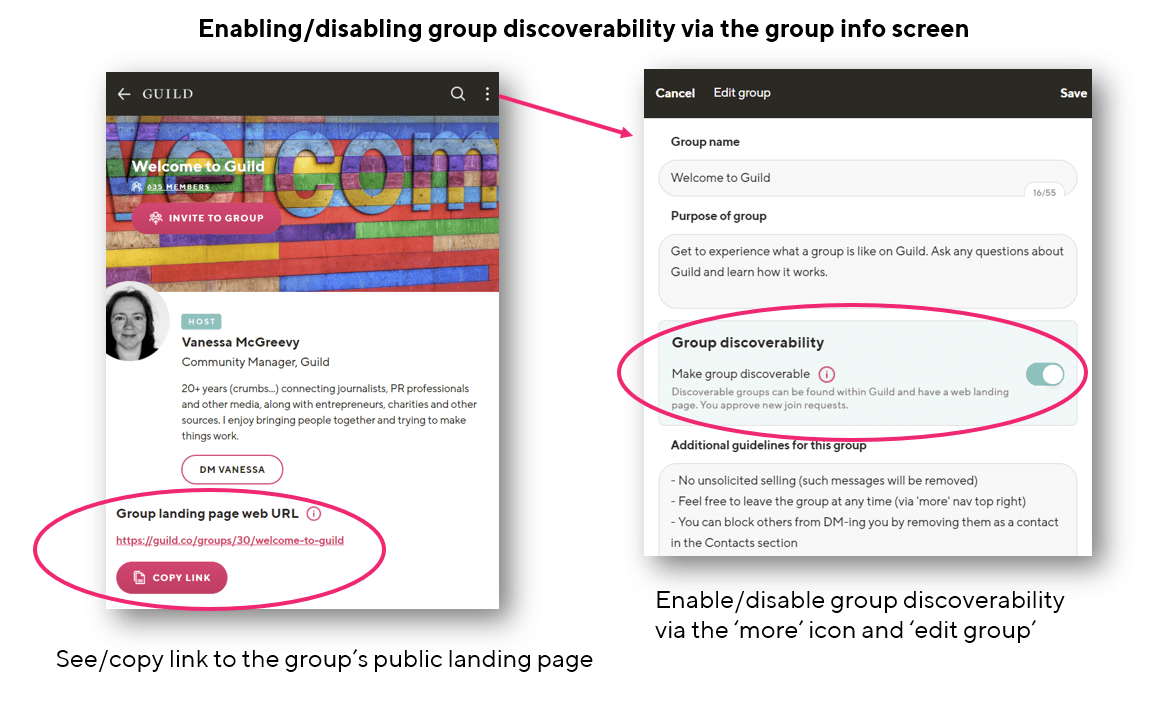 And, if you are an Admin on the account the group belongs to, you can also do this via the web admin: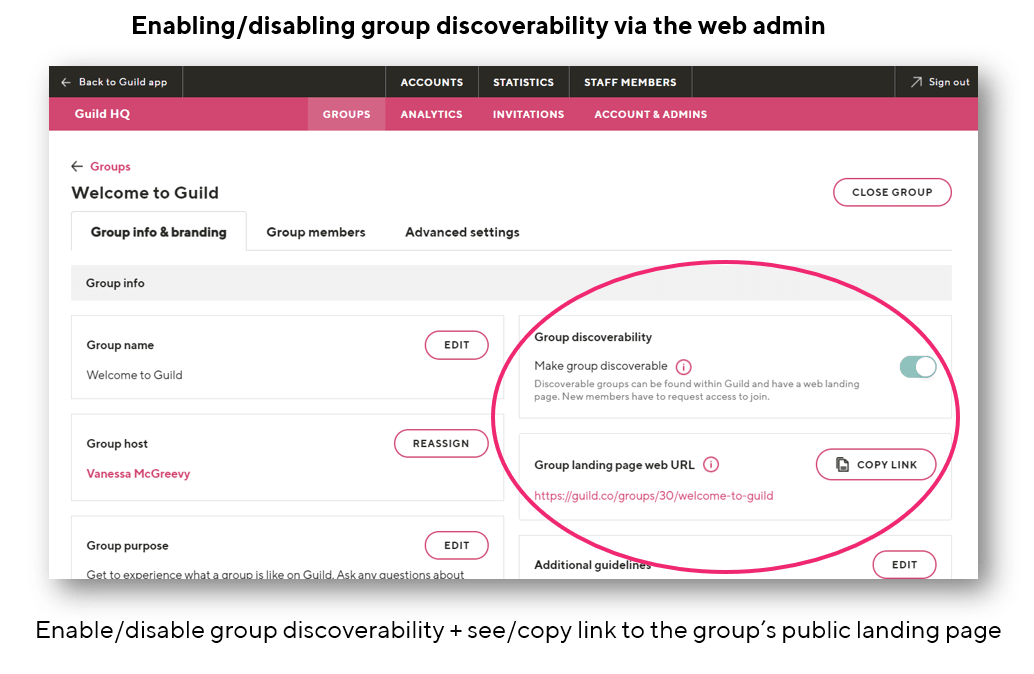 ---
3. Embedding the joining process in your own site or elsewhere
You can include a link for people who want to join your group wherever you want - on your website in a button or link, in an email, on social media etc.
To get your unique request-to-join link you should right click on the 'Request to join' button on the public page of your discoverable group in Guild's online directory to copy the link as shown: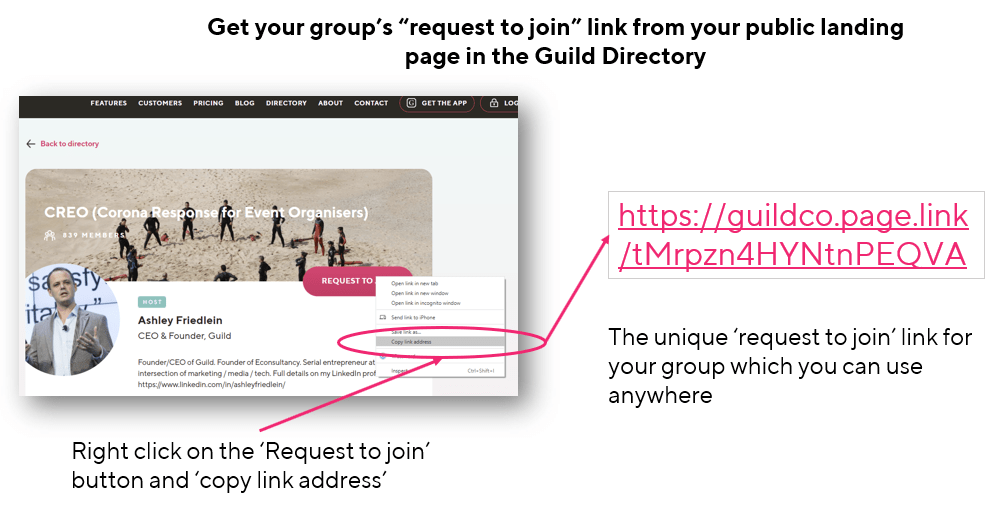 You can then embed this link wherever you want. People clicking on it will immediately send a request to join your group if they are already Guild members and logged in. If they are not then they will have to join Guild first - this is to help control quality and so you can see who they are before deciding whether to accept or ignore their join request.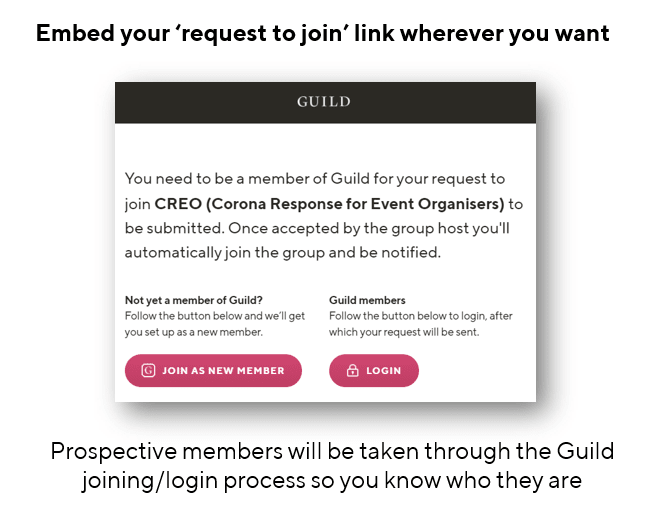 ---
4. How do you accept or ignore join requests for your group?
If you want new members to be able to join your group without going through an approval process then you can just publish your group's unique invite link. But then anyone with that link can join.
For someone to send you a join request to your (discoverable) group they must be a member of Guild. This is so that you can see their profile, by tapping/clicking their profile photo, before deciding whether to approve or ignore their join request.
If you are the host of a group, or an Admin on the account it belongs to, then you will see a section for 'Join requests' in the mobile or web app. A counter lets you know if there are any outstanding requests to action. Tap/click on this to see the requests and accept or ignore them.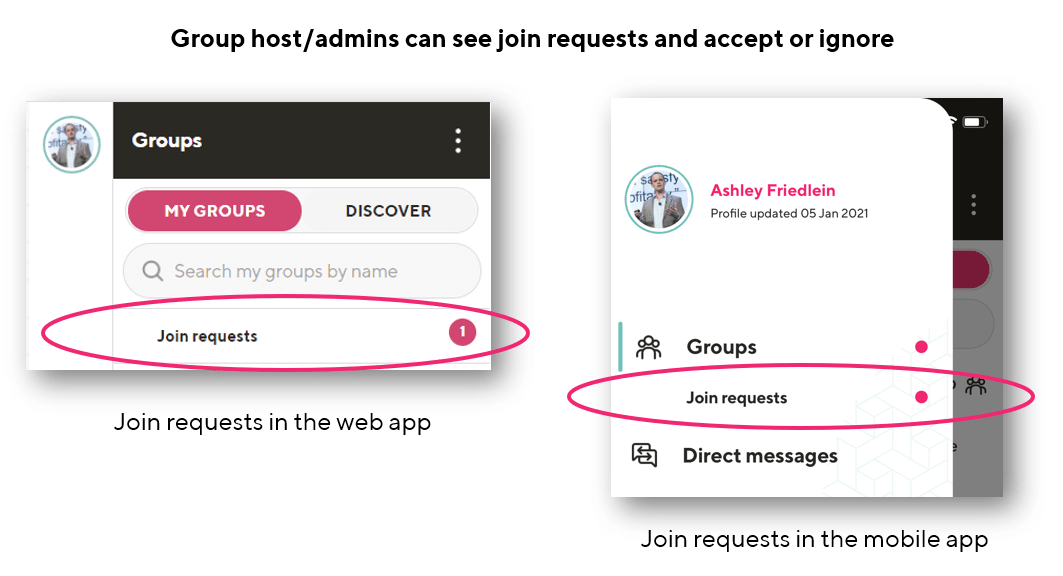 If you accept a join request the person is notified and immediately joins your group. If you ignore the request they are not notified but are able to resend the request again at a later date.
If you have multiple admins on an account, and possibly a group host who is not an account admin, then all those people (the group host + any admins in the group) will get the join requests for that group and actioned by whoever does so first. You cannot un-accept or un-ignore a join request.
---
5. How can you protect the quality of your group and vet new joiners?
If in doubt, we recommend you do not accept a join request and 'ignore' it instead. You can click/tap on the profile photo of the person requesting to join to see their profile and this may help you decide. You might even then look them up online, e.g. on LinkedIn, to check further.
You should set your 'Additional guidelines' for each group if there are specific eligibility criteria for joining it. You can do this in the "Group info & branding" tab for each group in the web admin or via the 'more' navigation (three dots top right) and 'edit group' in the mobile app.
Note that all Guild users must agree to the Acceptable Use Policy when they register. This includes the following requirements which you may also choose to enforce:
Users must be over 18yrs in age
Usage is for professional purposes only
Users must provide an identifiable photo of themselves
Spam and unsollicited selling and promotions are not allowed
If you accept someone into your group and then realise that they are not appropriate then you should remove them asap. You can remove group members via the "Group members" tab in the Groups section of the web admin, or via the three dots 'more' icon to the right of the member's profile in the list of members on the group info screen in the mobile app.
---
Join Guild 🤝
See for yourself how the Guild experience is different to WhatsApp, Slack, LinkedIn or Facebook Groups. Guild is a safe space to connect, communicate and collaborate with others.
Join us on a platform that is purpose-built for professionals and businesses.
Contact us if you want to know more or have any questions