How do we increase engagement within our organisation?
This is a common conundrum that leaves communication managers, marketers, HR directors and community managers perplexed - and it's a question that we are currently trying to unpack at Guild.
Since launching in November 2018, we have accumulated over 1,500 Guild users, which according to the laws of statistical theory, provides us with a rich dataset that allows us to draw some interesting evidence-based conclusions from. So we took the liberty and did some investigating.
"Community practitioners"
As "community practitioners", we have identified a number of variables that we believe influence levels of engagement. Some of these components we take from face-to-face 'human' interactions, including: how active a host is and how acquainted the community members are. Others we draw from digital marketers such as relevance of content.
We also realise that there will always be variables that affect engagement that are out of our control, so we split up the components of engagement into two different areas: variables that we can control and others we can't.
Honing in on the variables that can be controlled, through data analysis, we explored just how much these variables affect engagement levels as a collective, independently and how they might interact with each other. Using the data, we have come to a better understanding of how to control and manipulate each of the variables to provide the best chance for our digital communities to thrive.
What's needed from a host?
A frequent and interesting question posed by many of our hosts is "how frequently do I engage within a group to drive engagement?", in other words, what is the relationship between host activity and group-level engagement. Using our data from 70 different organisations, we carried out a non-linear regression analysis which uncovered the relationship between host activity and group-level engagement. The results were interesting…
We identified that a host posting within a group displays decreasing marginal returns. More specifically, that after eight messages sent per month – that's two messages per week – group-level engagement begins to fall (see graph below).
As evidenced by the data, to gain the highest level of engagement within a group setting, posting two times per week is optimal. Any more than this and engagement dips.
It is clear that value trumps volume.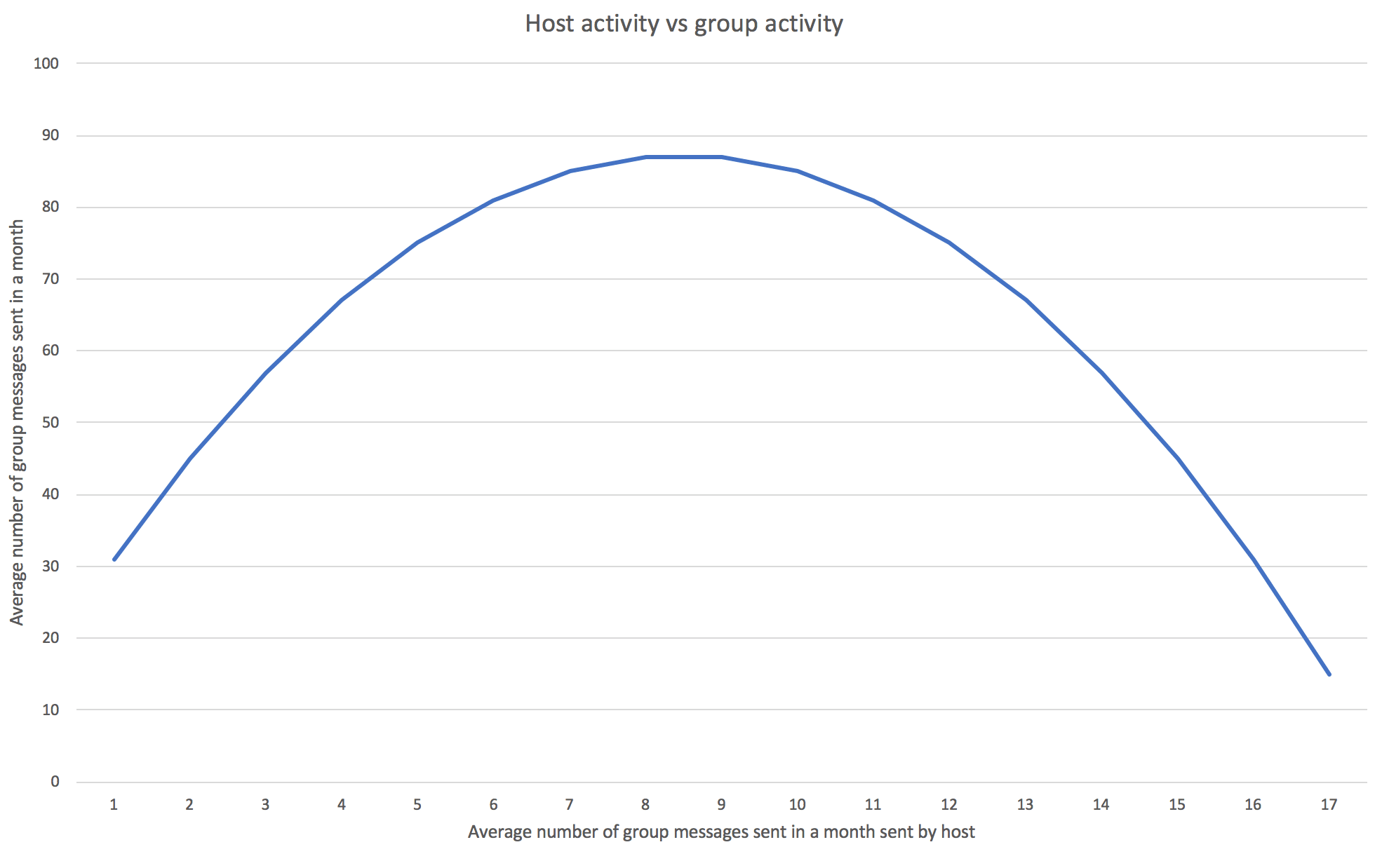 Value over volume
At Guild, we have maintained an overarching ethos that champions value over volume. This analysis provides encouraging evidence to support our claims. As economic theory suggests, the less availability of supply, the more valuable the good or service will be - the same logic applies to Guild. The more messages are sent, the less valuable the messages feel to the recipient, leading to lower levels of engagement.
So, if you're a host, it pays to interact with the group, but be cautious not to over-post as this might reduce engagement!
Try Guild now for free 🙂
Guild is free to use up to 30 members, across as many groups as you want. Just click on 'Start Free' on the Basic Plan on our pricing page now to set up your free account and start inviting people in. Contact us if you want to know more or have questions.