Inside Out started out as the In-House Design Awards, launched in 2013 to recognise the skills of in-house creative teams. Founder Emma Sexton realised that in-house teams needed a way to celebrate their unique challenges and contributions in a peer environment.
The awards were so successful that they led to a programme of other virtual and in-person events, including roundtables, coaching calls, power hours and breakfast clubs.
Events professional Sarah Halfpenny joined Inside Out to support the events programme. Emma and Sarah realised they had created a community that needed more ways to connect, continue and expand the conversations beyond the limited number of people who could participate in events.
They decided to formalise this with an online peer community on Guild and launched the Inside Out Hub in March 2022.
Sarah is the community manager and told us why Guild's intuitive yet sophisticated community platform was perfect for busy in-house creative professionals.


Why did you decide to form the Inside Out Hub and who's it for?
"The Inside Out Hub is for all in-house creative specialists – internal creative teams inside a brand, rather than creative agencies.
My colleague Emma had built several of these teams, and she knew first-hand the benefits they offered brands – they're able to collaborate and make and shape a brand from within. She also saw how the challenges they addressed differed from agency creatives and felt they deserved awards and recognition in a space of their own.
The in-house community was galvanised by the awards, and the events programme was a natural progression. They were having valuable conversations in coaching calls and breakfast clubs, sharing challenges, offering peer support, and building a genuine network. It filled a gap for creatives who had limited opportunities to meet and develop a culture of learning and belonging.
Building a community meant crucial conversations don't have to wait for a monthly meet-up.
We cap the number of people in our coaching groups and events to make ensure connections can be made and relevant conversations held. Because of this, not all our community have the opportunity to attend live sessions plus we often run out of time. There is always plenty more to share, so the Hub allows us to continue those conversations and open it up to the whole in-house creative leadership community."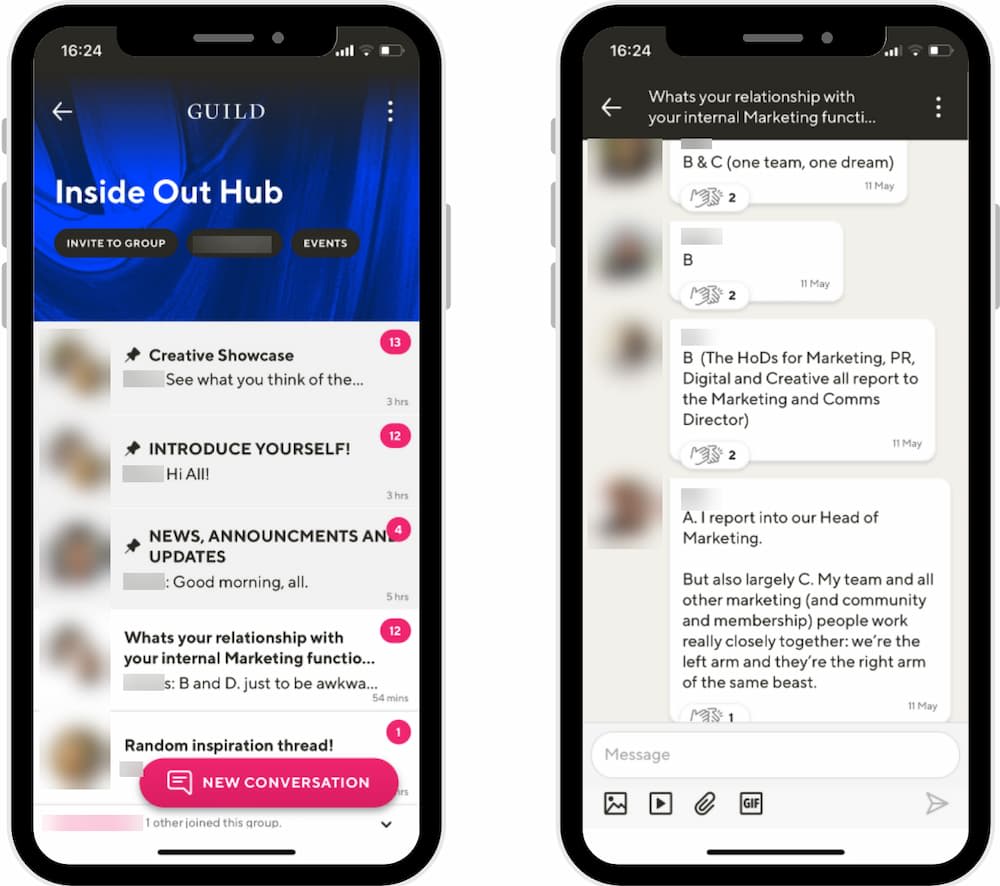 How did you start the Inside Out Hub on Guild, and what's your approach to community growth?
"We're taking a very curated approach to build trust and a real feeling of connection. We started with our breakfast club members as "Phase One", and then invited teams and heads of creative from new brands.
We invite all potential new members to a 1-2-1 conversation. It's not a vetting process but a chance for potential members to consider if they want to be part of an active community. We understand their role and challenges, so everyone who participates in these conversations finds them valuable.
The conversations for new members also form part of our onboarding process for the community – new members are ready to jump in with confidence. It builds a culture of trust and means the community feels confident to share challenges and advice. And it helps the existing community cohesion – when a new member joins, the community may not know them, but they know that they really want to be there, whether it's someone who needs support or can offer expertise.
I've seen other communities go quiet as they grow too fast and conversation threads cool down because people don't know who's listening. We're taking a slow approach, perhaps adding 2-3 members a month.
They're people who want to bring and share their expertise – we get a lot of people who lead senior teams and just want to support others and make their industry a better place. But they all share a humble, learning culture, so they are happy to share ideas and advice and discuss their own challenges."


What's the atmosphere like in the community?
"We're very cautious that there is no split by size or sector. Creatives in small businesses can connect with huge brands, and the private sector with charity.
We nurture cross-sector connection because not only do people have a lot more in common than they realise, but this diversity of thought makes it a really special place.
You never know who in the community might have the answer you're looking for – or how they will help you discover it.
One interesting thing is that we were worried that things might go quiet because we took this slow, deliberate approach to growth. It's the opposite. It feels like the community has matured and connected, and we found that conversations and excitement grew as people felt more confident about it being a tight-knit community.
I kept a document with all ideas to start conversations and sustain the community, but I found I didn't need it because the community had begun to find its own path.
It feels like we've curated the community membership, and that cohesion means the community curates its conversations.
We also realise that people are anxious about being busy, so there's no pressure to contribute with any particular frequency."


Why did you choose Guild as your community platform for the Inside Out Hub?
"We really like Guild as a community platform - it's super user-friendly. One big thing is that the joining process is so easy - nobody that we've invited has needed support to register and get started.
There are lots of useful features on Guild  – we love the detailed profiles, and direct messages are easy to use. The events calendar is intuitive and especially useful because events are important to our community. The next step is to try moving our breakfast clubs away from Zoom because we love Guild's built-in Video Rooms feature. It means our community can drop in and continue the conversation afterwards."

What's next for the Inside Out community?
"We want to become a trusted hub for our sector.
The community isn't about numbers but building a welcoming, thriving space where people can keep connecting and having conversations.
Not everyone has the luxury of time to attend events or to take an active role all the time, so we want to be there for in-house creatives when they need support or have time to give to others.
The Inside Out Awards story has gone from awards to year-round events with the breakfast clubs and coaching calls, and now we're turning into a community-first organisation where the events, awards, training etc., are part of the community membership rather than the other way around."

If you'd like to join the Inside Out Community, go to https://theinsideout.community/membership to find out more.


More peer community case studies on Guild
Media Entrepreneur Meetup builds networking community on Guild
Case Study: Anti-Racism Innovation Community
Agency Hackers build agency leaders peer-support communities in Guild
Like Minds connects business leaders and entrepreneurs with event community on Guild
Speciall Media builds community of practice for publishers and media owners on Guild
---
Join Guild 🤝

See for yourself how the Guild experience is different to WhatsApp, Slack, LinkedIn or Facebook Groups.
Guild is a safe space to connect, communicate and collaborate with others.
Join us on a platform that is purpose-built for creating groups, communities and networks on mobile.