Guild is purpose-built for professional communities, making it the perfect platform for sharing knowledge and connecting with peers.
---
Comparing Guild and Hivebrite
Hivebrite is an all-in-one community management and engagement platform, boasting tonnes of features and customisation options.
One of its main benefits over other platforms is its event management feature, which allows community managers to organise events, tickets, and process payments. Its powerful search and targeting filters make it easy to segment users, and invite them to events they may be interested in based on their group, industry, location, or other custom fields. Hivebrite has a check-in and trips feature, allowing members of the same community to connect with each other in person more easily.  Additionally, its integration with social media platforms makes it quick and easy to promote events.
Content can also be shared through the platform via email and mobile campaigns, helping to boost engagement.
Hivebrite also features a job board where its users can share opportunities or showcase their availability for a new role.
Because of its integration with online payments, Hivebrite also offers a way to monetise communities, and membership fees can be managed and collected within the platform, eliminating the need to use a third party payment service provider.
There is no free version of Hivebrite available, and support from an in-house designer or developer may be required to make the most of its more advanced functions.
Whilst Guild doesn't offer as many advanced features as Hivebrite, it is purpose built for professional groups, networks and communities. Its simple and elegant layout, designed with mobile-first in mind makes it an ideal option for B2B community managers on the go. Guild does offer the ability to conduct polls and share events within its platform, so if you want to keep things simple, and want to get set up quickly, Guild is the better choice.
Both Hivebrite and Guild facilitate networking, offering direct messaging, however, within Guild, individuals have the choice of making their profile and communities/groups private, or discoverable so that other Guild members and searchers can find them. Guild Pro customers have the option of being listed in the web directory on the Guild site and app to increase the visibility of their community, and Enterprise customers have access to PR support, social amplification and promotion in user newsletters and other relevant groups. This makes Guild is a much more flexible and advanced networking space for professionals.
Guild - an alternative to Hivebrite

Guild is the community platform of choice for companies and organisations of all sizes and industries.
Deloitte, Econsultancy, CIPD, The Lawyer, PRCA, The Marketing Society, Cambridge University Judge Business School, Haymarket, Incisive Media, and the National Education Union, as well as a number of other professional service organisations, tech companies, B2B media businesses and non-profits trust Guild to host their communities.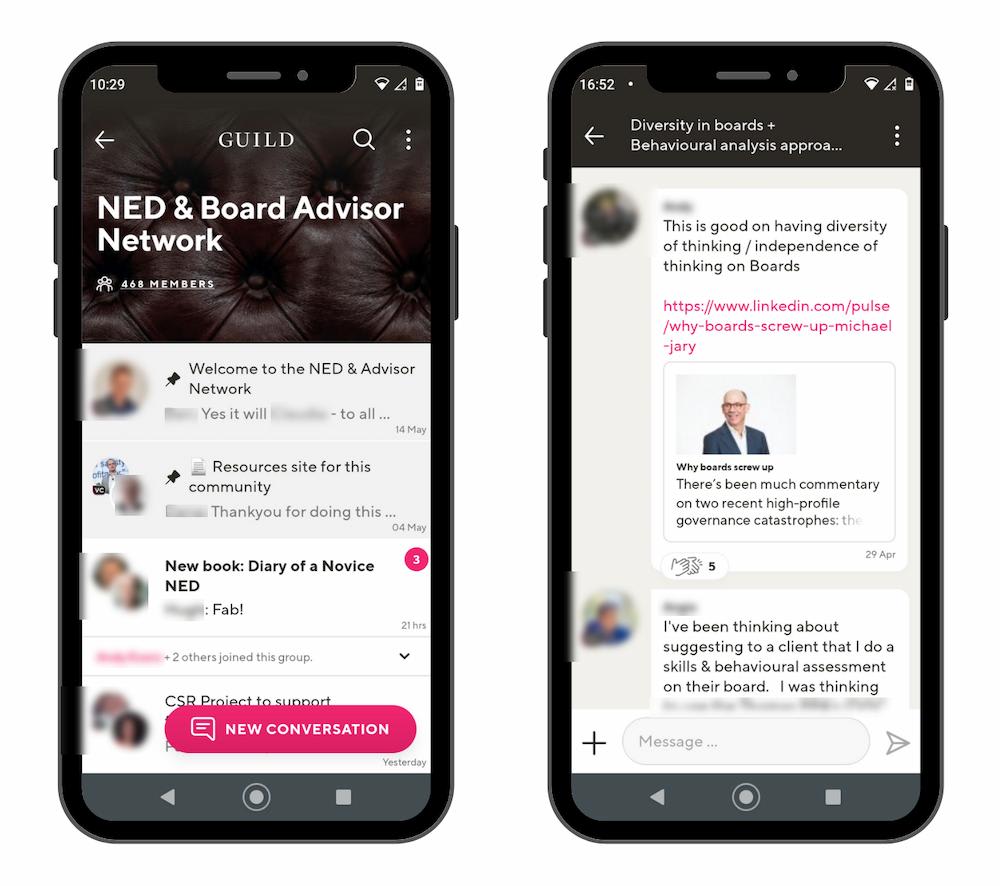 ---
Why Guild?

Uunlimited groups and members
Community-first with a focus on quality and a real sense of belonging
GDPR compliant, to protect the privacy of you, and your members
Purpose-built for professional communities - providing a safe space for professionals to connect, communicate and collaborate
Elegant and simple to use, offering a clean, mobile-first UX
Custom branding, analytics, and support for community owners
Professional profiles for all members
Dedicated account management and customer support for Enterprise plans