If you haven't already set up your group, customized it, posted and pinned a welcome message, and invited members in then read this first - Getting started on Guild: going live with your first group
In this article we share tips and advice on how to get started with a group to make the best impression on your group's members and get them eagerly participating.
Direct message each new joiner personally to welcome them
It may feel onerous to direct message every new joiner individually to welcome them but it is powerful. Not only do they feel more likely to engage but it gets them used to the direct message feature and established that direct channel between you and them. If they reply (which they usually do) then they have also 'broken the ice' in feeling comfortable posting to Guild so are more likely to do so in the group setting too.
In your message to them, or a follow up, you could suggest they introduce themselves to the group themselves. Or ask for help with something. Or you could suggest they fill in the profile further so other members of your group can get to know them better e.g. with links to their LinkedIn profile, Twitter, company website etc.

Welcome new joiners to the group with an @ mention
As well as a direct (1-to-1) message to the individual joiner, you should also welcome them personally, or in small batches, to the group not long after they join. You might say how you know them and why you have invited them in to the group.
You should use the @ mention feature in Guild so that a) they get a notification that you have mentioned them which encourages them to reply b) it gets members used to the @ mention feature c) other members can click on your @ mention to see the profile of the new joiner in more detail.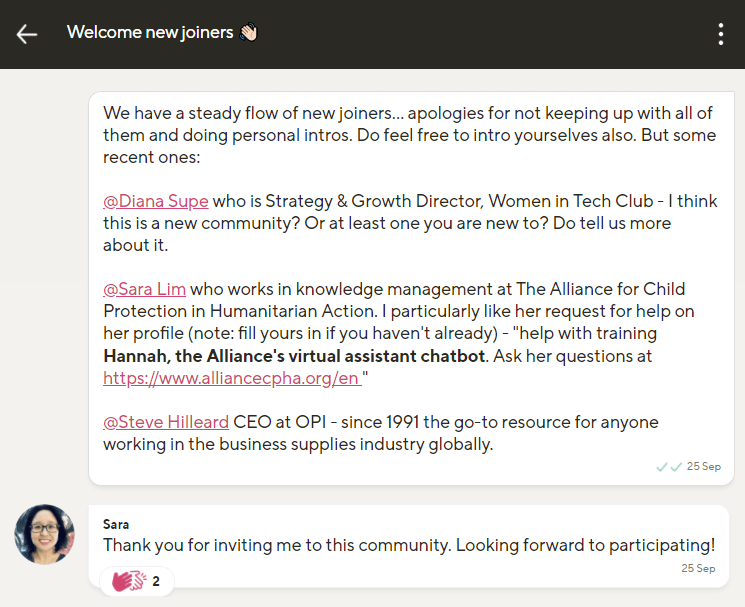 Use your 'Visibility Boost' powers
As a Host, or Admin in the group, you get the option to send any new conversation you start also as an email to all group members. To start with group members might not be checking the app so much, or might have notifications off, so this is a great fallback way to get their attention and engagement. Just toggle on this option as follows:
Lead by example with formatting, files and video
The best way for your members to learn what they can do in Guild is for you to show, or tell, them i.e. lead by example and they'll soon follow. This includes:
Formatting - put asterisks (*) around a word or phrase to make it show as bold when posted; use underscores (_) for italics.
Attach files and images - they can be viewed within the Guild app
Attach a video - you can just record something on your phone and then attach it to one of your messages:

Profiles are key - complete yours and encourage your members to do the same
One of the many differences between Guild and consumer messaging apps, like WhatsApp, is that everyone has a short professional profile so you know who they are. This helps spark relevant conversations and helps with networking.
The only compulsory fields to complete when first joining are: name, title, organisation and a photo. However, there are the following optional fields which add a lot of colour and useful information to help your members get to know each other better: short professional bio, an interesting/unusual fact about you, what you'd like help with, a career highlight, and links (e.g. to your LinkedIn profile, company website, blog etc.).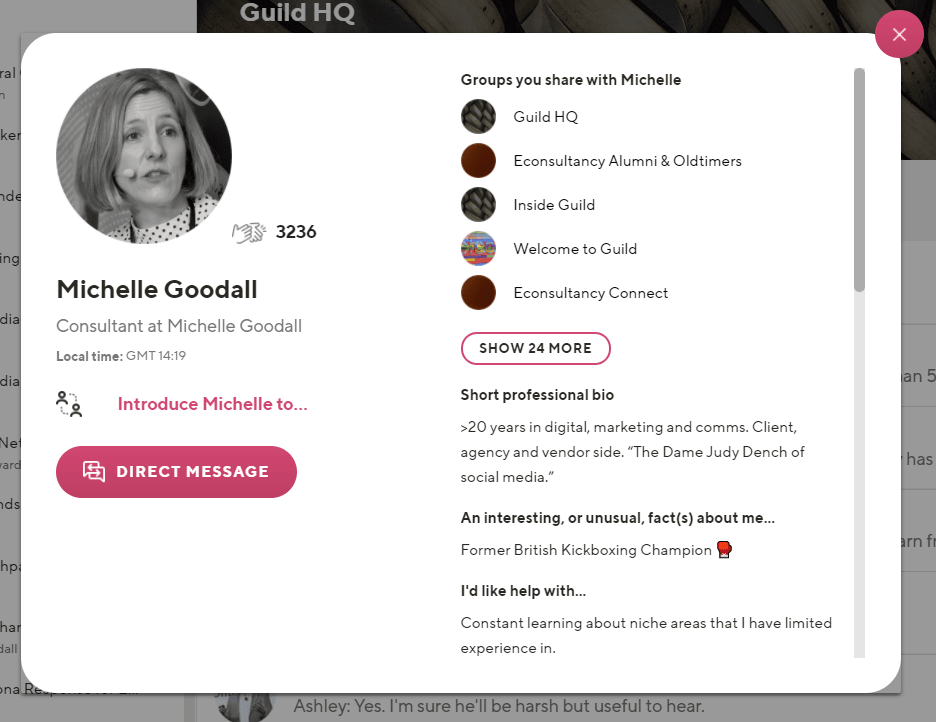 Reward participation with your applause
Particularly early on, when your members are brave enough to contribute, make sure you reward them by tapping the applaud icon on their message to show that you are there and you are appreciative of their contribution.

Set a fun, informal tone if appropriate ?
Set the tone from the very beginning that you'd like your community to adopt. If you don't want it to feel too formal, use an informal tone and/or emojis to make people feel comfortable. The more relaxed and welcome they feel within your group, the more likely they are to feel confident in posting their own content and encourage interaction across the group.
Contact us if you want to know more or have any questions.
---
Join Guild 🤝

See for yourself how the Guild experience is different to WhatsApp, Slack, LinkedIn or Facebook Groups. Guild is a safe space to connect, communicate and collaborate with others.
Join us on a platform that is purpose-built for professionals and businesses.
Contact us if you want to know more or have any questions.