To help you understand how Guild compares to other messaging platforms we've created the table below.
We compare Guild to: Microsoft Teams, Slack, Signal, Telegram, WhatsApp.
The short answer is:
WhatsApp, Telegram and Signal are for personal use and either illegal, or not suited, for business use.
Microsoft Teams and Slack are for teams and workflow collaboration, not interpersonal messaging or external groups, and are more complex and ~10x as expensive as Guild.
>> Download PDF version to see details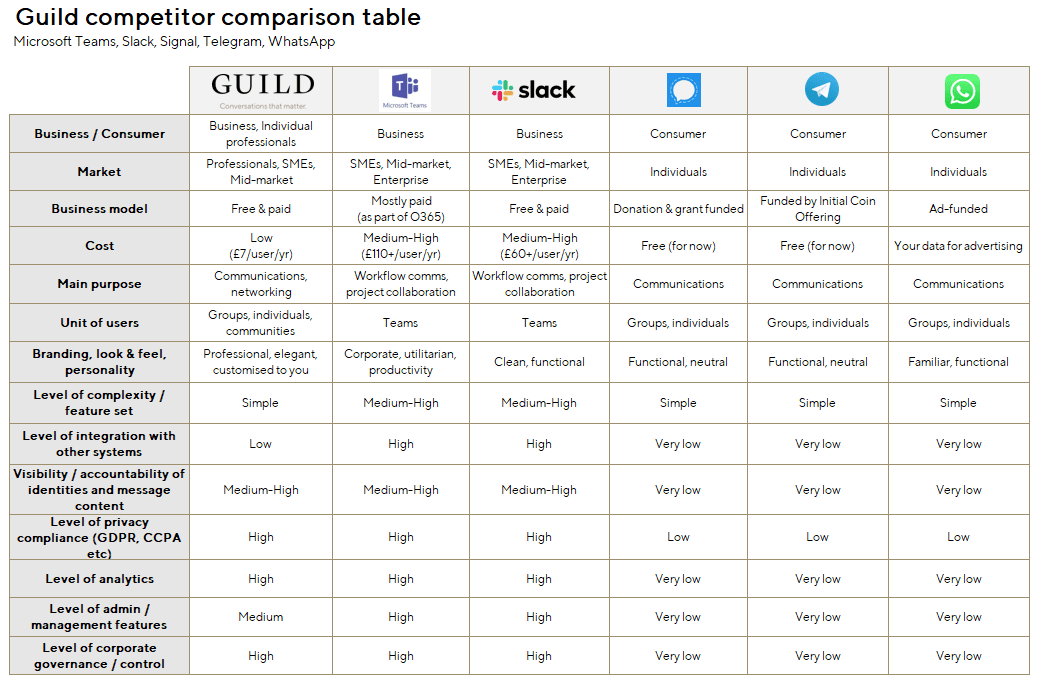 Join Guild for free today
See for yourself how the Guild experience is different to WhatsApp, Slack, LinkedIn or Facebook Groups.  
Go to our pricing page and join free as a member, create your Guild profile, join available groups and build your network.  
Ready to run your own professional, private, branded groups, communities or networks? Excellent! Check out our Business (free) and Business Plus (custom pricing) options.  
Guild is proudly British, fiercely independent, ad-free and GDPR compliant. Guild is the best place for professionals to connect and communicate. Come and join us on a different and decent kind of messaging platform that is designed for business and done with integrity.
Contact us if you want to know more or have any questions.