In a time of remote working, digital transformation, and a rise in experts looking to monetise their professional knowledge, online communities are surging in popularity.
Building and growing your own online community can be a great way to create closer, and more valuable, relationships with prospects and customers. However, it is also an investment of both time and money. Particularly as your community grows, you may start to find you need more resources to sustain it. From your community manager's salary, to your tech platform, there are costs to cover, which is why some organisations choose to consider monetising their group. You could even make your community a revenue source.
As long as your methods don't detract value from members, there are plenty of opportunities to monetise online communities.
Make community part of the membership package
Some online B2B communities are part of a membership package that includes access to exclusive content, live networking events and roundtables or learning. These often focus on business owners or C-suite leaders.
Here are 3 examples:
Oystercatchers (owned by Centaur) started as live networking events, and has now evolved into a tiered membership programme for 100 agencies and 400 clients, including online communities on the Zapnito platform.
B2B Marketing Leaders Programme is part of B2B Marketing's top tier of Enterprise membership and includes exclusive content, live events and an exclusive online peer community of more than 100 Chief Marketing Officers (CMOs) on Guild.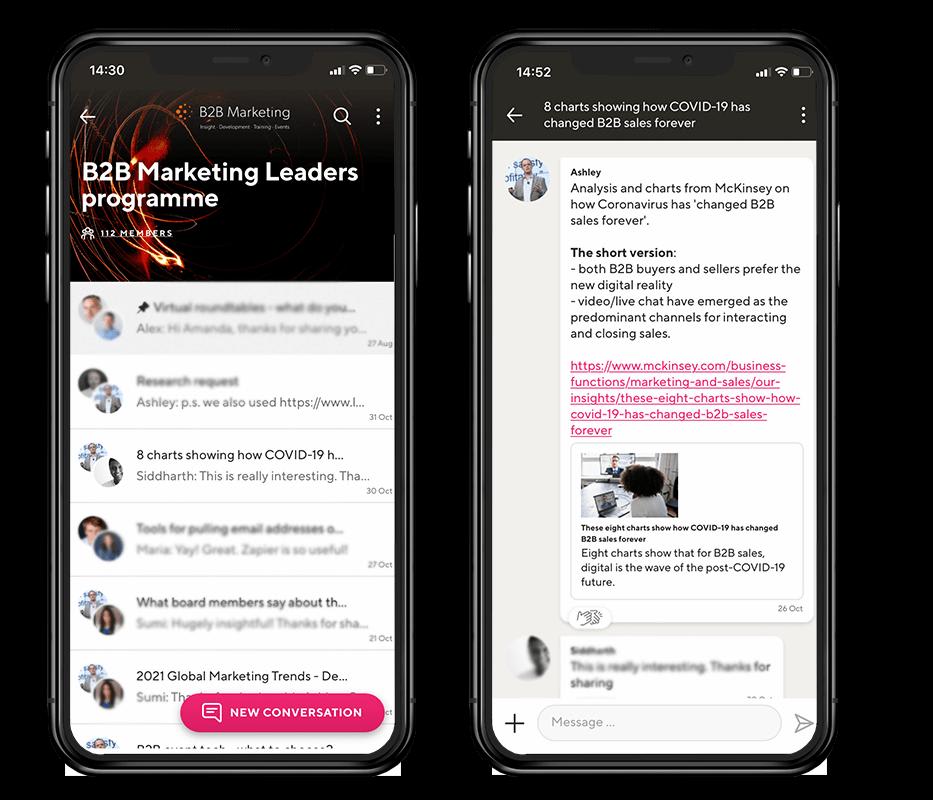 Agency Collective has more than 100 members with packages starting at £99/month including a content library, group calls and online community
Generate revenue from other sources
Larger B2B online communities can remain free, but will often include advertising, sponsorship and affiliate deals.
Advertising and sponsorship – this is probably the easiest and most common option for those wondering how to monetise an online community. These groups are the perfect places to cross-promote sponsored events and partner content such as research reports, data services, e-books and guides. Through running your online community on a daily basis, you'll have a better understanding than anyone of your members' needs and preferences, which means you're in a better position to filter and target ads than any algorithm that could be built. Naturally, then, many brands will be keen to pay for direct access to your engaged audience. Be mindful of who you partner with, and be careful not to accept poor quality content simply because money has exchanged hands, as this has a negative impact on your users' experience, and therefore on your reputation too.
Explore affiliate opportunities – another 'quick win' when looking to make money from your community. Transparency is key; always inform your members if you're being paid to promote a company or its products. You should also only endorse something you feel you can genuinely recommend to your audience. It should be relevant to their interests and from a reputable provider.
Job searching and recruitment – some communities have a designated job-seekers area where members can pay to feature their CV, or where recruiters can advertise for roles.
Coaching – many people seek out online communities to learn more in their field, progress their knowledge and advance in their career. If you can offer some form of training to your members, running an online course can be a simple way to monetise your group. With a number of free online courses already available, it needs to be able to justify the cost however. Pick a niche area you can speak authoritatively on, or perhaps survey your members first to find out what skills they most want to develop.
Events – naturally this requires a lot more time and effort than some of the methods above, however there's also an opportunity to make more money, from entry fees to sponsorship. It's also just a great way to expand your community.
How do you monetise an online community without losing sight of your members?
Before you consider monetising your community, it's important to take care not to alienate your core customers and community members. Endless sales pitches have devalued many LinkedIn Groups. Remember your reasons behind setting up your community, whether that was to forge closer connections with your audience or to create brand loyalty. It's also crucial to remember their reasons for joining – what did you offer that other groups and platforms weren't?
If monetising your group goes against any of these reasons, you may wish to keep your community vendor-free and ensure that your members pay, directly or indirectly, for being part of the community.
If you do decide to monetise your community, do it in the right way – it should be about adding value and creating initiatives your members will want to pay for.
Photo by Tyler Franta on Unsplash
---
Join Guild 🤝
See for yourself how the Guild experience is different to WhatsApp, Slack, LinkedIn or Facebook Groups. Guild is a safe space to connect, communicate and collaborate with others.
Join us on a platform that is purpose-built for professionals and businesses.
Just want to join some groups? Simply join Guild and then look through the discoverable groups and communities to find relevant ones to join
Thinking of running your own community? With an elegant and simple to use, mobile-first UX you've got everything you need to start a community  - custom branding, analytics, group and user management and support.  Get started with your own community here with our free and enterprise options
Contact us if you want to know more or have any questions.