WeChat is the communication and social app that rules the roost in China. Since its inception in 2011, it has been funded by the Chinese government with the generally accepted proviso that it can monitor all user activity.
According to Ben Thompson, analyst and founder of the blog Stratechery, "there is nothing in any other country that is comparable: not LINE, not WhatsApp, not Facebook". WeChat is the most accepted method of mobile communication in China, and it is a staple on almost every mobile phone.
WeChat, owned by Tencent, showcases over 902 million daily users, with 38 billion messages sent via the platform each day. To a western ear, Tencent may not be immediately familiar. However, it is projected to be one of three dominant messaging companies over future years alongside Apple and Facebook.
Below you can see how the number of accounts has skyrocketed since 2011.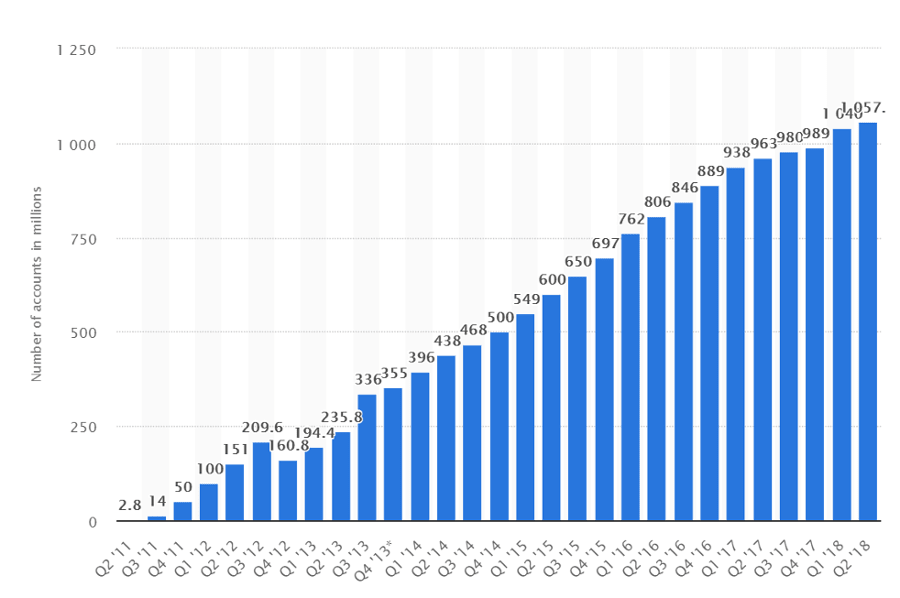 Graph by Statista
How has WeChat become so popular?
In 2011, Tencent was able to migrate millions of users from its QQ software, the largest communication service in China at the time, as WeChat became a more popular option.
WeChat has established itself as more than just a messaging app. Users can also do any of the following using the platform:
Pay bills
Play games
Book doctor's appointments
Find local amusements
Access online banking
These are just a few of the services available. This encapsulates why WeChat dominates the Chinese market - it's synonymous with the mobile phone there, and it comes with almost any function you might need.
To take things even further, there is plenty of talk about a natural progression from messaging app into a form of personal ID. The Chinese government may well decide to use WeChat to issue virtual ID cards and begin an electronic identification system.
Due to WeChat's position as a tool for many aspects of daily life, new startups in China are having to bear in mind the app's omnipresence. It is becoming a go-to option for businesses looking to advertise or share their content. This competition to take advantage of WeChat's success only leads to increased growth.
Another reason for WeChat's quick growth is the fact that China has blocked western social sites since 2010. This includes Facebook (WhatsApp), Google, Twitter and YouTube. From this, WeChat was able to form a service that provides instant messaging, social sharing and video sharing, amongst many others. It has become all western social apps rolled into one.
How does WeChat perform in the workplace?
WeChat offers a version of the app called 'WeChat Work'. This takes the premise of WeChat but offers several add-ons:
A company app store
Enhanced security measures
Targeted messaging
Admin controls
It comes with the typical features you would expect to find in a professional messaging app such as being able to silence notifications when on a break, group chats and read receipts.
WeChat Work solves issues that could be encountered using the normal version of WeChat, such as adding the wrong person to a sensitive group chat or not being able to escape work chats when at home. There are many issues with using these popular instant messaging apps for work purposes - we wrote about 21 of them.
The numbers of people in China who use WeChat for work are quite staggering, with 90% of those surveyed using the app for work purposes. Although its sister app WeChat Work is efficient, some users still report issues because of its connection to WeChat.
As well as the fact that distractions can occur when using WeChat - users spend on average 66 minutes per day on the app - people often complain of a lack of work-life balance. The survey referenced above captured the thoughts of Min Jie, a Beijing real estate professional: "It feels like I am tied up with WeChat because the app make users extremely accessible. People can send you messages whenever they want and it is rude to not reply to them in time."
It may be the case that professional communication apps are becoming too gimmicky, and WeChat could certainly fall into that category with the amount of extra services it offers.
As large as WeChat's monopoly in China currently is, apps specifically designed for healthy professional communication should always be a priority for workplaces.
---
Photo by Ralf Leineweber on Unsplash
Try Guild now for free ?
Guild is free to use up to 30 members, across as many groups as you want. Just click on 'Start Free' on the Basic Plan on our pricing page now to set up your free account and start inviting people in. Contact us if you want to know more or have questions.