In brief
Crafty Counsel is the leading community, creative agency and media platform for in-house legal professionals.
Crafty Counsel aims to help overturn the "stressed, stretched and isolated" lawyer stereotype and bring "joy, insight and connection" to in-house legal professionals.
Their events and content cover a wide range of issues that in-house lawyers face, from diversity and team management to technology, innovation, security and personal career growth.
Former lawyer Ben White began his career at Clifford Chance, and subsequently worked as in-house counsel at an e-commerce company.
His experience highlighted that in-house legal professionals would really benefit from a supportive community, so he launched Crafty Counsel to provide legal professionals with a hub for learning, sharing and connecting with peers and experts.
Ben told us why Guild offers the professional and secure community platform and space that Crafty Counsel needed to support members and its events and content programme.
Results in brief:
Members can identify potential connections by sector and subgroup
Isolated in-house professionals learn from peers
Mentor partnerships formed organically
Value of events programme extended with before and after conversations
Recruitment through Guild's community directory
Content and event ideas from community feedback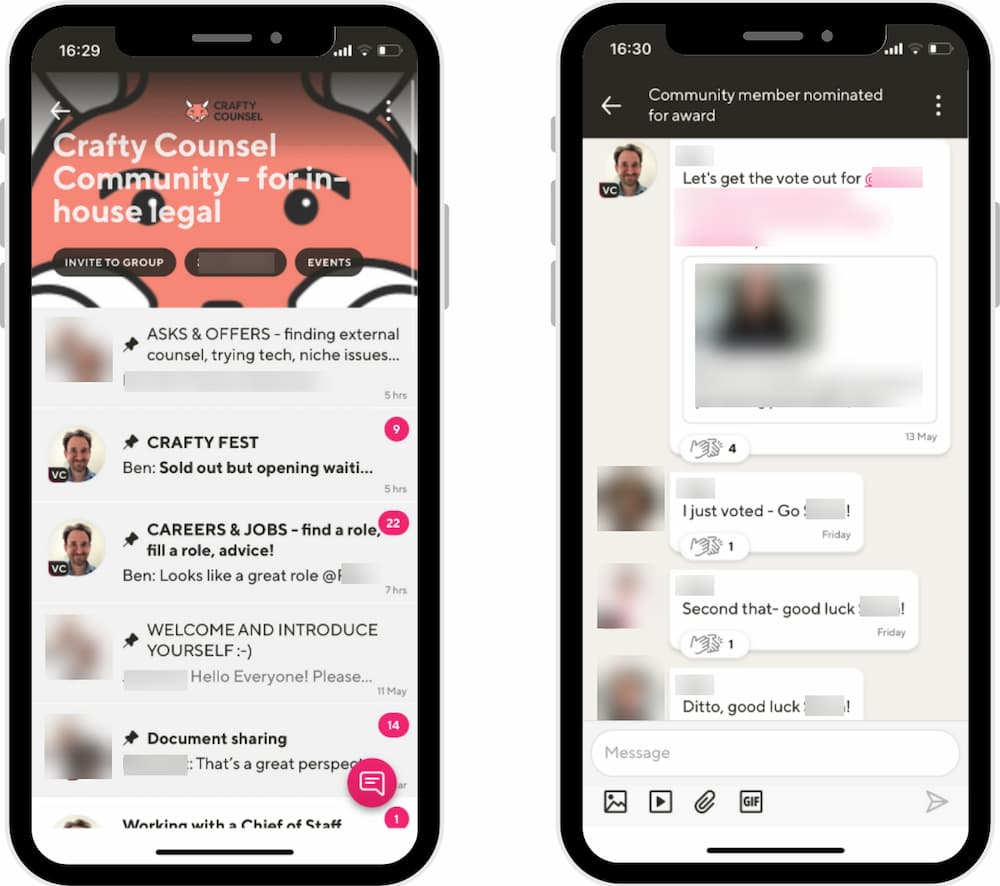 What is the Crafty Counsel legal community like, and who can join it?
"The community is for in-house legal professionals who want to build their network, share experiences, and learn from each other on practical topics.
It's currently free to join, but we do have an application process to make sure new members share our values. We describe these as bringing joy, insight, and connection to the in-house world.
We host at least 8 virtual meet-ups a month and the community on Guild is a great place to build on those sessions. The community is a space where the discussions and connections continue before and after events.
We host a number of sub-groups based on sectors, geography, and seniority level - from Crafty Starters and Crafty Counsel UAE to Lean Legal and FTSE & Friends.
All in-house legal professionals are welcome to apply to join. We really believe in the power of community.
When I was an in-house lawyer, there was a lot I loved - but there were moments of feeling isolated, stressed, and unsure what "good" looked like.
We wanted to bring all of our community together both digitally and in-person to help benefit from each other's experiences."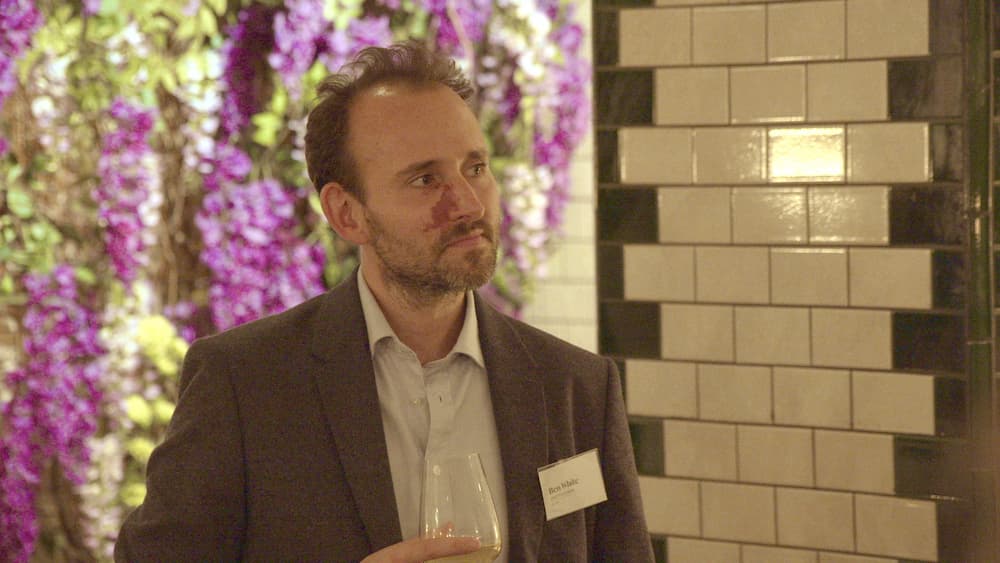 What do your members value about having an online community?
"Life for an in-house lawyer can be quite lonely. You don't always have huge departments, so you don't have that network on-hand to exchange ideas and learn from people in the same position.
Members have told us that they value the community for big things like mentorship and validation, to simply having a space to share news and tips on new tech or processes.
They've also said that serendipity is a big advantage of a community - you have a lot in common with fellow members but there are still different businesses, sectors and circumstances - you never know who or what you'll discover just by dropping in to the community.
One member mentioned that you often learn about issues that haven't yet surfaced in your own career or team. Some things you'll only ever hear about from your peers, and you can offer support and ask for advice when you need it."
How has Guild helped the Crafty Counsel community?
"We've grown fast since our launch of the community in 2020.  The pandemic meant our virtual events programme was vital for members, but there's a lot of work involved for the team.
We ran 100s of events during lockdown - we're delighted to be meeting in person again, but there will always be some members of your community who can't make it to live events.
Having an online community on Guild means everyone can feel included. If life gets in the way, members don't have to miss out.
Using Guild as a community hub to bring attendees and non-attendees together before and after our events has made a real difference. We get much more value from our efforts, and the discussions give so much extra value to our members.
Being able to discuss key topics outside of the events programme and around the content we publish is really important.
On the subject of content, the community discussions help us take a constant temperature check on which topics to organise events on and write about. It's a virtuous circle.
The Guild team are particularly supportive - our customer success manager is very helpful and responsive, and product development at Guild is focused on making things better for the community, rather than adding in gimmicky features.
One particularly useful feature for us has been the opportunity to make our community discoverable on Guild's directory.  It lets us raise awareness and attract new members to the community."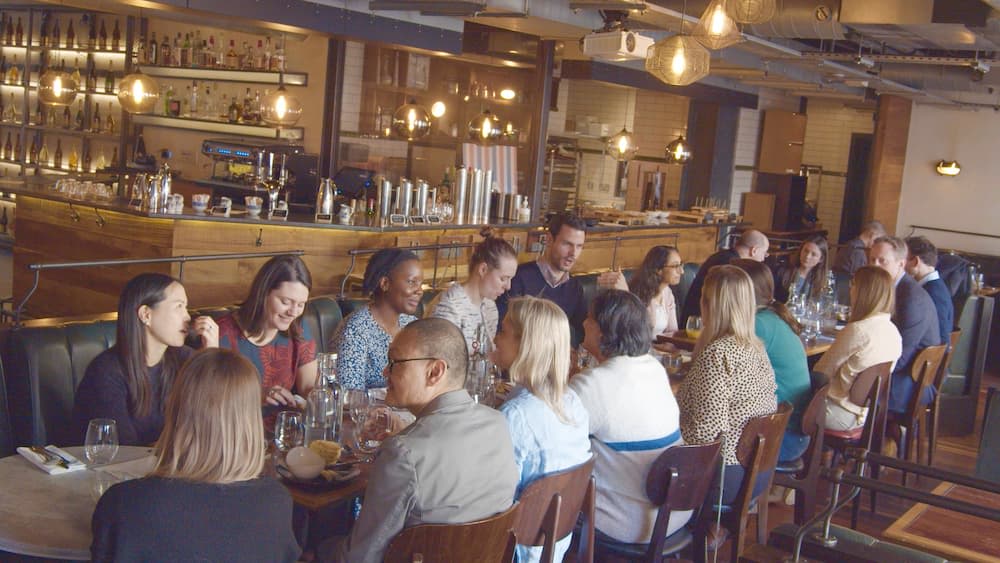 Why use Guild and not other community platforms like Slack, Facebook Groups, WhatsApp, Discord, Circle or Mighty Networks?
"Legal professionals are really busy people.
We needed a secure, accessible and privacy-compliant platform for our community, but without a steep learning curve for members. Guild was great for this.
Guild is mobile-first and that's ideal. We wanted community members to be able to check in during those gaps between meetings, or when travelling.
Given that it's a community for lawyers, by lawyers, we didn't consider WhatsApp, given its business compliance and privacy challenges. Whilst social platforms like LinkedIn and Facebook either don't feel professional or flexible enough, and just don't provide the data we want either.
Some of our members are familiar with Slack and Discord but we've found Guild to be more elegant, providing a much better community and user experience.
Slack is great for workflow or internal communications, but not great for building and scaling professional communities."

What would your advice be to other publishers and media owners thinking about setting up a community on Guild?
"I can't imagine being a B2B media brand or a membership organisation today and not having a community.  
Building a dedicated professional community shows how seriously you treat your audience and members.
But it's important to work hard on the quality of your community so that members really value it. On social media, it can be so easy to click "join" or "follow" and then forget about it and never visit again.
We qualify new members and it keeps the quality of the community and conversation consistently high. At the same time, it's good to have a certain amount of community visibility because you never know who needs help and who might be able to provide value to your community in return.
Striking that balance has definitely helped us grow in the right direction.
And the best thing you can do to sustain your community for the long term is to really listen to them. They'll tell you what they need, what you're missing and what you should be doing next."
Find out more about Crafty Counsel and apply to join here if you're an in-house legal professional.
Images courtesy of Crafty Counsel
---
More on law and legal communities on Guild:
Case Study: MSI Global hosts legal and accounting professional communities on Guild
Lawyer-led privtech community chooses Guild
Law firm chooses Guild for privacy and security compliance
Legal Support Network launches special interest group on Guild
GDPR and PECR compliance for event organisers
WhatsApp - is it GDPR and business compliant?


Join legal communities on Guild
Apply to join Crafty Counsel on Guild
Apply to join Legal Pioneers on Guild
---
Try Guild 🤝

See for yourself how the Guild experience is different to WhatsApp, Slack, LinkedIn or Facebook Groups.
Guild is a safe space to connect, communicate and collaborate with others.
Join us on a platform that is purpose-built for creating groups, communities and networks on mobile.
Contact us if you want to know more or have any questions.