Channel and partner marketing experts Coterie identified a lack of support for specialist partner marketers and B2B marketers in research conducted with the University of Huddersfield.
Director Helen Curtis wanted to tackle the lack of knowledge in B2B marketing and partner marketing and provide training and research to raise its profile.
Coterie developed a two-year plan to create a safe place where partner/channel marketers from any organisation could gather to network, learn and share skills with peers.
A grant from Innovate UK, via a Knowledge Transfer Partnership (mKTP) with The University of Huddersfield gave Coterie access to academic and project management support, enabling them to create and launch a dedicated non-profit community called Coterie Community to deliver the plan.
Results in brief
Specialist community filling a gap left by other broader professional communities in the sector
Community is a key part of membership offering, tying together other resources
Asynchronous working means no member is left out of important discussions
Video Room meetings create closer, informal relationships between members
New members find it easy to get started

Helen told us why they chose Guild as their platform for The Coterie Community for channel marketer members.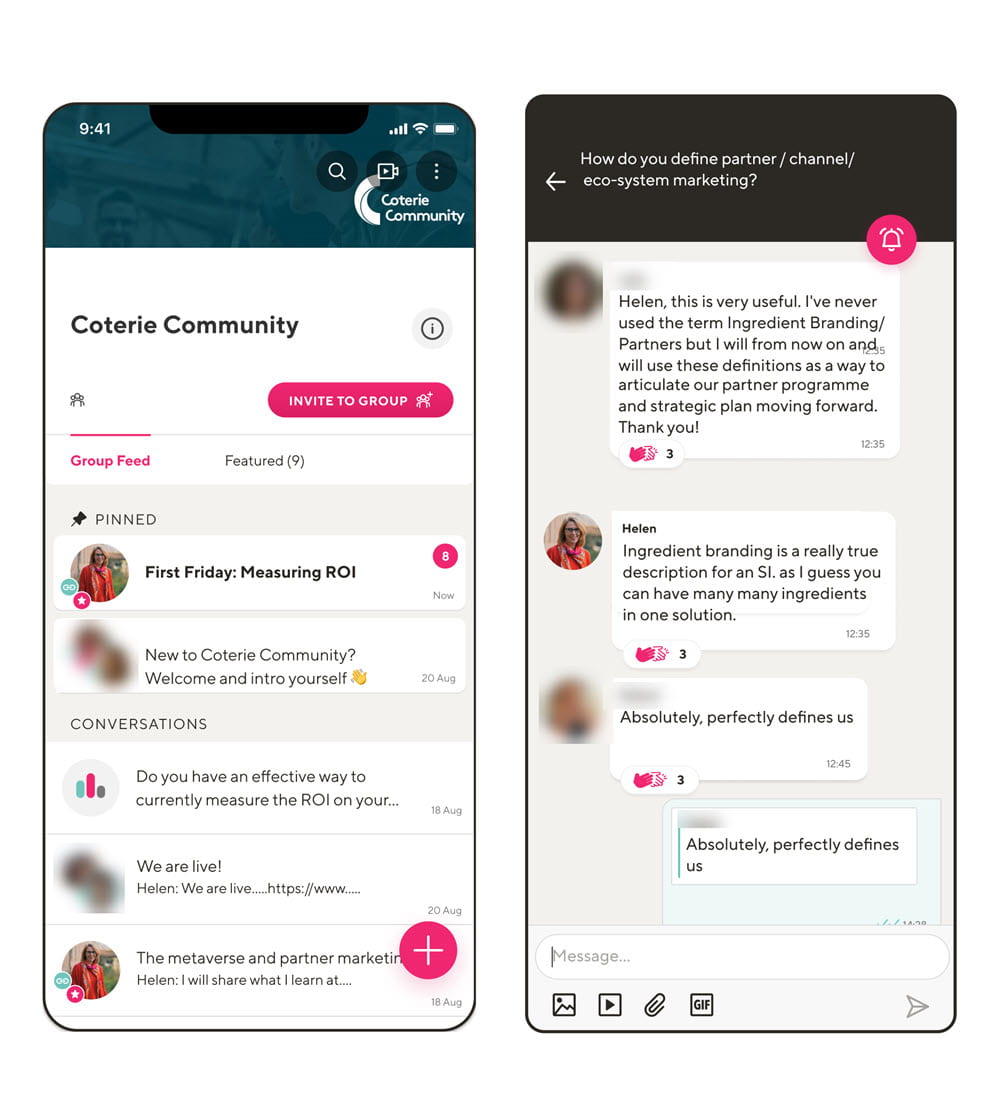 What is the Coterie Community and who is it for?
"Our mission is to put partner and ecosystem marketing on the map as it has long been the 'Cinderella of B2B marketing'. We are doing this by building an influential community of partner & ecosystem marketers. Our 3 areas of focus are connections, sharing and learning.
The Coterie Community is a dedicated forum for partner and channel marketers from vendors, Independent Software Vendors (ISVs), resellers, systems integrators and service providers.
The purpose is to share research, training, tools, and templates but also to discuss our work and best practice in a safe, friendly space. It's vendor-agnostic and the members have a huge say over its direction.
There are some fantastic general B2B marketing communities out there but we're going deeper and more specific.
The Coterie Community is about developing innovative channel ecosystem ideas supported by academic research. Our aim is to take partner marketing to the next level and finally get it the notice it deserves by sharing credible, research-informed marketing knowledge.
Everything we do is practical and relevant to the real world - for example, we want to help partner marketers devise strategies to drive leads, master business planning and develop marketing skills for new areas. But it's important to know it's all underpinned and supported by rigorous academic support.
We provide our members with a number of resources including partner marketing templates and microlearning opportunities - the digital community on Guild ties everything and everyone together. "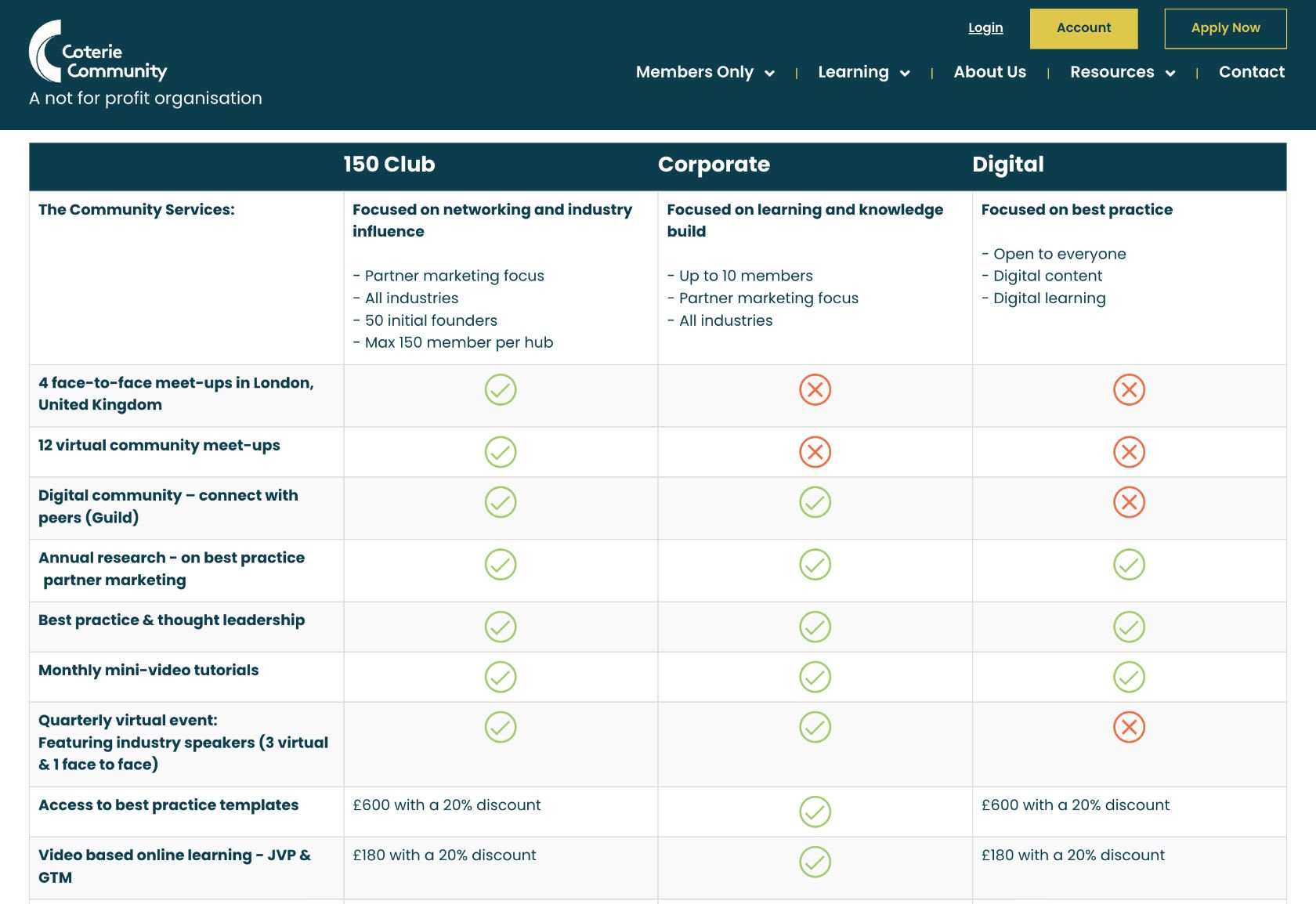 Why was creating an online community so important for you?
"Many of our community members are busy professionals working in a broad range of organisations and industries across the globe. You couldn't start a project like this today without factoring in a community aspect and a virtual community platform to bring everyone together.
We needed a way for them to connect when and where they're able to. Although the program will involve in-person and virtual meetings and events, it's important that nobody misses out on the opportunity to connect and build relationships with their peers.
Plus there are always those thoughts and findings that always seem to turn up after you've left a meeting or conference. An online community ties up all those loose ends, but it also adds value and longevity.
Our partners at the University of Huddersfield are providing business development to design and develop the framework for the community, as well as developing research and training for the industry.
Their expertise is key to the success of the community. Being able to work asynchronously means we can make the most of everyone's availability and time."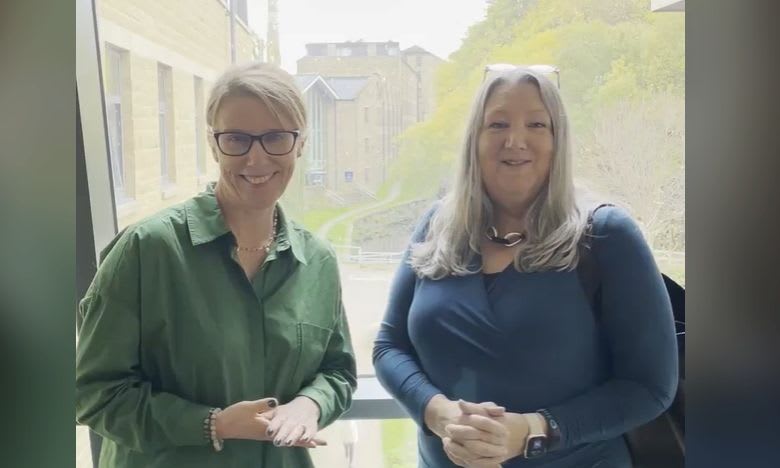 Why did you choose Guild for your community platform?
"Our community is vendor-agnostic and it was important to reflect that on the platform.
Guild is independent and ad-free, there are no distractions, and it's so simple that we knew it would work whether our members were familiar with Slack, Teams or Workplace.
Using Guild means that there's no learning curve for members or those of us managing the community platform - we can concentrate on building the program, member connections and the community, which are the most important things.
Guild also has all the features we need - for example being able to use the built-in Video Room for regular meetings and livestreams makes it much easier to bring people together as everything is in one place.  
Having the Video Room option for meetups and events feels like a really intimate, safe space - no platform-hopping for our members!  
We started the community off with our First Friday virtual best practice sessions, using a "Ted Talk" format with a panel discussion afterwards. Everyone loved the format. It's almost as good as an in-person meetup.
We're exploring other uses like member social meetups and one-to-one sessions. That flexibility will let us develop our virtual events hand-in-hand with what our community tells us they need. Mixing virtual meetings with in-person in our events calendar will ensure that everyone gets what they need."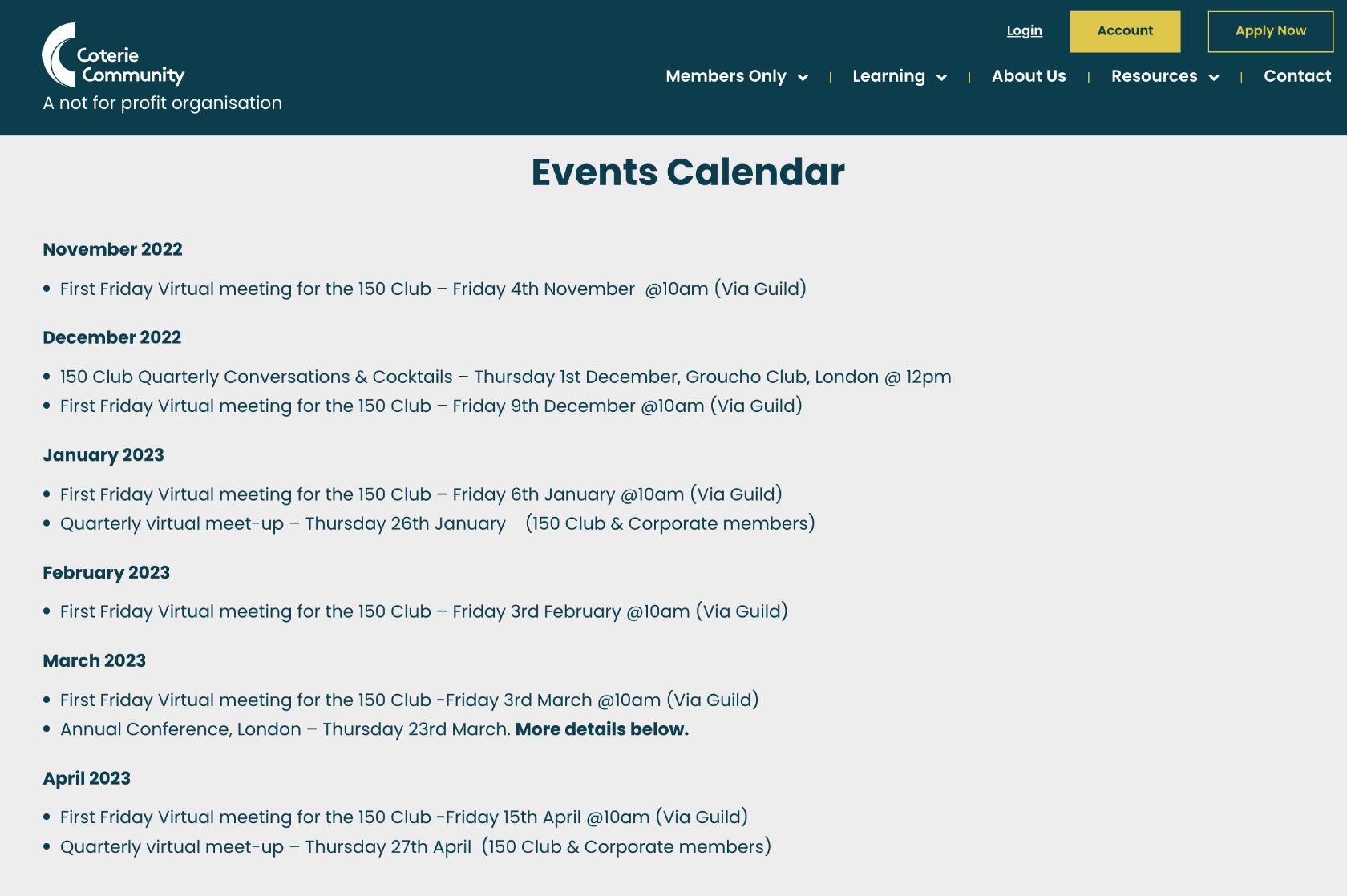 What tips would you give to other membership organisations wanting to start a member community on Guild?
"Firstly, I wouldn't hesitate to recommend the platform and the Guild team. Their experience has been invaluable in helping to get us started and ensuring that the virtual community wasn't an afterthought - it's at the heart of everything we do.
Do start out by being clear about your goals and objectives for the community. Decide what you want the community to be and what you'd like it to achieve.
Consider how you'll measure the success of your community, as you would any other element of your marketing and communications strategy.
For member organisations like us, it's quite easy to think about what you'll measure - for example, this could be the impact of your community on member satisfaction, member acquisition and member retention. But a community can also be a space where you can really listen to your members and evolve your program, as we fully expect to over time.
Whatever you do, just get started and be prepared to adapt. Guild's simple-to-use platform makes it incredibly easy to get started. We're delighted that we did.
Your community's wants and needs will change over time, and we've learned from the Guild team that building a community takes time and perseverance. But like building a brand from scratch, the value of a community is huge, and it's not always quantifiable through hard metrics.  Something that makes people feel connected, understood and listened to will always have a positive effect on your growth, trust and impact as an organisation."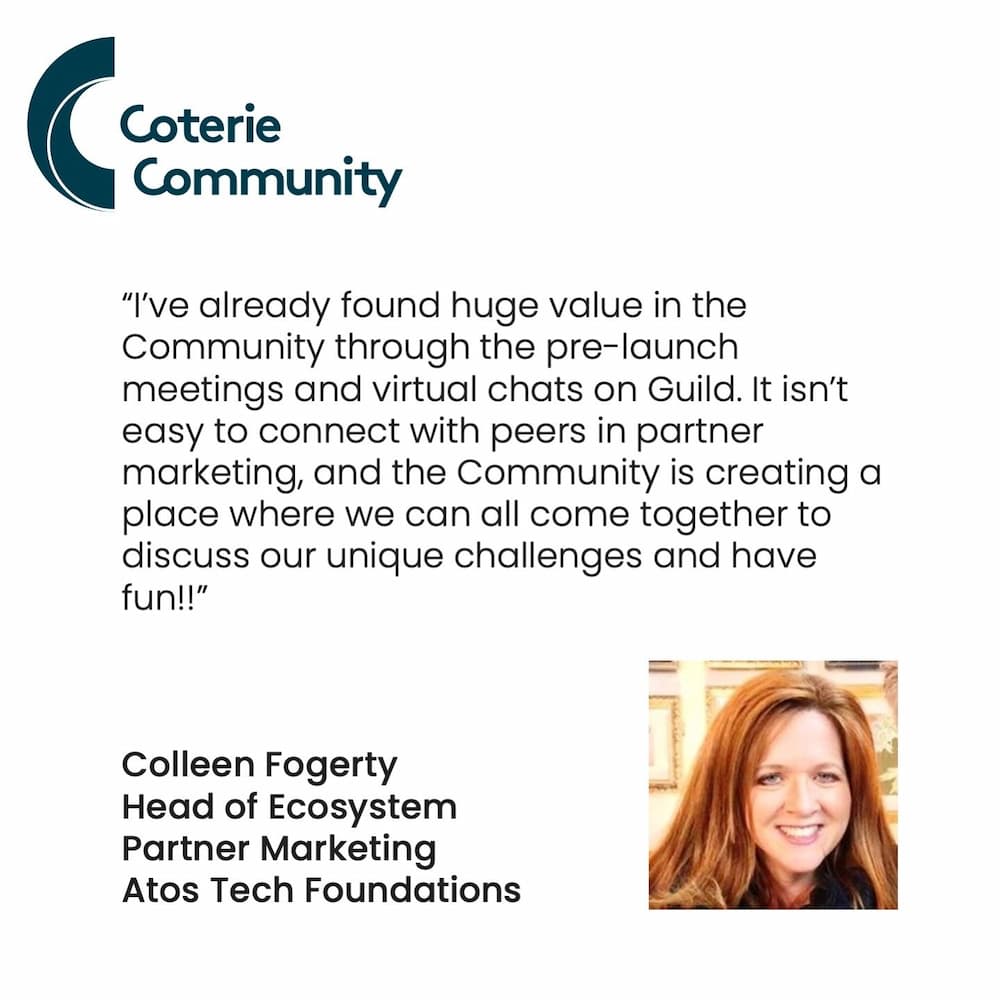 How can people join the Coterie Community for Channel/Partner marketers?
To find out more about the community for ecosystem marketers - Coterie Community visit the website.
The various levels of membership include a top tier 150 Club, corporate membership for teams and access to their global digital community on the Guild platform.

Header photo by Mark Sivewright on Unsplash
---
Other membership organisations building communities on Guild

Trade Association Forum boosts membership offering with community on Guild
The Marketing Society builds membership community on Guild

PRCA powers the communications sector with Guild groups
Renewd moves from Slack to Guild for its B2B membership community
Independent Print Industries Association hosts buyer/supplier community and internal communications groups on Guild
CIPD sets up HR Leader support group on Guild
Low Carbon Homes builds retrofit professional community on Guild
---
Join Guild 🤝

See for yourself how the Guild experience is different to WhatsApp, Slack, LinkedIn or Facebook Groups.
Guild is a safe space to connect, communicate and collaborate with others.
Join us on a platform that is purpose-built for creating groups, communities and networks on mobile.
Contact us if you want to know more or have any questions.