As the workplace evolves, modern businesses are now not only tasked with the question of whether to invite employees back into the office, they're also faced with questions around how environmentally friendly their business is.
There are endless things to consider changing if you want to be a sustainable business - so much so that it can feel difficult to know where to start.

But starting is the most important thing.
So, here are some simple, practical steps that can help any organisation gain some momentum and kickstart the basis of a business sustainability programme.
Involve the wider team
Getting input from all who would like to play their part is an ideal way of pooling good ideas, and it also helps people feel more involved, which of course is a big step towards making any sustainability plan a success.

The hard part isn't putting a plan in place, it's enforcing it long term that takes effort, and if people feel they've contributed to a strategy they'll be more likely to follow it.
Opening the floor to everyone for sustainability ideas creates a useful sounding board, helping to establish the ideas most likely to succeed and highlighting any potential issues or avenues that haven't yet been considered.
Recycling and compost collections
Despite growing pressure on businesses to consider their environmental impact, 80% of companies still don't have separate recycling bins.
If you haven't already got this in place, proper recycling facilities, including separate recycling bins for paper, plastic, tin, glass etc, both internally and externally, should be one of your top priorities when compiling your business sustainability programme. Arranging a composting collection for food waste is worth considering too.
Cycle to work schemes
Cycle to work schemes help the environment by reducing the number of cars on the road. If you're struggling to entice staff back into the office following the pandemic who would usually commute via public transport, this offers them a alternative way to travel in.
There are benefits that go beyond being environmentally friendly too, creating a more active and healthy workforce can help with wellbeing and productivity.

And there are potential financial advantages for businesses. Lending or hiring bicycles to employees to travel to work doesn't count as an expense or benefit in the UK - as long as they're available to all employees.
Provide reusable cups and water bottles
A staggering 2.5 billion disposable cups are thrown away every year in the UK, but less than one in 100 (0.25%) are recycled.
Whilst they're usually made from paper, the thin plastic lining added to the inside means they can't be processed in a conventional paper recycling mill, which leaves most in landfill.
While it's likely staff will use glasses and mugs when they're physically in the office, if they venture out on their lunch break, or grab a coffee on their walk in each morning, they may be using disposable cups, so providing good quality corporate reusable cups and water bottles is a good start to your business sustainability programme.
They can also be a great branding opportunity for when your colleagues are out and about.
Provide drinks machines in your office
Alternatively, reduce the number of employees heading out to coffee shops and fast food outlets in the first place, by investing in fruit, snacks and coffee machines that are good enough to stop them being tempted elsewhere.
This obviously decreases the amount of disposable waste produced, but it can also cut carbon emissions for those offices in more remote locations where employees rely on their cars for the coffee run.
Cut down on unnecessary printing

Creating new rules around printing, such as how often a person can use the printer, or for what kind of documents, can help to decrease paper waste.
Reducing the number of printers in your office can also help to discourage people in a more subtle way, and get them in the mindset of only printing when they absolutely need to. With teams having worked from home during the national lockdowns, you may find colleagues have already adapted well to printing less frequently.
If people absolutely must print, switch to recycled paper. Currently, only 4% of businesses use recycled paper.
By discussing eco-friendly ideas for the office with your team and starting a sustainability programme, not only will you be doing your bit to help the environment, but taking strides towards attracting talent.

Job seekers increasingly prioritise their potential employers' environmental credentials when weighing up new job options.
---
More support to help make your business more sustainable
Catch up with recommended reading on sustainability in business from Guild members.
Discover some of the sustainability communities on Guild
Join the Delivering Sustainability in your Business group on Guild for more advice on implementing practical, achievable sustainability programmes in your organisation.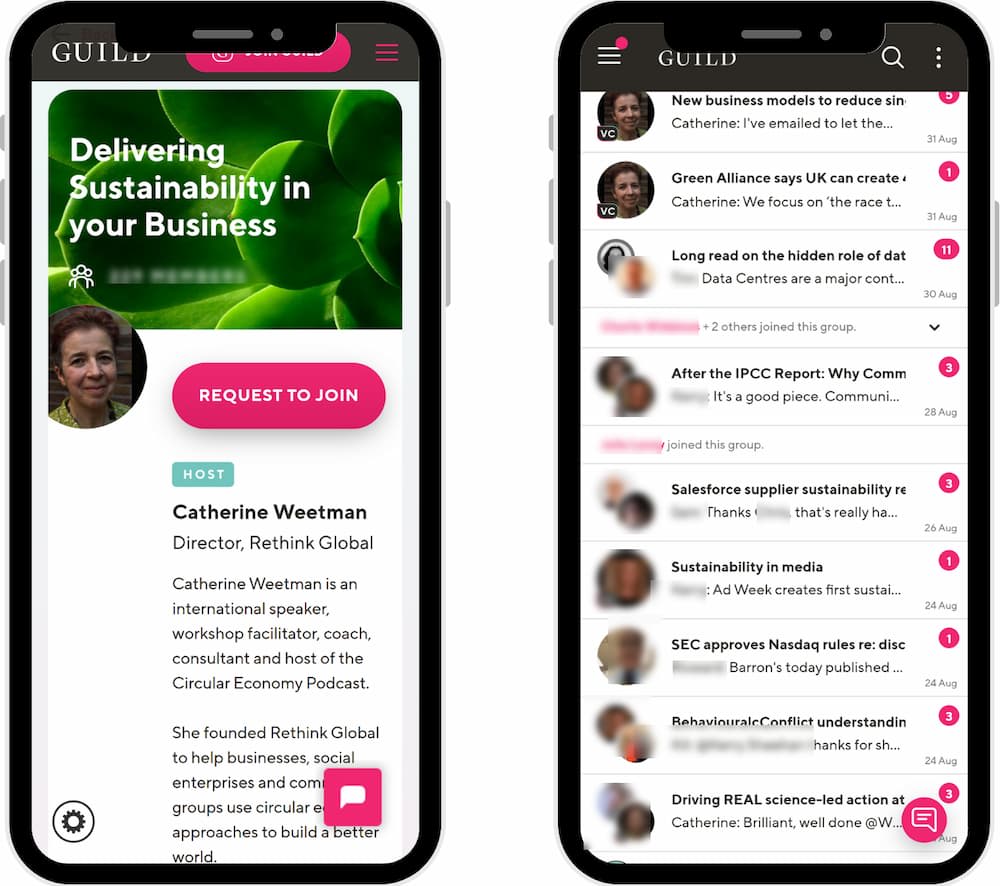 ---
Join Guild 🤝

See for yourself how the Guild experience is different to WhatsApp, Slack, LinkedIn or Facebook Groups. Guild is a safe space to connect, communicate and collaborate with others.
Join us on a platform that is purpose-built for professionals and businesses.
Contact us if you want to know more or have any questions.
Photo by Visual Stories || Micheile on Unsplash