More and more companies are realising the benefits of remote working, whether that's offering their employees increased flexibility, lowering organisational costs, or even increasing productivity.
In order to adapt to this new way of working as effectively as possible, keeping communication open is so important. Guild is a messaging app that's ideal for remote working.
Guild isn't as fully featured as workflow collaboration platforms like Slack and Microsoft Teams but as a result it is also much simpler and less expensive.
What types of remote working is Guild best for?
Guild is a messaging app for private professional groups, networks and communities. As such it works well in remote working for:
Simple, fast, communications e.g. notifications, updates, crisis comms. Because Guild is a mobile messaging app (more like WhatsApp) it is a great, quick, simple, way to get your message to the right people and they can respond with questions etc.
Quick set up - there are no systems integration or complex configurations with Guild (see steps below), so you can be up and running in a few mins.
Collaboration groups under 150 users - Guild's simple group structure works well for smaller teams, groups and communities where everyone can be in a single group without it being overwhelming. You can have as many groups as your want in Guild too (cost is based on the number of unique users not groups).
Groups across organisations - enterprise platforms can work well internally but become hard to manage and extend across organisations whereas Guild isn't tied to internal systems so works super easily across businesses.
Any group that is about expertise, knowledge sharing, networking, peer exchange and discussion - these groups don't need extensive functionality, integrations etc. and Guild's conversational / messaging interface is perfect for peer communications.
Why choose Guild rather than other solutions?
Guild might not have enough features if you're looking for a team work collaboration platform. However, you might not need something that complex.

You can see a Guild competitor comparison table here but in short:
Consumer messaging apps: WhatsApp, Telegram, Signal etc. are for personal use and either illegal, or not designed, for business use (no control, no admin etc).
Collaboration platforms: Microsoft Teams, Slack and others are for teams and workflow collaboration, not interpersonal messaging or external groups, and are more complex and ~10x as expensive as Guild.
A step by step to getting going with Guild

1. Set up your Business Account
Do this on your laptop/desktop rather than mobile phone:
If you are not already a Guild member: go to https://guild.co/pricing and click 'Start Free' in the middle Business option and register.
If you are already a Guild member: go to Settings > Your account Status > Create Business account
2. Set up your group(s) in the web admin
You need to do this on your laptop/desktop rather than mobile phone...
Click on the Admin button top left of the Groups section to go the web admin
Click 'New group' button and give your group a name. You can change the name at any time.
Click on the name of the group you've just created to edit its details. Start first by editing / updating the info as shown here:
Scroll down a bit further and you can update the logo to your own logo and choose an image to show in the masthead of the group:
Keep creating / editing as many groups as you want to reflect your event. You might have a main group for everyone and then other groups for specialist topics, tracks, areas of interest, themes as per your event.
If you want help you can add other Admins to your account by inviting them in as Admins by email in the 'Account & Admins' section of the web admin: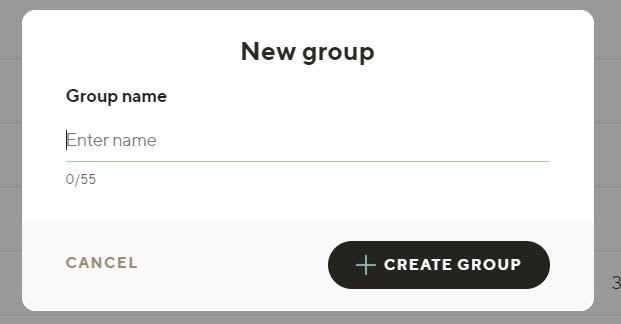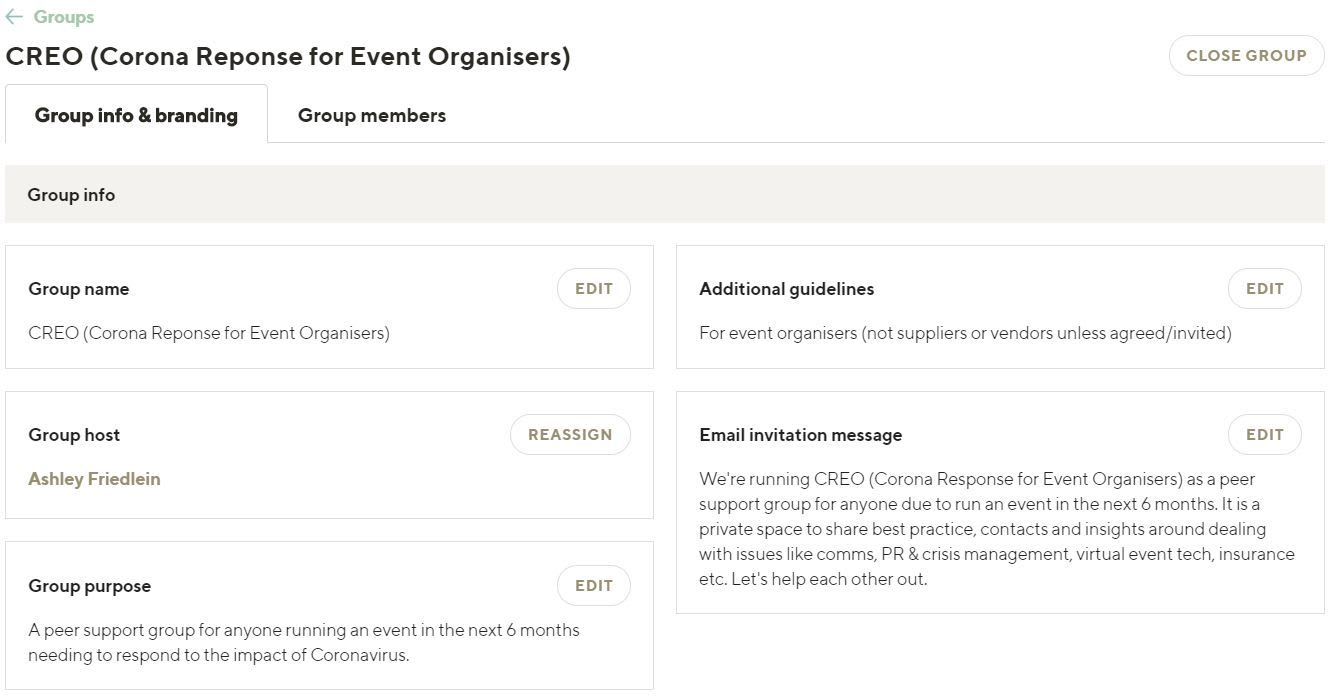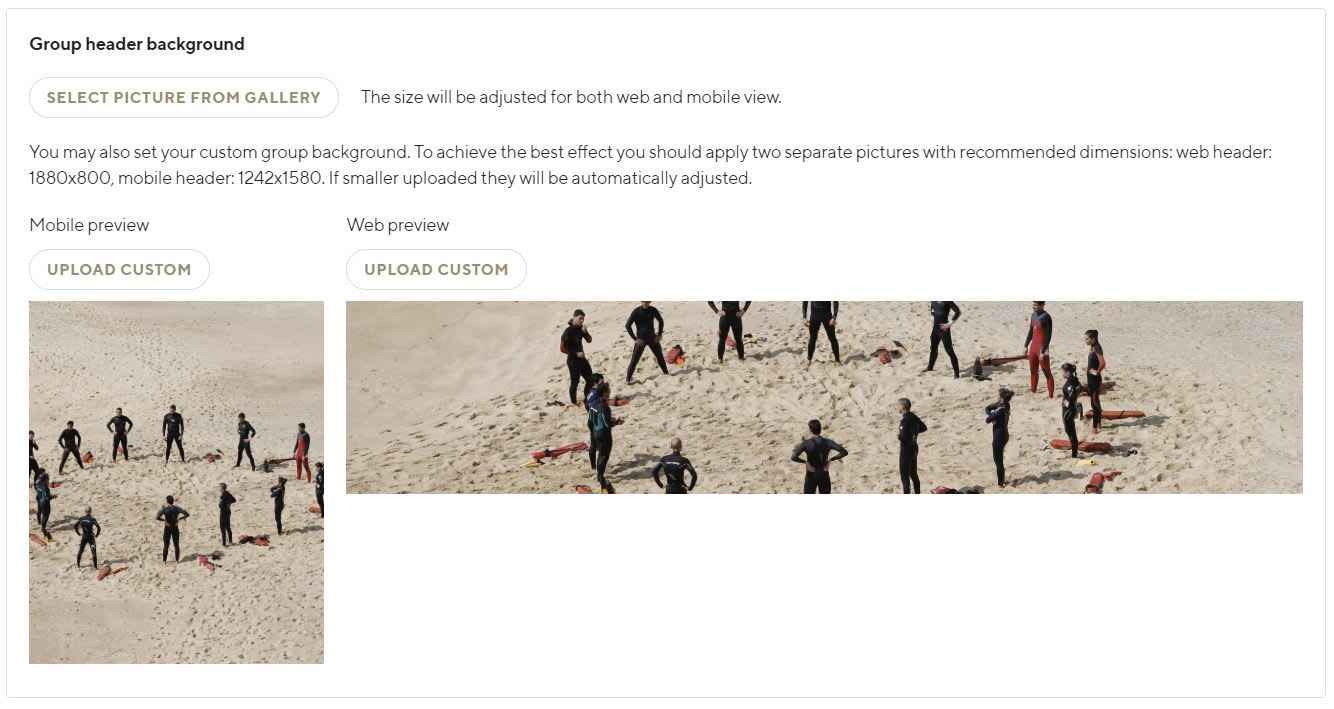 3. Start inviting people in!
Once you're happy you've got the right group(s) set up, the group info and branding is as you want it, then you can start inviting people in:
Click on the 'Group members' tab for the group:
Click on the 'Copy invitation link' button to copy the unique invitation link for the group to your clipboard. You can then paste that anywhere for people to follow to join the group or you could use it to make a link in an email invite or the link behind a button.
Or, you can click 'Invite be email' and invite multiple people at once by entering email addresses separated by commas. You can paste a list from a CSV for example:


4. That's pretty much it, but...
Your group(s) do still need someone to host them to make members feel welcome, to answer any questions, to help encourage conversation etc. Some key points:
Make sure you post a welcome message before new members join so that they don't enter an 'empty room'. We suggest you pin this message to the top by swiping left and pinning (if on mobile) or pinning via the 'more' icon on the conversation (if on web)
Hosts of a group have the power to invite new members in, remove anyone, and delete any message (for quality control). Admins have the same powers if they are in a group too. You can reassign who is host of a group to any member of that group via the web admin.
You can regenerate the invite link to any group via the 'Invitations' section in the web admin - this invalidates the previous link. This might be useful if your invite link gets 'compromised'.
5. Any other tips or best practice?
Yes, here are some best practice tips:
REMO (Remote Working Best Practice Group)
We've set up REMO (Remote Working Best Practice Group) as a peer support group for anyone making the switch to remote working and wanting to learn from others or share their experiences and insights. The REMO community has also crowd-sourced a document (the "Remote Working Resources Guide") to capture the advice, resources and insights generated by the group.
If you are a business leader, or know someone who is and might benefit from joining REMO, the invitation link is: https://guildco.page.link/CoGo6fBvcRiHRpDb9
And finally...
We're here to help. Above is a quick guide and it is very simple. But we understand this is still quite a new idea - to have messaging groups to support remote working and comms so don't be afraid to get in contact as we'd love to help.
---
Join Guild 🤝

See for yourself how the Guild experience is different to WhatsApp, Slack, LinkedIn or Facebook Groups.
Guild is a safe space to connect, communicate and collaborate with others.
Join us on a platform that is purpose-built for creating groups, communities and networks on mobile.