LONDON: 4th February 2020
A new study of over 2,000 UK LinkedIn users highlights the changing nature of LinkedIn, from a professional network to a marketing, sales and "spam-filled" platform.
The majority surveyed felt that LinkedIn, is mostly about recruitment, hiring or finding a job. Very few find that their professional contacts on LinkedIn have provided value to their career.
Here are some of the key findings from the LinkedIn user research:
The average (mean) number of connections on LinkedIn is 231
The age group with the highest average number of connections is 35-44 year olds with 270 connections
62% of LinkedIn users have over 150 LinkedIn connections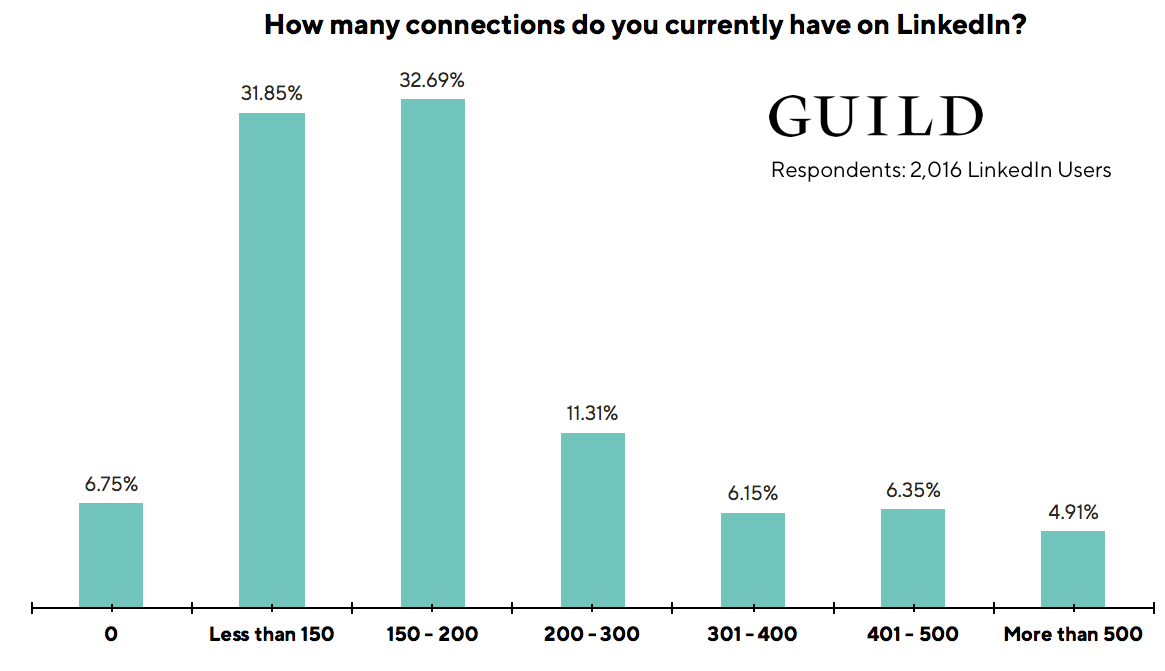 The average number of LinkedIn connections may come as a surprise to those with more than 500 LinkedIn connections.
Guild founder and CEO Ashley Friedlein explains why maintaining large digital networks is challenging:
"We know from the Dunbar number that humans cannot know, or maintain, more than around 150 relationships. This is true in our professional lives as much as our personal lives. We're realising we need to focus more on the relationships that actually matter rather than chasing connections for the sake of it."
The UK cities with the most LinkedIn connections are London, Southampton, Sheffield and Norwich
There are regional differences in the data. London LinkedIn users have the highest number of LinkedIn connections, with an average of 274, followed by Southampton (266), Sheffield (264) and Norwich (256).
The cities with the lowest number of LinkedIn connections per user are Plymouth and Belfast, with an average of 137 connections.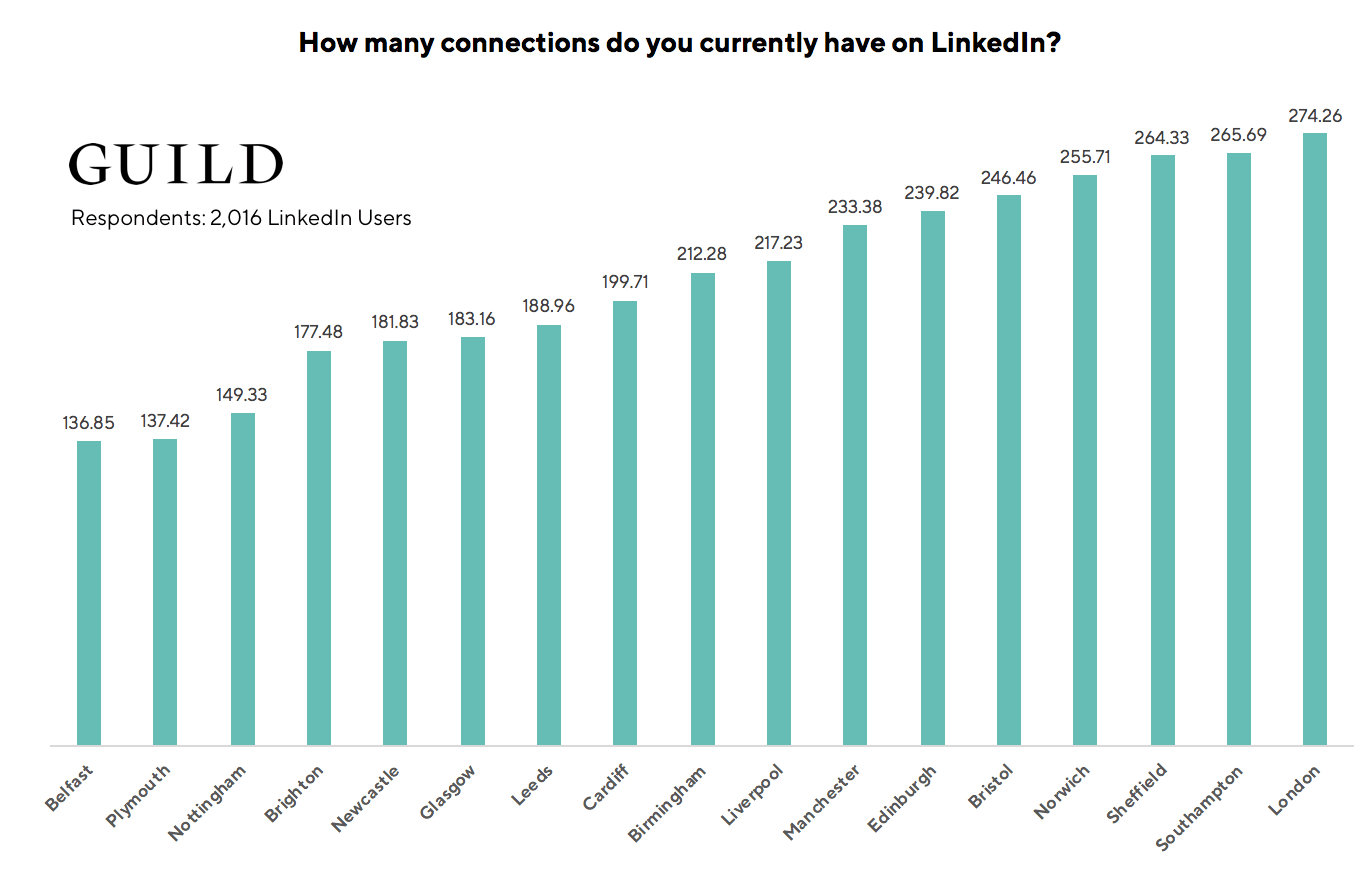 45% of respondents state that "LinkedIn has become more about sales and marketing than professional networking"
The data suggests that parody Twitter account 'The State of LinkedIn' could be making some valid points!
The survey highlights perceptions that LinkedIn is "cluttered", full of marketing content, sales and "spam" appears to be taking hold amongst UK LinkedIn users.
38% of LinkedIn users state that they find "LinkedIn too cluttered to be functional"

28% of LinkedIn users state "I find LinkedIn full of spam"
Guild founder and CEO Ashley Friedlein reflects upon these findings:

"LinkedIn has created a highly successful global business model that includes HR and Sales tools, subscriptions and advertising.
These findings could suggest that the recent explosion of content marketing, uninvited sales contacts and the new ad formats are not entirely welcomed by LinkedIn users.
We took the decision to make Guild a privacy-by-design, ad free platform. Guild users like the simplicity, spam and clutter free nature of the platform and so we're sticking to our philosophy and ad-free business model."
Find out more about how to use Guild for professional networking and personal brand building.
59% feel that LinkedIn is mostly about recruitment, hiring or finding a job
It's not all bad news for LinkedIn.
The study suggests that perceptions have shifted from LinkedIn being a 'professional network' to one where professionals can successfully find a job or hire people.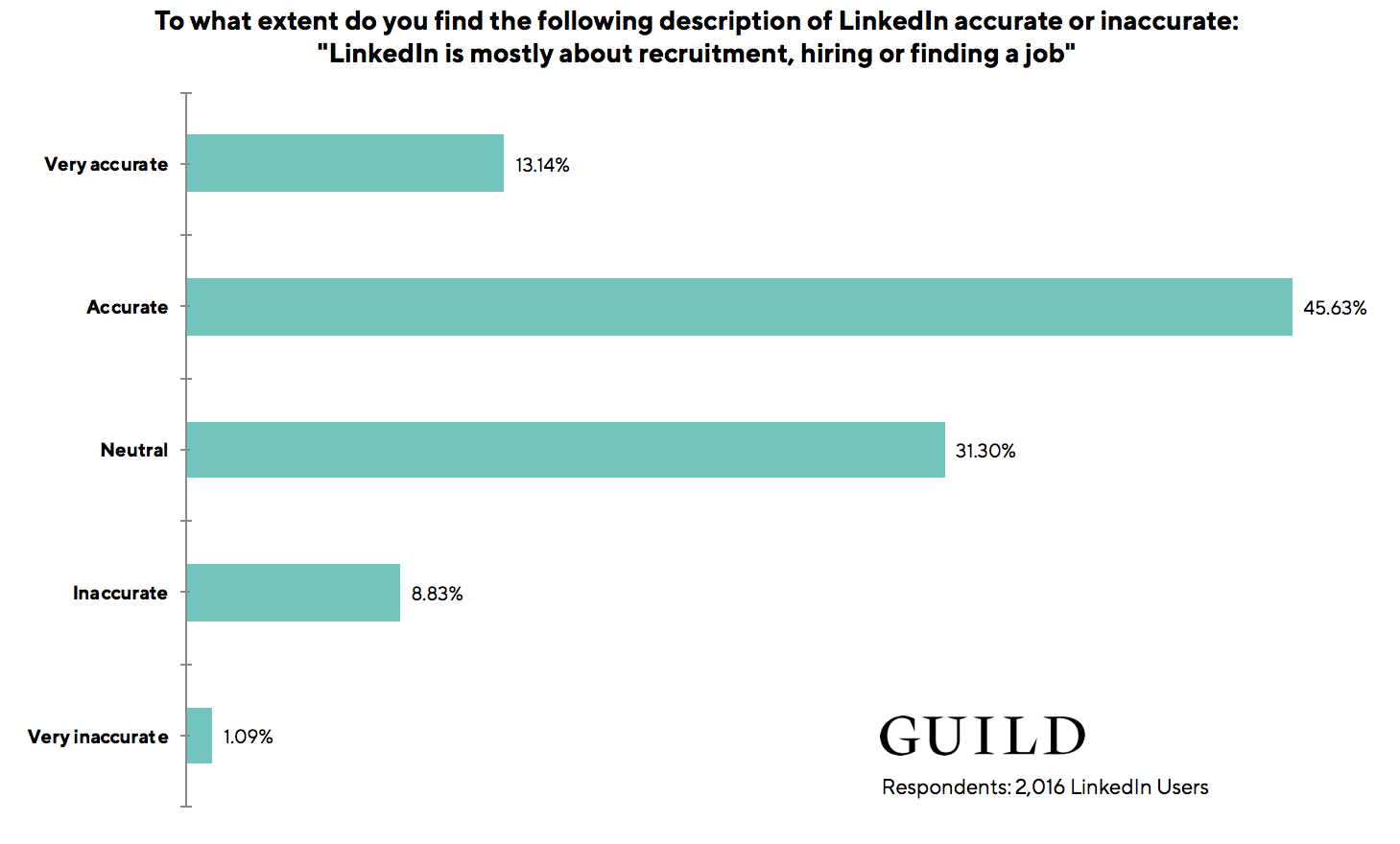 62% of UK LinkedIn users state that less than 20% of their LinkedIn connections have provided value to their personal career
LinkedIn's stated mission is 'to connect the world's professionals to allow them to be more productive and successful.'
But the study shows that the majority of LinkedIn users feel very few of their LinkedIn connections have added any value to their personal careers.
It is up for debate whether this is due to the poor quality of connections, or people finding it difficult to use the platform to network effectively.
The next statistic perhaps gives us some clues…
61% of LinkedIn users have met fewer than half of their LinkedIn connections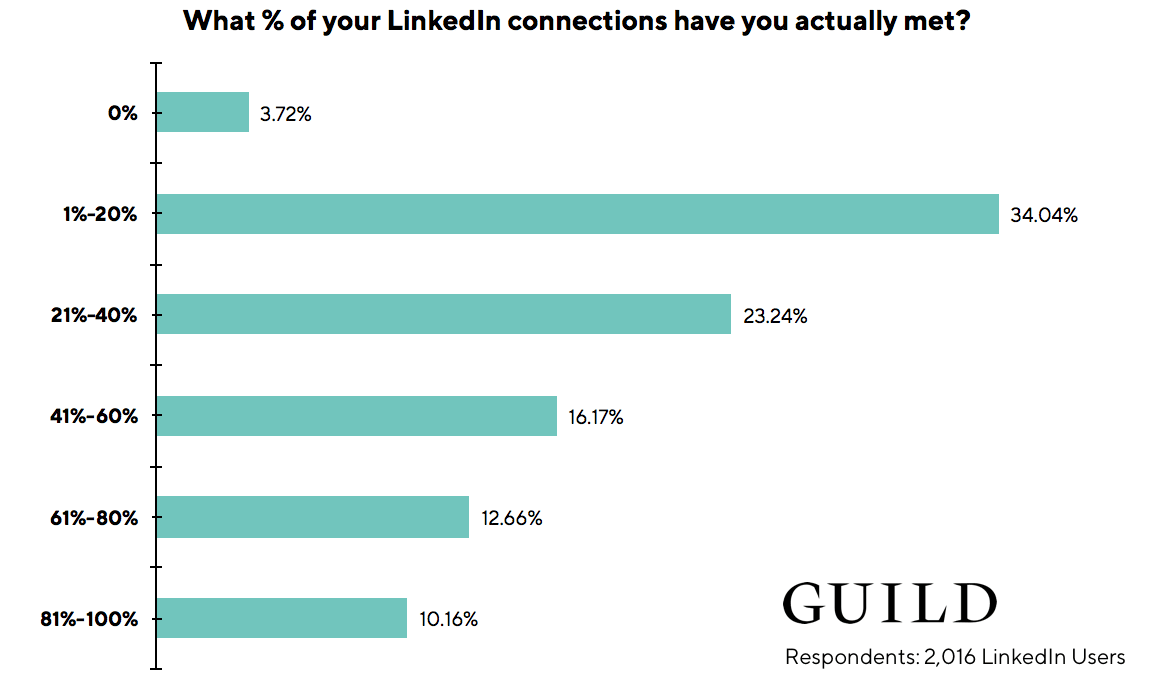 We wanted to drill into this statistic a bit more. So we asked LinkedIn users at Guild HQ about their professional LinkedIn connection 'policy'.
Younger team members spoke about wishing to build a large professional network and accepting invitations from people that they part-filtered but hadn't actually met.
Many of our older team members have been LinkedIn users for over 15 years. They said their initial approach was to connect with all who asked, even those they hadn't met face-to-face, but they had become more selective and wary of low quality, 'sales-y' connections over the years and as they developed their careers.
Ashley explains: "When you are earlier in your career you tend to be out there hustling for attention. As you become more senior the attention comes to you and you spend more time fending off unwanted approaches."
The LinkedIn platform is designed in a way that enables instant, rather than thoughtful connections and professional networking.
The correlation between how much people value LinkedIn for professional  networking and how many of their connections they have actually met in real life could be an interesting future study.
Only 12% of respondents say the following statement is very accurate: "LinkedIn is for networking with your most valued professional connections"
For people who have put effort in to nurturing valuable professional networks in LinkedIn, this statistic may seem surprising.
Across the board, perceptions of LinkedIn being a place to maintain and nurture professional networks is low, but it also decreases with age.
Only 8.76% of LinkedIn users over 55 feel "LinkedIn is for networking with your most valued professional connections."
Guild founder and CEO Ashley Friedlein reflects upon these findings. "The Guild member profile at present is a very senior professional one. 24% of those on Guild are CEOs or in the C-Suite, 34% are senior management and 6% are business founders or owners."
Whilst seniority doesn't necessarily always correlate with age, many of these C-suite Guild users have told us how refreshing it is to find a space to privately network with smaller numbers of people that they trust and value. They are bringing their most valued contacts over so they can 'Guild' them."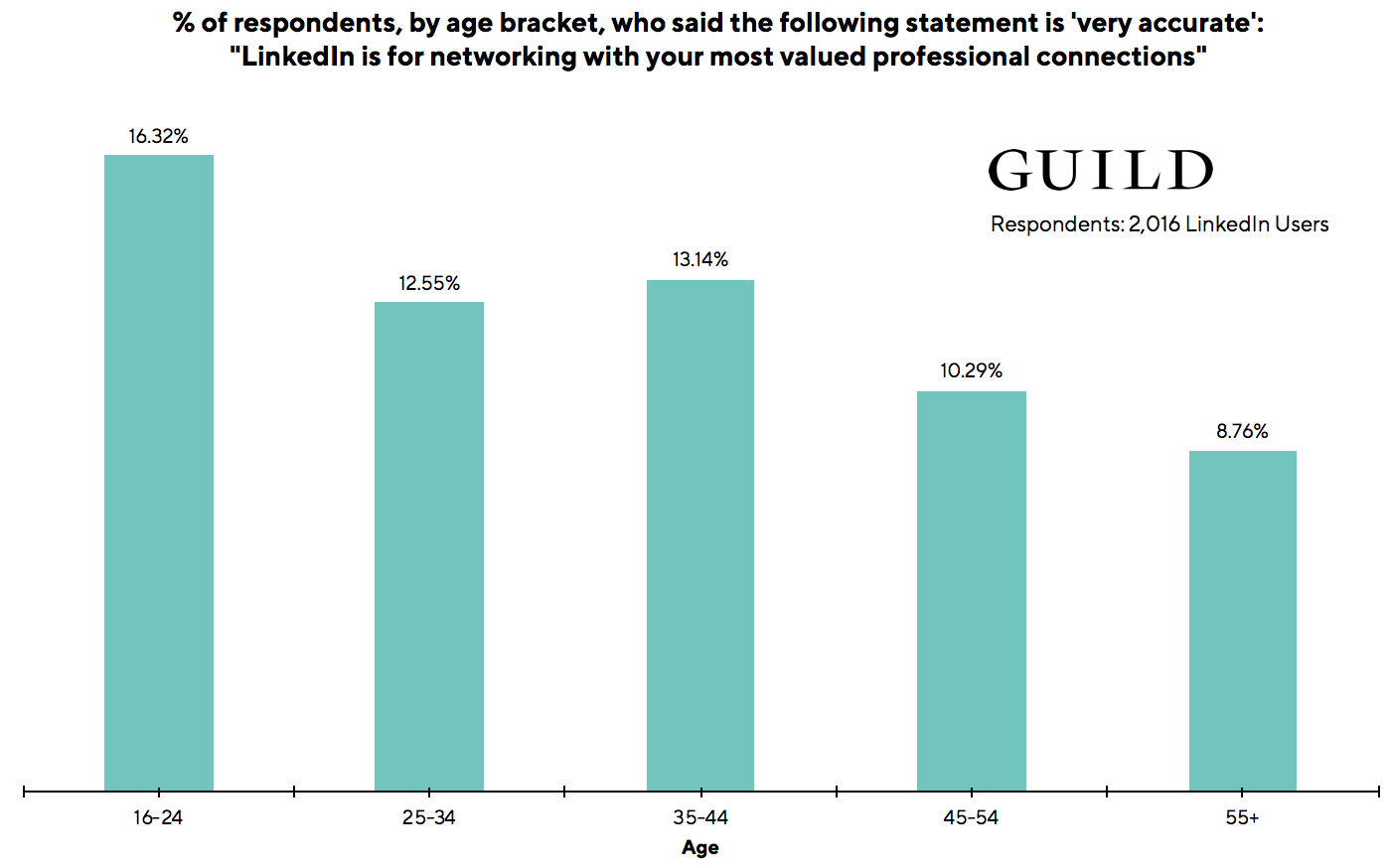 Professional networking is evolving with changes to digital technology and physical networking
We asked respondents how many contacts they have in their 'little black book' i.e. those they know best and most value.
This is a phrase familiar to those who remember a time before LinkedIn, when Filofaxes, Rolodexes and contact books held valued business contacts.
68% believe that their "little black book" of professional contacts they actually value contains up to only 15 contacts.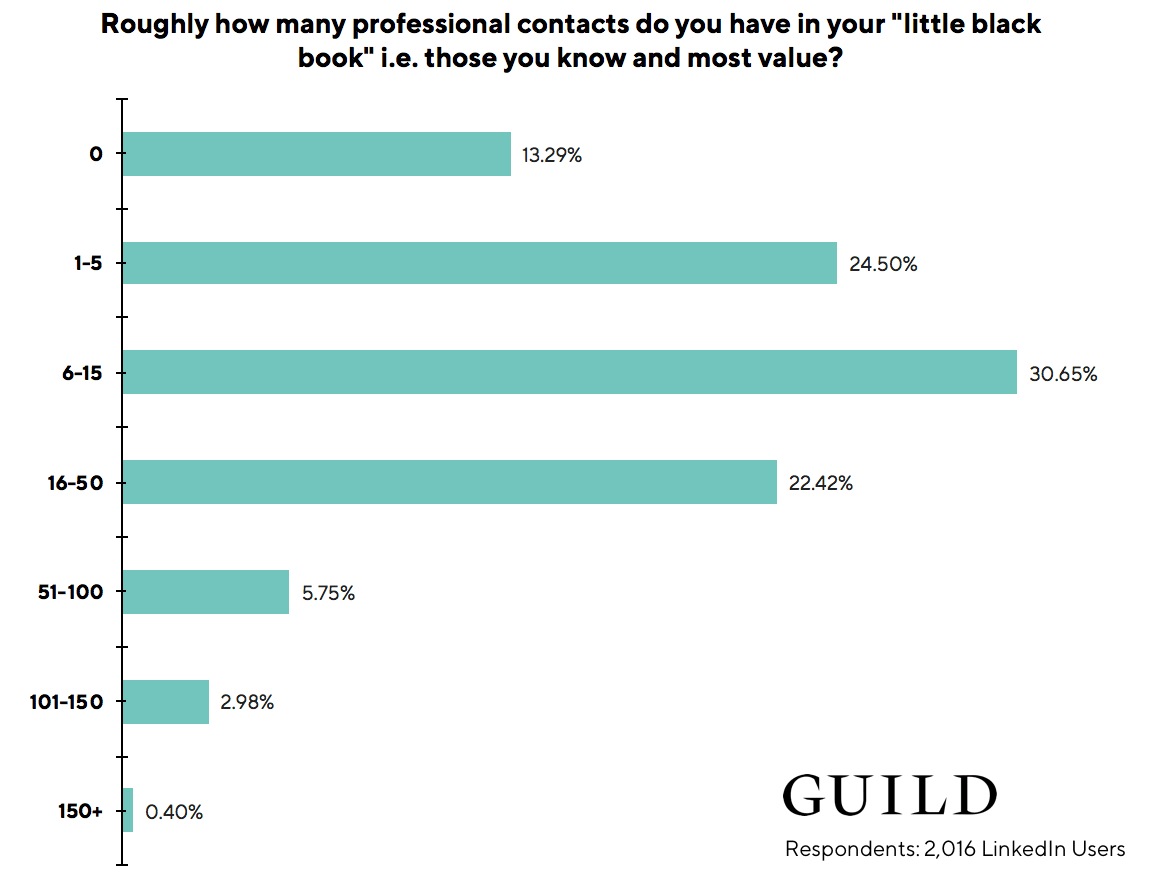 Given the respondents have an average of 231 LinkedIn connections, the percentage of people they professionally value is relatively low – begging the question: "who are the other 216 people?"
Ashley Friedlein continues: "With the launch of the personal version of Guild, we're seeing professionals inviting their best contacts into Guild so they can message each other in privacy and get through when email increasingly doesn't."
Guild have created 'A Model for Professional Networking'
The research highlighted that technology in professional networking can be helpful but perhaps we are becoming victims of algorithms, polarising voices and 'noise' in social platforms.
The research suggests that we have mostly become less connected to more people, rather than deepening our connection with people we actually care about.
We developed this simple model as a way for professionals to start to categorise and think about how to communicate with your professional networks.
Guild's Model for Professional Networking - how to network like a pro in the digital age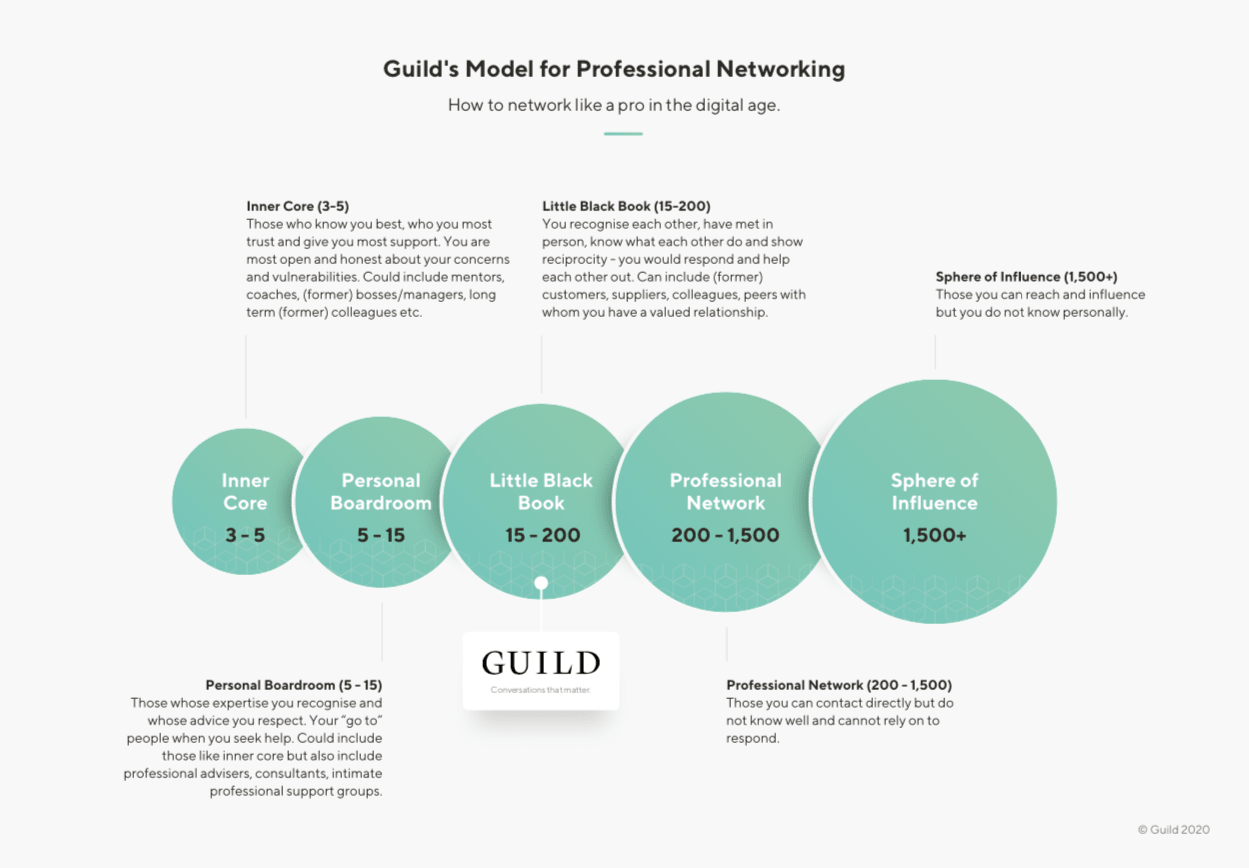 This model can be applied to people you meet in real life or through digital channels.
These categories are the people you influence, your professional network, your 'little black book', your personal boardroom and your inner core.
Consider:
Who would you apply these labels, e.g. 'Personal Boardroom' to?
Where do you currently network with them? Are you using the right blend of digital channels and platforms and physical spaces, events and opportunities?
How can you give as much as you get from these professional networks to add value to your career, help others and succeed?
We at Guild are leading a return to thoughtful and meaningful networking.
Our philosophy and this model are inspired by the 'Dunbar Number'.
Professor Robin Dunbar, a world-renowned anthropologist, and advisor to Guild, revisited his famous research finding to confirm it still holds true in our digitally connected world… and it does.
Launched in November 2018, Guild offers professionals and businesses a safe, privacy-by-design messaging space to communicate.
There are many more rich insights in the survey data that we will release over time. Ashley Friedlein explains the Model for Professional Networking in more detail in another post. You can also download it from there.
---
Join Guild 🤝

See for yourself how the Guild experience is different to WhatsApp, Slack, LinkedIn or Facebook Groups.
Guild is a safe space to connect, communicate and collaborate with others.
Join us on a platform that is purpose-built for creating groups, communities and networks on mobile.