In our latest 'Meet The Community Manager' Catherine Weetman from Delivering Sustainability in your Business (join free here) explains why online community encourages depth and breadth in respectful discussions.
Her experience in launching and running a community of hundreds of sustainability champions will be helpful to anyone launching an online community.

Hi Catherine - please tell us all about you.
"I'm Catherine Weetman, author of 'A Circular Economy Handbook' (published by Kogan Page, and now in its 2nd edition) and host of the Circular Economy Podcast. Through my company, Rethink Global, I help businesses and communities to understand and use circular economy approaches to prosper while 'shrinking' our carbon, resource and ecological footprint.
I've been working on the circular economy for over a decade now, and I'm fascinated by the 'sweet spot' where strategy, supply chain and sustainability come together.
When I'm not researching and writing, I lead workshops, give talks and coach people on why the circular economy is so vital for business strategy and supply chains and what it means for you and me.
I trained as an Industrial Engineer, have a Masters degree in Logistics, and several decades of business experience in fashion, food and supply chain services.
I guess my sustainability journey began around the mid 90s, starting with organic food – from the perspective of my health, soil, biodiversity and animal health, and the health of all those working on farms. Gradually that improved my awareness of the issues. I began reading more and going to work-related (logistics) sustainability events – but coming away frustrated that so little was being done. I was also feeling uncomfortable that my job was (in a tiny way) helping big corporates to 'sell more'.
Eventually I realised that instead of my 'moral outrage' response, maybe I should stick my head above the parapet and do something.
My boss at DHL was very supportive, and so in 2011 – after LOTS of research to make sure I didn't get caught out by awkward questions – I started giving talks to customer and professional groups.
Fast forward a few years, and I felt even more of a disconnect between my day job, and what I felt I should be focusing on – so left, and started my business."


You host the Delivering Sustainability in Your Business community on Guild - can you tell us what it is and why you wanted to be part of this community?
"I was interested to be part of a community with a broader interest in sustainability topics – I don't normally get the chance to find out what is happening with renewable energy, carbon reduction, sustainability communications and training, Corporate Social Responsibility and Environmental, Social and Governance programs, and so on.
"It's great to see the range of different sustainability topics people are engaged in, and be able to read/listen/watch insights I wouldn't have come across in the algorithmic social media 'bubbles' we're all locked into."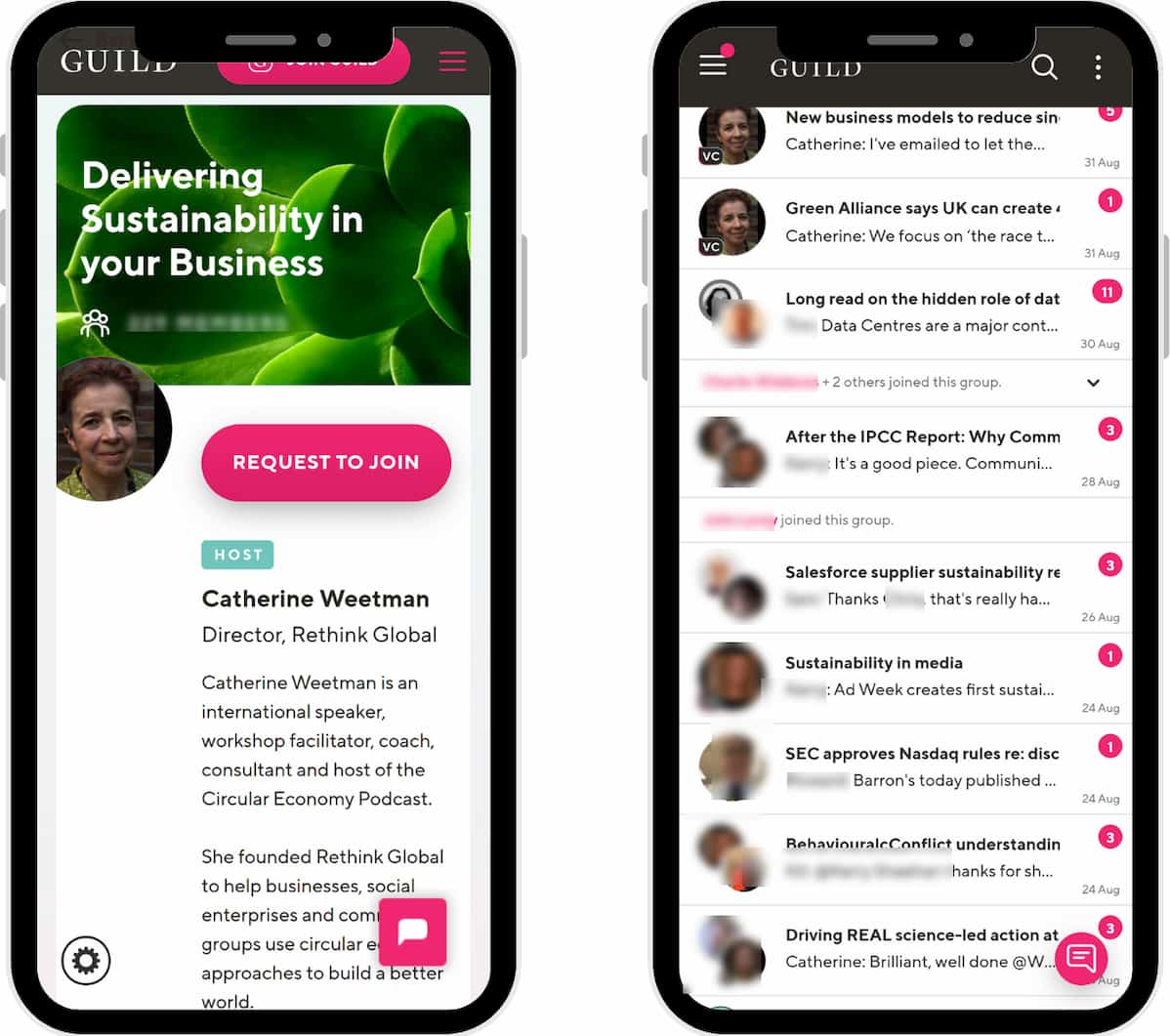 Who should join the Delivering Sustainability in Your Business community (and what will they get out of it)?
"It's for those who see themselves as a sustainability champion for their business or organisation. You certainly don't have to be an expert, and you could be just at the beginning of your sustainability journey.
As long as you have an interest in practical, achievable sustainability programmes at an organisational level, this is the community for you. Whether you want to contribute your experiences and expertise or just listen and learn from others, you're very welcome.
You'll find peer support, knowledge sharing and expert contributions. The aim is for the community to become the go-to hub for professionals who want to make a sustainability impact in businesses of all sizes."


Please give us a quick idea of the atmosphere in the community?
"Everyone is helpful and encouraging and takes time to share things they feel are relevant for others in the group.
I also like that people push back and challenge things – whether that's asking a difficult question about something that's been posted, or highlighting the likelihood of a one-sided perspective.
Even better, that's all done in constructive and polite conversation – why can't social media be like that?


Are there any threads or activities that work well in Delivering Sustainability in Your Business?
"The welcome thread seems to encourage people to share a bit about what they do, what they're interested in and so on, so it feels like a nice ice-breaker.
We've also seen lots of engagement on our recommended reading thread. We're looking into developing a book club to encourage more discussion of the topics (and provide synopses for those who struggle to find time for a whole book!).
The resource roundup has also been popular. We have a very active community, so keeping track of all the great articles and experts mentioned can be tricky. Collecting the important ones together and sorting them into topic areas makes it easy to find what you need quickly.
It also offers a space for group members to add details of their businesses. That helps others find trusted suppliers and consultants quickly but keeps sales pitches out of the discussion."

Is there anything you find challenging about managing a community?
"It's difficult to stay up to speed on a few of the specific topics  - but I'm remembering a saying that 'confusion is a natural part of the learning process'!
On weeks when I'm busy with client work, I find it difficult to be properly involved in the community conversations. But as members feel a sense of collective ownership in the community, it's staying vibrant and is starting to find its own path."

What do you love about the Delivering Sustainability in Your Business community?
"I guess it's the genuine 'community' vibe - it's very different to LinkedIn, Twitter etc.
People have decided to be part of the group and are helpful in answering questions – whether from 'newbies' or those needing info to back up the case for change."

What would your advice be for experts, consultants or campaigners who wonder if creating or owning an online community would work for them?
"Just try it! The most important thing is to think about the group's purpose - what kind of people would benefit from joining, and who could contribute.

What are your 'top tips" or tactics for running an online community?
"The group started with a really strong group of advocates who were personally connected to either me or my co-host. Starting with solid relationships helps to build the groundwork for good growth.
We also built the group through word of mouth and some carefully selected invites to key figures. We were able to use those early advocates to build trust in the community from the start, and demonstrate the value of the conversations to our handpicked invitees."

One great thing about being part of a community is sharing resources. Obviously, people should join Delivering Sustainability in Your Business, but can you also suggest a few initial resources for exploring or getting up to speed on sustainability as a business issue?
"As quick intros, but fantastic for summarising the critical points, I love the Sustainability Illustrated videos on YouTube. I share the same ethos as Alexandre, its creator, using the Natural Step principles etc.
To go deeper, the SDG Academy is the flagship education initiative of the UN Sustainable Development Solutions Network, creating and curating free educational resources on sustainable development for learners around the world.
I think it's important to be up to speed on world issues. For general news and great sustainability coverage, try the Guardian app (free, and you can donate), and for excellent journalism and a noticeable focus on sustainability and fairer capitalism, buy the FT Weekend edition.
It includes excellent book reviews on politics, economics, business, culture, arts - important for having a broader perspective about sustainability.
There are LOTS of podcasts - Outrage and Optimism podcast with Christiana Figueres, Tom Rivett-Carnac, and Paul Dickinson is one of my favourites. The World Economic Forum is doing more and more on sustainability, circular economy, stakeholder capitalism, ESG etc., and the World Business Council for Sustainable Development also publishes good quality information."
Find out more in the Delivering Sustainability in your Business community

Are you a Community Manager or Social Media professional?

Join this free online community for community and social media professionals, however experienced you are. If you're a community strategist, community builder, community manager or social media professional, this is the place to be to share resources, learn from peers and build valuable relationships in your industry.

---
Join Guild 🤝

See for yourself how the Guild experience is different to WhatsApp, Slack, LinkedIn or Facebook Groups. Guild is a safe space to connect, communicate and collaborate with others.
Join us on a platform that is purpose-built for professionals and businesses.
Contact us if you want to know more or have any questions.