The Low Carbon Homes events series was established in 2018 to support city and regional stakeholders in transitioning properties to low carbon energy.
Low Carbon Homes quickly became a nationwide independent platform for retrofit professionals. Practitioners, vendors and communities come together in a series of regional conferences designed to help make changes to existing buildings so that energy consumption and emissions are reduced.
Organiser Graham Lock wanted to maintain momentum and the valuable connections the event had built for the Low Carbon Homes audience. He chose to create a community for those who are decarbonising houses on Guild, and tells why its ease of use and mobile-first design are especially important for them.
Results in brief
Momentum of live events maintained throughout lockdown cancellations
Added value to relaunched live events post-pandemic
Recruitment by recommendation from community members
Effective participation for non-desk based professionals through mobile app
Insights and community topics inform future content and events

Why did you want to connect your event audience with a community on Guild?
"The Low Carbon Homes conferences had filled a niche for stakeholders and industry professionals. In 2020 we suddenly had to start cancelling events because of the coronavirus pandemic. Then it became clear that things weren't going to go back to normal for some time. It was crucial not to lose the momentum we'd built with the regional events. Every day the need to reduce our carbon impact becomes more important.
Events organisers know that it can be hard to bring everyone together in one place, even in the best of times.
An online community was clearly the sustainable way to keep our audience connected during lockdown and beyond. It let us continue the conversation during lockdown when we couldn't meet in person, and has now become a regular and irreversible feature of our community's life."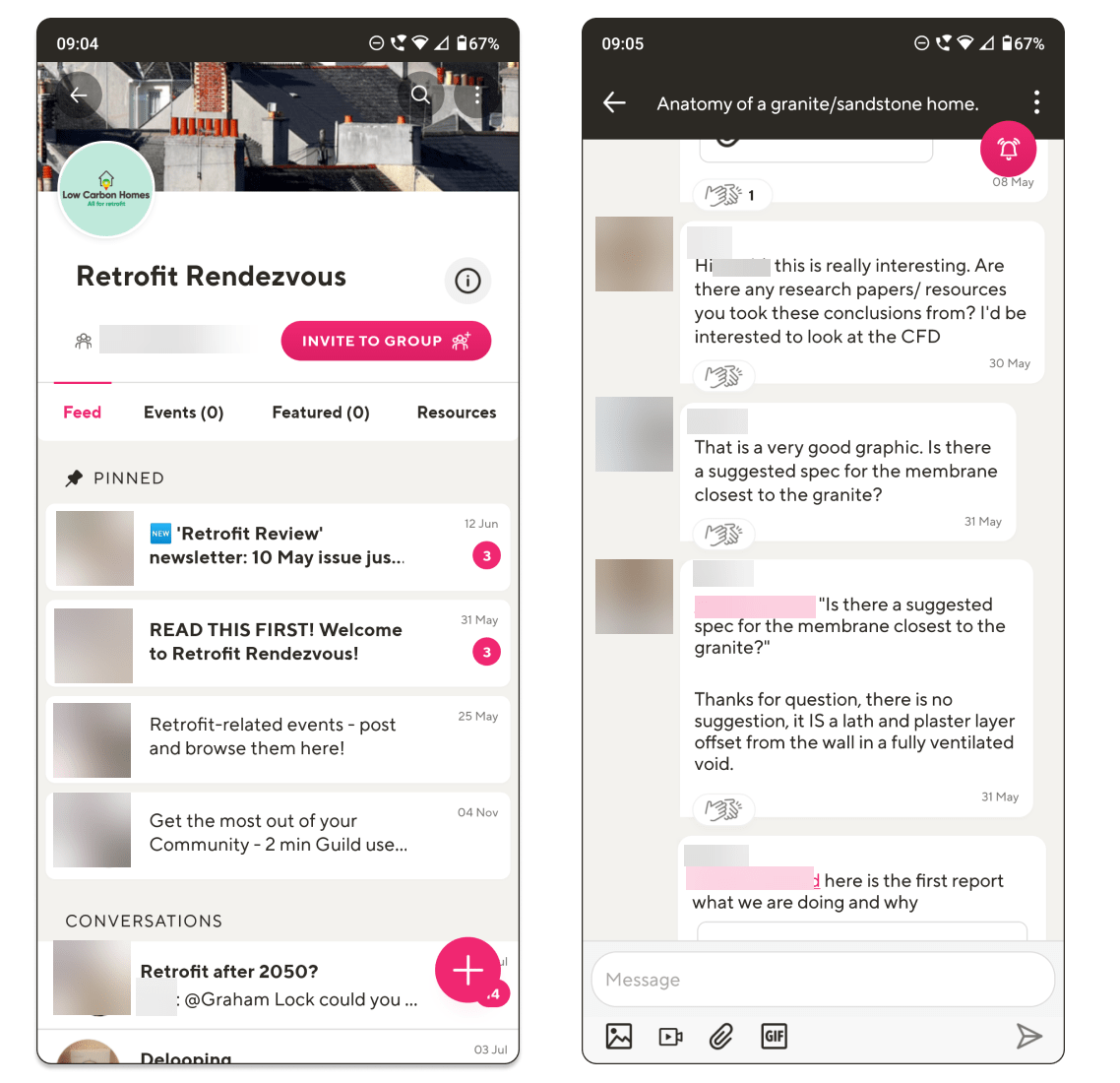 What is the Retrofit Rendezvous community and who is it for?
"It's for anyone who has attended or contributed to the regional retrofit conferences. We also welcome anyone who has a professional interest in decarbonising housing.
The community on Guild is the perfect platform to continue the conversations that take place at these events. We can connect all year round with no geographic restrictions. For example, a Housing Association in one end of the country can learn directly from peers hundreds of miles away. Organisations who share the same challenges can build relationships and share and develop expertise.
Low Carbon Homes is all about reducing the carbon impact of housing, with an acute focus on existing stock. Our members include architects, engineers, contractors, consultants, landlords and policymakers.
The retrofit market is still under-funded and complicated, but it's changing rapidly. Low Carbon Homes events have built real traction and we're starting to attract manufacturers, researchers and developers in the space. By bringing everyone together into the Retrofit Rendezvous community we're able to remain reactive as the sector matures."

Why use Guild and not other community platforms like Slack, WhatsApp or Facebook Groups?
"I'd already joined Guild to build my professional network. I found it intuitive and easy to use. Having seen Guild work first-hand as a member I had no qualms about recommending it to others.
The Low Carbon Homes community is diverse and distributed. Members like engineers and contractors don't have time to sit down at a desk to keep up with a conversation, so hosting a community on a platform that works beautifully on mobile was a must.
I could reassure them they could join in wherever they are and it would be easy to network and find the conversations they cared about."
---

More about Retrofit Rendezvous
Retrofit Rendezvous is a private space for those who have attended or contributed to the regional retrofit conferences staged by Low Carbon Homes, and anyone who has a professional interest in decarbonising housing.  Find out more and apply to join the Retrofit Rendezvous community here.

---
More about combining events and community
How to combine Events with Community: best practice guide
National Awareness Days 2022 for your community
Case study: CommsHero superpowers event community with Guild
Tech stack that works well with Guild communities
How to make your event more inclusive
Photo by ThisIsEngineering from Pexels
---
Join Guild 🤝

See for yourself how the Guild experience is different to WhatsApp, Slack, LinkedIn or Facebook Groups. Guild is a safe space to connect, communicate and collaborate with others.
Join us on a platform that is purpose-built for professionals and businesses.
Contact us if you want to know more or have any questions.