Jenny Cater is one of the Community Managers at literacy charity Bookmark, and the host of its volunteer community on Guild.

Each year, eight children in an average class will leave primary school unable to read well. These children will often struggle in school, and beyond. Bookmark describes its mission:
"When a child can navigate words, they can navigate the world. That's why Bookmark is helping children develop the reading skills and confidence they need for a fair chance in life, through its flexible, volunteer-led programme."
The Bookmark app matches schools with fully safeguarded, vetted and trained reading volunteers. During each programme, a volunteer has one-to-one reading sessions, twice a week for six weeks, with a child who needs extra help with their reading. Sessions take place in school, either face to face or online through a secure, interactive platform.

Bookmark's Guild community helps the charity and its volunteer network to update and support each other - here Jenny tells us more about how it works.


Tell us about the Bookmark community on Guild - why did you launch it and what's the atmosphere like?
"We launched Guild off the back of volunteer feedback that they would like a space to connect with others and share ideas.
It's been great watching the community grow and become increasingly active over the last year.
I would say there is an atmosphere of enthusiasm, our volunteers are very keen to keep learning and developing."


What's been the impact on your work so far - and what does the future hold for the volunteer community?
"The response to Guild has been really positive, with volunteers saying that it has been reassuring to have somewhere they can go to ask questions or even just read thoughts and ideas from other volunteers and the team!
It has definitely helped volunteers to see the wider community they're a part of.
We hope to continue growing the community in the new academic year as volunteers will be starting new reading programmes when schools go back!

We would love to see even more volunteers joining Guild and using it to receive updates and keep enhancing their experience."




Do you have any regular threads/posts you think could work in other communities or groups on Guild?
"We're always trialling different thread ideas, but some have worked particularly well:
Upcoming events – we update this to share what events and activities we have coming up for them. We hold weekly online drop-in sessions for our volunteers, so we use this to promote them and encourage people to attend.  


What we're working on - we update threads with new initiatives we're working on based on volunteer feedback. We find this helps them to get an insight into what we're developing behind the scenes. It also shows that their feedback is valued and acted upon!


Resources made by volunteers – in their reading sessions, volunteers use various books and activities with the children. We created a thread for them to share certain resources that worked well including activities they may have made themselves such as wordsearches. It's great to see them share their creativity! "


Do you run events (real-life or otherwise) or other ways to connect your community members?
"Yes! We have been running our events virtually over the last year and now that our volunteers are located all over the country, we will keep doing this so everyone can attend.
As I mentioned before, we run weekly online drop-in sessions around themes relating to their volunteering. We have a welcome session for those that are new to volunteering, this gives them the opportunity to meet the team as well as others in the community and ask any questions to help them feel confident before getting started! We also run sessions around literacy themes such as engaging reluctant readers and developing comprehension.
We recently did a serious of 'Guild Takeovers' where we invited teachers and experts to log onto Guild for an hour for a Q&A around their area of expertise. This has been really positive and something we will look to do again in future."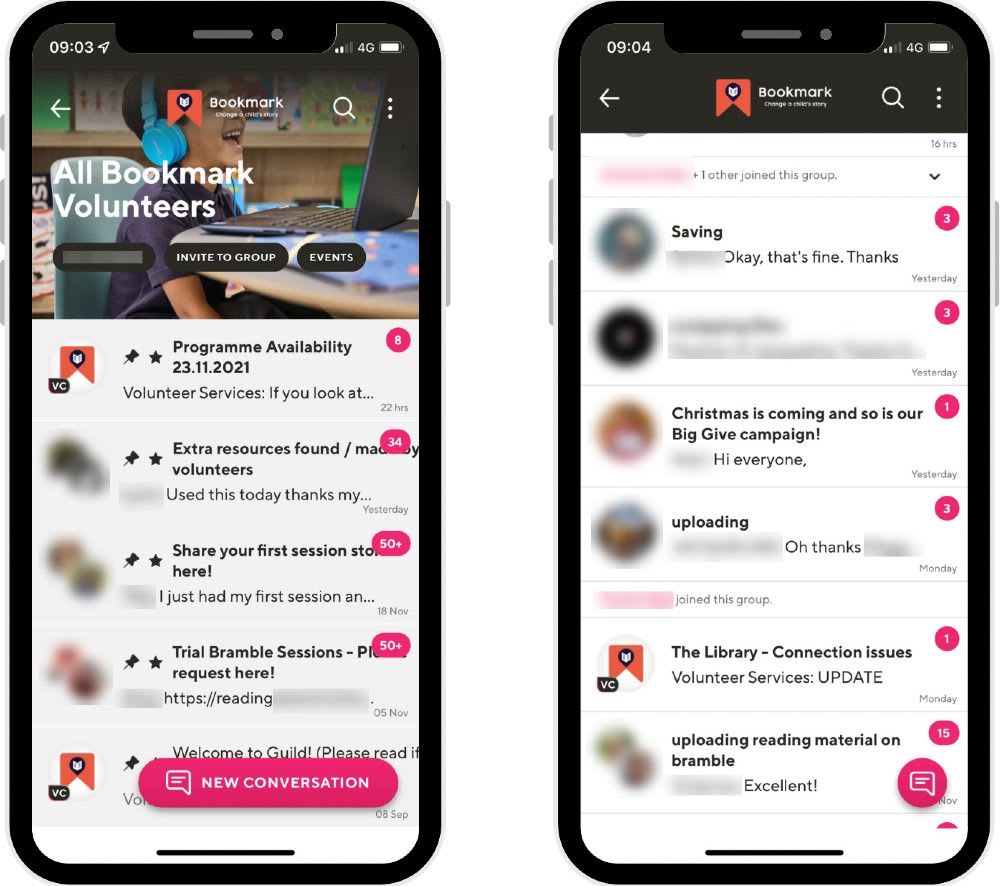 What's the hardest thing about running a community - and what do you love most about hosting one?
"It can be challenging when an idea for engaging the community doesn't work as well as you would have hoped, however it all helps you learn how to use the group most effectively!
One of the best things about hosting the community is seeing people use it to celebrate each other's successes and help one another! Our community will often offer their ideas and support where they can and it's really great to see our volunteers connecting in this way."
Who are good people to follow to learn more about child literacy and volunteering?
"Teresa Cremin is a real star in the literacy space! She's involved with various initiatives and is very active on Twitter.
Most people will have heard of Michael Rosen; he is such a vocal figure around children's literacy and his children's books are well loved by many. He regularly writes for the Guardian too around issues to do with education."  
Finally, when you get time away from work and managing a community how do you switch off?
"Is it cliché for me to recommend getting stuck into a good book?

Like lots of people, I have found that my interest in reading has really fluctuated over the last year. However there's nothing quite like finding a book that really hooks you!
We launched a book club for our volunteers earlier this year and it has really pushed me to read books I might have put to the side. Something we've learnt at Bookmark more than ever over the last year is that reading can really unite us and help us to feel a sense of optimism in challenging times."  

---
Thanks to Jenny, her Bookmark colleagues and all the Bookmark volunteers for making a big difference to so many children's lives. Find out more about Bookmark and its volunteering scheme here

Find out more about running a charity community on Guild:

Bookmark child literacy charity coordinates its volunteers with a Guild community
The Access Project moves from Slack to Guild

The Alliance for Child Protection in Humanitarian Action brings AGM attendees together on Guild

UK charity for people with Young Onset Parkinson's simplifies board communications


Are you a Community Manager or Social Media professional?

Join this free online community for community and social media professionals, however experienced you are. If you're a community strategist, community builder, community manager or social media professional, this is the place to be to share resources, learn from peers and build valuable relationships in your industry.

---
Join Guild 🤝

See for yourself how the Guild experience is different to WhatsApp, Slack, LinkedIn or Facebook Groups. Guild is a safe space to connect, communicate and collaborate with others.
Join us on a platform that is purpose-built for professionals and businesses.
Contact us if you want to know more or have any questions.