In our latest 'Meet The Community Manager' Jonathan Neill from Business of Sport (join free here) explains why creating a community is a natural next step for a good networker, and why the sports industry is starting to realise the benefits of working together.

His coal-face tips are useful for anyone running a professional community.
Hi Jonathan - tell us all about you

"I'm fortunate to have worked in the sports industry for 25 years now.
I started when I was at university and worked in sports journalism during my final year there following some summer work experience, and then for a short time after I graduated.
I moved into the agency world and spent 11 years at three different agencies in sports marketing, communications, and sponsorship. A great time to learn, develop and work on many different projects.
From there I moved brand side to Barclays as Head of Sponsorship Partnerships, working on some amazing sponsorship properties around the world. Barclays was a client of mine from a previous agency role and it was a superb experience within a large global company with an extensive sponsorship portfolio.
After leaving Barclays I worked for myself as a consultant – something I really enjoyed. One of my clients was the Rugby League World Cup and that evolved to me joining them on a full-time basis as Commercial Director.
After leaving there at the end of September last year I picked back up my consulting business. I'm working with a range of rights holders, brands, and agencies. It gives me the opportunity to experience varied projects and to work with some tremendous professionals and organisations in the sports industry."


You're running the Business of Sport community on Guild - can you tell us what it is and why you wanted to be part of this?

"It's for anyone within the business of sport.
It's a diverse industry and we want the community to reflect that, so our members represent all the different areas including marketing, communications, commercial, digital, broadcast etc.
Our purpose is to connect, communicate and collaborate by sharing ideas, content, and opinions.
Networking has always played a crucial role in my career to date, so it felt like a natural step to take to create and build the community on Guild."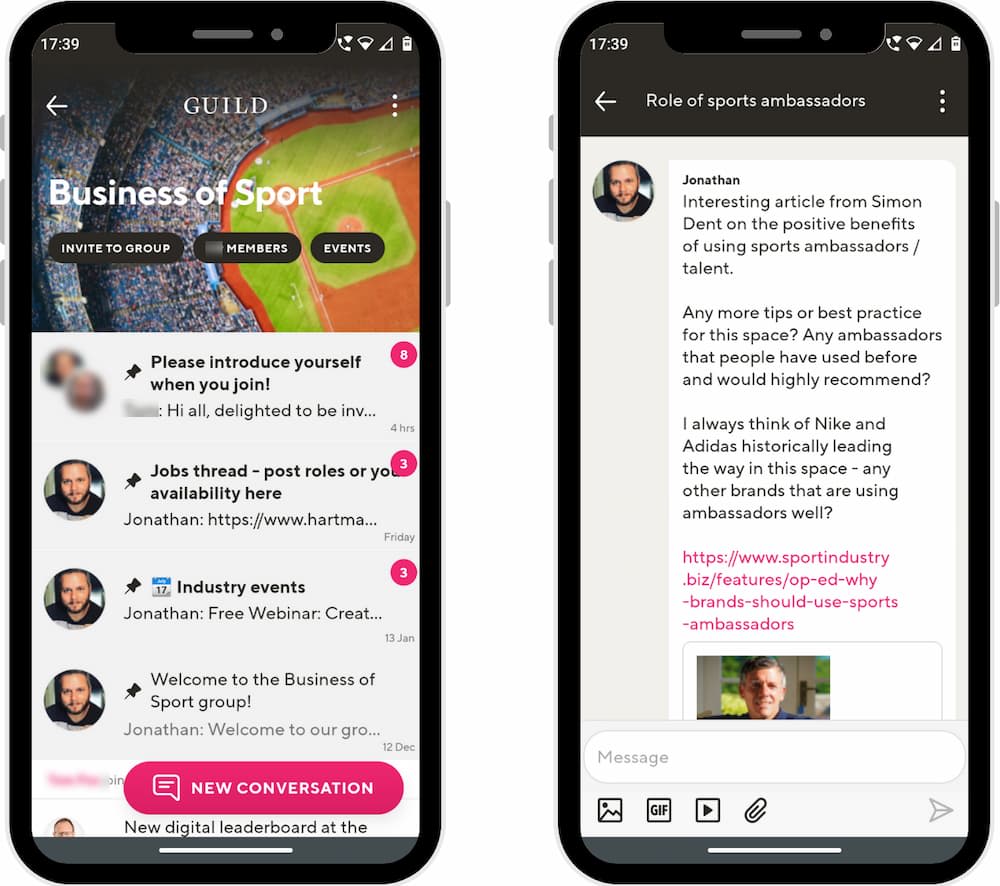 Who should join the Business of Sport community (and what will they get out of it)?

"Anyone who works in the business of sport can join us.

We want people from all areas and to remove any barriers for entry, which at times within the industry can be based on hierarchy.
People who join us will be able to develop contacts, connections, partnerships, and ideas."


Could you give us a quick idea of the atmosphere in your community?

"Like the sports industry itself, it's relatively fast-paced. We wanted the community to be dynamic and relevant for members.
It's a very friendly and collaborative environment.  People are contributing and providing thoughts and ideas, and also taking away insights and learnings."


Are there any threads or activities that work well in Business of Sport?
"The community discussions have been quite varied so far - from discussions about esports, sports NFTs, ambassadors/influencer campaigns, sponsorships, rights ownership and more.

It will be interesting to see what type of discussions become the norm and what feedback we get from members about what they value from the community.
The sports industry is so varied and there isn't a shortage of topics and news!
I guess really the group comes into its own by making some of that regular news relevant to the business of sport."


Is there anything you find challenging about managing a community?

"Probably initially it would be testing the volume of content as a host that I share and post.
It's important to find a balance amongst the threads that members start."


What do you love about the Business of Sport community?

"I think it's connecting with people in the industry and sharing ideas. The business side of the sports industry historically used to be much more of a 'closed shop' in my opinion, driven by competition.
However, in recent years I think that's changed and there is a real sense of collaboration now.
People are working together for the greater good and to be progressive - and I think that's a good focus for our Business of Sport community on Guild."


What's your advice for other consultants or experts wondering if creating or owning an online community would work for them?

"Go for it! We do it so much anyway day to day with our contacts, so to use the superb UX and capabilities of Guild makes it easy!
It's also rewarding and fascinating to see and hear what is shared, and the connections and collaborations which are taking place between members of the community."


What are your 'top tips" or tactics for a community on Guild?

"It's obviously a good idea to have some initial ideas around content plans when you start any community.
At the same time I'd like the group to be relevant and for people to start conversations on things that matter to them, so it's important to get a balance between structure and process, and also have reactive content.
Early membership was mainly driven by relationships and word of mouth. It has driven recruitment, content, engagement, and the value people subsequently get from the community.

But we are moving towards a community predominantly 'run' by its members. They will help evolve the group and make it sustainable.
Naturally at the beginning of any community members are adapting and learning about the group, the discussions and Guild itself, so I'm excited to see how the community builds and develops.
Success isn't just about engagement but also feedback from members on what they're getting out of it.
I've had some great messages already from people who are really enjoying the community and are impressed by Guild as a community and networking platform, which is great to hear."


One great thing about being part of a community is sharing resources. Obviously, anyone in the sports industry should join Business of Sport! Can you also suggest a few initial resources for people who want to understand the opportunities and challenges in the industry?

"There is an abundance of free resources to learn more about the sports industry.
A leader in the field for many years now has been Sport Industry Group who amongst other things provide a daily email news update people can sign up for. SportBusiness, SportsPro and Sport For Business are also further superb online resources.
I've found myself listening to more podcasts over the last two years and would recommend The Unofficial Partner Podcast. It has over 200 episodes now which involve a range of people from across the industry.
I also think the industry is also very open to helping others, so I'd recommend getting in touch with people directly and asking for some of their time to ask questions about their experience. People will be surprised what they can gain from the old-fashioned approach! "


Are you a Community Manager or Social Media professional?

Join this free online community for community and social media professionals, however experienced you are. If you're a community strategist, community builder, community manager or social media professional, this is the place to be to share resources, learn from peers and build valuable relationships in your industry.

---
Join Guild 🤝

See for yourself how the Guild experience is different to WhatsApp, Slack, LinkedIn or Facebook Groups. Guild is a safe space to connect, communicate and collaborate with others.
Join us on a platform that is purpose-built for professionals and businesses.
Contact us if you want to know more or have any questions.