In the latest of our 'Meet The Community Manager' series, Fay Schofield from Charity & Non-profit Trailblazers (join free here) explains why a community of practice is important for "those that work in the space of doing good" - and why you should join if you work for a charity or non-profit.
Fay's tips for building a community that connects professionals at all stages of their career are helpful for all community practitioners.

Hi Fay - tell us all about you

"Hi! Thanks so much for having me! I've been working in social media for over 11 years now… truly of the Myspace age! Throughout those 11 years, I've worked in a variety of roles. I've been in-house at charities leading the social media efforts. I've also worked for agencies managing B2C accounts from food and beverage, sports and music clients. A real mix!
IN 2019 I was lucky enough to have the opportunity to move to California and started working with an agency called M+R which specialises in digital strategy for US based non-profits.
I worked with organisations fighting for everything from reproductive justice, labour rights, nuclear disarmament to better protections for LGBTQ+ health care workers - and all through the US election with the resounding theme to mobilise people to create change.
After this whirlwind, I moved back to the UK last year and set up roots in Oxfordshire. With the move I also founded my own social media consultancy - Catnip Comms. We aim to work with charities and social justice clients as our main passion is to use digital and social media to do good in the world.

Over the past 12 months we've worked with some amazing organisations like WWF UK, RNLI, Global Witness. As we move in 2022 we're so excited to continue creating social media and digital campaigns which raise awareness, build devoted communities and raise viral funds."


You're running the Charity and Non-profit Trailblazers community on Guild. Can you tell us what it is and why you wanted to be part of this?

"I've worked in social media for what feels like for such a long time.  I know how challenging it can be for us in the digital space to be constantly battling algorithms. We're having to make both content and communities fit the platforms they're hosted on, but thankfully that isn't the case at Guild."
"Running a community on Guild means you can put the community and its members first. You're working with and for humans, rather than an ambiguous algorithm."
"I was really intrigued about joining Guild because it centres around connection, and allowing users to come together and collaborate in a space which isn't dominated by external factors.
When I was asked to host the Charity and Non-profit Trailblazers community I jumped at the chance. The idea of helping build a truly collaborative community for those that work in the space of doing good really excites me!"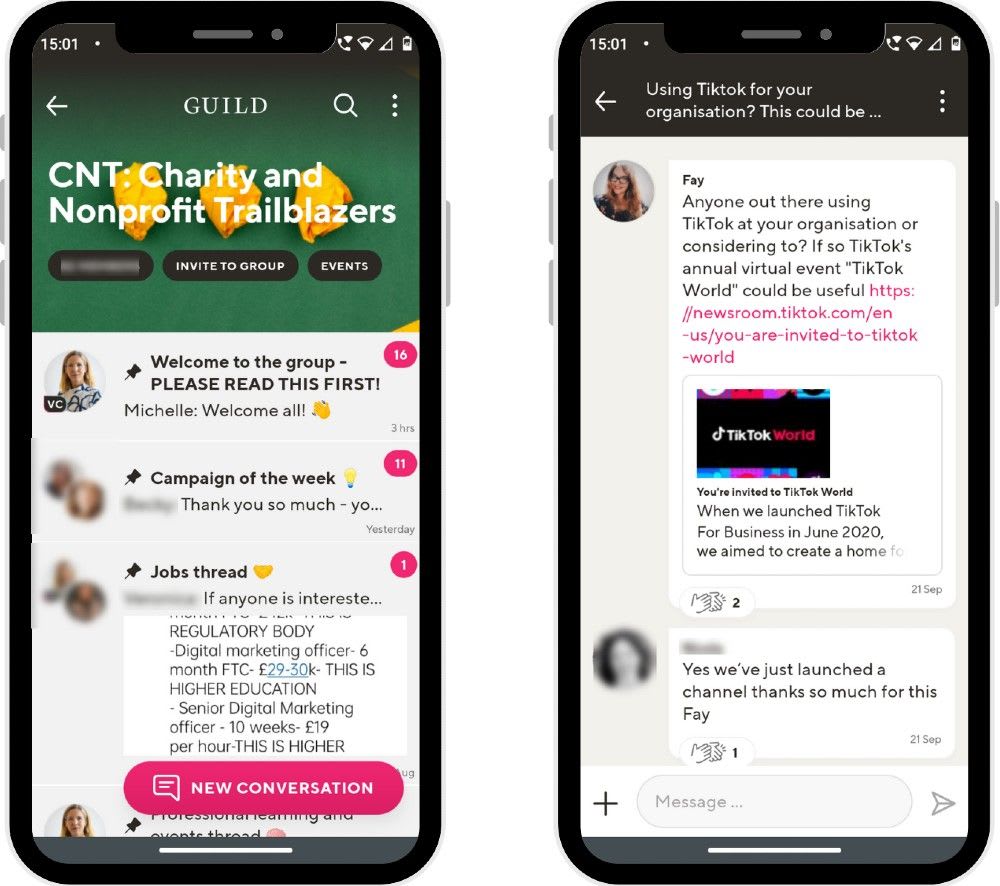 Who should join Charity and Non-profit Trailblazers (and what will they get out of it)?

"The group is ideal for anyone that works in digital, communications or marketing across the charity, non-profit or public sector.

We welcome all levels to join the community, as we really want to create a place for people to strategise, share ideas and learn from each other.
Our conversations cover everything that can help us do our jobs better or support one another. That might mean sharing examples of great campaigns, asking for feedback on an idea, offering tips on technology and services, or keeping up to date on the really big issues like accessibility and social mobility."


What is the atmosphere like in the community?

"We're just beginning to stretch our wings and grow into a fully fledged community as we've recently just hit our first milestone of reaching over 100 members, but the atmosphere in the community is excited, supportive and you can see how members want to grow and learn from each other. It's a great time to join!"


What threads or activities work well in Charity and Non-profit Trailblazers?

Our welcome thread is a hub of activity at the moment as everyone who is new to the community is introduced and a bit of their background is shared with other members.

We're also going global from folks joining from across Europe, USA and the UAE - it's so interesting to learn what people working in the charity and non-profit sectors are up to on a global scale.  
"Campaign of the Week" is a great way to share work that's impressed you and spark new ideas. I also love the professional learning and events thread - everyone in the sector wants to do their best and keep building skills.


Is there anything you find challenging about managing a community?

"Digital fatigue can be challenging and I think everyone over the past two years has experienced this.
We've been living our lives online as a way to keep our connections thriving and vibing as we navigated through the continuing pandemic."
"Sometimes it takes that extra push to spend some more time behind a screen, but when the community you're hosting begins to grow it helps damp down that fatigue and replaces it with motivation instead."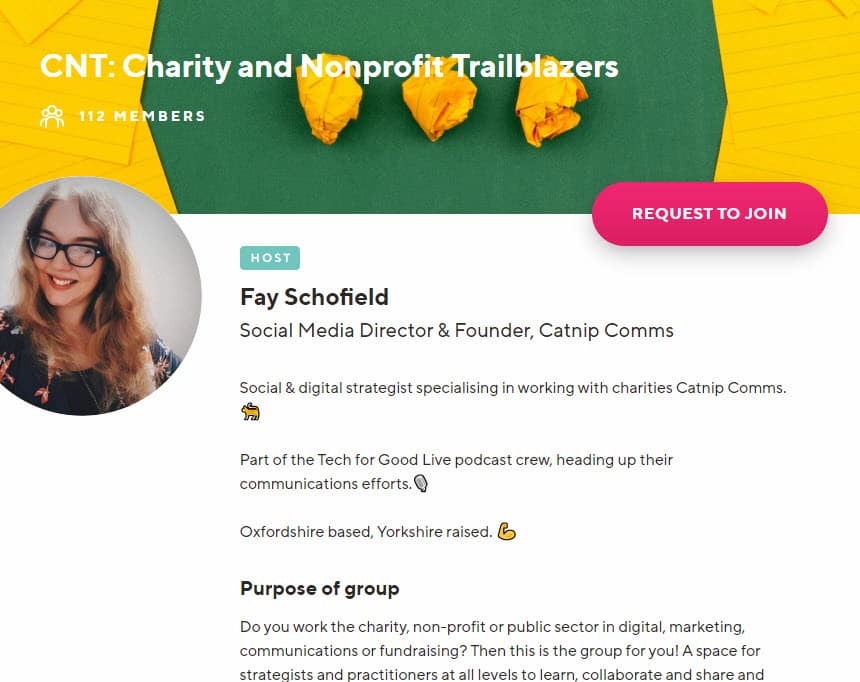 What do you love about the Charity and Non-profit Trailblazers community?

"The real mix of folks in the community! We've got people from all different professional levels, sectors, backgrounds and locations. It's a great community to dip in and learn from others."


What's your advice for charity and non-profit professionals wondering whether creating a community on Guild could work for them?

"Go for it! Guild is a supportive platform without the hassle and headache of battling with algorithms, but on top of that the team behind it all are really supportive too.
Even if you don't feel like you're a born communicator, the Guild team is always on hand to provide help and suggestions. Also, as your community begins to grow your skills will grow with it."



What are your 'top tips" or tactics for recruiting, sustaining, moderating and measuring success in a community?

"A community provides people with a feeling of belonging and a space to connect over their shared interests - and your community members should always be the heartbeat of your community."
"Don't be afraid to wade in and ask the community what content they enjoy seeing, as well as splicing suggestions and feedback which you can then funnel back into the group.
In terms of measuring success, this really does depend on the overall goal of your community, but for me it always comes down to providing that place for people to build connections. Are people talking to each other? If not, why not?
And what can I as a community manager do to help light the spark of conversation?"


One great thing about community is the sharing of resources. Obviously the best way to do this is to join the conversation in Charity and Non-profit Trailblazers! But can you suggest a few initial resources for strategy in the charity and non-profit sector?

"I'm big into podcasts! I've been lucky enough to be part of the Tech for Good Live podcast team for going on 4-5 years and through that podcast I've had the chance to listen and speak to some great folks working in the tech for good sector.
I'd definitely recommend taking some time to research what podcasts are there covering your specific sector and pop one on when you're working, making a brew and heading out for a walk to see what hints and tips you can pick up from just listening.
In terms of picking up hints and tips on community management, I'd say one of my biggest tips would be to find the community director behind one of YOUR  personal interests.
I did this earlier this year when I reached out to Victoria Tran, the Community Director at Innersloth Games, the company behind the super successful game Among Us. Victoria agreed to come onto the Tech for Good Live podcast and I learnt so much from chatting with her."
"Never be afraid to look outside your own sector and see what the people behind your favourite interests are doing for their communities online."


Are you a Community Manager or Social Media professional?

Join this free online community for community and social media professionals, however experienced you are. If you're a community strategist, community builder, community manager or social media professional, this is the place to be to share resources, learn from peers and build valuable relationships in your industry.

---
More resources for charity and non-profit professionals on Guild

Child literacy charity Bookmark connects its volunteers on Guild
Charity for Young Onset Parkinson's makes board communications easier on Guild
The Access Project simplifies internal comms with Guild
Guild supports charities with 2021 Giving Tuesday gift
Discover more communities for PR and comms professionals
Join your peers and try Guild out for yourself in the Charity and Non-Profit Trailblazers community on Guild
---
Join Guild 🤝

See for yourself how the Guild experience is different to WhatsApp, Slack, LinkedIn or Facebook Groups. Guild is a safe space to connect, communicate and collaborate with others.
Join us on a platform that is purpose-built for professionals and businesses.
Contact us if you want to know more or have any questions.