Guild's focus is on professional community. In particular, the conversations, connections, relationships and networking that are at the heart of any community. But what if you need other features and functionality, even a full membership tech stack?
We've created this post to recommend other technology platforms that we feel complement Guild well (and we'll keep updating it). We've chosen tech that we believe fits with Guild's own philosophy and approach:
---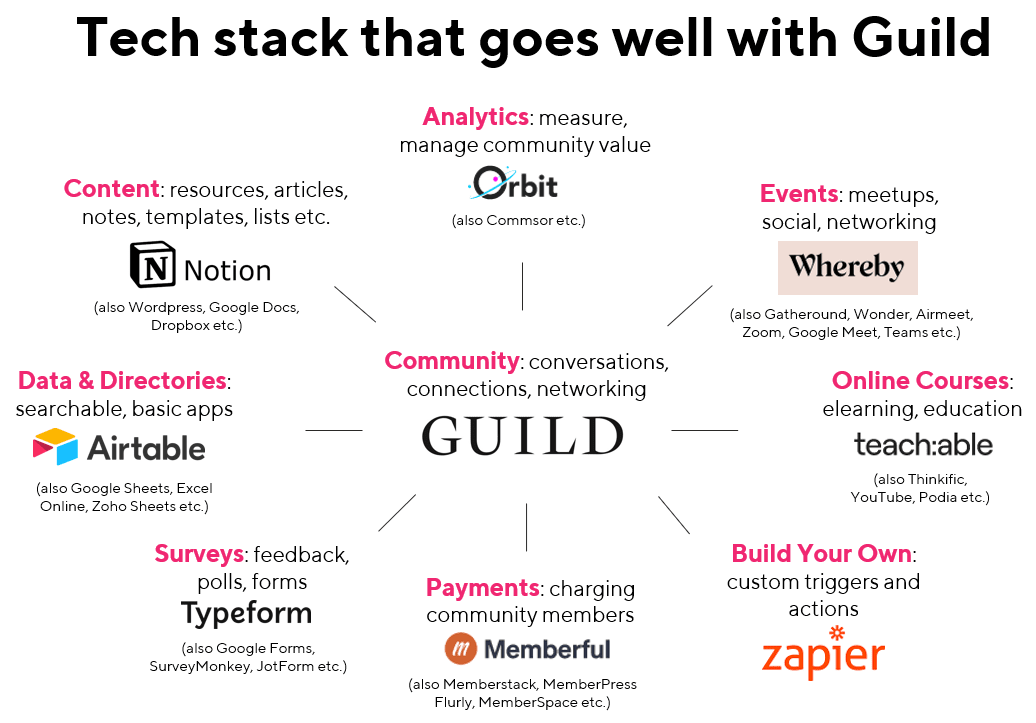 ---
1. Content: resources, articles, notes, templates, lists etc.
---
2. Analytics: measure, manage community value
---
3. Events: meetups, social, networking
---
4. Data & Directories: searchable, basic apps
---
5. Online Courses: elearning, education
---
6. Surveys: feedback, polls, forms
---
7. Payments: charging community members
---
8. Build Your Own: custom triggers and actions
Are there platforms we're missing which you think are great and go well with Guild? Contact us to let us know if so.
---
Join Guild 🤝
See for yourself how the Guild experience is different to WhatsApp, Slack, LinkedIn or Facebook Groups. Guild is a safe space to connect, communicate and collaborate with others.
Join us on a platform that is purpose-built for professionals and businesses.
Just want to join some groups? Simply join Guild and then look through the discoverable groups and communities to find relevant ones to join
Thinking of running your own community? With an elegant and simple to use, mobile-first UX you've got everything you need to start a community  - custom branding, analytics, group and user management and support.  Get started with your own community here with our free and paid options
Contact us if you want to know more or have any questions.
---