Fast-approaching WhatsApp advertising and a spate of hacking stories has prompted many users to re-evaluate their professional use of WhatsApp. There is an understandable desire for alternative private professional business messaging apps. Within a business context, data privacy and compliance are a requirement, not just something that is desirable.
This is why we created Guild – the private business messaging app. Easy to use, no ads, no noise and GDPR-compliant. Our 'privacy by design' philosophy ensures that personal & professional data is private. It's our mission is to put trust at the heart of technology and we have built messaging and communications technology that offers an alternative to WhatsApp.
We thought it would helpful to list what we think makes us different from WhatsApp (and many other messaging apps).
1. You can create professional profiles
Ever wondered who you're actually talking to in your 'Women in Business Networking' or 'Alumni' group on WhatsApp?
WhatsApp makes it difficult for you to identify and get to know other members of a group. It pulls in your personal profile… and photos of members with dogs/cats, or in their favourite holiday destination, doesn't always set a professional tone.
With Guild, everyone has a fully controllable profile which can be updated at any time. It gives all members an idea of who's who, and who does what. Profiles can also link to other professional social media such as LinkedIn, Twitter, blogs and websites.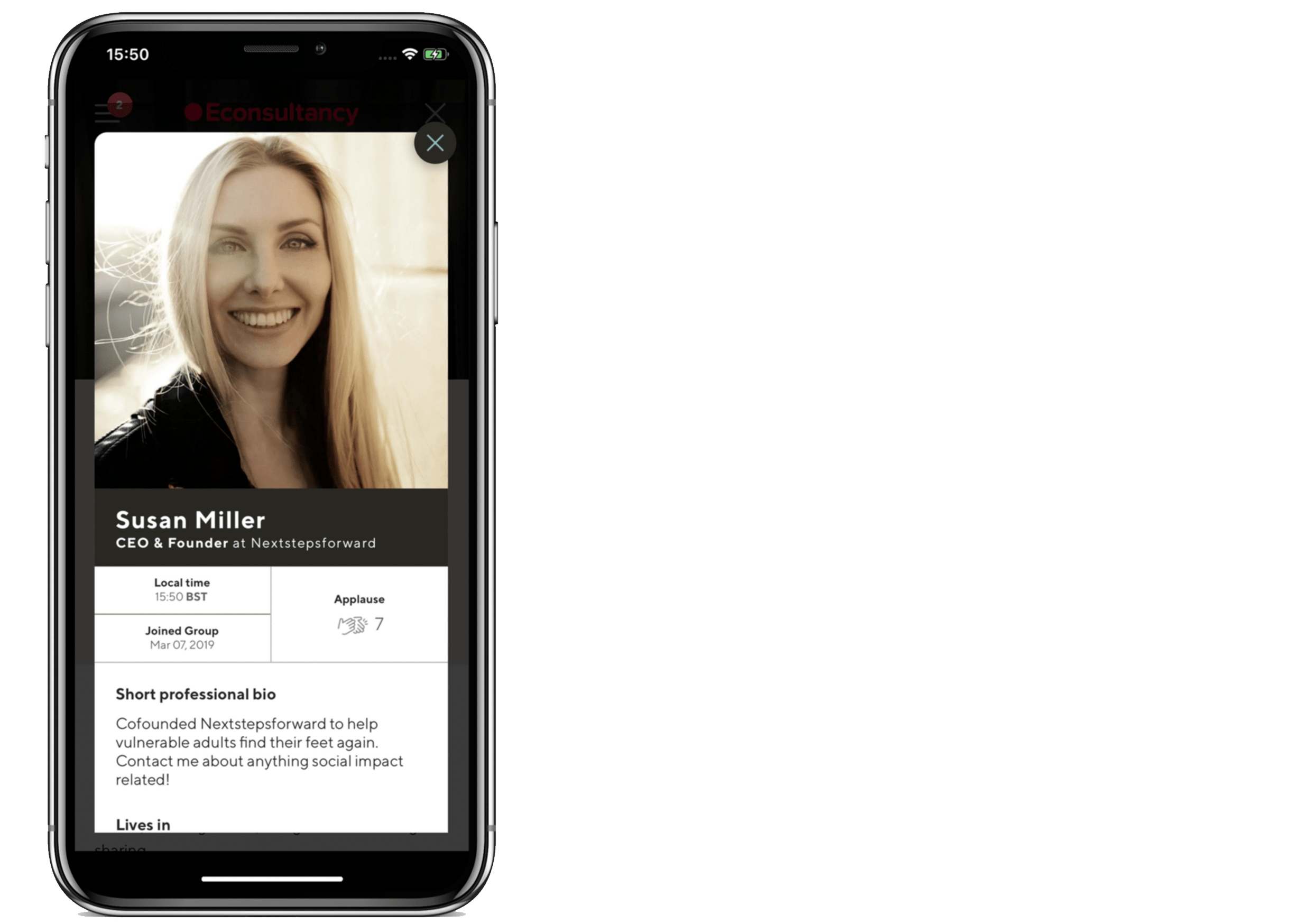 2. Consent and personal privacy is at the heart of the app
Many of us at Guild have been added to WhatsApp groups without consultation or consent. This is not the best way to encourage group participation. It's also a privacy nightmare as it exposes personal details, such as mobile phone numbers, to unknown people within a group.
Guild always asks for consent before adding you into a group. A formal invitation offers the option to "accept" or "politely decline". Invitations to groups are controlled by a group owner rather than all users in a group, as is often the case with WhatsApp. Personal information, such as an email addresses or mobile/cell number is never exposed, unless you explicitly choose to share it.
3. Keep conversations focused with threads
WhatsApp is great for banter and ephemeral chat. The single-stream conversation set-up allows you to post quick messages.
At Guild, we've created a messaging user experience that is more considered and easier to follow. Conversations are split up into threads, which means chats are organised into topics and themes, keeping your conversations focused and on track.
4. Edit and delete your contributions
Information held on Guild is in the cloud and not on local devices. This means that you data and contributions on Guild can be deleted from your device, and from others that are within a shared group or conversation, at any time.
On WhatsApp, users are unable to delete messages "from everyone" after 1 hour of the message being posted. This could be problematic if something posted is professionally compromising.
5. Congratulate and give professional thanks to others
We are all familiar with the ability to "like" something on social media. We also believe that it is important to allow affirming and congratulatory social interactions to happen within a messaging environment. Our experience is that builds a sense of community and reciprocity.
We thought carefully about how professional users thank each other at networking groups and conferences in the physical world. Our simple applause feature indicates gratitude and thanks to those in the group who add value to the conversation.
6. Request your personal data at the click of a button
Individuals have a right to their personal data and we take this very seriously. Under ICO guidelines and GDPR regulation, people have the right to ask an organisation whether or not they are using or storing their personal information.
Individuals can ask organisations for copies of their personal information, verbally or in writing.  This is called a 'subject access request'. This right of access to personal data is commonly known as making a subject access request or SAR.
We make it simple for all Guild users to download their personal data at the click of a button. On request from the app, we will send all of your personal data, including your contributions and direct messages in a .zip file. If you want to read more about WhatsApp, Guild and data compliance, here's another blog post from us.
WhatsApp allows you to request your account information, which becomes available in a few days, but it does not include your messages.
7. Delete all personal contributions within a group
Ever wanted to leave a WhatsApp group and take all your contributions with you? Our 'go nuclear' feature allows you to leave a group and delete all contributions you made within the group, and your profile in it, as if you were never part of it. Of course, if you'd like to leave a group with a friendly parting message, we offer a standard 'thanks and cheerio' message or the option to create your customised goodbye.

8. Customise and brand your group
We know how important brand is to every business and organisation, which is why we give all Guild Groups the ability to customise their Guild groups. Make Guild your own elegant, branded, professional social media platform by uploading your logo and customised header photo or design. Here are some example Guild groups from Econsultancy and The Happiness Index. If you don't have a brand or logo yet, you can use our quick start imagery.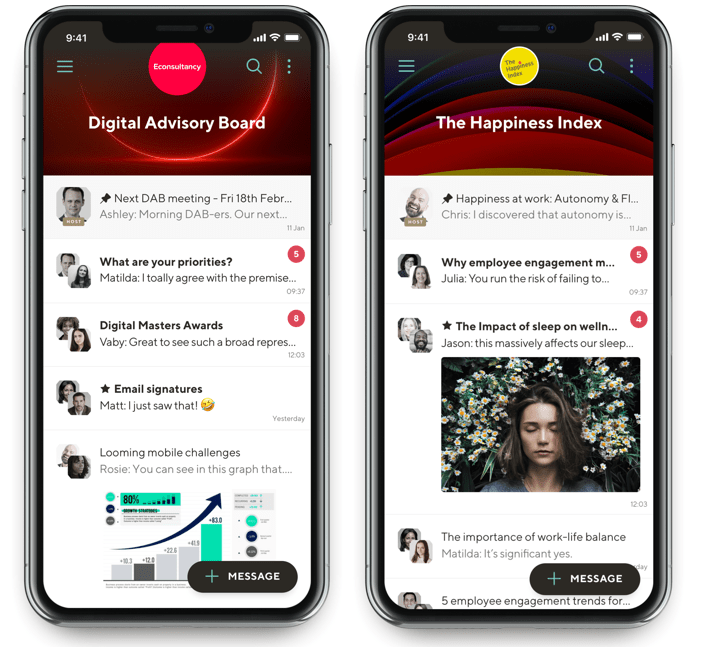 9. Access your group via a web browser anywhere, without QR codes
You can access Guild through a web browser, without needing your phone nearby, using a QR code or downloading an app on your computer. WhatsApp requires you to do at least one of these. If you don't have your phone to hand, simply go to guild.co and click on 'login'. You have full access to the Guild app through a browser.
10. Have visibility of all your hosted groups
The admin section gives Guild group admins oversight and control over all their Guild groups. This is a serious flaw in WhatsApp (we also covered this in our post 8 dangers of using WhatsApp for business).

Businesses cannot identify at-a-view which professional groups have been set up on WhatsApp, who is a member, the purpose of the group or its guidelines. Guild enables hosts and admins to see all the groups that they are running, and all of the members that are on the account.
If you remove someone from a Guild group then they immediately lose access to all the content as it is stored in the cloud. As WhatsApp data is stored on users' phones you cannot revoke access to that content, only the individual can delete it. This could be a problem if, for example, former employees or contractors still have access to sensitive company information that they should not.
Our data and analytics section gives you insight into: which groups are active and how engaged your groups are. We understand the importance of putting you in control from a compliance and privacy perspective.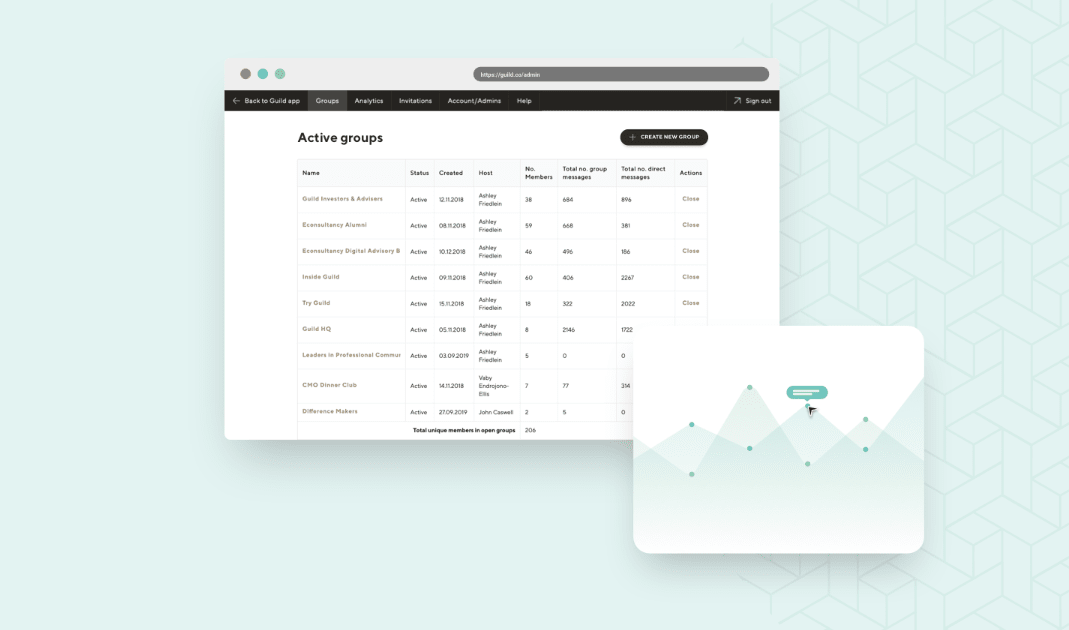 11. Guild groups aren't limited to 256 members
WhatsApp groups are limited to 256 members. This becomes a real problem if you have professional communities or networks with higher numbers. Guild has no limit on the group sizes so you are not constrained.
12. Guild has an email alternative to push notifications
With WhatsApp you have no option but to get push notifications on your phone or check the app to see new content. The notifications might become intrusive or overwhelming, particularly if you are receiving work communications when not at work. Guild provides an optional weekday email digest with all your new, unread, messages so you can choose to stay up to date via email instead.
Join Guild for free today
See for yourself how the Guild experience is different to WhatsApp, Slack, LinkedIn or Facebook Groups.  
Go to our pricing page and join free as a member, create your Guild profile, join available groups and build your network.  
Ready to run your own professional, private, branded groups, communities or networks? Excellent! Check out our Business (free) and Business Plus (custom pricing) options.  
Guild is proudly British, fiercely independent, ad-free and GDPR compliant. Guild is the best place for professionals to connect and communicate. Come and join us on a different and decent kind of messaging platform that is designed for business and done with integrity.
Contact us if you want to know more or have any questions.