The Access Project (TAP) is a charity that supports students from disadvantaged backgrounds to access top universities through a unique combination of tuition and in-school mentoring.
TAP wanted an internal comms tool to collaborate and share ideas, a need that became heightened during the pandemic. After experiencing poor uptake of Slack, TAP felt Guild would better suit their needs. Amy Pearson, Senior Communications Officer at The Access Project, shares her experience.
The business case for a messaging tool
Knowledge sharing is an important KPI within charities (like any business) - it can be key in identifying how best to approach problems, develop efficient processes and improve outcomes. This is the business case Amy put forward when pitching Guild into TAP. As a charity that works with students from disadvantaged backgrounds, TAP's primary goal is to make sure they are getting as many students as possible into top universities, which requires ongoing collaboration on news, ideas and data. Amy wanted a way to facilitate knowledge sharing as much as possible, especially at a time where everyone was working from home.
Why did you go for Guild?
Amy needed a solution that was easy to use and implement across an organisation. Amy shares her experiences of exploring different technologies and why she went for Guild in the end:
"We knew staff were using WhatsApp and we identified a whole host of data issues. Whilst WhatsApp wasn't the right solution, we wanted our staff to communicate in a similar way. We looked at Slack and rolled it out, but after a review we noticed that a lot of people weren't actually using Slack at all. The channels were a bit confusing to some; we needed something extremely simple. It was easy to get buy-in for Guild because it's simple to use and really user friendly. I was really pleased to see all colleagues across the organisation begin to use the platform and engage in our virtual office space."
How are your staff using Guild?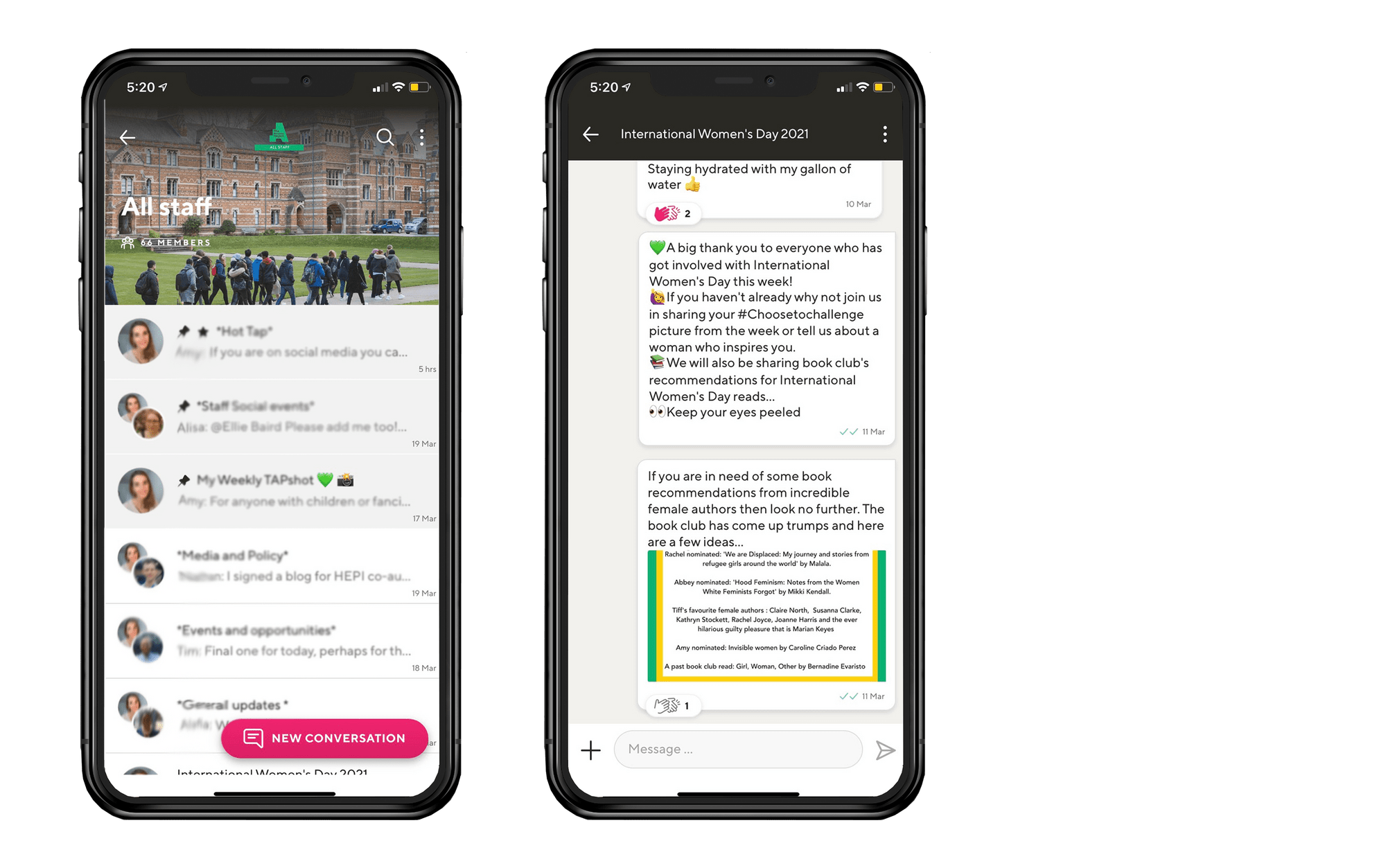 Amy talks about how TAP's internal comms groups are structured:
"We have a single group for all 66 staff members and each team has their own group which they use to communicate with each other. We also have specific groups for cross-team collaboration such as a "Diversity and Inclusion Working Group" and the "Health Safety and Wellbeing Committee". We often have different initiatives throughout the year and will set up a group to support that particular initiative. You can see [below] we used Guild to co-ordinate our communication around International Women's Day!"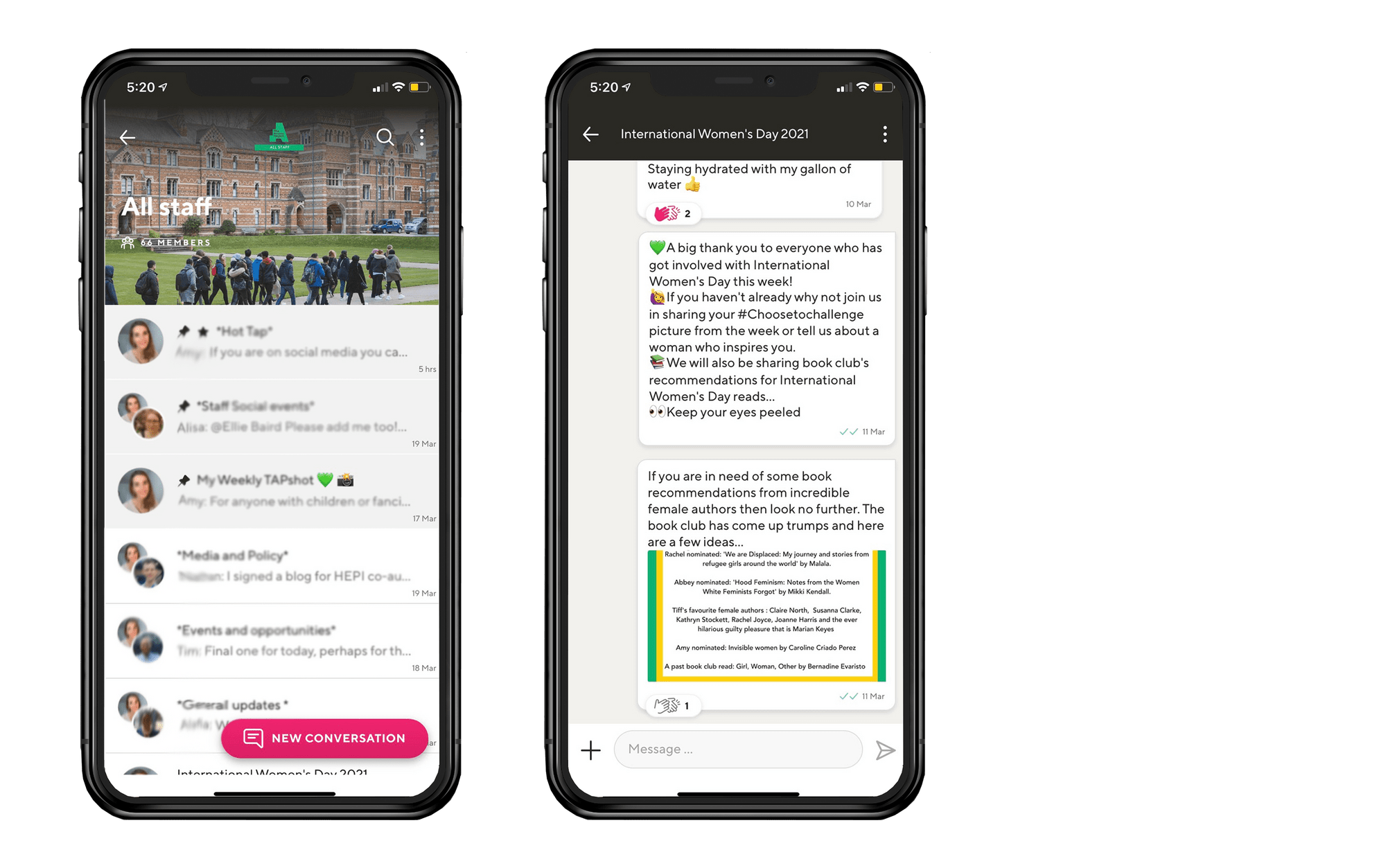 What advice do you have for someone who wants use Guild as an internal comms tool within their organisation?
A good strategy goes a long way when introducing a new technology -  Guild is no different. Amy talks about how she devised a strong rollout plan:
"We learnt a lot from our rollout of Slack - you need to have a proper implementation plan, so this is what we did for Guild. We did everything we could to ensure the successful take up and it worked! You really need to have internal buy-in, your team needs to be on board with what you are trying to achieve and they need to understand why the initiative will help make their job easier."
Amy understands that not everyone will immediately adopt new technology within an organisation - sometimes you need to provide additional incentives:
"I delivered 'How-to' workshops when we launched and made sure that everybody could use the technology at launch - I didn't want there to be any barriers to entry. We even launched a competition; we made teams compete against each other. Whatever team signed up the quickest received a prize. Sometimes you need to provide incentives beyond "improving internal processes" and that's okay, there's no harm in making things a little more fun!"
---
The Access Project supports students from disadvantaged background with access to top universities by providing guidance on good applications, getting the grades and transitioning to university. It currently works in 35 schools, with over 1,000 tutors supporting  over 1,400 students across London, Birmingham and the Black Country and the East Midlands towns of Ashfield, Mansfield and Shirebrook. Find out about becoming a volunteer tutor or learn more about The Access Project.
---
Join Guild 🤝

See for yourself how the Guild experience is different to WhatsApp, Slack, LinkedIn or Facebook Groups.
Guild is a safe space to connect, communicate and collaborate with others.
Join us on a platform that is purpose-built for creating groups, communities and networks on mobile.