In brief
Agency Hackers is a membership organisation established in 2017 to offer leaders of independent agencies in advertising, creative, e-commerce, digital and PR a high-quality, thoughtful community with regular events, talks, peer support and networking.
An Agency Hackers member is typically an independent agency with under 60 employees and revenues of between £2-£6m.
Running an agency is high-pressured. It can also feel like a lonely place at times. Connecting and reflecting with peers who uniquely understand these pressures can be a support 'life-line'.
Founder Ian Harris wanted to support Agency Hackers members with a private, ad-free online community, where open and honest discussions about the challenges of running an agency could take place.
Ian rejected Facebook and LinkedIn and briefly considered Slack, but opted for Guild for its simplicity, elegance and mobile-first design.
Agency Hackers has built a private community of 800+ agency heads on Guild. Discussions within the group are 100% tailored to the needs of the community.  This has included launching additional specialised communities as the main community has grown.
Ian told us about the growth of Agency Hackers and how a Guild community has supported its success.



Why is a private online community so important to a membership organisation like Agency Hackers?
"Information sharing and relevancy is really important at any time, but there is so much information on the internet.
The Agency Hackers community are very busy senior leaders who want information and discussions that are highly relevant to their business needs.
Discussions range from resourcing, technology, finance, employee training, wellbeing and much more besides, but they are always highly relevant, helpful and supportive.
A private community allows us to offer a highly curated, highly relevant space where agency leaders can spend those rare spare minutes effectively with other agency leaders who share similar challenges.
They tell us that connecting with peers who uniquely understand their pressures and can solve their problems is incredibly valuable to them. They also enjoy it as a space where they can spend a few minutes to listen to others and reflect.
Either way, the member community is a focused, distraction-free place where members can make the most of their time."


Why not choose other online community platforms?
"Guild provides an extremely high-quality environment - it's intuitive and mobile, which is crucial for agency leads who never have enough time.
I know a lot of businesses that host communities on platforms like LinkedIn and Facebook. For me, there are a lot of distractions, ads and notifications. Community members can often miss crucial information, and things just get lost in the 'noise'.
Guild gives me more control and I don't fear my community getting shut down. I have control of the data and information.
I pay for a service and I'm happy to do it as it gives me the security and confidence that I am in control. There are some cheques you're just always happy to write.
It's an investment but we get so much value from our members having a proper forum to speak to each other. Slack and WhatsApp are free, but are crap for thoughtful, calm discussions. Guild is smooth, stable, there are no ads or crap, and it's a proper British tech success story that we should all be proud of.
If your community matters to you, then your community platform shouldn't be an afterthought.  I respect my community members and their needs matter to me. Choosing a dedicated platform that works for them makes so much sense."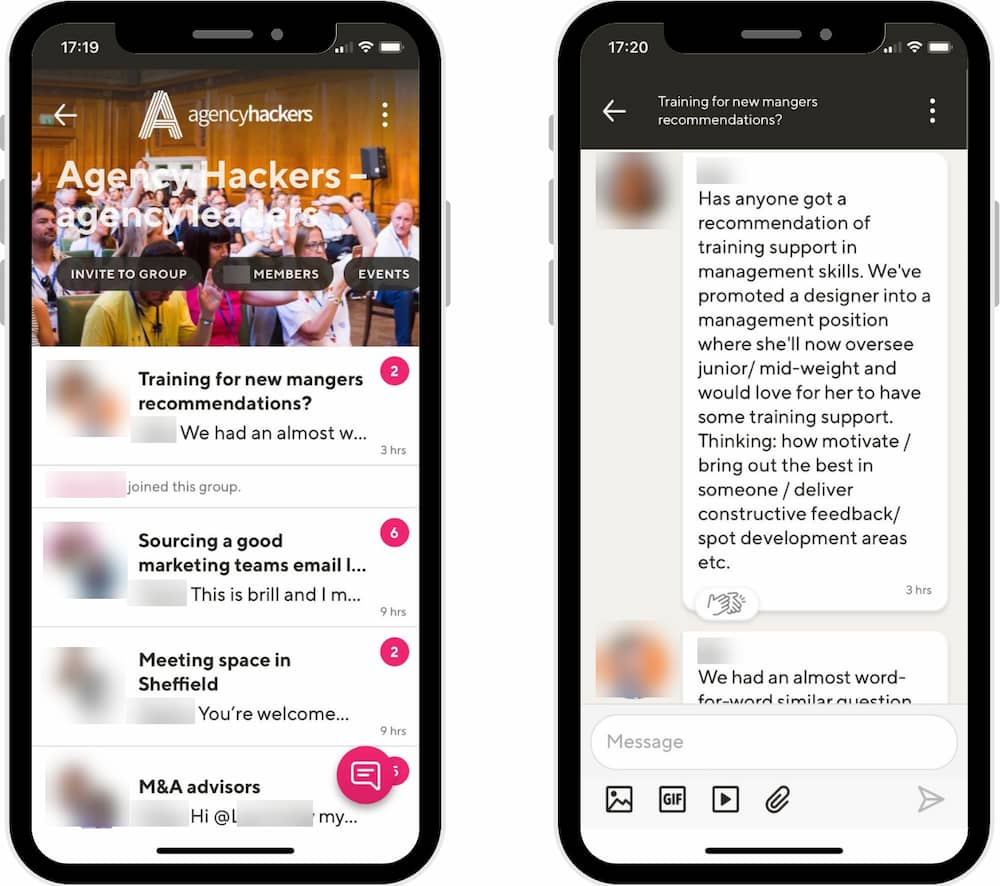 How Guild has helped Agency Hackers?
"Guild has provided a forum for my members to connect with each other without me bottlenecking these connections. They can happen organically.
Guild has been a great way for my community to continue their conversations and maintain the connections they get from the events that we run.
I originally set up a community for Agency Hackers as COVID-19 was starting to hit and was really happy about how they responded to Guild. It felt like I had set up something that genuinely helped my community through a tough period. One of my members said at the time: "Guild has been a lifesaver for me".
Other members describe the Agency Hackers community as authentic, generous, super-relevant and engaging. We've worked to make that happen, but Guild as a platform definitely helps foster that type of atmosphere.
As we got used to new ways of working I was easily able to start additional offerings - for example introducing larger agencies to smaller agencies to learn from each other, and smaller groups for senior leaders or sectors.
Being able to specialise like this while managing multiple communities in one place has saved so much time and lets us concentrate on growing the community sustainably. In fact it's helped us grow by over 40%."
"Guild is probably the best investment I've made in my business so far."

Are you a membership organisation or association looking for a better way to engage with your members?

Try Guild 🤝

See for yourself how the Guild experience is different to WhatsApp, Slack, LinkedIn or Facebook Groups. Guild is a safe space to connect, communicate and collaborate with others.
Join us on a platform that is purpose-built for professionals and businesses.
Contact us if you want to know more or have any questions.