In the fourth part of our Ask the Expert series, Guild speaks with Sense Media's Co-Founder and Managing Director, Robert Stead.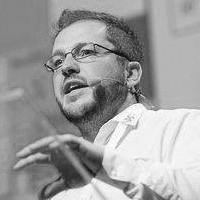 Tell us a bit about your professional community and why you run it?
I worked for another conference company for 10 years before starting Sense Media, and while I learned a tremendous amount I was always frustrated that I was dipping into lots of different industry sectors over the course of the year, without really focusing and building relationships in one specific industry. So when we started Sense Media, right at the core was to be really connected with the people we were working with in industry.
I've run lots of conferences on topics spanning from steel making to sustainable cosmetics but I found that the community in vehicle perception technology have really strong bonds, and running our events is often described as being like a high school reunion. They are genuinely a pleasure to work with and I'm honoured to serve them by managing a community that has value in their engineering pursuits.
How do you combine face-to-face with digital in your community? How has this changed over time?
I think it's hard to replace face-to-face as the primary relationship building tool, but digital methods of connection and becoming more and more important supplementary channels. When I started running events, it wasn't too long since the old OHPs (overhead projectors) were used for slides and illustrations, so PowerPoint presentations were about as digital as it got and it overloaded the internet if we ever tried to share them with delegates online!
These days, I wouldn't say we are the most advanced events business out there in terms of using digital channels, but I think we use what works for our customers, what helps them to engage with each other and with our content for as long as possible both before and after the face-to-face event.
What tools or platforms do you use to engage with your community digitally? How have these changed over time?
We have an App and Community on the Bizzabo platform and we see good engagement with the community and messaging features on there. And we record all of our presentations in video and make these available via our YouTube channel. Of course we use social media and couldn't live without LinkedIn, and we use some automation tools to help streamline these digital marketing activities.
We find that personal communication has a much better response rate so we channel a lot through my own personal online profile as the 'talisman' for our activities in the sector.
What metrics or approaches do you use to gauge how well your community is working?
Bizzabo comes with built in metrics so we quickly see at any point in time how many active users we have in the event community, and produce a wide range of reports about how they have engaged post-event. We use the usual email and web traffic metrics to measure the general market traction of our brand and event website. But I think the most valuable feedback comes from talking with people onsite, and throughout the year. We listen to what our customers are saying and do our best to show that we are responding to the feedback.
What do you think are the hallmarks of a successful professional community?
One delegate said to me last year "I love this event because I can come here for three days, take off the boxing gloves and just do good science with fellow engineers". It was the best feedback I could possibly hear. I've been at events full of desperate business development people shoving products in people's faces, and I hate that kind of intense sales environment. I don't like trade shows in general, but I do like networking, collaboration, and teamwork.
I think most industries would benefit from acting more as a collective and identifying and addressing shared challenges rather than driving for market domination or rocketing profits. Our motto is 'By engineers, for engineers' and we place their interests right at the top of the priority list.
How important is it for a community to have some kind of host or leader to be successful?
Interesting question. I think most activities need a leader. Good leaders are hard to find. But I think advocates are as important as the leader in building a successful community. A leader should provide clarity on the direction and objectives - the 'why are we here?'. But without community members who see the value of being involved and tell others about that value, the leader may end up talking to themselves.
That's why as a leader it's important to listen to those advocates carefully and ensure their interests are incorporated into the community mission. We are lucky to have both in our community. I fulfil some elements of the leader role, I chair the conference plenary sessions and I'm visible in the market, but I'm just a small piece of the successful formula, and I'm lucky to work with many wise leaders and advocates in industry who have helped us to create a community that provides value, and spread the word among their peers.
Are there any professional communities outside yours that you admire (if so, why)?
There are so many, it's hard to pick any individual ones out. I am a member of IEEE, a global association for electronics engineers. I chair a working group under their Standards Association and I'm a big fan of their technical publications. They are the largest professional membership organisation in the world, and while it can be political at times, I'm always impressed by the scale of the organisation and the influence they have built up over time.
Scale comes with its own challenges and pretty much removes the word nimble from their vocabulary, so at the other end of the scale I've recently been connected with a lot of other event entrepreneurs via the Media Entrepreneurs Meetup group, and I'm always inspired to hear from innovators who dare to take a risk by launching a new format of event and make it stick, such as my good friend Richard Lumb's Festival of Genomics.
How do you personally research and learn about making your community the best it can be?
To be honest, I'm not a big one for management books or formulaic approaches to business learning. I try to look at the world outside what I do and learn about successes in other unrelated fields, then see how those lessons can be applied back into our business. I probably read about that approach in a book somewhere though! So I'm always looking to learn from unexpected sources, for example, I read the autobiography of Chris Hadfield (you probably know him as the guy who recorded David Bowie's Space Oddity from the International Space Station) and I was fascinated by the way the NASA scientists learn from every single experience on a mission and constantly evolve their Flight Manual to adopt best practice. Making mistakes running conferences isn't as life-threatening as on the ISS, but we can definitely learn from the methodology.
What trends or developments do you think represent the future of professional communities?
Anything that helps people to connect 1-2-1 I think is providing good value for any community. Whether you're communicating face-to-face, via video, voice, written or even sign language, the real value is always in building direct relationships with other people in your community. So tools that facilitate this, helping to find shared interests and discussion topics, communities with strong advocates and easy online interfaces that enable year-round communication to fill the long gaps between face-to-face meetings will thrive, I think. LinkedIn is so great and had become indispensable as a platform, but as a community it is limited by it's scale (see my nimble comment above). I think there's a gap in the market for a similar platform connecting like-minded professionals, but that can channel discussions into much more concise and relevant threads.
Try Guild now for free 🙂
Guild is free to use up to 30 members, across as many groups as you want. Just click on 'Start Free' on the Basic Plan on our pricing page now to set up your free account and start inviting people in. Contact us if you want to know more or have questions.