In brief

Bright Network is an award-winning free careers platform for students and graduates. It offers training, internship and networking opportunities to support its members' careers and has helped 700,000+ individuals to date.
It works with 300+ employers, including Accenture, Bloomberg, Google, Deloitte, Goldman Sachs, KPMG, Morgan Stanley and the Bank of England, to help them to connect with exceptional, diverse candidates from a global talent pool.
One of Bright Network's flagship programmes is its Internship Experience which sees over 140,000 applications.
In 2022 the team wanted to do things differently and encourage programme participants to connect and collaborate with each other and potential employers.
Bright Network looked at various social media and community platforms, including LinkedIn, but needed more flexibility, data and integrations.
They chose Guild for its ease of use and mobile-first design to appeal to student and graduate members. Guild's professional look and feel were key for their partner organisations.
Bright Network Platform CEO Kirsten Barnes told us more about the programme, how Guild supported the 2022 Internship Experience and the next steps for the Bright Network community.


Why did you want to set up a community on Guild? Who is the community for, and what does it offer?
"We needed a way to connect our participants that would integrate smoothly with our CRM and our virtual events programme, which we run on Hopin. With over 140,000 students and graduates taking part in 2022, we needed a community platform that would be easy for members to join and navigate.
It also needed to be flexible with the opportunity to set up multiple sector groups that could be moderated individually, but where we could have oversight as an organisation too.
Our sector streams include financial services and consulting, law, public sector and charity, technology, and marketing, so we also needed a platform that would feel professional and welcoming for our partners and interns.  
We invited every applicant to join a relevant Bright Network community hosted and managed by one of our team.
Onboarding thousands of members across multiple groups over a short period is a big ask, but Guild made it easy for both our members and our community managers."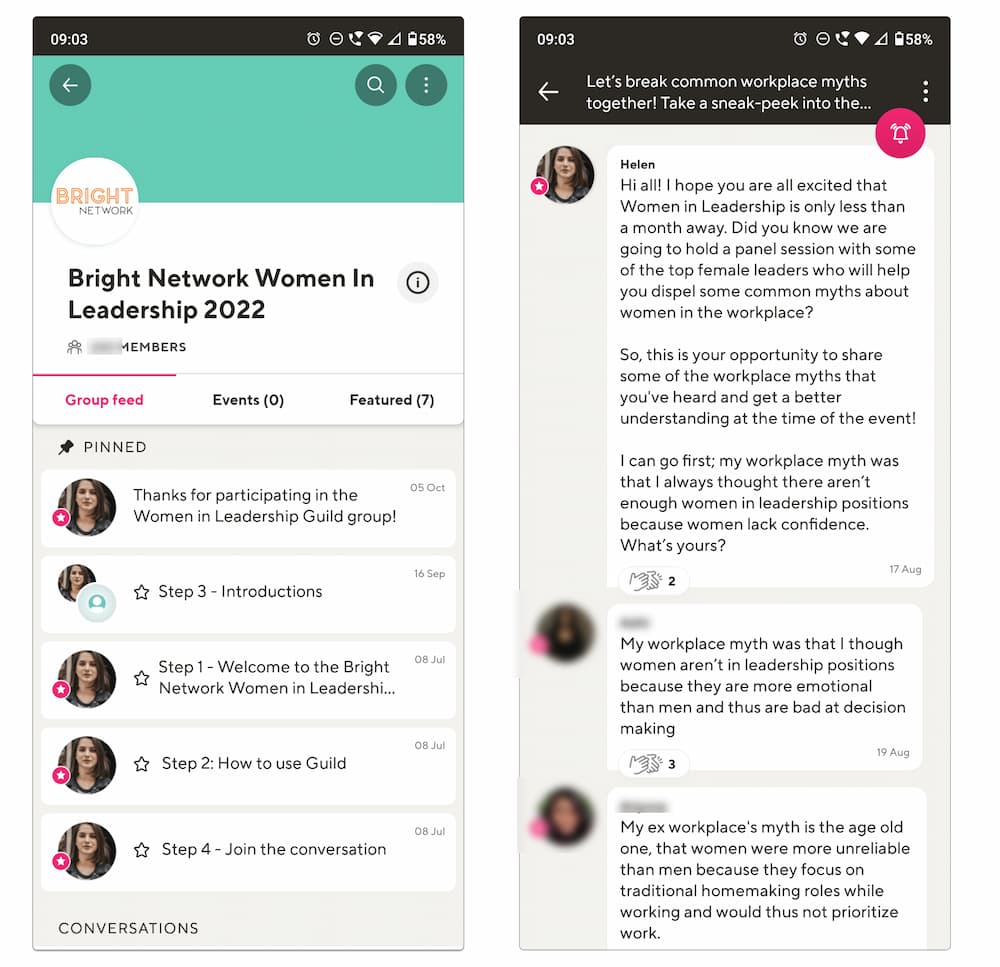 What did you like about Guild as a platform?
"As well as the ease of use and the mobile app, our members had access to other discoverable professional groups and networks on the Guild platform. The professional atmosphere and the opportunity to network with others more established in their careers helped them build great habits from day one.
Our programmes are for bright and ambitious people taking the first steps in their careers, and it's important to show how professional networking and being part of a professional community requires different behaviours to Instagram, WhatsApp and even platforms like LinkedIn or Slack.
Being able to reinforce our purpose and guidelines also helped build this professional culture - we want every person who attends one of our events to have a positive and rewarding experience.
We ask them to contribute to the overall experience, so that we're all accountable to each other. Our code of conduct reflected that and the community moderation features on Guild meant that we knew we could enforce it."



How has Guild helped your business, and what's next for the Bright Network communities?
"The 2022 Internship Experience was the biggest and most popular so far.
Participants are encouraged to join for more than one year if they need to or want to, and building a Guild community means we can offer a feeling of continuity.
We even saw students setting up their own program workgroups and networking groups on Guild, which helped cement those connections that are so important at the beginning of your career.
During the rest of the year, we run focused programmes and events like Women In Leadership and Black Heritage Future Leaders, so we've set up very focused networks on Guild to connect the participants and leaders of those initiatives.
With Women in Leadership, we're making the Guild community one of the ways the Student Leadership Board can build their skills.
Board members will monitor the Women in Leadership Guild group chat, helping members connect and engage with one another and leading networking and supporting engagement before and during the event.
Professional networking, community participation and community building are crucial skills for the workforce of tomorrow. Bringing our participants together on Guild has given them a head start."

More customer success stories on Guild

SaaS platform The Happiness Index builds investor community on Guild
Case Study: Anti-Racism Innovation Community
Case Study: Media Entrepreneur Meetup builds networking community on Guild
Inside Out Awards connects in-house creatives with Guild community
Socially Mobile builds alumni community for future communications leaders on Guild
Queen Mary University launches student entrepreneur community on Guild
Case Study: PRCA powers the communications sector with Guild groups
---
Join Guild 🤝

See for yourself how the Guild experience is different to WhatsApp, Slack, LinkedIn or Facebook Groups.
Guild is a safe space to connect, communicate and collaborate with others.
Join us on a platform that is purpose-built for creating groups, communities and networks on mobile.