Launching and sustaining a community takes effort. But anything in life or business that's worth doing is worth working for, after all.

The good news is there are plenty of small and practical steps you can take to support your online community's growth.

Here are a few tips for growing your community on Guild.

1. Make your community easy to find

Help people find your community. You can make your Guild community discoverable on the web and in the Guild app - but still maintain complete control over membership.

Even if your community has a paid membership or there are membership criteria, you can still make it discoverable to raise your profile because you decide who comes in. Agency Hackers and CIPR Inside are good examples of communities that make this work.

If you prefer to keep your group completely private, you can still apply some of the techniques below.  

2. Share links on your social media

Many Guild community owners make good use of their personal and professional social media channels to raise awareness of their community. Drop in a mention where it's relevant in a regular post, or make it the subject of a post on its own. Take a look at how these Guild communities have done this for some inspiration:

Marketing Leaders Circle on LinkedIn
Horizon Comms on Twitter
Building Inclusive Cultures within a LinkedIn post
She Has No Limits on Instagram
Renewd on Twitter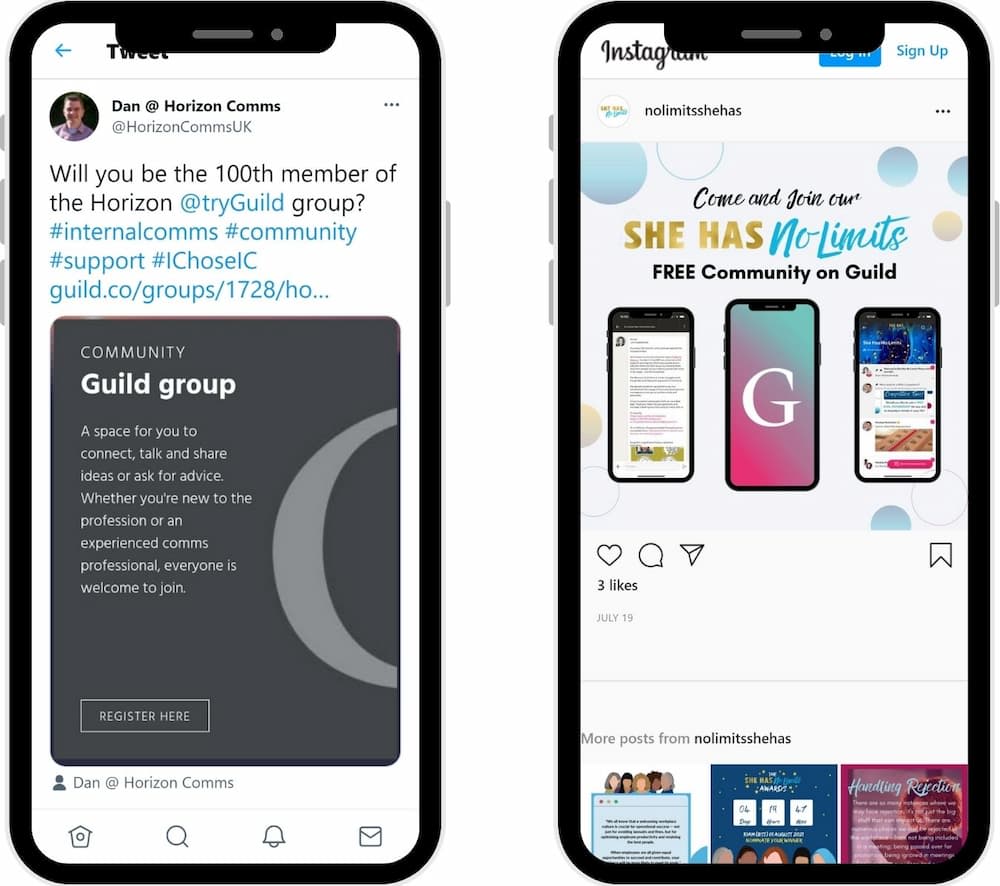 3. Share your Guild community on your website, newsroom or blog

If you're launching a new community, or you're running a special campaign or event, then consider sharing it wherever you update your customers, members or other stakeholders.
Good examples of this are The Marketing Society's launch of their "Coffeehouse" community and Race Equality Matters' Tea Break initiative.


4. Consider if the launch of your community is newsworthy

In January 2021 the National Education Union (NEU) launched its Remote Education Hub, which included a dedicated  community on Guild. At a time when both students and teachers were facing urgent challenges around remote education, the NEU's story appeared in numerous trade titles including Education Executive, SecEd and Teaching Times

5. Flag your group on your newsletters and website

You should be proud of the work you've done on your community, so don't be shy! Great examples of this include Media Entrepreneurs Group and Fix / Adtech Perfect Storm, who both highlight great conversations in their newsletters, and Like Minds, who have a link to their Guild community in the menu of their website.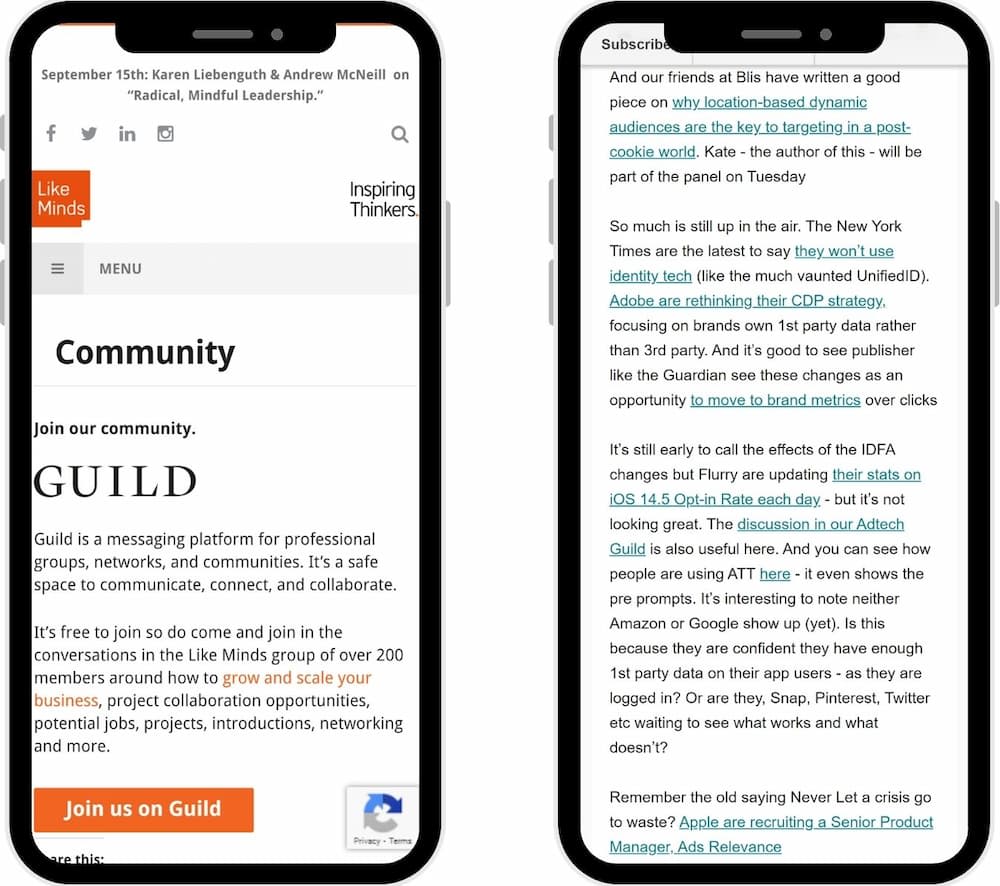 6. Don't forget your email signature

If your group is relevant to clients, colleagues, peers and other people in your network, then your email signature can be a good place to introduce your community to your personal connections. Again, running your own community is something you should be proud to tell people about - it's a real example of your skills. A simple "join XYZ community" embedded link is all you need to include.
7. Take part in Guild content and help us to help you

One of the aims of Guild is to connect not just individuals but whole communities. To help with this we have plenty of opportunities to show off your community to other Guild members and to share your personal expertise. Contact us to let us know if you're interested in taking part in a case study, Q&A, pitching a guest post on the blog, or joining in an AMA (Ask Me Anything) or panel event.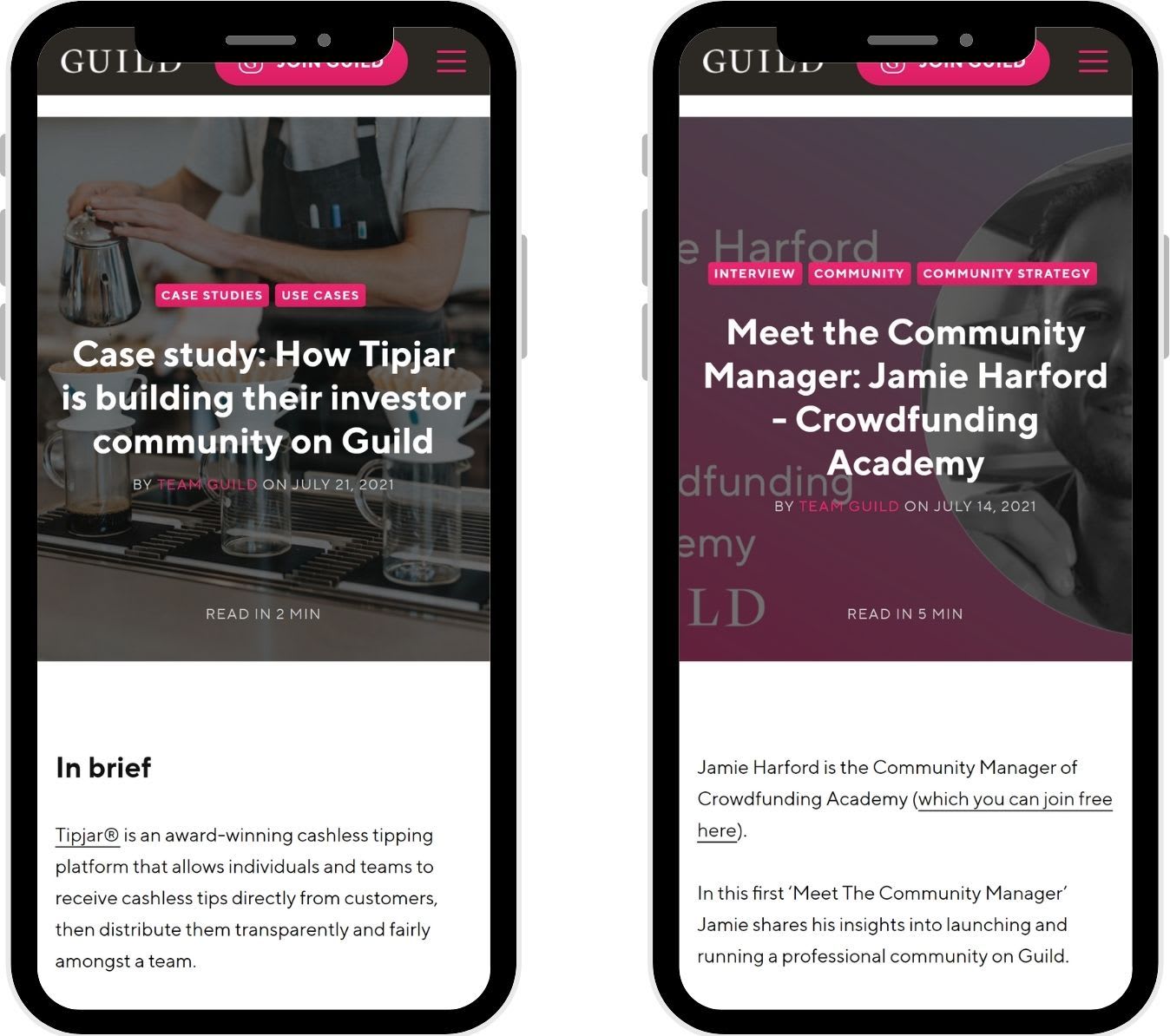 8. Enlist your internal advocates

You can pin up to 5 threads to the top of your Guild community. Happy community members are the best advocates, inviting people from their own networks who they know will benefit from your community. Pin a thread to the top of your group with ways to invite people, including the landing page if it is discoverable.
To make it easy for your members to share your group with colleagues and peers, you might want to provide them with an email template that briefly describes the group and how to join. Or you can offer visual assets such as a branded JPG they can share, or even a PDF. Depending on the topic of your group you could create shareable resources like a "top tips" document that includes a link to your group's landing page.


9. Use Guild's built-in invite links

Click on the header of your group to find an "invite to group" button

This brings up 3 possible ways to invite people into your Guild group.
You can create an invite link, copy and share this privately. You may find this link useful for DMs on another social network. Be aware that this lets people join by clicking the link, so be careful where you share it (you can always remove people from your group and reset the invite link if you need to).

You can to email anyone an invitation from the Guild app and you can edit the text on this email from within your admin panel.

You can also invite individuals from within your personal Guild network.
They'll receive an invitation on the Guild app, plus notifications by email making it easy for them to join. This is a great way to invite someone you're already connected with on Guild.
10. Make the most of your new members' enthusiasm

Your new members have joined your community because they care about what you offer - giving them "permission" to bring colleagues and peers along can help them to enjoy the community more as well as help you grow your group.
Send a welcome DM to new members and make sure to provide a link to your group. You can add this to the automated DM within your admin panel, or just remember to add it when you send a personal welcome DM.
11. Make the most of the links section on your Guild profile

Your personal Guild profile is flexible and offers lots of room to promote your community.
The simplest way is to add a link to your  community if your Guild group is discoverable.

If it isn't, just add a sentence or two about your group. When you're an active and valuable contributor in other communities, other members will often explore your profile - adding a link to your own community makes it easy for them to request to join or ask you for more details.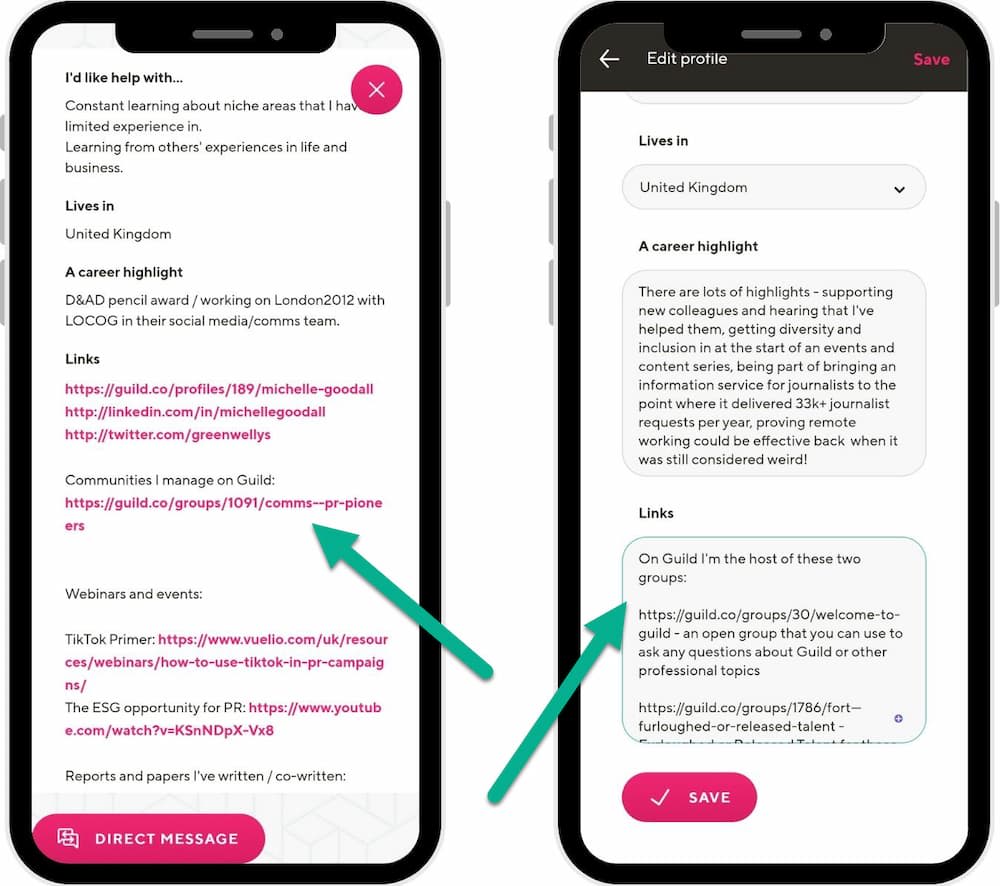 Photo by Pablo Gentile on Unsplash
---

More ways to improve your community strategy:

Mistaken expectations of community
Lessons from the first 90 days of running a community
Make your community discoverable on Guild
Ways to create engagement in your community

---
Try Guild 🤝

See for yourself how the Guild experience is different to WhatsApp, Slack, LinkedIn or Facebook Groups. Guild is a safe space to connect, communicate and collaborate with others.
Join us on a platform that is purpose-built for professionals and businesses.
Contact us if you want to know more or have any questions.