Launching and sustaining a community takes effort.
The good news is there are plenty of small and practical steps you can take to support your online community's growth.
Here are a few tips for growing your community on Guild that you can apply at all stages of your community lifecycle - from planning, through to launching your community, and beyond!


1. Make your community easy to find
Help people find your community. You can make your Guild community discoverable on the web and in the Guild app - but still maintain complete control over membership.
Even if your community has a paid membership or there are membership criteria, you can still make it discoverable to raise your profile because you decide who comes in. Agency Hackers, The Marketing Society, and CIPR Inside are good examples of communities that make this work.
If you prefer to keep your group completely private, you can still apply some of the techniques below.


2. Make your community discoverable in search engines
Do you want your community to appear in Google searches?
Search Engine Optimisation (SEO) applies to your Guild community landing page too!
Apply the same SEO copywriting tactics as you would to any web page while remembering that you're writing to attract humans, not robots.
Use a phrase like "online community for.." or "virtual community for…" that describes your community clearly, and include keywords that potential members might be searching for.
Searching the Guild directory is a good way to pick up ideas that might work for you.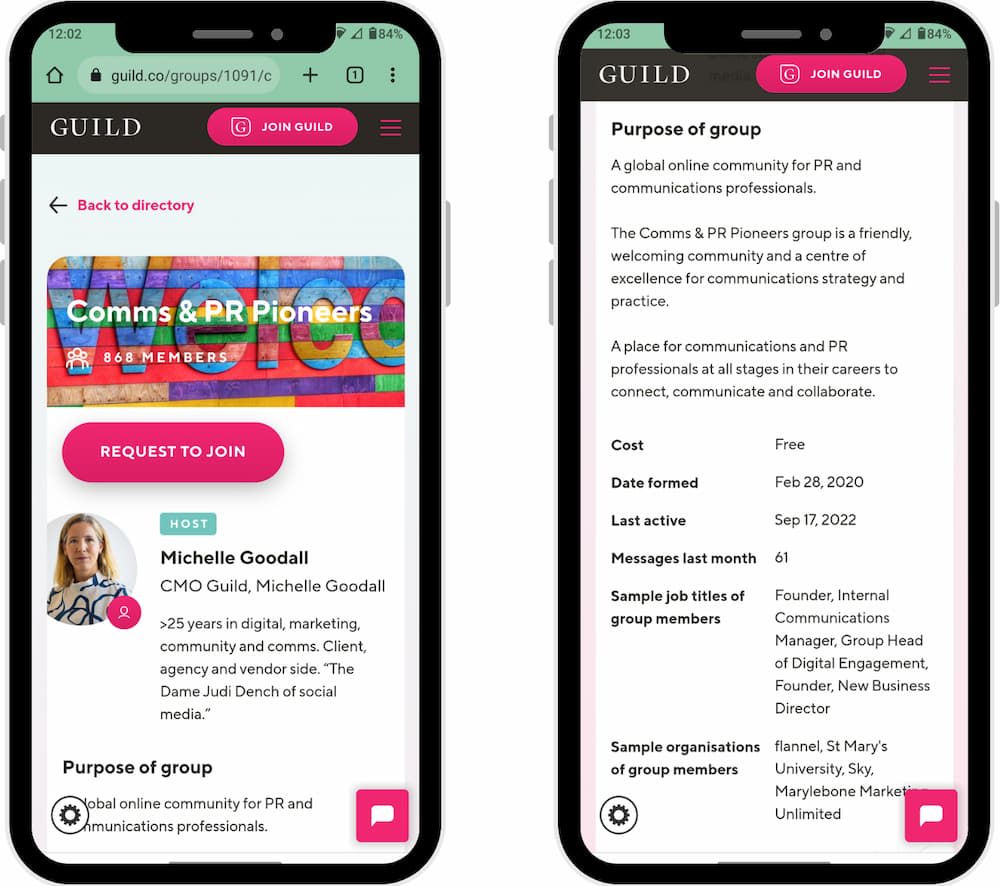 3. Make your Guild community a permanent fixture on your website
When you launch your community, or if you want to recruit new members to your community, then make it as visible as you can on your website.
Shout about your community wherever you update your customers, members or other stakeholders. Make it a permanent, discoverable feature of your website.
Make it clear what the community is, who it's for, the benefits of joining the community and make sure that you have a link to the community.
This might be on your website in your 'About' section, your media centre, or a separate permanent section on your website called 'community'.
Good examples of this are The Marketing Society's Coffeehouse for its global, senior marketing members and Race Equality Matters' Tea Break initiative.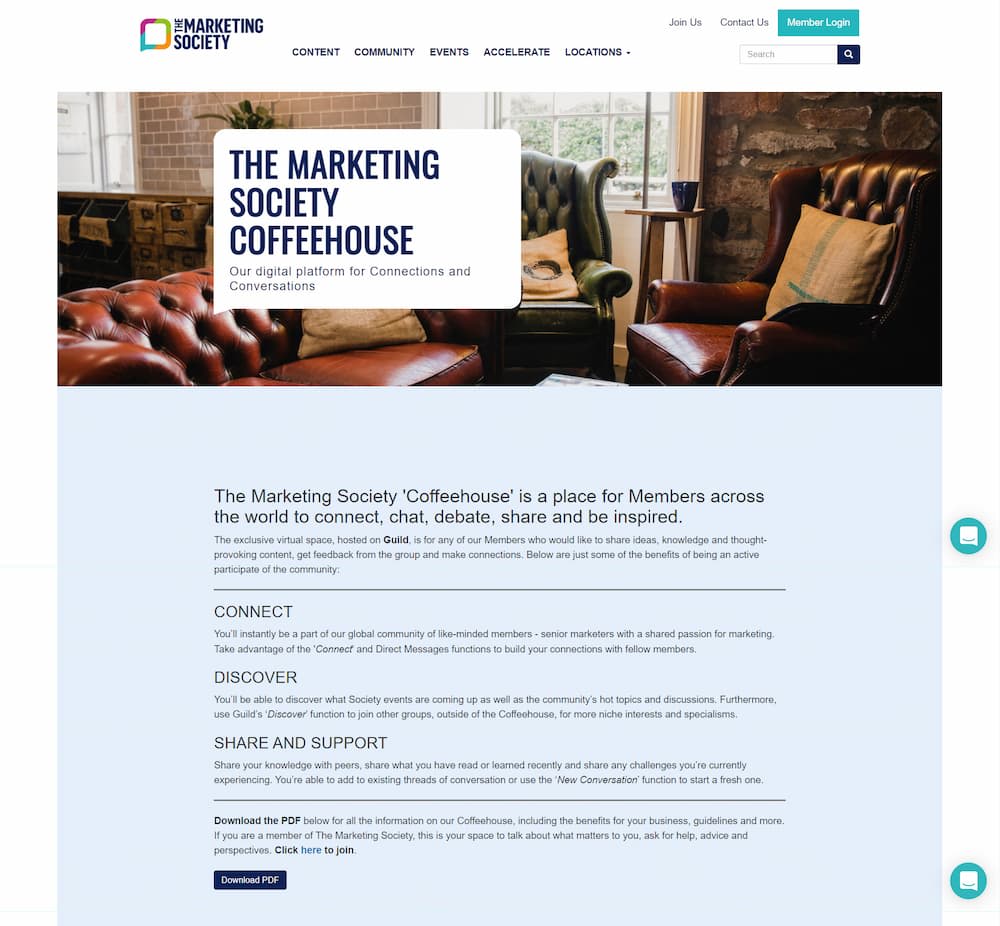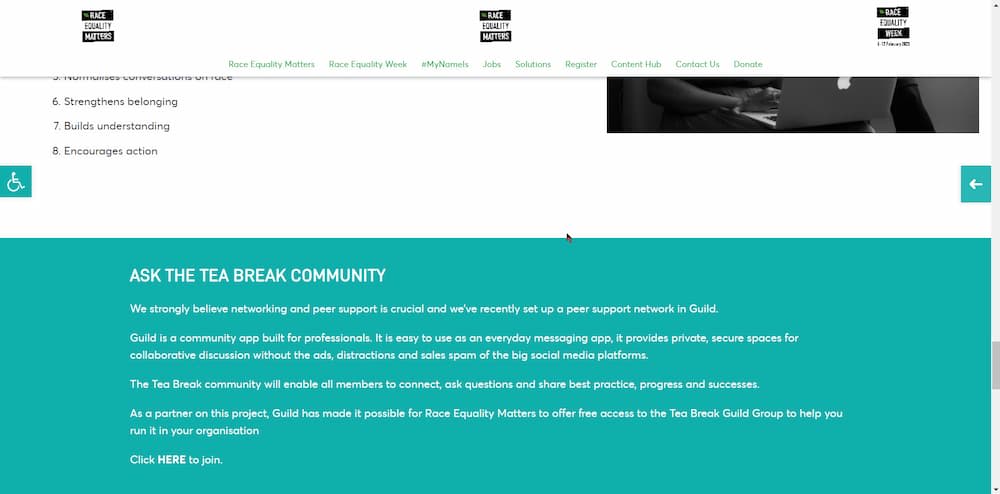 4. Give your Guild community the same prominence you give your social media accounts and icons
Most of us have social media icons on our websites, newsletters and email signatures to ensure that our audiences, customers or stakeholders know about these channels…and follow them.
Do exactly the same for your Guild community! Use the Guild badge icon wherever you use your social media icons/links.
You can find the G icons and logos in relevant formats here on Guild brand guidelines.
A good example of this is Horizon Comms. They use the Guild icon and link alongside their LinkedIn and Twitter icons.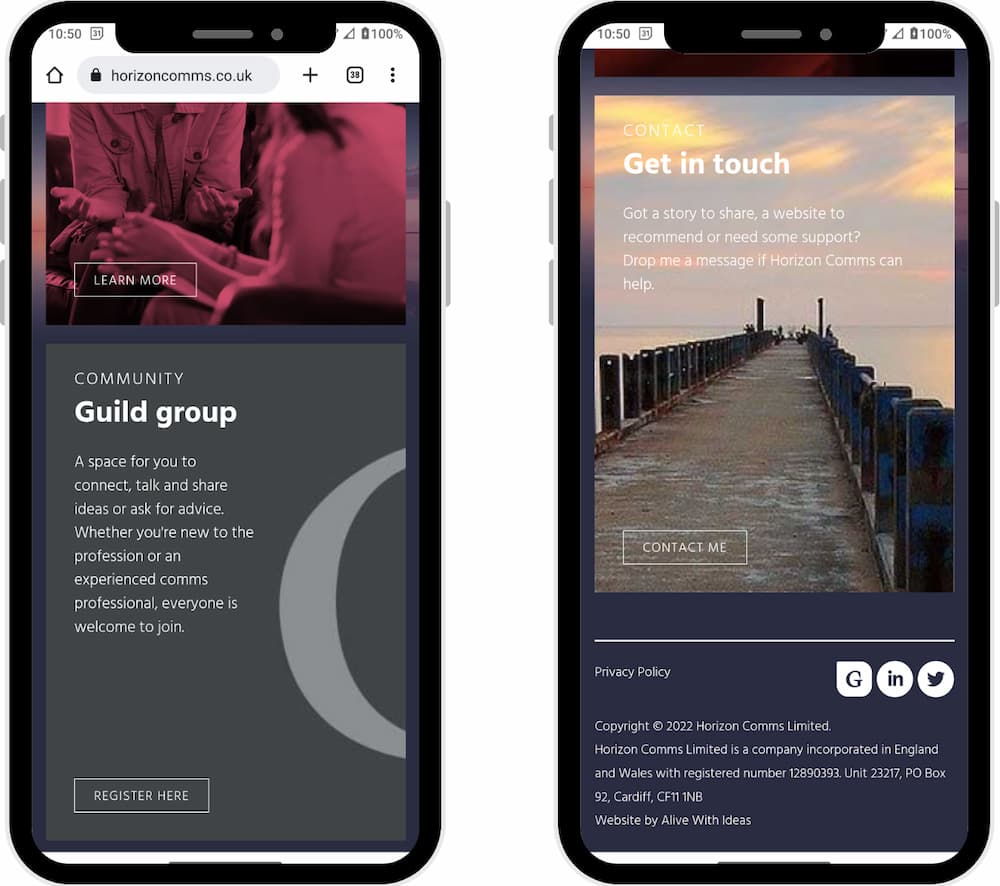 5. Share links to your Guild community from your social media accounts
Many Guild community owners make good use of their personal and professional social media accounts to raise awareness of their community when it's launched AND at regular points throughout the year.
Drop in a mention and call to action to join the community in regular posts or articles on social media, not just when you launch it.
Make it the subject of a post or an article on its own.
Take a look at how these Guild communities have done this for some inspiration:
Marketing Leaders Circle on LinkedIn
Horizon Comms on Twitter
Building Inclusive Cultures within a LinkedIn post
She Has No Limits on Instagram
Renewd on Twitter
Speciall Media on Twitter
Design Community Hub on LinkedIn

And if your community is on Guild, tag us in your posts to instantly share with us all the ways you promote it on social media.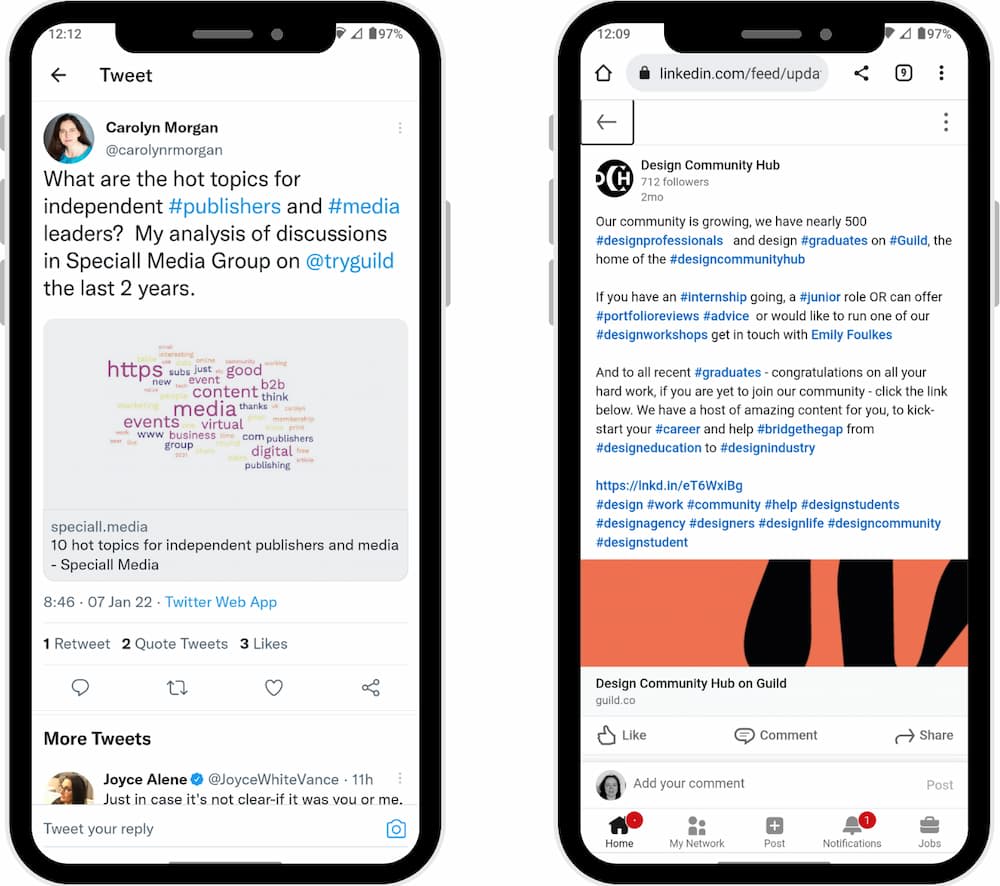 6. Don't miss anyone out – integrate your Guild community with your CRM, membership/customer database
Make sure you've invited everyone that you need to!
If you're running a group, community or network on Guild, and you have a database for your subscribers, members, volunteers, donors, supporters, prospects etc. we make it easy for you to synchronise your group membership with your own database.
If you're on a Guild paid plan and have a Pro, Business or Enterprise account, you can use integrations via Zapier to automate invitations to groups from your CRM/database.  
To find out more read our guide to Using Zapier with Guild.
If you need more tailored access via an API you can do this with a Business plan or Enterprise plan.  Just contact your Customer Success Manager to make this happen.


7. Regularly feature your Guild community on your emails, newsletters and website
Create FOMO (Fear of Missing Out) amongst those who haven't joined your community, but who would benefit from it.
Be proud of the work you've done on your community and don't be shy to promote the great conversations and discussions that take place there (be aware if anonymity is required).
You can do this on your regular emails/newsletters. Or you could publish a summary of topics discussed in the community on your blog.
Great examples of this include Renewd, Media Entrepreneurs Group and Fix / Adtech Perfect Storm, Like Minds and Speciall Media who highlight the best of their community conversations in their emails, newsletters and blogs.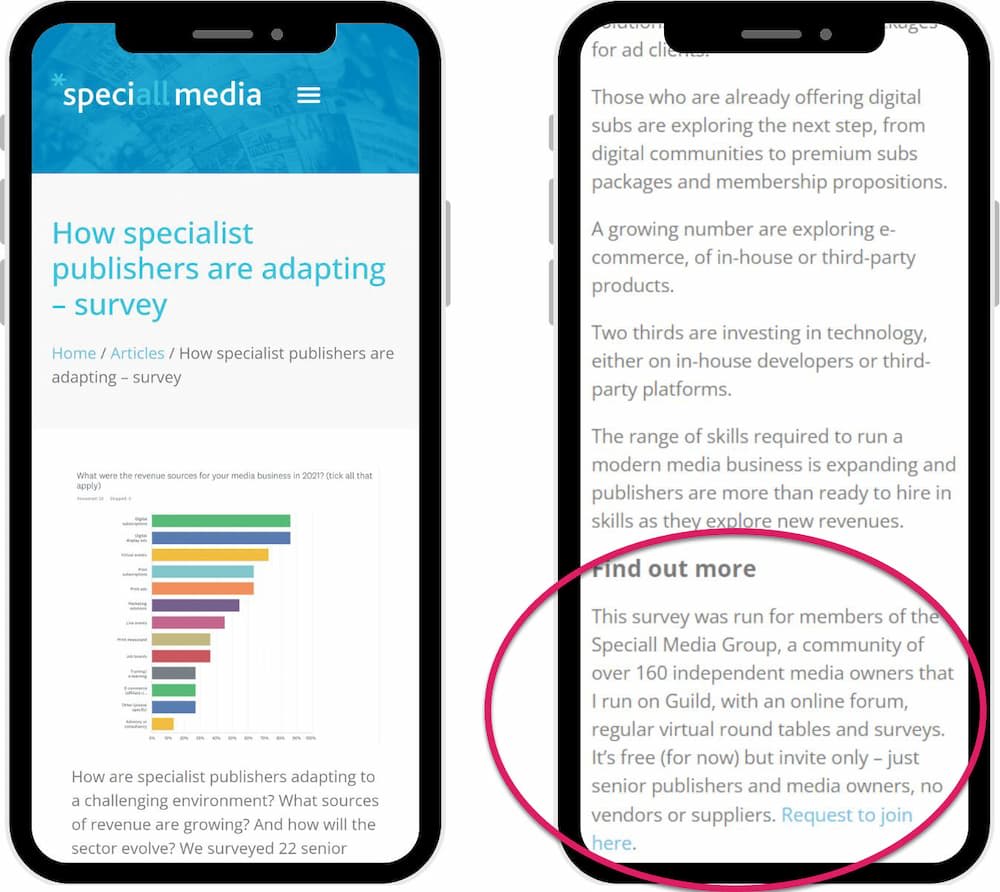 8. Don't forget to add your Guild community to your email signatures
Your email signature can be a great place to promote your community to your professional and personal connections.
Again, running your own community is something you should be proud to tell people about - it's a real example of your skills. A simple "join XYZ community" embedded link is all you need to include.
Here's an example email signature and community call to actions from The Happiness Index team.


9. Tell people to join your Guild community at every event - virtual, in-person or hybrid
Running events of your own, or speaking at an event?

Then ask attendees to join your community with a strong call-to-action at every opportunity!
Encourage them to join your Guild community to continue the conversation, ask follow-up questions, access additional resources or offers, take part in polls, or simply connect with one another.
This can work in all kinds of both virtual and in-person events - courses, workshops, webinars, networking events and roundtables, social get-togethers or formal meetings.
We've got a best practice guide on combining events and community that covers how to use your community to superpower your events and get much more long term value/ROI.
QR codes can be used to good effect to get people to join your community from an event. You can display them on posters and signage at exhibition stands, include them within programme brochures and invitations, or add them to presentation slides.
It's quick for people to scan them with their phone and go straight to your Guild community landing page.
It's good practice for accessibility to include the URL on the same display too.
There are plenty of free options for creating QR codes, some of which allow you to include logos and custom designs – QR Code Generator from Bit.ly is a good place to start.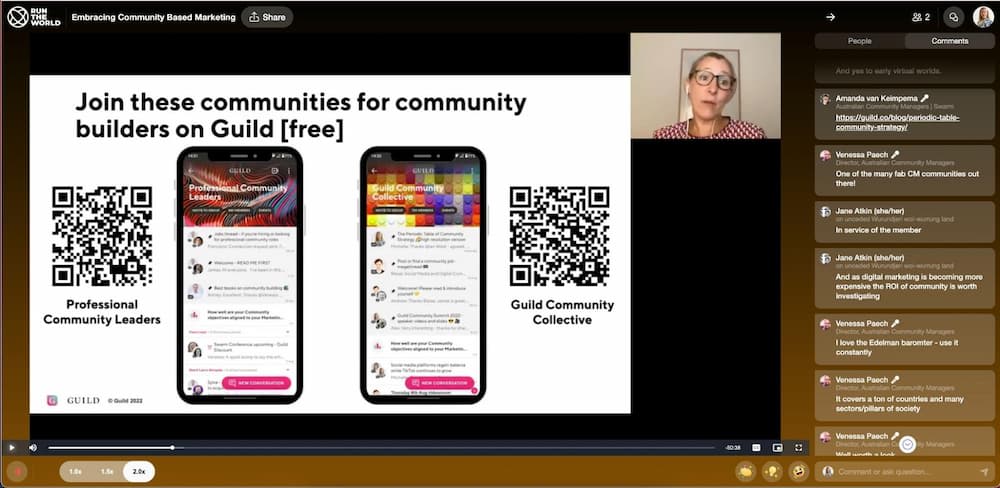 10. If your Guild community is newsworthy then announce it to the media
Launching your community might be newsworthy. If it is, draft a press release and launch it in the way you would a new product, service, campaign etc.
In January 2021 the National Education Union (NEU) launched its Remote Education Hub, which included a dedicated community on Guild.
At a time when both students and teachers were facing urgent challenges around remote education during the pandemic, the NEU's story appeared in numerous trade titles including Education Executive, SecEd and Teaching Times.


11. Advertise your Guild community
If your community is important to you then invest in it and advertise it!

Search engine ads, social media ads, banner ads, media partnerships, affiliate marketing, and influencer marketing are just a few of the digital marketing techniques that you can use to promote your Guild community.
And don't forget print media and Out of Home (OOH) advertising. Use a compelling, strong call to action and a QR code to encourage people on the move to join your community easily.


12. List your Guild community on directories
Look out for opportunities to list your community in industry directories, blog posts (including corporate blogs) and articles.
For example, Hive Index is a growing directory of online communities by sector, covering over 100 topics on 20 platforms (including Guild).
People of Color in Tech put together a list of communities that offer mentorship, work experience or free resources for people of color in the tech and engineering space and legal software company Clio collated a list of forums for lawyers.
Look out for these opportunities and make sure that your community is visible for someone who wants to find it.


13. Ask your community members to champion your community and help recruit new members
Happy community members are the best advocates. Encourage them to invite people from their own networks who they know will benefit from your community.
You can ask them to help grow the community from member onboarding and beyond.
Here are a few ways to do this:
Encourage them to invite other people on your Welcome DM from the host to new joiners
Good community member onboarding will include a helpful onboarding message from you. Make sure you orientate new members of your community and encourage them to invite others.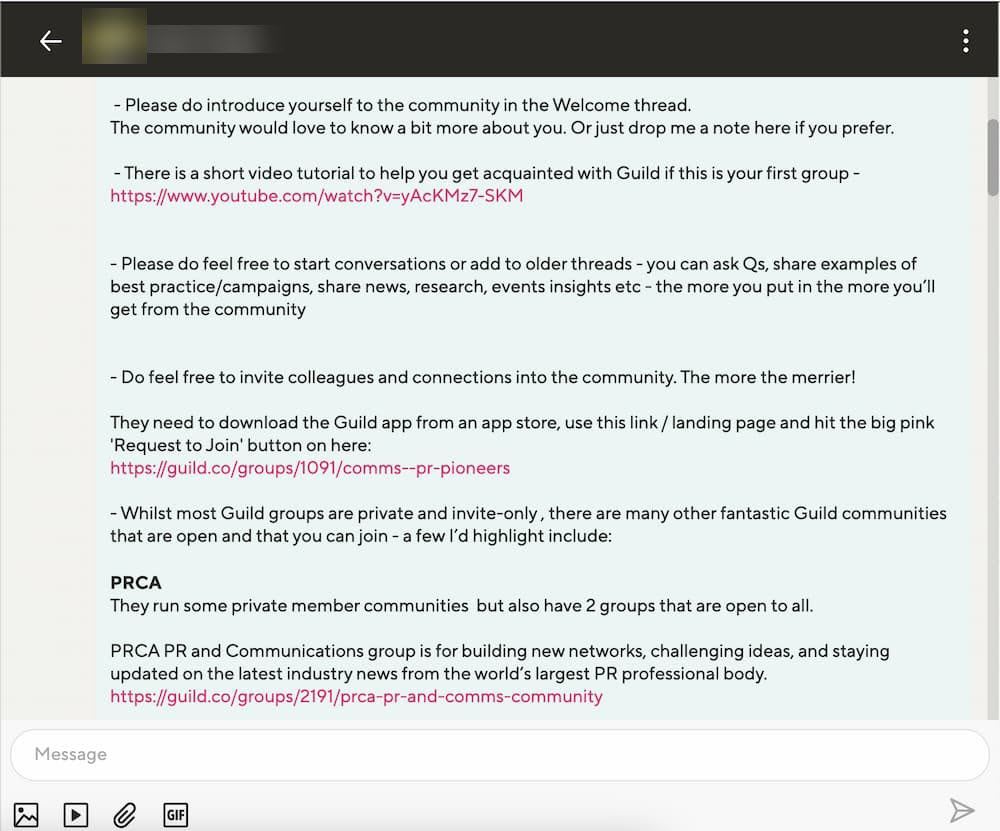 2. Pin a thread to the top of your group with ways to invite people, including the landing page if it is discoverable
To make it easy for your members to share your group with colleagues and peers tell them exactly how to do it in a pinned thread.

You could provide them with template copy that they can use that briefly describes the group and how to join. Encourage them to share this in their social networks, via email, WhatsApp etc.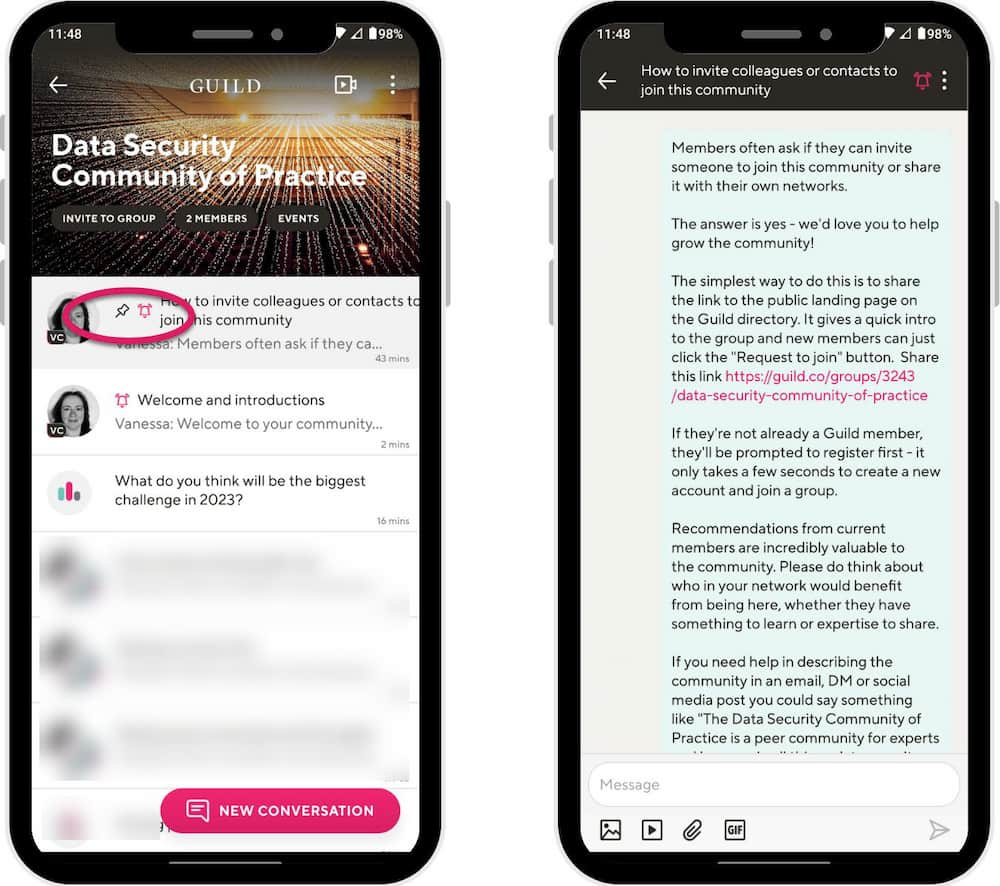 3. Offer visual assets such as a branded JPG or a PDF
Depending on the topic of your group you could create shareable resources like a "top tips" document that includes a link to your group's landing page.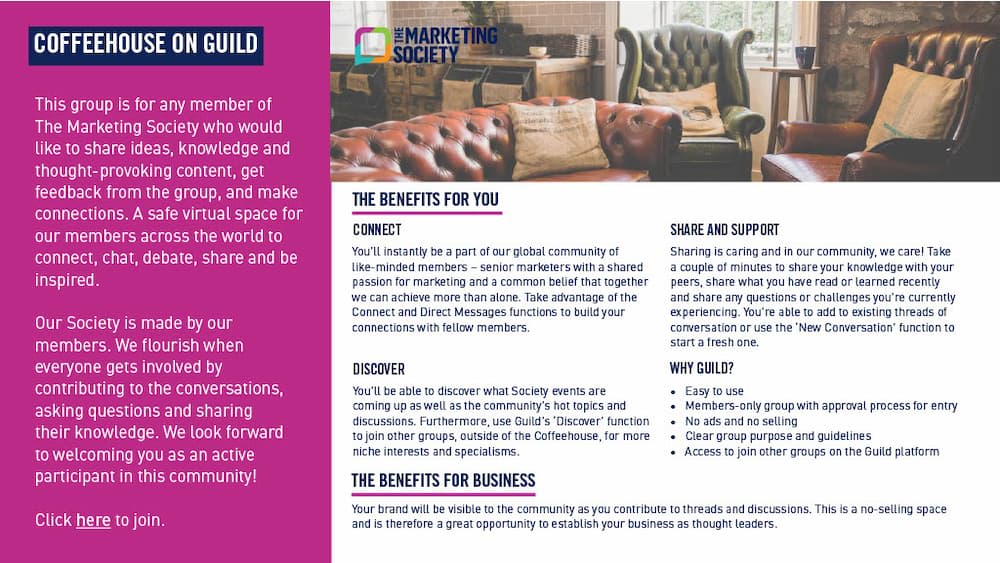 14. Use Guild's built-in member invite links
Click the top of your group to find an "Invite to Group" button.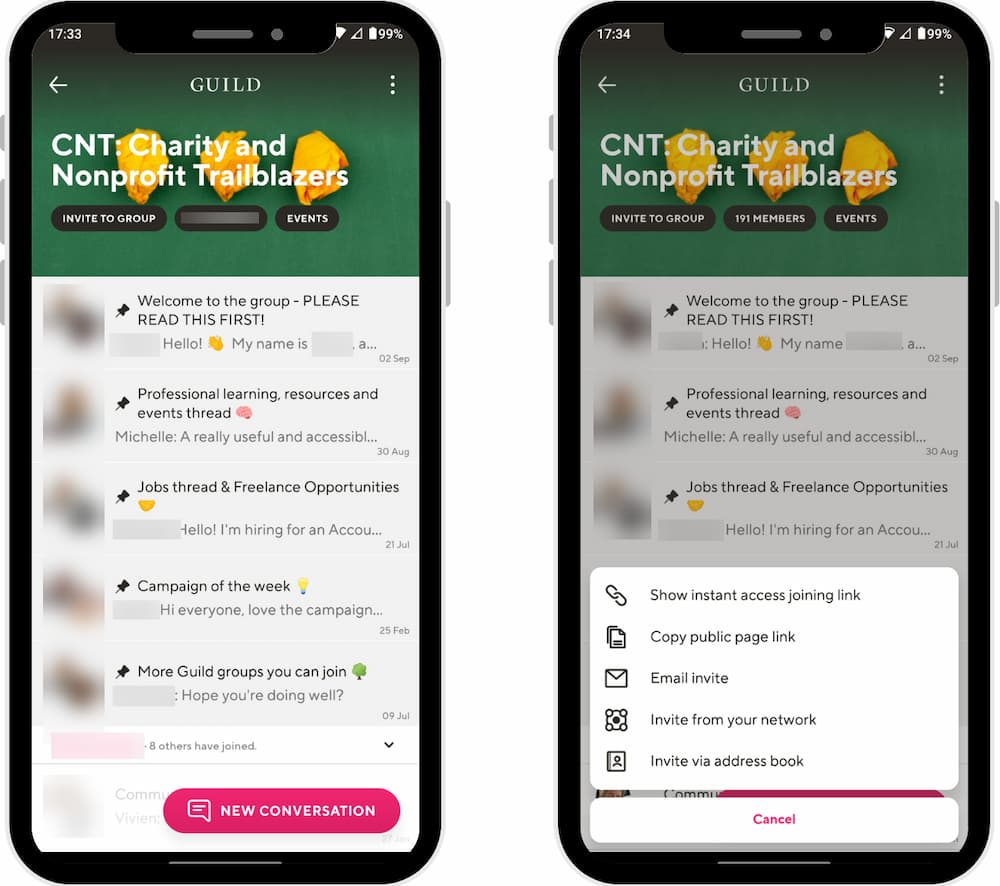 There are 5 possible ways to invite new people into your Guild group, community or network.
1. Instant access joining link – you can copy and share this privately. You may find this link useful for DMs on another social network.
Be aware that this lets people join by clicking the link, so be careful where you share it (you can always remove people from your group and regenerate the invite link if you need to).
2. Copy public page link – if your group is discoverable then this option will give you a public page URL and link that you can use everywhere (your website, a G icon next to other social media icons, emails, QR codes etc).
If your group isn't discoverable you'll see an option to make it discoverable.
3. Email invite – just type in a name and email address to email an invitation from the Guild app.
You can edit the text on this email message from within your admin panel.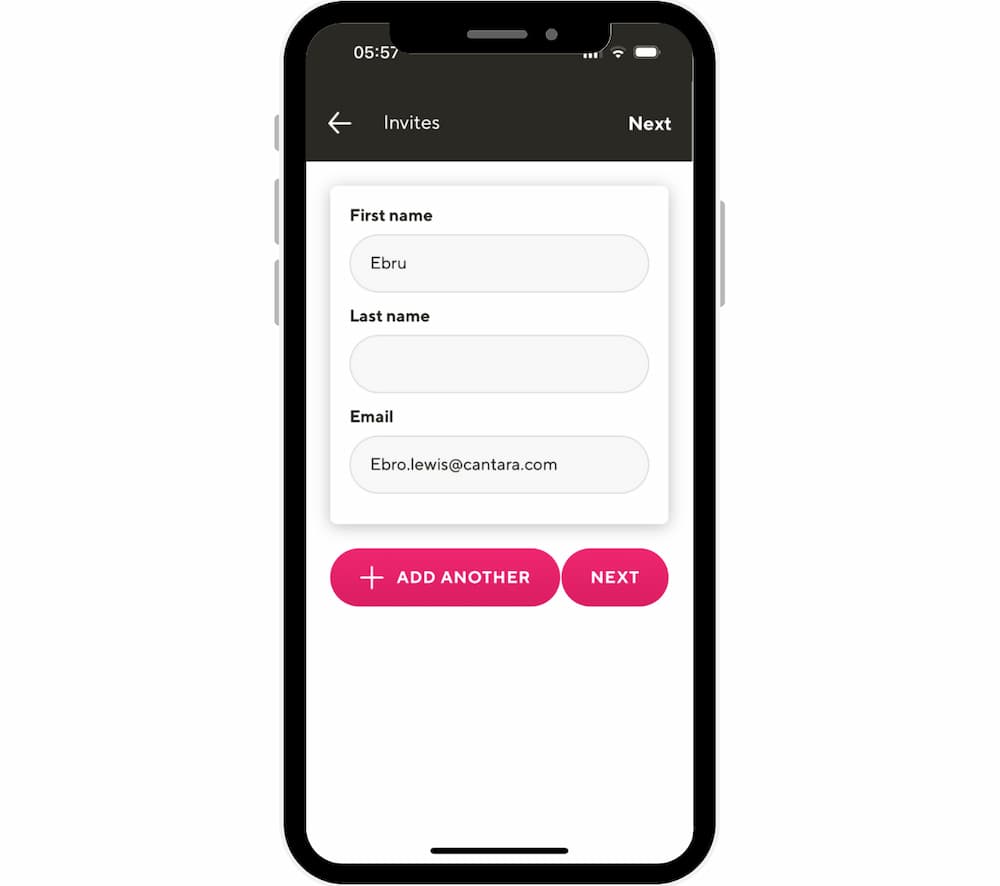 4. Invite from your network – you can send an individual invitation to anyone in your personal Guild network (i.e your own connections, or anyone you're in another community with).
They'll receive an invitation on the Guild app, plus notifications by email, making it easy for them to join.
This is a great way to invite someone you're already connected with on Guild.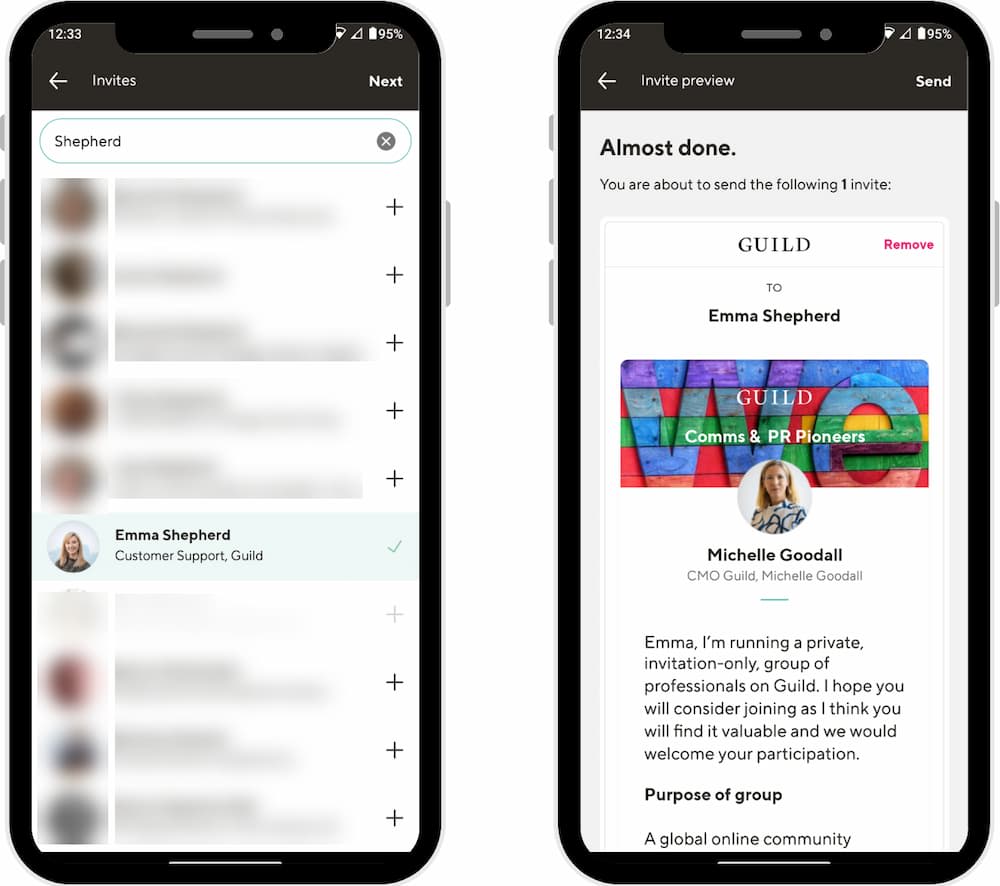 Invite from your address book – select anyone from your phone's address book to send a personal invitation.



If you're on the web app rather than mobile, just click the three-dot menu at the top of your group to access the first four of these invitation methods.


15. Make the most of the links section on your Guild profile
Your personal Guild profile is flexible and offers lots of room to promote your community.
The simplest way is to add a link to your community if your Guild group is discoverable. If it isn't, just add a sentence or two about your group.
When you're an active and valuable contributor in other communities, other members will often explore your profile. Adding a link to your own community on Guild makes it easy for them to request to join or ask you for more details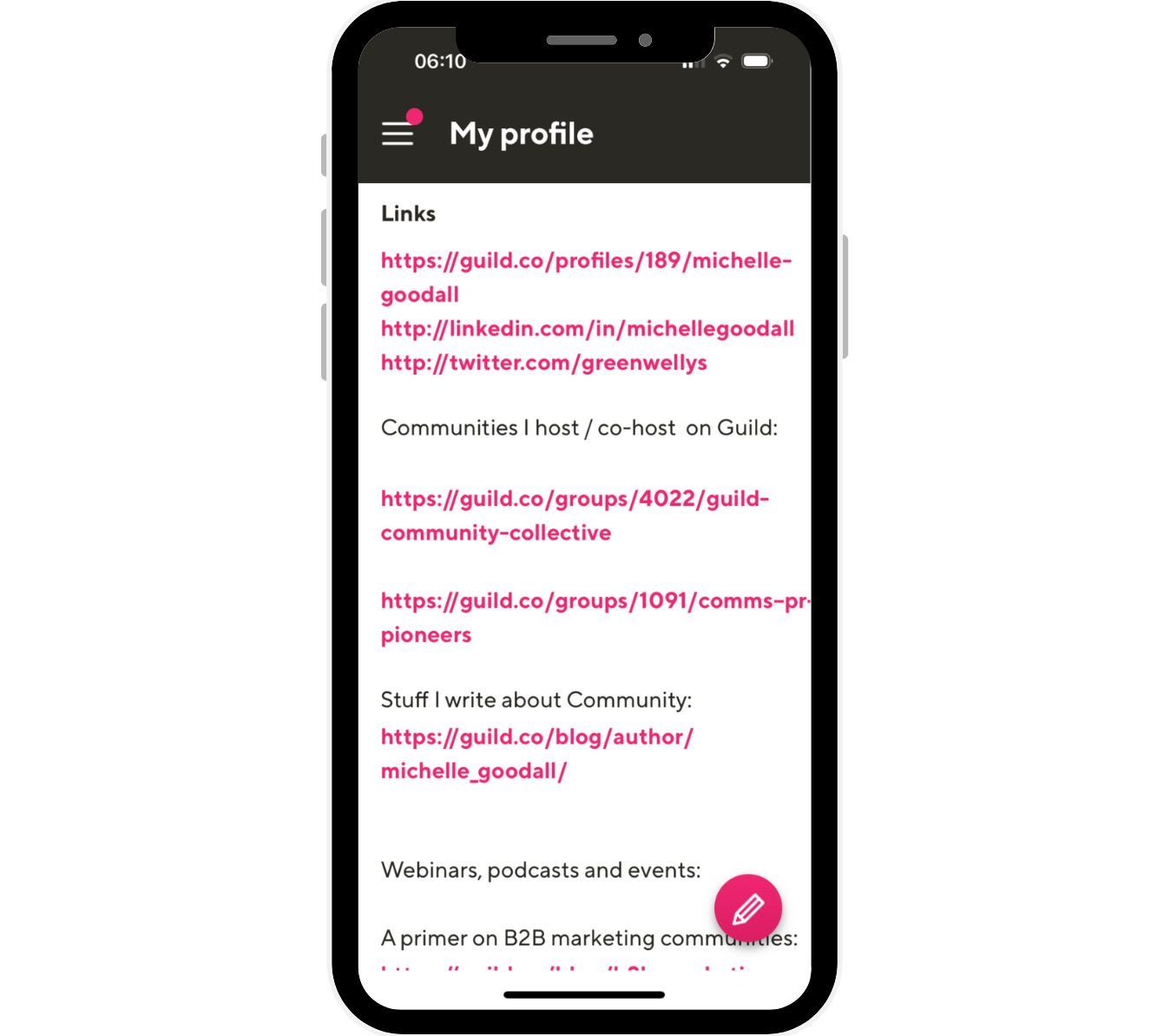 16. Grow your personal network as well as your community

Guild members can choose to make their profiles discoverable. You can search discoverable profiles in the Guild app by keyword, so this can be an effective way to find people who might want to join your community.
The best way to do this is to click the "My Network" option from within the Guild app. You'll see an option for "Discover" and a search box.
If you find individuals whose skills or interests are relevant to your community, you can click "Connect" and send them a tailored connection message (including a link to your landing page if your group is discoverable).
But please don't be 'that person' on Guild! Nobody likes a spammer! Only connect with people who you genuinely think would appreciate an invitation your group, and make sure you personalise your message.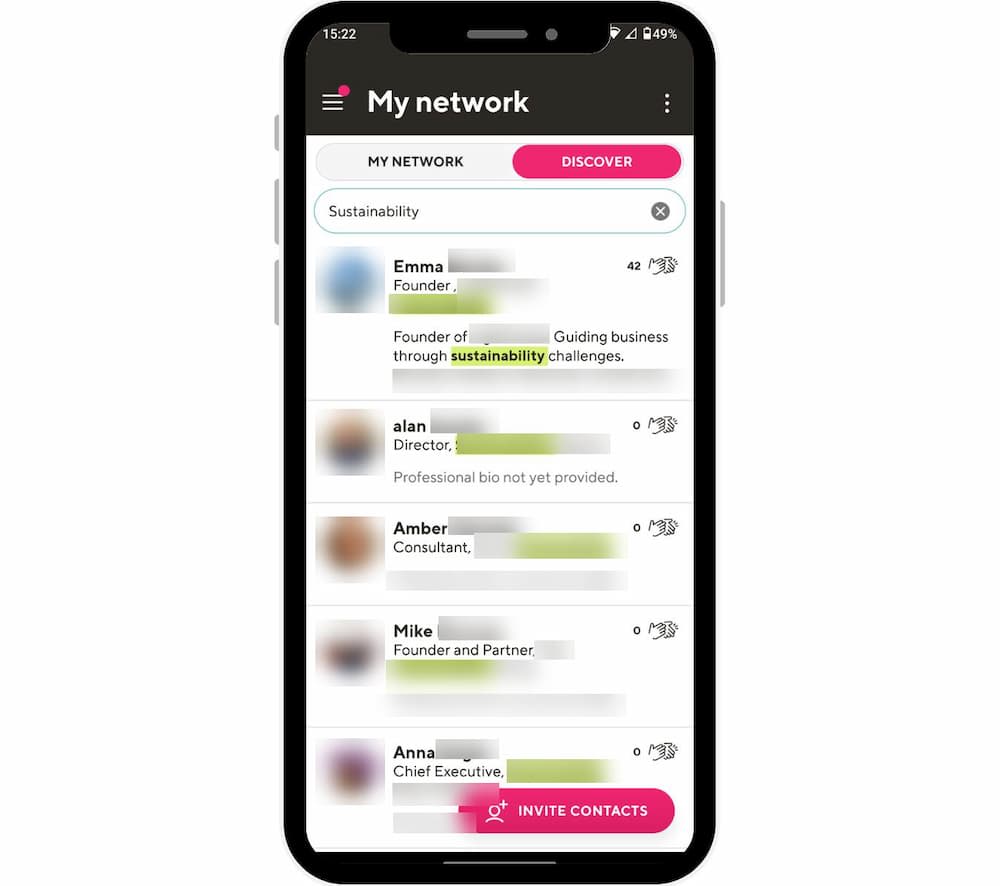 17. Be a great community member and raise your profile
Join other relevant Guild groups and take an active part in their conversations.
Being a good community member will help raise your profile.
Don't join them simply to promote your group, but people will notice you and appreciate your contributions and if you have added your community to your profile, they can see that you host or are an active member of another Guild group.
It can also be appropriate to invite individuals that you meet in other Guild communities to join your group but again, don't be 'that person' and solicit/spam others. Not only does it breach the Guild Charter / acceptable use policy, you may be reported/blocked by others, and the host may decide to remove you from the group.
Every invitation should be personal and genuinely offer value to the invitee. If you approach this in the right way it can be a powerful way to grow your community sustainably and build brilliant genuine relationships at the same time.


18. Work with other community, group and network hosts on Guild
If you're running a community that's complimentary (not competitive) to another community, you could ask the host if they are happy for you to share your group with theirs - and hopefully, you'll do the same in return.
Members who are in several different groups tend to get more value out of Guild as a whole, so this can benefit everyone.
We're not talking Instagram pods here!  As always, the secret of success is relevancy, using your personal touch and giving more than you take.


19. 'Welcome to Guild' welcomes careful hosts
Many new Guild members pass through Welcome to Guild early on in their membership.  There's a pinned post called "Which other Guild groups should you join".
You're welcome to join this group and message the host. Introduce your community with a quick description of what it does and who it's for and they may invite you to promote it on this thread.




20. Take part in Guild content/campaigns and help us to help you

One of the aims of Guild is to connect not just individuals but whole communities of people.
To help with this we have plenty of opportunities to show off your community to other Guild members and to share your personal expertise.
Contact us to let us know if you're interested in taking part in a case study, Q&A, pitching a relevant guest post on the blog, or joining in an AMA (Ask Me Anything) or panel event.
If you are on a Guild Enterprise plan there will be many ways that we can help to promote your community via social amplification, newsletter promotion and PR opportunities.


21. Ask for help and ideas from other Guild community hosts
If you're on a Guild paid plan, you will have access to the Inside Guild community where you can talk to fellow community owners and the Guild team.
If you're not on a paid Guild plan you can join Guild Community Collective and pick the brains of hundreds of community professionals.
Search past conversations, ask a question, or use the jobs thread if you're looking for consultancy or professional support.
Follow these tips and you'll grow your community and increase membership in no time.
Remember, a community isn't built overnight. It takes both time and effort, but the rewards are worth it for all!
Photo by Anna Shvets on Pexels
---

More ways to rocket-boost your community strategy:
Make your community discoverable on Guild
33 ways to create engagement in your community
Mistaken expectations of community
Lessons from the first 90 days of running a community
---
Try Guild 🤝

See for yourself how the Guild experience is different to WhatsApp, Slack, LinkedIn or Facebook Groups. Guild is a safe space to connect, communicate and collaborate with others.
Join us on a platform that is purpose-built for professionals and businesses.
Contact us if you want to know more or have any questions.