HR professionals are called "people professionals" for good reason. We see that every day on Guild, where scores of communities bring HR specialists together.
They're amongst the most generous and supportive communities we've seen. Every day HR community members are helping each other to find answers to those difficult, urgent and sensitive questions that aren't suitable for discussion on social media.
HR professionals appreciate private, secure support communities when dealing with people's livelihoods, wellbeing, health and safety.
For those reasons, many of the HR communities on Guild are completely private and invite-only.
For example, the Chartered Institute of Personnel and Development (CIPD), the association for human resource management professionals, created its HR Directors community during the COVID-19 pandemic and now uses Guild for a number of private, secure, member only, topic specific communities.
However, some HR communities are discoverable on our groups directory and you can request to join them.
Here's a selection of the HR communities you can request to join today.

Happiness & Humans
The Happiness Index uses neuroscience to provide organisations with a holistic view of how their people are thinking and feeling.
They couldn't find a space where HR and People professionals who were serious about changing the world of work for the better could connect and support each other – so they made one!
This community of HR, DE&I, People and Culture Professionals shares both their challenges and insights on revolutionary ways to solve them.  The community is open to all in-house HR professionals.
Find out more and request to join Happiness & Humans


The HR Network (powered by HR Recruit)
Human resources recruitment specialist Phil Scott created The HR Network because "HR professionals have an incredibly stressful and challenging job and can often feel quite isolated. We see hundreds of individuals facing similar challenges alone."
It's open to senior HR specialists in any sector, including HR directors, personnel managers, and recruitment and resourcing managers. Conversations cover training, technology, processes, wellbeing, diversity and inclusion. Members are generous with HR resources and advice.
Find out more and request to join The HR Network


d&i Leaders Members Club
d&i Leaders launched in June 2018, with the aim of bringing together global diversity, inclusion and HR related professionals to accelerate change.
Its Guild community enables d&i Leaders Club members to grow their network of trusted advisors, ask for advice, share useful resources and support each other to accelerate their workplace DE&I strategy. If you have direct responsibility for formulating and delivering your organisation's diversity, equity and inclusion strategy – for example Directors, Heads, Leads and Managers of DE&I and HR - this community might be for you.
•  Membership is for d&i Leaders Club Members only who meet the above criteria. To apply for free membership, visit https://dileaders.com/membership-account/club/
Find out more about d&i Leaders Members Club


Future of Work: Reimagining Business
The world of work has seen dramatic changes from digital adoption to the revolution in remote and hybrid working practices.
We have a chance to design a more equitable, sustainable future that works for us all. This community is a place to share our visions, discuss around sometimes contentious views and ideas and try to build consensus. Conversations in this communty include work-life balance, wellbeing, profit and purpose and power distribution.
Find out more and request to join Future of Work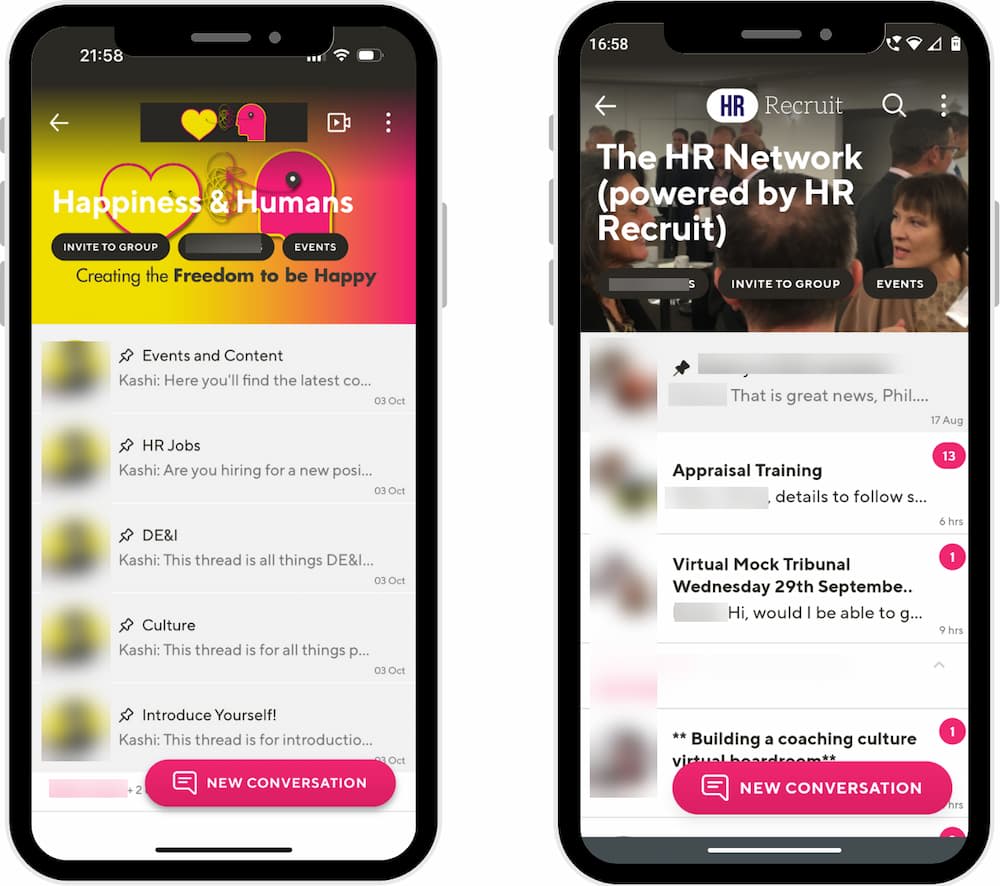 ---


Communities focusing on diversity, equity and inclusivity

HR professionals care about ensuring that everyone has equal opportunities, that there is a space for different experience and approaches, and that we celebrate the benefits of those different perspectives.  
Here are a few communities that specialise in diversity, equity and inclusivity.
 
Anti-Racism Innovation Community
Shereen Daniels has been named HR Most Influential Thinker in recognition of her work and expertise in racial equity and anti-racism.
She's the founder of anti-racism advisory firm HR Rewired, and author of the book, The Anti-Racist Organization.
Her Anti-Racism Innovation Community is an invite-only, carefully managed community with a "culture of reciprocity".  
It's a private community and is strictly limited to people working to make organizations anti-racist, but you can apply to join as a member.
Find out more about the Anti-Racism Innovation Community


Race Equality Matters
Race Equality Matters works with thousands of organisations including Network Rail and BT to create meaningful change in racial equality both in the workforce and in society.
It collaborates with those with lived experience to co-create solutions that tackle Race Inequality in the workplace. Initiatives and solutions include Race Equality Week, the Race Equality Network, and resources like Tea Break and #MyNameIs.
Find out more about Race Equality Matters and its Guild communities
Building Inclusive Cultures
A community to support individuals committed to building a professional culture of belonging, wherever you work.
Bringing together those with lived experiences of discrimination, allies and business leaders. You're encouraged to listen, reflect and learn from each other.
Everyone who cares about building an inclusive professional culture is welcome to join.
Find out more and request to join Building Inclusive Cultures
---
Internal Comms
Your role in HR may also involve some internal comms - or you may work closely with internal comms professionals.
You or your colleagues may also want to explore the CIPR, Comms Solo and Horizon Comms communities for internal communications professionals – more about these on our guide to communities for comms and PR professionals.
---
The next step in your HR career?
If you're looking for a new direction for your professional skills or interested in taking up a trustee role at a charity or nonprofit, you might find the NED & Board Advisor Network has the right opportunities and connections.
This community is for NEDs (Non Executive Directors), prospective NEDs, and board advisers of all types to share, learn from, and help, each other.
Find out more and request to join the NED & Board Advisor Network
---
More resources for HR and people professionals:
The Trouble With Employee Advocacy (And How To Fix It)
Networking tips for students, graduates and career starters
Learn from the CIPD and NEU on community
Joining a community on Guild - what's in it for you?
How to grow your professional network on Guild
Building Better Business - interview with author Shereen Daniels, MD at HR rewired
The importance of community in a crisis
Tips and perspectives on neurodiversity in the workplace from Guild members
Header image by Ketut Subiyanto on Pexels
---
Join Guild 🤝

See for yourself how the Guild experience is different to WhatsApp, Slack, LinkedIn or Facebook Groups.
Guild is a safe space to connect, communicate and collaborate with others.
Join us on a platform that is purpose-built for creating groups, communities and networks on mobile.
Contact us if you want to know more or have any questions.