In brief

HR Recruit is the UK's leading human resources recruitment specialist. They connect HR talent from directorate to assistant level to employers.
HR Recruit created its HR Network to support candidates and clients with a programme of roundtables, networking events and webinars. There's also a catalogue of practical resources and content from experts and fellow members.
HR Recruit's Director Phil Scott wanted to evolve the HR Network by offering candidates a private online members forum. He told us why Guild offered the right technology and has created the right atmosphere for connecting senior HR professionals in the HR Network community.


Why was creating a peer support online community important to you?
"HR professionals have an incredibly stressful and challenging job and can often feel quite isolated. We see hundreds of individuals facing similar challenges alone.
Problems range from navigating the pandemic, evolving technology, to understanding legislation, to building processes and policies.
We provide industry expertise with content, events, a podcast and blog. However, our peer-to-peer get-togethers have always especially popular in the HR community."
"You can't beat the opportunity to trade tips with people who share your experiences and challenges."
Adding a collaborative networking forum to the mix means candidates can ask for help at any time. That's been especially important during the pandemic, of course. However, it will be even more important in the future as the world of work continues to change."

How has creating the HR Network community on Guild benefited HR Recruit?
"Offering candidates a place to connect with us and each other helps us build trusted and deeper relationships with them.  
We're helping them to become even better and more confident HR professionals. That's great for both candidates and clients."
"By listening respectfully to our community, we stay informed on new challenges in the HR industry. Social listening or reading the trade media goes a long way but a community is even more genuine and immediate."
"HR is fast-moving. It's so important for us to keep honing our understanding of what candidates, clients and the sector as a whole are grappling with on a day-to-day basis."

Why use Guild and not other community platforms like Slack, Facebook Groups, LinkedIn or Mighty Networks?
"HR professionals deal with sensitive topics and are acutely aware of corporate governance and privacy. It was crucial to offer them somewhere safe, GDPR-compliant, with a professional feel.  
We needed to be confident that we had complete control over the platform and the membership to keep it a safe, supportive and private space.
Members feel confident in a supportive, professional atmosphere where they can ask each other for help.
Social media platforms like Facebook or LinkedIn do not provide businesses with the assurances they need around data privacy for their members and communities. Another problem with social platforms is the sheer amount of 'noise' and distractions. There's no advertising on Guild so it feels like the right space for urgent or sensitive topics.
Members can access Guild on both PC and mobile. Given that HR professionals are often on the move and need to keep up-to-date wherever they are, this is especially helpful.
Guild is very intuitive so there's no barrier to signing up new members. We've managed to onboard hundreds of members in the first year of the community."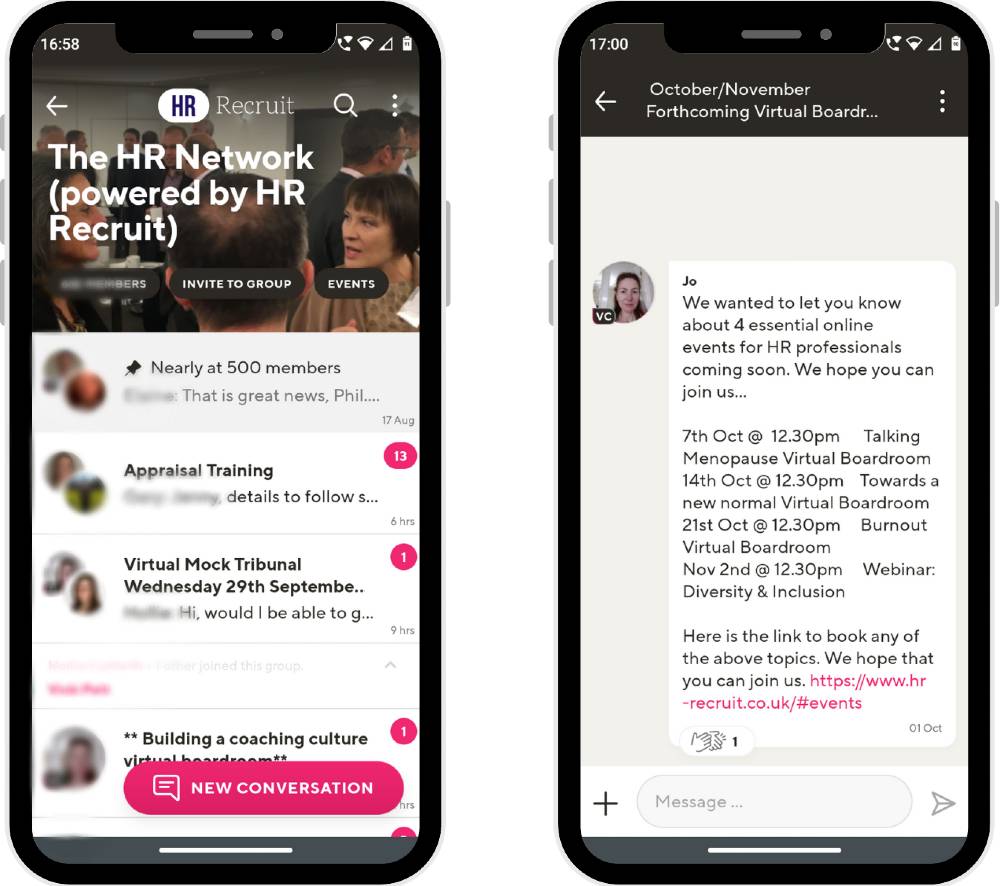 Who should join the HR Network and what will they find there?
"It's strictly for HR Professionals, it's free to join and it's open to senior HR specialists in any sector. HR directors, personnel managers, or recruitment and resourcing managers are all welcome.
We talk about everything that concerns HR professionals.
Recent conversations have covered training, HR systems, hybrid working, wellbeing, appraisals, strategy, technology, mentoring, diversity and inclusion policies.
It's great to see the HR community sharing information like training literature and document templates, they are really helping each other. We also share recommended reading and highlight our own and external events."

What tips would you give to other HR professionals wanting to start a community on Guild?
"Both my team and our members really appreciate how simple Guild has been to get started with. We want to focus on our jobs and the people we work for, without getting distracted by the technology.
Even though Guild groups are easy to set up, you still need to do some planning and resource your community properly.  
The Guild team are responsive to questions and suggestions for further development of the community.
My colleagues help me to host and co-manage The HR Network. That means we've got time to do our very best for the membership, and we don't miss any important conversations or questions!

Photo by Amy Hirschi on Unsplash
---
Discover other businesses succeeding with communities on Guild
How management consultancy Spark! Consulting built a vibrant investment community
Discover how Advita Patel and Priya Bates created a community for their leadership mentoring programme for women of colour worldwide
Learn from cultural change and coaching consultancy Equal Talent who built a successful online professional community for professional women and allies
---
Join Guild 🤝

See for yourself how the Guild experience is different to WhatsApp, Slack, LinkedIn or Facebook Groups. Guild is a safe space to connect, communicate and collaborate with others.
Join us on a platform that is purpose-built for professionals and businesses.
Contact us if you want to know more or have any questions.