Inside Warehouse Logistics Expo (IWLEX) is a purpose-focused trade exhibition for warehouse logistics practitioners and internal logistics and warehousing businesses.
The inaugural event took place in May 2023, attracting over 110 exhibitors and thousands of pre-vetted visitors. IWLEX founders Nairn Foster and Justin Craig wanted to maximise the impact of the two-day exhibition by creating "a 365-day community".  
Their goal was to provide a place where the industry could support and help each other, particularly incorporating awareness around mental health to help warehouse logistics professionals "thrive personally and professionally".
Justin is an experienced B2B events professional and knows that a professional community needs simplicity and ease of use to be successful. He explained why Guild was the right choice for building a community to extend the reach and impact of this major new B2B  exhibition.

Results in brief

100+ pre-event conversations between delegates, exhibitors and organisers
Streamlined pre-event communications
Boosted pre-, during and post-event networking opportunities
Increased anticipation for panels, speakers and sponsorship opportunities
Insights and feedback from the community feed into planning and promotion of future events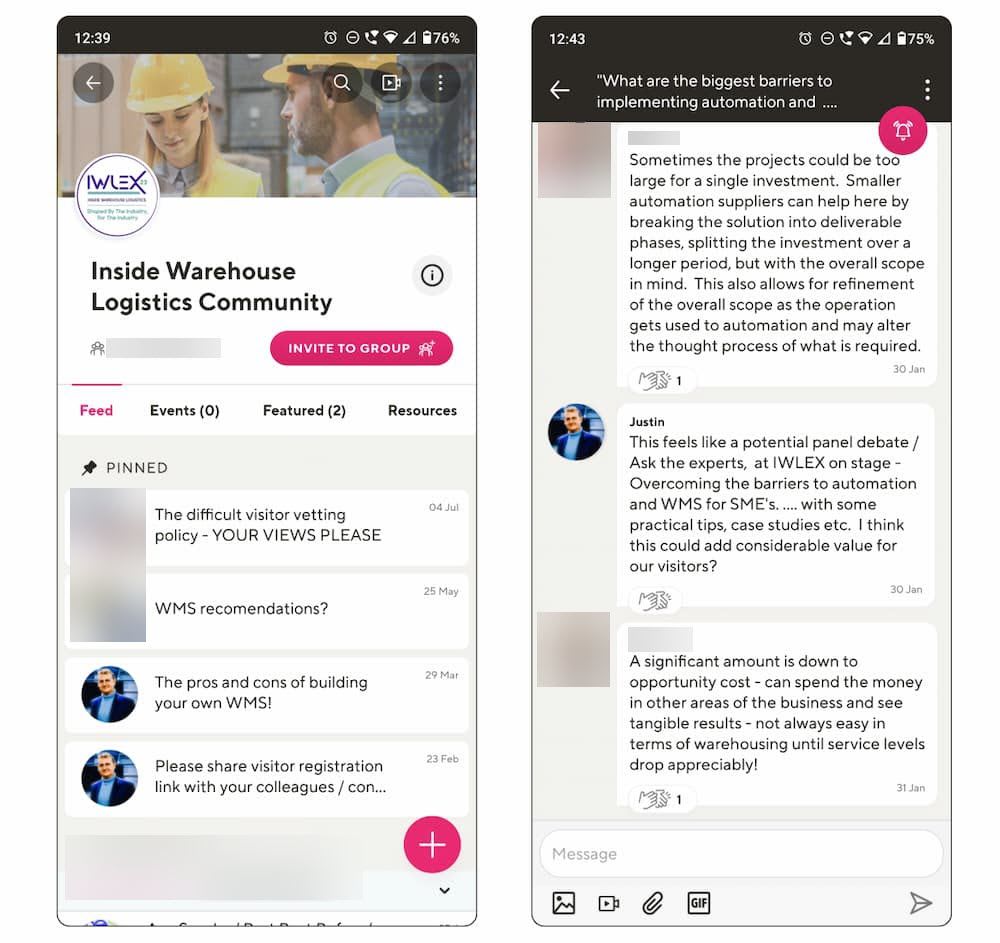 Why was it important to IWLEX to launch an event community?
"Everyone's goal in attending industry events like IWLEX is to connect, share knowledge and collaborate with fellow professionals.
Building a community means those connections and collaborations never have to stop. It offers our delegates the best of both worlds.
In-person events are invaluable for making connections, but as event organisers, we should do much more than get you through that door.
A year-round community means delegates and exhibitors don't miss those golden opportunities.
Running a community also offers so much opportunity to grow and evolve organically over time. Our members are the experts in what they need - our goal was for IWLEX to become what our community wants it to be.
We can also extend our reach far beyond exhibitors or visitors. We wanted to bring in everyone who cares about our core pillars - Well-being, Commerce, Community, Sustainability, Inclusivity, and Innovation. Offering somewhere the industry can come together all year round means we can go much deeper into important topics like these."



What happens in the IWLEX community, and who can join?
"All our visitors, exhibitors and stakeholders are invited to join, but it's open to any professional within the warehouse and logistics sector who wants to network with like-minded professionals. We talk about industry trends and best practices, share expertise and experiences, and make the most of the community's collective knowledge.
There's lots of practical content like asking for referrals, posting job vacancies, relevant promotion of products and services or sharing recommendations. It's a place to do business together and help each other.
We spark conversations but we also let members take them where they want to go. We've learned such a lot from simply listening to the community.
Ultimately, the goal of the community is to work together to discover solutions to challenges and drive innovation in our industry."



Why did you choose Guild for your community platform, and how has it helped your business?
"When we were planning the community, we knew simplicity had to be at its core.
Rather than trying to make a website or event tech do everything, we picked tools that did each thing well. Using the right tool for the right job is always a good idea, and Guild is purpose-built for professional networks and communities.
Guild has everything we need for a community, but it doesn't over-complicate things. From our members' point of view it's an easy-to-use discussions board and they can get stuck in without thinking about the mechanics.
We wanted to build a community that will be industry-led, shaped by the industry for the industry. With Guild, we can put in a simple structure and grow with the community.
We've used the Video Room for formal events and informal "coffee chats", run polls and organised our content with the pinned and featured threads. We share news from our exhibitors and sponsors, and we can make one-to-one connections and introductions between members.
As this is our first community, the support available from the Guild team was invaluable. Guild itself was easy to use, but our Customer Success Manager made everything even simpler - we could support our members and not worry that we'd missed something."


What advice would you give other event organisers thinking about building an event community?
"Start now. The events industry has changed for the better, but there's a whole new set of skills to learn if your events are going to meet the needs of your delegates and exhibitors.
Launching a community means we get daily feedback on what works and what we can improve.
Event organisers already have many skills and the right attitude to build communities around events, but it always makes sense to listen to the experts. We invested in a few months of Guild's Community Management Service.
That gave us dedicated time with a community strategy expert who helped us hone our onboarding and get the community off to a flying start. We learned such a lot from him, and we can apply that to both to the Inside Warehouse Community and to other event communities in the future.
Remember your community is a living thing - you can guide it but you can't schedule community day to day.
There's a natural ebb and flow, and after the excitement of an event, you can step back a little, listen to your community and reflect on what you've learned. Then keep iterating and innovating based on what the community tells you.
Our inaugural event surpassed our expectations, and we know that future events will be even better because we'll build them alongside our members."
---
More about community for event organisers
How to combine Events with Community: best practice guide
'Pop-up' event community: Mx3 Berlin case study
The power of community analytics: insights on Hopin
Ways to use Guild: event communities and networking groups
12 ways publishers get ROI from community
What is the ROI of online community for B2B Media?
Sponsored communities: how to monetise online communities through sponsorship

---
Other event organisers using community and Guild to support events
---
Want to support your events with an online community? 🤝

See for yourself how the Guild experience is different to WhatsApp, Slack, LinkedIn or Facebook Groups.
Guild is a safe space to connect, communicate and collaborate with others.
Join us on a platform that is purpose-built for creating groups, communities and networks on mobile.
Contact us if you want to know more or have any questions.