Guild communities are a goldmine for business expertise, advice and connections for entrepreneurs and business owners.
You can reap huge benefits from connecting and networking with fellow business owners and sector experts on Guild.
There are specialist professional communities covering many sectors from marketing and PR through law, human resources, technology, media, diversity and inclusion, sustainability, education and much more.
Here's a guide to some of the professional communities for entrepreneurs you can join right now on Guild.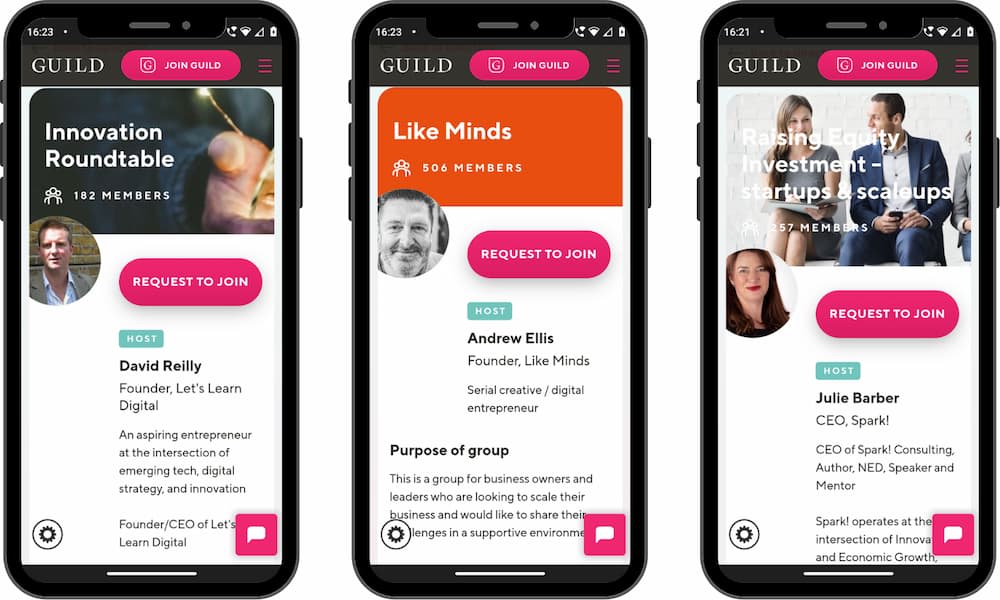 Raising Equity Investment - startups & scaleups
Are you a start up or a scale up business? Do you have a business idea that you're hoping to get off the ground?

Investment and corporate governance expert Julie Barber hosts this supportive investment community to help start-up and scale-up become investor-ready. Share insights and ask for advice on raising equity investment via Angel Investors, VCs, Family Offices and CVCs.
Request to join Raising Equity Investment - startups & scaleups

Crowdfunding Academy
Want to know more about Crowdfunding?

Jamie Harford runs this support network for anyone interested in crowdfunding. Jamie has helped crowdfunders raise £100m in investment in 2020 alone. Join to uncover the benefits and to avoid the pitfalls of crowdfunding.
Request to join Crowdfunding Academy

Future of Work – reimagining business

Want to create or run a business that is future-facing and is so much more than just profit-driven ?
Author and business advisor Mike Weston manages this community for sharing knowledge around work-life balance, profit and purpose, power distribution, business structure and KPIs. Join a wonderful group of business owners, advisors and senior professionals discussing and designing a better future for the world of work.
Request to join Future of Work – reimagining business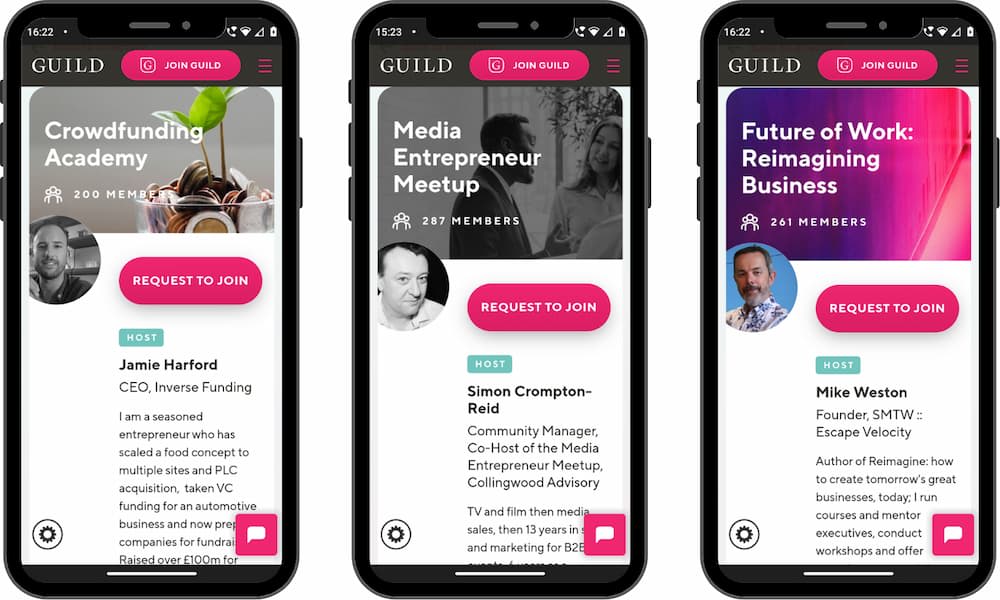 Like Minds
Want to scale your business and share your challenges and learnings with peers?
Like Minds founder Andrew Ellis has created a community for business owners and leaders who want to scale their business. Share your business challenges in a supportive environment and find out about events and opportunities to help run your business even better.

Media Entrepreneur Meet-up
Are you an entrepreneur in the media space?
This community is for founders and CEOs of B2B subscriptions, media and events businesses to share learnings, insights, and contacts. Hosted by Collingwood Advisory – membership is free but subject to approval by independent curators.
Request to join Media Entrepreneur Meet-up

Aussie Entrepreneurial Creatives

Calling all Australian entrepreneurs and business owners looking to break into the Australian market.

Join Rory Tanner in the Aussie Entrepreneurial Creatives group. Open to all entrepreneurs and aspiring entrepreneurs. Join to share, learn or mentor fellow entrepreneurs.
Request to join Aussie Entrepreneurial Creatives

Innovation Roundtable

Want to hang out with a community living and breathing digital innovation?

Join David Reilly and a group of professionals from many sectors having candid conversations about effective innovation in organisations. Members share their own experience as well as resources and approaches that can help members to "adapt and thrive in a post-pandemic digital world".
Request to join Innovation Roundtable



This is just a snapshot of some of the communities for entrepreneurs and business owners on Guild.

New communities are created every day, some are private and invite-only.

You could even create your own community on Guild for free.

Make sure you explore the Guild directory as soon as you've joined as a member.
Photo by Alexander Suhorucov from Pexels
---
More resources for entrepreneurs interested in better business practice:

Meet Jamie Harford, community manager of Crowdfunding Academy
Find out more about Mike Weston's approach to his Future of Work community
Find out more about the Raising Equity Investment community
Don't miss our Building Better Business series to learn from top business thinkers like James Timpson, Saasha Celestial-One and Ben Brooks-Dutton
Explore more professional communities that can help you with your career
---
Join Guild 🤝

See for yourself how the Guild experience is different to WhatsApp, Slack, LinkedIn or Facebook Groups. Guild is a safe space to connect, communicate and collaborate with others.
Join us on a platform that is purpose-built for professionals and businesses.
Contact us if you want to know more or have any questions.