In brief

Julie Barber is an investment and corporate governance expert and founder of management consultancy Spark! Consulting. Her team supports ambitious businesses with growth, innovation and transformation.  

She built on 20 years' experience in winning funding to create the "Are You Investor Ready?" programme and a bestselling book, Investor Ready.

Julie understands that business owners want to feel confident in front of investors, and a private community could create a safe, supportive space for advice and frank discussions. She chose Guild to host an investment community for its simplicity and 'professional feel'.
We spoke to Julie to find out more about her peer support network on Guild, "Raising Equity Investment - startups & scaleups".

Why was creating an investment community important to you?
"The process of raising equity investment is challenging for a start-up or scale-up. Founders often lack confidence and find the terminology, rules and opportunities confusing. You can be an expert on your own business and industry but still be perplexed when you face concepts like Series A, angel investors and CVCs.
Learning from similar businesses who've been through the process is a great way to gain confidence. As a consultant, I provide expertise and the formal support my clients need.
But they also have so much to offer each other!  I wanted to give them the opportunity to connect with each other and keep learning and sharing knowledge."

How has Guild benefited Spark! Consulting?
"Building a community that's open to everyone is a great way for us to create new connections. We've gone in to it with a genuine desire to help people and our members appreciate that and reciprocate."
It's also been a good way to add value to the experience we offer our own customers. We can recommend a community where we know they'll fit in and get answers, because we're there to make sure that happens."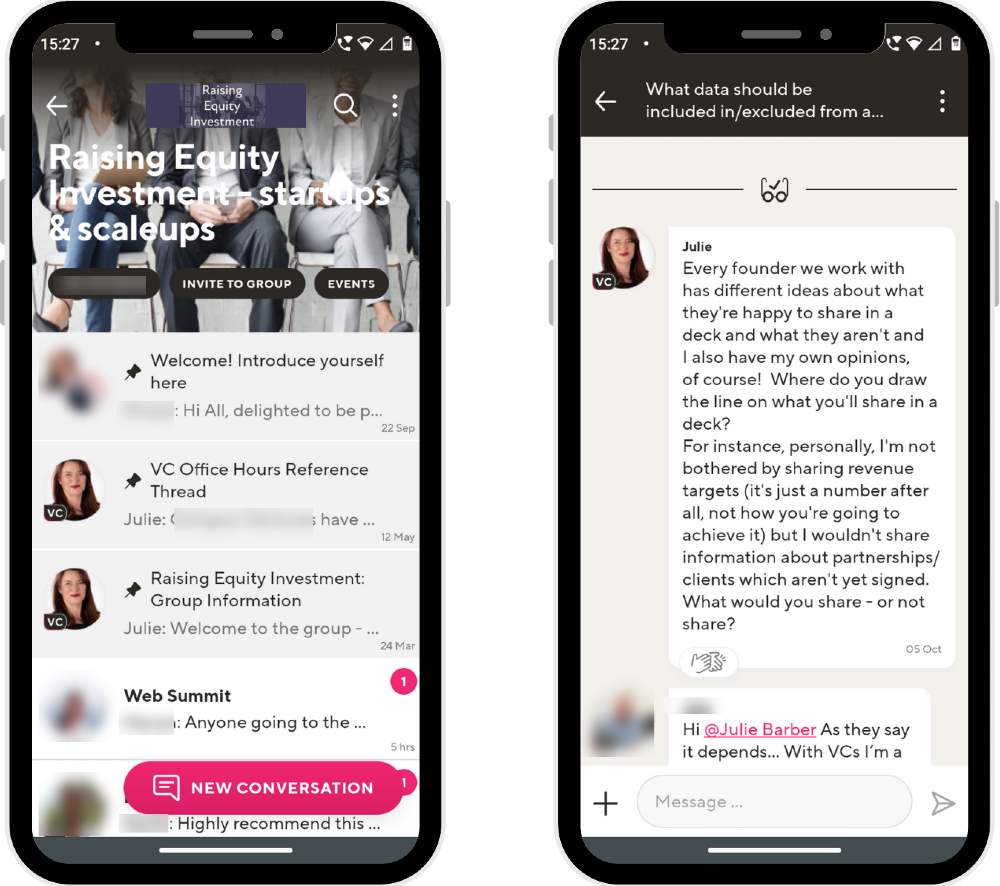 Why use Guild and not other community platforms like Slack, Facebook Groups, LinkedIn or Mighty Networks?
"We looked for a professional community platform where our members would feel at home. Guild's membership has that professional peer group feeling.
Platforms that aren't designed for building communities can be noisy and distracting. Our members are founders and investors who get a lot of calls on their time and attention."
"Guild is so simple to use and it takes the pressure off our members when their businesses take priority. It's easy for them to catch up with conversations as there's no algorithm deciding what they should be reading!"

Who should join Raising Equity Investment and what will they find there?
"We describe the community as being for "startups, scaleups, and not-even-started-yet-ups".
It's for any business owner who wants to feel confident and credible in front of investors.
We also welcome investors so that they can provide insights and advice. We're also happy to welcome startup service providers, who can add more insights and expertise, on the understanding that Guild and the community isn't the place for unsolicited selling.
The focus is on anything around raising equity investment via Angel Investors, VCs, Family Offices and CVCs. We talk honestly about the benefits and pitfalls of equity investment and we demystify the process. We look at what 'investor ready' really means, and share real-life experiences.
The idea is that we can learn best from those who have successfully raised investment. It's also a great way for investors to share their perspective of the fundraising process.
Recent topics include what data you should include in a pitch deck, sharing real-life pitches, and the real costs of raising seed funding."

What tips would you give to other consultants or businesses wanting to start a professional community on Guild?
"It's such a valuable way to make your time and expertise go further. I'd strongly recommend it.
Your community is part of a wider professional ecosystem on Guild so you can make connections organically. At the same time you can grow your personal professional network as well as your community.
For example, our listing on the Guild directory means that other Guild members who are a good fit for the community can find us spontaneously. That's helped us to grow fast, but stay focused.  
Finally, I know this is a community that will keep growing, so it's reassuring that the Guild admin side is so straightforward. Having more time to focus on our members rather than the technology is so important to us."

---
Photo by alex starnes on Unsplash
---
Discover other businesses succeeding with communities on Guild
Read about how crowdfunding success TipJar connects its investors with a dedicated community
How Resource brought together marketing industry professionals with the #CommsHero community
Discover how Advita Patel and Priya Bates created a support community for their leadership mentoring programme for women of colour worldwide
Learn from cultural change and coaching consultancy Equal Talent who built a successful online professional community for professional women and allies
---
Join Guild 🤝

See for yourself how the Guild experience is different to WhatsApp, Slack, LinkedIn or Facebook Groups. Guild is a safe space to connect, communicate and collaborate with others.
Join us on a platform that is purpose-built for professionals and businesses.
Contact us if you want to know more or have any questions.