In 2020, Guild coined the term 'Community Based Marketing' - or CBM - and now we're introducing the term 'Community Based Networking'.
We believe being active in professional communities is the best way to meet like-minded people and nurture an effective professional network.
What is an effective professional network?
It's one that generates professional value for you. You might meet a mentor, business partner, collaborator, customer, or investor.  It might lead you to a new job, a promotion, or countless other opportunities to progress your career.
You can also expect to make some friends along the way as you connect with like-minded people. Connecting helps us learn and grow as social animals - and it just feels good to connect and share with others.
'Professional networking' shouldn't feel like something negative or a distraction.
It's not something that's only relevant to people with something to sell. Good relationships with the people around us are the key to progress in our careers and professional success.
Community Based Networking - a definition
What do we mean when we say Community Based Networking?

Guild defined Community Based Marketing as:

"Community Based Marketing (CBM) is bringing people together around a shared practice, purpose, place, product or set of circumstances to create insights and closer, more valuable relationships with prospects, customers and other stakeholders to deliver organisational value."


Here's our definition of Community Based Networking:
"Community Based Networking is creating valuable relationships with like-minded people by engaging within a community, group or network of individuals who share an interest, concern or purpose."
Community Based Networking is driven by the philosophy "what can I add to this community?" versus "what can I get from others in this community?".
It's the opposite of the scattergun approach of joining networks and groups to drop in your sales pitch, contact details, or social handles.  
You begin with overlapping interests. Then you expand that common ground by listening, learning and being generous with your expertise or support.
The positive results of Community Based Networking can be felt when it is time to ask for support yourself.  The 'credit' accrued can be returned many times over - referrals or recommendations, job offers, moral support, mentorship, sales or investment.


What are the key ingredients for Community Based Networking?

Community Based Networking is as simple as joining a community, taking part and making connections. But we think these key ingredients are helpful in making networking in a community more effective.
A community to join, or a community that you set up yourself
Active listening
Building rapport
Playing an active role in the community
Giving without the expectation of receiving
Making connections
Confidence in what you can offer to others
1. A community to join or a community that you set up yourself
It's only possible to do Community Based Networking if you join a Community, Group or Network!

A good starting place is in the communities on Guild. Most Guild groups are private and invite-only, so look out for any invite you receive.
Some are 'discoverable' and accept new joiners who are happy to adhere to the community rules and fit their member profile, e.g. some state that you have to be in a specific sector, role type or region to join.
To explore and join communities that match your professional interests, click on "Discover" in the Guild mobile app or take a look here: https://guild.co/communities
If the community doesn't exist, then there is a gap - you can set one up yourself simply and easily on Guild. Take a look at the examples below to see how one Guild member, Steve, did exactly this.



Thousands of communities on Guild could match your professional interests, like this community for HR professionals. And if the community doesn't exist - then set up your own!

2. Active listening
Once you've joined a relevant community, your first priority is to listen. One of the most important elements in establishing a relationship is active listening.
Active listening is the conscious effort to hear or read not only the words that another person is saying but, more importantly, the complete message being communicated.
To do this, you must carefully pay attention to the other person. It's a skill that many people have to work hard at, especially when they are keen to talk about themselves.
You need to understand what people are truly saying and what they really need or want - not what you hope they're saying. Active listening will help you to spot opportunities to build rapport.

3. Building rapport
If two people or groups have a rapport, they have a healthy relationship in which they can understand each other's ideas or feelings very well.
Rapport is based on commonality and harmony: shared values, interests, experiences, goals or concerns.
Those of us who are particularly good at making friends and getting on with others use active listening to help identify opportunities to build rapport and maintain focus on common interests.
And that should be something that drives your Community Based Networking.
---
Pro tip - Visualising your shared interests to help with rapport
Picture a simple Venn diagram with two overlapping circles.
The circle on the left represents your interests. The circle on the right represents the interests of someone you just met.
To establish rapport quickly and tactfully:
Identify the overlap of the two circles - where do your interests coincide with another person or group?
Increase the size of this overlap in interests by asking questions -  is there a connection between your interests and theirs that is less obvious and perhaps more valuable?
Keep the conversation in that overlap as much as you can- concentrate on what you have in common.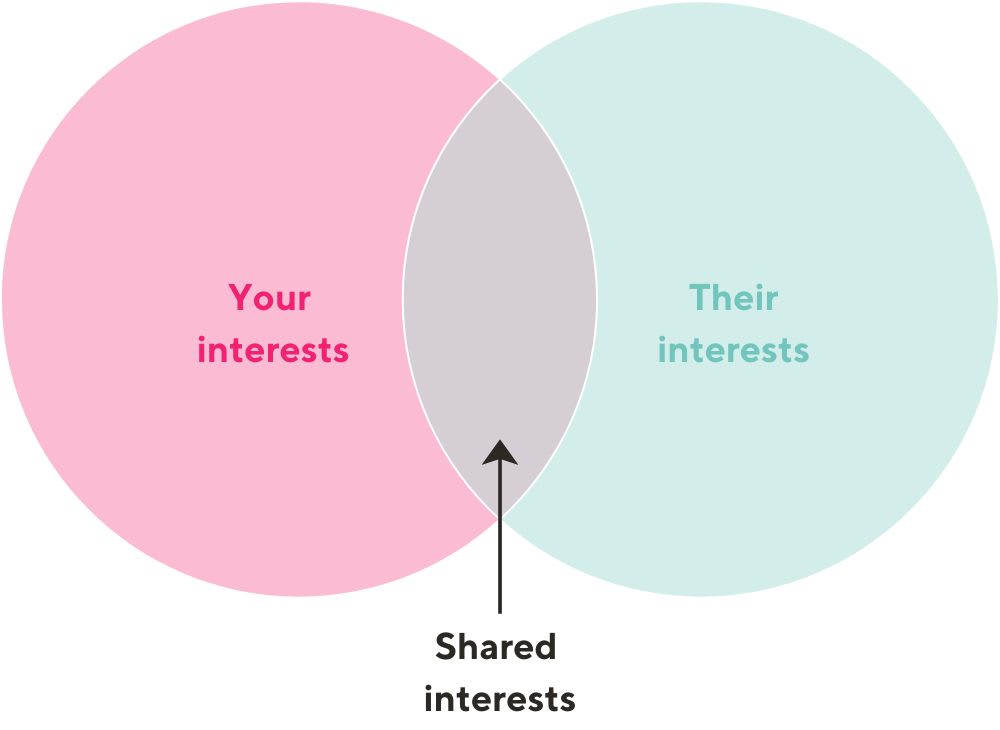 A Venn Diagram of shared interests can help you understand the principles of rapport



Maintaining conversation within your shared areas of interest (the overlap) enforces a sense of common interests, values and experiences. Eventually, a feeling of rapport builds between us.
---

4. Playing an active role in the community
Community Based Networking is about much more than 1-2-1 relationships.
Playing an active role in a community builds your reputation and authority. It also makes you more visible and memorable to potential connections.
Remember, others in the community will share the same goals as you around Community Based Networking.  They'll be practising active listening (see Step 2) and seeking opportunities to connect with like-minded people.
Being active - and helpful - in the community will get you noticed in the right way by the right people.
Not only will you build your reputation, but you'll set an example and make it easier for others to step forward with their expertise or offers of help.
That leads to more activity and engagement - and more opportunities for everyone to build connections, including you.
Your activity can take many forms. You don't always have to start or join in conversations - you can simply applaud or like other people's messages. If you reply to an individual's comment, quote them or tag them. Tag other members to recognise their expertise, thank them for something you learned from them, or simply bring them into conversations.
Each community will have its own culture, so learn from good practice. Do you feel positive about another community member? Can you learn from how they behave?
5. Giving without the expectation of receiving
Being generous and supportive means you don't always get a reward - and that's OK.
Not only does it feel good to be kind, but you're contributing to an overall culture of positivity in your community. You might benefit from someone else's altruistic behaviour one day, so it makes sense to be a giver.
Your attention, expertise, and appreciation all have value - be generous by default. People will notice you for the right reasons.

6. Making connections
While you should be generous and not always expect something in return, it's perfectly reasonable to make the most of your opportunities.
If you have a positive interaction with someone, ask them to join your network.
@ mentioning (tagging) other members or quoting them in a reply isn't just generous, but makes you visible to them.
Don't be afraid to introduce yourself to someone once you've done the groundwork. But do make sure you do that groundwork.
A scattergun approach of asking everyone you meet to join your network won't get you very far and might even backfire.
Connect with people you have something in common with, personalise your approach, and maintain your connection with them afterwards.
---
Pro tip - A clear personal brand
Personal brand/personal branding can be one of those phrases that make some people feel queasy.  Former Guild CMO Michelle Goodall is an expert on personal branding and professional networking. She describes personal branding as:

"The definition of Personal Brand = the perception of YOU based on your skills, expertise, competencies…but also what you choose to share and promote."
When you practise Community Based Networking, you can both build your personal brand and use it to make better, faster connections with others.
People will look at your profile and Google your name - you want to ensure that what they see is both positive and accurate.
Start by Googling yourself for your personal brand 'footprint' online. Your 'personal brand' extends to events you attend or speak at, how you describe where you work, your role, your LinkedIn, Guild and social media bios, your email signature and your OOO/voicemail.

Michelle says: "You don't have to force it. Choose how much or how little you share. 'Reveal all' posts on social networks like LinkedIn reflect how algorithms work (for now), but they're not for everyone.
Decide what's off/on limits, what is private and what supports your personal brand and professional goals."
Make sure your contributions to a community are consistent with the picture you want others to have of you, your interests, your expertise and your personality.
---

7. Confidence in what you can offer others
Many career starters worry that they can't offer much to established professionals, but that simply isn't the case.
Even people who have progressed in their careers sometimes feel nervous about contributing.
The best leaders in business always seek fresh opinions, different ways of approaching problem-solving, different learned experiences and distinct attitudes.
If you've given real consideration to someone's question or request for help, your voice can be valuable. Whether you offer a different perspective or just your support, you can add value to a conversation.
Don't join in just for the sake of it, but if your goal is to contribute and build the conversation, then be brave, and you might just do that.
Many people at the beginning of their careers worry that they have little to offer to established professionals when networking, but this is not the case
---
Community Based Networking in action

Here are some examples of Community Based Networking from the team at Guild.

Supporting a sector through challenging times
The events industry was transformed almost overnight by the lockdowns in 2020. Guild created the CREO community (Coronavirus Response for Event Organisers) to support events professionals. Over 2,000 individuals shared expertise, opportunities and news,  or found mentors, collaborators and jobs as they learned to navigate a fast-changing industry.  The networking in this group continues under its relaunch as Events 365.

Panellists, speaker opportunities and experts
Two community hosts who met through Guild - "[name] was a great connection - she's booked me on to a panel slot, and such a kind of warm referral and conversation is a massive value proposition for Guild."
A member of Comms & PR Pioneers running a survey for her dissertation research, and told us "...posting in the Guild group allowed me to reach a load of lovely PR and comms people who filled in my survey and were really helpful...Found out today that I've got a disinction...thanks again for your support and signposting me to the right places!"

Finding mentors
A graduate in Design Community Hub on how networking in this online community for the design industry helped kickstart a career: "I also signed up for a porfolio review with an industry mentor which was absolutely brilliant, and led to me getting my first graduate job!"

Finding (or creating) new business
A Sydney-based business who won a global project with the London-based division of a multinational consumer goods company told us: "One of the by-products of Guild group membership is finding new business around the world...this [project] came directly from a conversation in a Guild group of digital executives we belong to."
Will Cookson, co-founder of DRPCRD described his community experience: "Great to be able to chat to such a focused and friendly bunch of people. Not possible on LinkedIn and haven't found this elsewhere for marketers. Even had a few unsolicited intros for our business!"
Steve was a member of the Product People community on Guild. In a conversation in the community about ChatGPT's rise, Steve suggested a dedicated AI group would be useful. He received an enthusiastic response that led him to create AI Pathfinder, a community to discuss how AI tools affect our work and lives. The community quickly grew to 150+ members, of which many were completely new to Steve. Steve is now running an AI Pathfinder newsletter and regular events as well as the community.

Finding investors
This story from Matt Phelan at The Happiness Index shows how your network can lead you to further relevant connections - in this case, angel investors - at the right time. As Matt says here "Guild has been a great way of meeting new angels".



Finding jobs
The FORT community was set up during the pandemic to support professionals in the PR, comms, marketing and digital industries who saw their roles being furloughed or made redundant. There are many examples of individuals finding new roles or skills through the group - one member said "Big win thanks to you! Having been made redundant I absolutely panicked but have been following the posts and job vacancies posted on here daily. I applied for a position someone shared here and yesterday after multiple interview stages...I was offered the job!"
Another member praised the way her Guild network let her cut out time-consuming research and build connections in her target organisation: "I found a short term contract in a few simple steps. Contacted the hiring manager and was offered the contract at the end of the week. It was exactly what I need at the time and quicker and more effective than looking for contract work myself as I had a direct point of contact to the hiring manager at the company."
Vanessa joined the Guild community FORT (see above) in because her previous role in the media sector was made redundant. She collated resources to help other members, to reciprocate the support she received. When Guild needed some extra hands later that year, founder Ashley Friedlein approached Vanessa because he'd noticed her activity in FORT. Three years later, Vanessa is now Guild's full-time community and content manager.
Gregor was active in Econsultancy's Digital Advisory Board community where he shared his expertise on digital product management, design, marketing and branding strategy. As Guild developed and wanted to restructure and grow the business, founder Ashley Friedlein reached out to Gregor because of his insights and long-term understanding of the business. Gregor joined Guild as COO and was subsequently promoted to CEO.


A note about reciprocity

In social psychology, reciprocity is a social norm of responding to a positive action with another positive action, rewarding kind actions.

Fuel reciprocity by figuring out what skills and knowledge you have and that you are happy to share.
Influence expert Robert Cialdini says the rule of reciprocation is "one of the most widespread and basic norms of human culture…This sense of future obligation … makes possible the development of various kinds of continuing relationships, transactions, and exchanges that are beneficial to society."
Your generosity with your time, attention, support or expertise within a group or community means others are more likely to want to start conversations with you and return the favour when appropriate.
It feels good to help others, but your positive behaviour is also likely to get you noticed in online networks and communities.
Remember that reciprocity goes both ways - if you receive support from a community, make sure that you reciprocate.
In a community, reciprocity often happens by "paying it forward" rather than paying back. Either way, your network and potential connections will be taking notice.
---


Do social media platforms discourage professional rapport and meaningful connection?
Many of us rely on social media to connect with others professionally.
However, these platforms are not well-suited to building rapport.
Social media platforms today are ultimately about me, or about you. Community is about "we", not "I".
The design of LinkedIn, for example, is focused on the individual: it consists of over 900 million resumes and a news feed that brings together a collection of personal broadcasts from your connections.
This environment drives us to speak as though we are on a stage, under a spotlight. There's no focus on interpersonal rapport, no shared interests, values or experiences with those receiving these messages in their feed.
Even if you respond to a post on LinkedIn, you're very aware that you're on the same stage under the same spotlight.
What you get to see of The Shared Interests from the Venn diagram above is a massive circle on the right - "Their Interests" - and what you see about their interests is ultimately reduced to what works for the platform algorithm.
You can't get the whole picture of a person from their LinkedIn, Twitter or Facebook activity.
[Take a look at Why social media algorithms are ruining your community for more on how algorithms affect relationship-building.]
The medium is the message, and social media platforms encourage self-promotion and beating the algorithm rather than meaningful connection and dialogue.
Self-promotion has its place. But when people can connect with others who share their interests and values, they are more likely to feel a sense of belonging and to be motivated to work together to achieve common goals.
---
Why professional communities are better for networking
There is value in more random approaches to professional networking. Platforms like Lunchclub are great for expanding your horizons and developing your "overlap-increasing skills".
However, these relationships are less focused on shared interests, making them less likely to be productive. With so many people and the vastness of the internet, we need help to narrow down the options.
Professional communities can consist of any group of individuals who share a common professional interest or career path. This makes them perfect for networking.
Members of a professional community may work in the same industry or field, share similar job roles or responsibilities, or have a shared interest in a particular area of specialisation.
Belonging to a community provides a ready-made collection of peers with whom you share some common interest.
If you're a Finance Director, you can be part of a community of Finance Directors. If you're interested in developing your leadership skills or improving inclusion in your workplace, you can join communities focussing on these topics.
When you join a community of common interest, you immediately have overlapping interests with every other member of that community. You are a collection of self-identifying like-minds.
---
Does professional networking matter? Do other people find it as hard as you?
The answer to both questions is an overwhelming "yes". In a survey in June 2022, 98% of Guild members told us they value professional networking - but 68% felt they lacked the time or knowledge to network effectively. In fact, the key to professional networking is already in the communities you belong to.
---
Community Based Networking with Guild
Community Based Networking is one of the key by-product benefits of belonging to professional communities - it's grounded in shared values, interests, and needs.
Guild is a professional community and networking platform.
It's a community-led experience where the communities you join take centre stage. You have a personal profile, but Guild is about the communities.
There's no algorithm personalising your view. The shared community view means all members see and participate in the same conversations. Everyone has an equal voice.
There are no ads, so you know that the only incentive is a thriving community that is valued by its members.
You can be invited to or discover new communities  - and you're encouraged to join, participate and belong.
Crucially, you can connect directly with other community members as well as take part in the community. You can privately message members and take the relationship onward beyond the community.
When someone says something that resonates with you, DM them to tell them so and arrange a chat or coffee to learn more.
Every day we see Community Based Networking in action - people fill roles and contracts, establish themselves as experts, find mentors or kick-start a new career just by following the steps above.
We'd love to hear your stories and tips, too - join a professional community on Guild today and contact us to share your own stories of Community Based Networking.
---
More advice for better professional networking
Networking tips for students, graduates and career starters
How to grow your professional network on Guild
How to use Guild for professional networking and personal brand building
Getting started with Guild: building the perfect Guild profile
Online networking and its positive impact on mental health
Joining a community on Guild - what's in it for you?
---
Join professionals who are learning, growing and connecting on Guild 🤝
See for yourself how the Guild experience is different to WhatsApp, Slack, LinkedIn or Facebook Groups. Guild is a safe space to connect, communicate and collaborate with others.
Join us on a platform that is purpose-built for professionals and businesses.
Contact us if you want to know more or have any questions.