Community Manager Appreciation Day has been renamed Community Manager Advancement Day for 2020 to highlight the strategic role that community plays in organisations.
CMAD falls on January 27th 2020 and is a day to celebrate Community Managers who work tirelessly, often without recognition, and the value that they bring to organisations.
To celebrate #CMAD we are featuring three Community Managers who have successfully developed and grown communities on Guild.
Take a bow please Adam Harper!

Adam is the Community Manager for 'B2B Leaders in Marketing', part of B2B Marketing, a focal point community for the B2B marketing sector. Their community enables B2B marketers and leaders to share experiences and learn from one another.
In under 6 months this community on Guild has over 100 active B2B marketing leaders. The community is highly engaged and has quarterly physical meet ups.
Adam shares his thoughts about how to create and maintain a successful community. He also explains why B2B Marketing chose Guild as their community platform.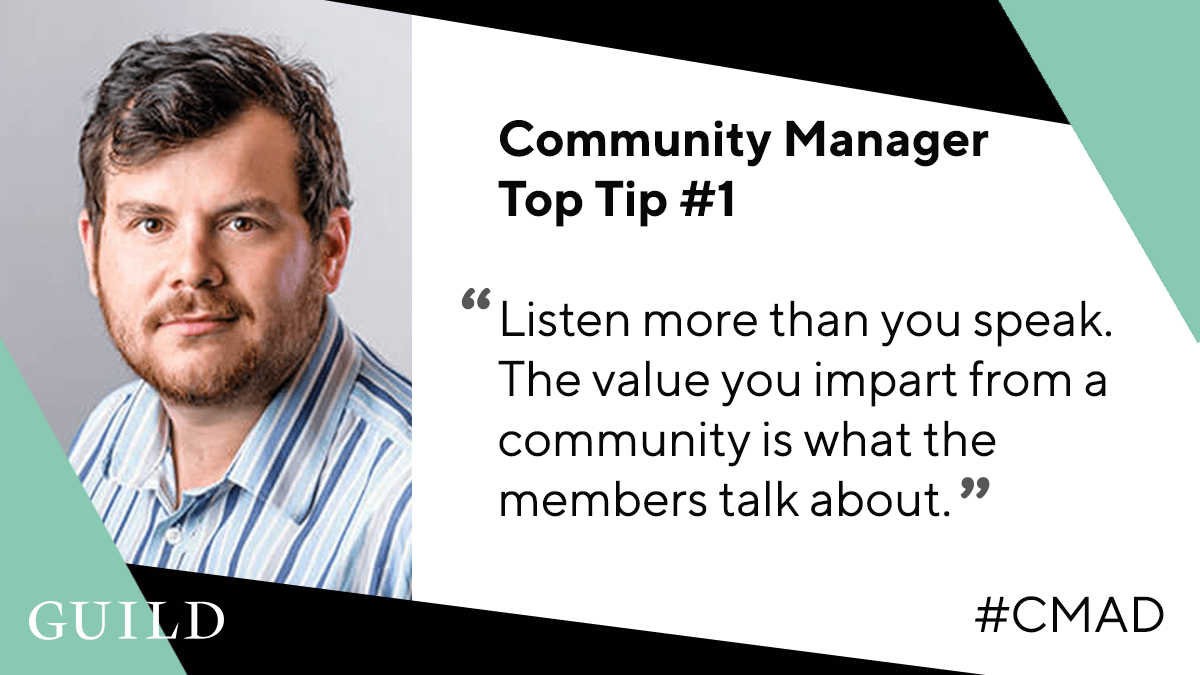 What do you think are the most important building blocks for a successful online community?
"We've found that one of the most important elements to getting the online aspect right is to not think you have to set the agenda all the time.
Your job is to empower your members to set their own agenda and talking points - if the community is going well, all you need to do is listen and use the insights coming our of your community to improve your business.
Although don't be afraid to inject a little impetus if things are quiet!"
Do you think there is a difference between an online and offline community?
"We actually run a hybrid community of online and offline events, and we like to use our events to get people chatting online, and use our online platform to promote our events.
We've found that adding a bespoke online element to our community has allowed for more specific conversations in better curated groups.
The fact that people choose which conversations to enter ensures relevance, and as you can ask a question to the entire group rather than the subset available on the day, you're confident in getting relevant answers to more precise questions."
What is the role of a host in a community?
"As a host, there are three main things you should be doing. First: make sure people are organised, in the know and comfortable to engage in what you're doing. People are different and you may need to change your approach for each person you work with at first until they are ready to go it alone - some won't need your help at all.
Second:  listen. Your community is a 24/7 focus group. If you don't find ways to take those insights to create value for your members, then you're community will grind to a halt or it won't be yours anymore.
Third:  you are a 'gatekeeper'. You have to understand the ecosystem in which you operate and be careful about how to change that balance in your actions."

How has Guild helped you nurture your community?
"Guild has primarily helped us to have some specific conversations with our customers as a group that we've wanted to have for a while, but haven't been able to create the right atmosphere or situation to have at scale.
It's also a great environment to allow our members to speak frankly and honestly online, which is getting tougher every day on public social media."
More Community Management resources
The return of community in B2B publishing / media (Part 2)
Evolution from content to workflow in B2B media
What is Community Manager Appreciation Day?
---
Join Guild 🤝

See for yourself how the Guild experience is different to WhatsApp, Slack, LinkedIn or Facebook Groups. Guild is a safe space to connect, communicate and collaborate with others.
Join us on a platform that is purpose-built for professionals and businesses.
Contact us if you want to know more or have any questions.