On Thursday 14th April, the Guild Community Collective held its inaugural Video Room get together.
With over 500 members, the Collective is a supportive group of online community and social media professionals who network and learn together.
We had people join us from various parts of the UK and US.
They represented a diverse range of communities from backgrounds such as SaaS, trade association, education tech, PR & Comms, and SMEs.
These Video Room chats will be regular community events. We polled the community for discussion topics and they chose Community Engagement.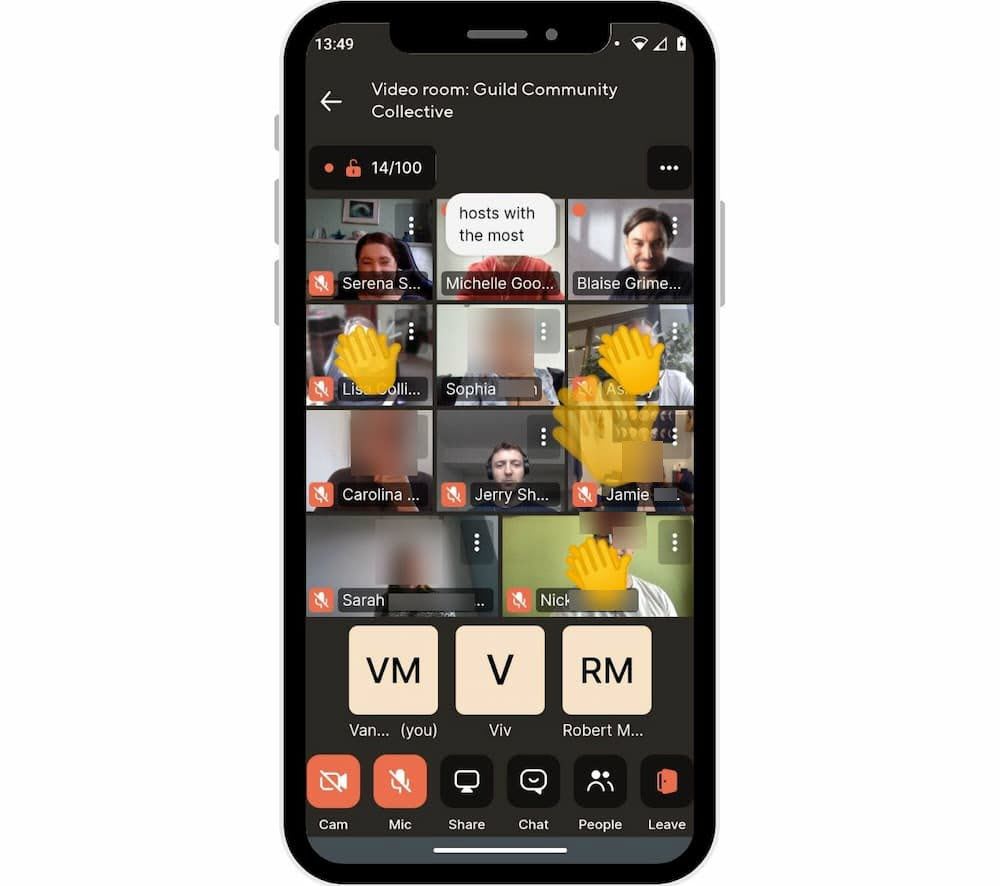 What we discussed around community engagement
We started with sharing some ideas around how to measure good engagement; the key being to select the right metrics for the stage your community is at.
Benchmarking performance was put forward, with a caveat to be cautious against setting unreasonable comparisons with competitors.
The group felt that demonstrating the value of the community could be drawn from member engagement. Sharing positive, negative and product requirement feedback was a way to show useful outputs that impacted the business in a productive way.
Ultimately, the critical step is the first one, in defining the "why" of the community, which then allows us to identify which metrics to track that can help demonstrate ROI.
Moving to how to approach effective member engagement, we spoke about using meaningful sales or acquisition funnels that also work for communities (which are focused on mutual relationship building).
It was also pointed out these worked well for charities/non-profits when considering aims like donations or volunteering.
One point which stood out was how interesting it was to consider the impact of different onboarding tactics at different stages of the community lifecycle. This might change from earlier stages of community to when communities start to scale e.g. automated messages, personally reaching out, welcome teams, tagging to engage, and retention email journeys.
We ended up looping back to working on finding the true value that members are looking for from the community. This means we can work to provide relevant prompts, and then identify and acknowledge/engage active members to connect with each other and move from fandom to community.

Join us for more community chat
We will be repeating these sessions periodically and announcing them in the Guild Community Collective - if you haven't joined yet, please do so. Simply request to join here.
We've also created a calendar for upcoming community manager events.
Join Guild Community Collective to be first to hear about community events as well as community strategy and community management resources.

---
About the author



Blaise Grimes-Viort has 20+ years of Social Media & Online Community Management experience. He has built and managed large teams of moderators, social media & community managers and volunteer community leaders.
A hands-on community manager and host of Guild Community Collective - the community for community and social media professionals.
Blaise has a track record of success building communities, both online and offline, in Publishing, Telecoms, Entertainment, Auto, Financial, FMCG, Charity, Gaming and more.
You can connect with Blaise on Guild.
Photo by Belinda Fewings on Unsplash