Cast your mind back to when professional networking was done mainly in person at events, conferences, unconferences and festivals. You'd walk into a buzzing room clutching your drink of choice and it would hit you – "I don't know a single person here."
Even for extroverts, initiating that first conversation with strangers at professional events is hard. Now imagine trying to establish rapport without sharing anything about who you are, what you do or why you're there.
With online and virtual networking in professional social networks and online communities that's essentially what you're doing if your profile page is incomplete.
It's the digital equivalent of the being the person in the corner staring at your phone.
Guild can help you connect professionally with others, network and uncover new opportunities, so a feature we put a lot of thought into is your profile section. It's your professional shop window, personal brand and elevator pitch in one.
Your Guild profile should give strangers enough information to have a meaningful conversation with you: "Ah, I see you worked at X do you know Emma?", or "That's a really interesting career change from comms to UX. Why the change?" "You write about female senior leadership, I'd really like to know more."
Here's how to create the perfect Guild profile in eight easy steps:
1.Show your face
Just because we're typing not talking, it doesn't mean that online communities should be devoid of human interaction. A good (and appropriate) professional profile photo, should represent who you are. A profile picture builds trust and makes you look approachable. It doesn't have to be stuffy.
A professional headshot is great if you have it. But if you don't, choose a picture of yourself that you like so you're comfortable with it being seen by people you don't know (yet!). Remember, most Guild users will be using a mobile phone and your profile photo will pop up in comments and DMs, so an in-focus, closely cropped head and shoulders image is best, like Aimen Chouchane's excellent photo.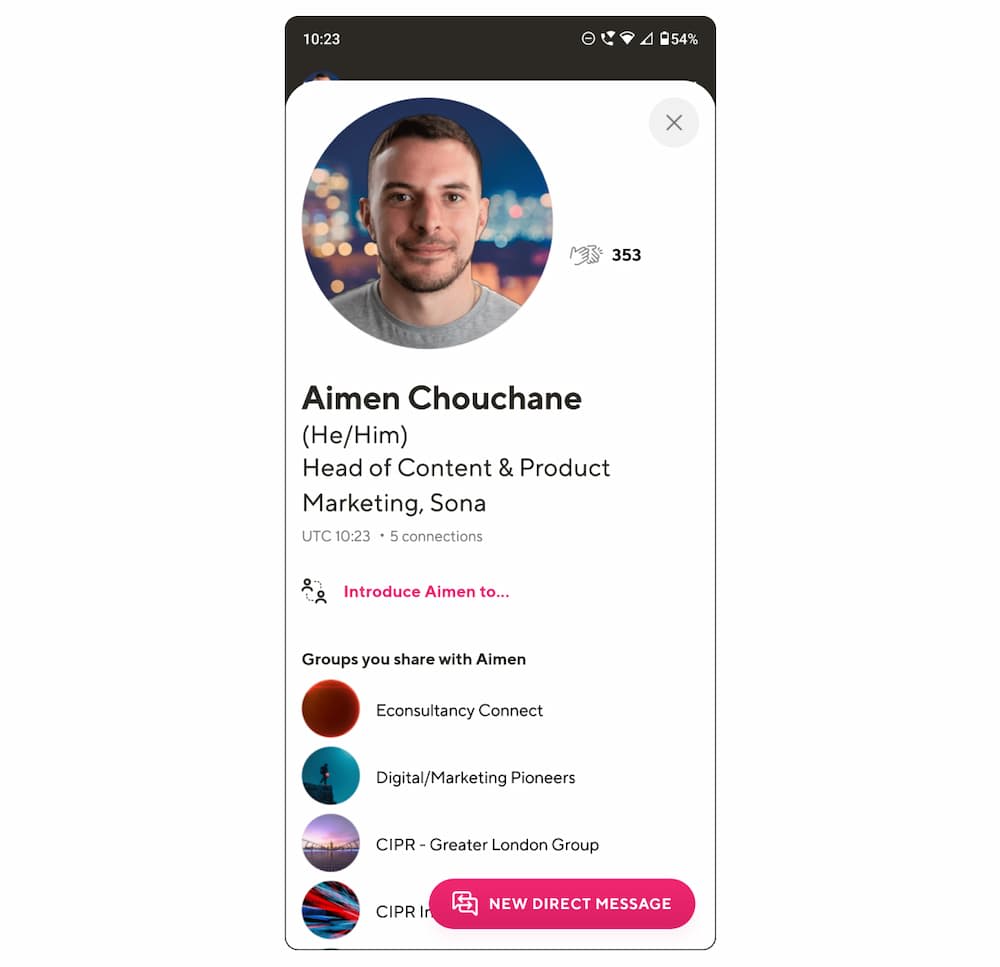 ---
2. Tell us a bit about yourself
A few key points about you, your experience and your work will give members useful background context and increase your chances of receiving introductions to others and invites to other groups. The Guild 'Short professional bio / interests' is limited to 400 characters, try to tailor this as much as possible to be relevant to who you are, the Guild groups and communities you're involved in. There isn't room for your life story, as interesting at it may be. Katy Howell's Guild profile is a great example of a 'short but sweet' elevator pitch. She certainly knows her stuff when it comes to personal professional branding.  You can also add research interests, causes you support, and anything else that would help fellow professionals to understand what you have in common.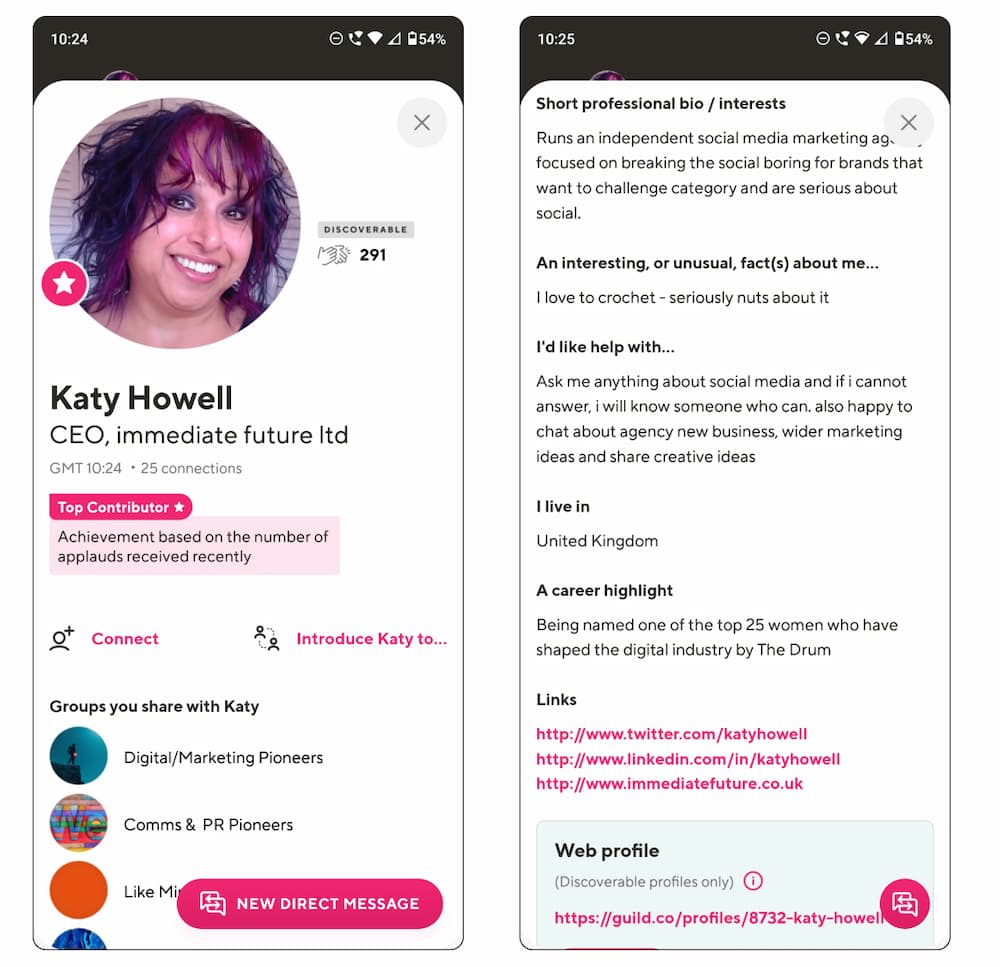 ---
3. Don't be afraid to ask
Many of us aren't great at asking for help, even though the overwhelming majority of people on Guild are very happy to offer it. Even the most senior people on Guild are hungry to learn from others every day - it's usually the secret of their success. The 'I'd like help with…' section on your profile gives guidance to others as to how they might be able to support you. Think about what you ask for. You're likely to get many more valuable, generous, proactive offers of help than you expect!
Even if you don't have a specific vision and mission like Josh Akapo, think about what your fellow community members might offer freely that could benefit you professionally.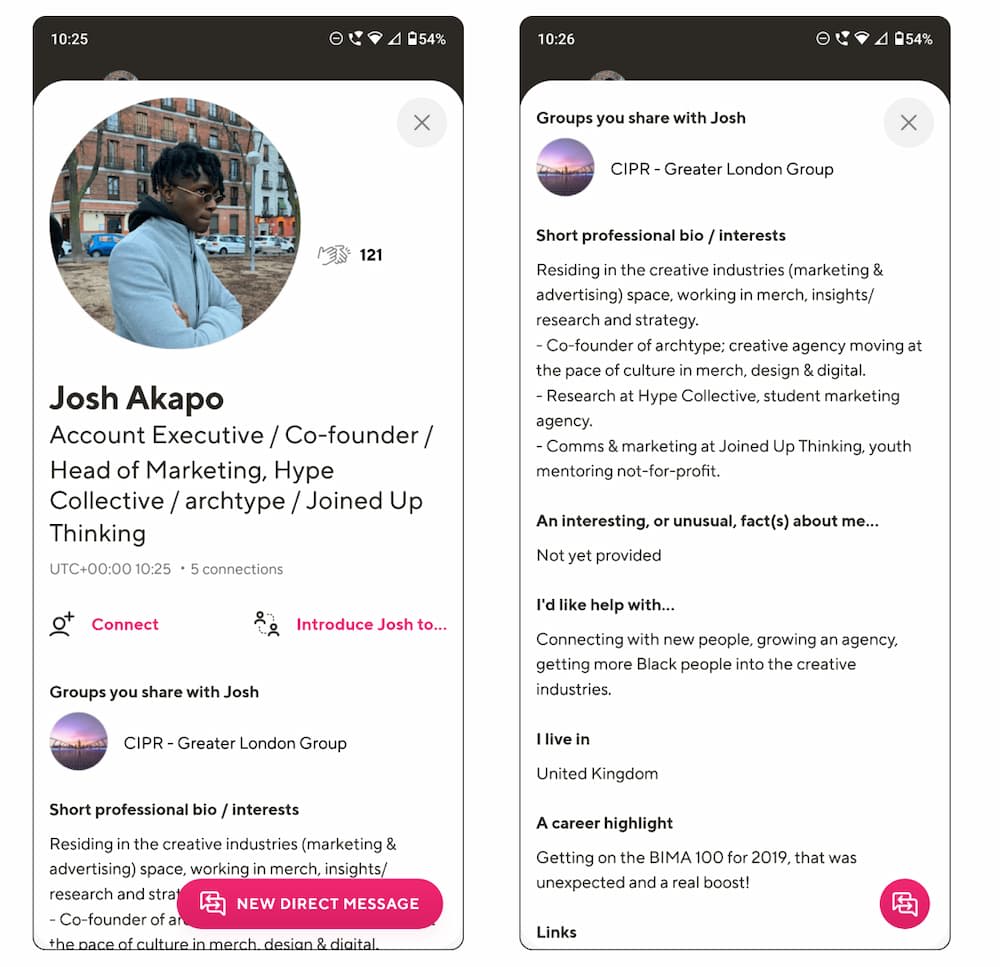 ---
4. Finish with a flourish
We all need to big ourselves up from time. Running a business is hard. Building a career is hard. Getting a new project off the ground is hard. Which is why we created a dedicated section for our members to celebrate their career highlights. Needless to say, many have achieved incredible things, but it's also a chance to show off your personality by sharing moments that gave you a personal sense of satisfaction. Will Critchlow, SearchPilot CEO and one of the earliest Search Marketing experts, shares his great satisfaction that many colleagues have gone on to succeed in the industry.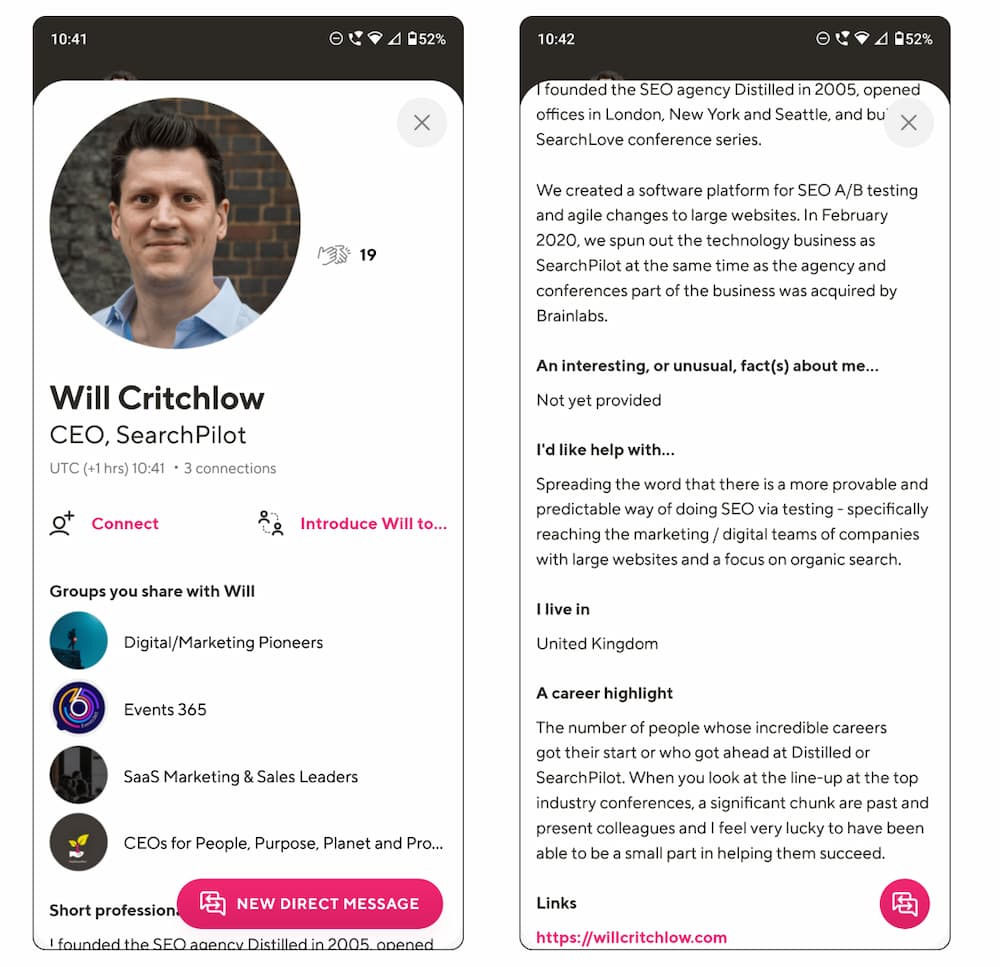 ---
5. Leave them wanting more
Make it easy for others to find out more about you and what you do by including links to your website, social channels, and anything else that matters to you, such as blog posts, articles, interviews, podcasts, reports/guides, programmes events you've organised. Michelle Goodall links to her other professional social profiles, websites and a body of work including reports, webinars, training courses etc.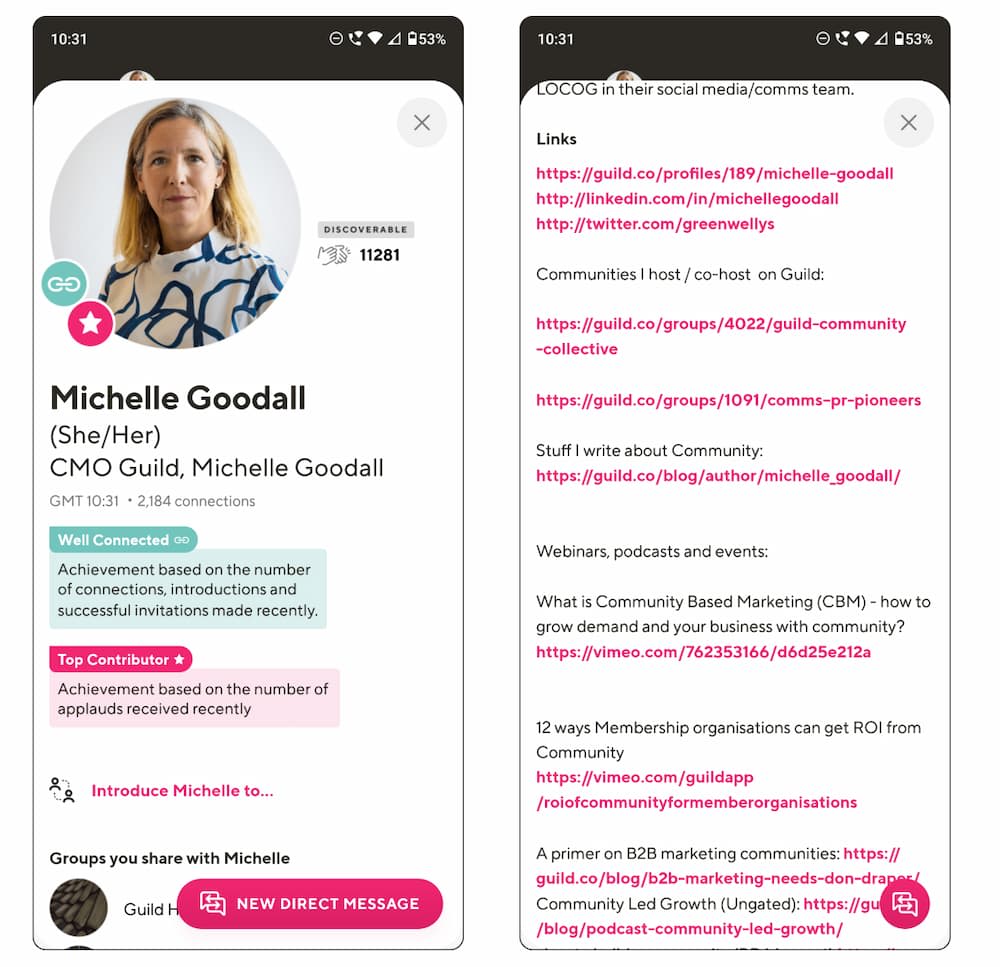 ---
6. Add something special about you...
The field "An interesting, or unusual, fact(s) about me..." is the place to add a bit of colour to your professional profile. Whether you used to write jokes for Russ Abbot, you're a former kickboxing champion, you're an artist, climber, opera singer or make the perfect pancakes (all real examples from real Guild members) this is a great place both to share a bit of your personality and to get to know others better. You can keep it professional or have a bit of fun ("I pout in my sleep" and "I was once nearly run over by the Dalai Lama" are two of our favourites) - there's no wrong way to do it and you can change your profile whenever you like.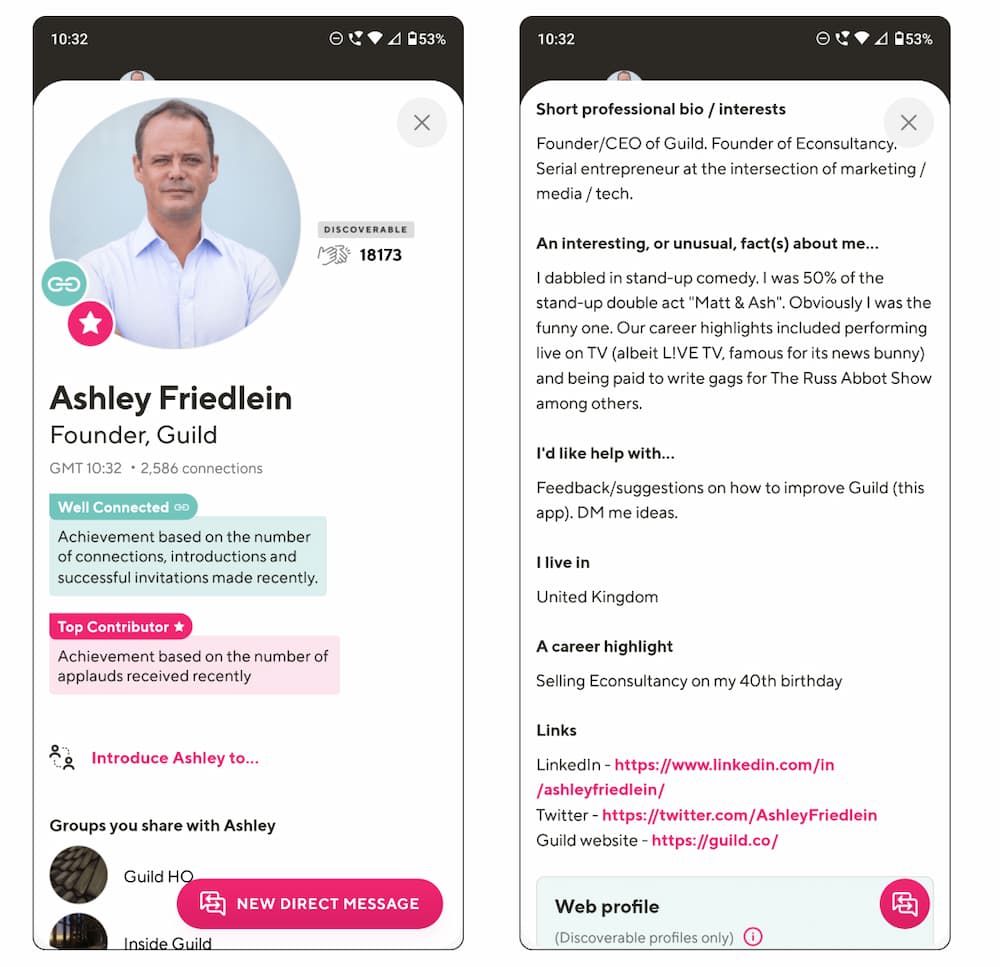 ---
7. Two parts of your profile that you can't edit...
On some profiles you'll see badge - a link symbol and a star.
To get the most out of Guild we encourage you to contribute to conversations, make new connections and build your network.
On all profiles you'll see an applause symbol and count next to the profile photo, showing how many times members have applauded a person's posts.
Top Contributor
Members who regularly receive applause get a star badge on their profile to identify them as a "Top Contributor".  This is a great way to identify fellow members who make useful contributions to the Guild community. If you'd like to see this badge on your profile you simply need to be an active and helpful contributor yourself. We've got a few tips to help you:
Being a great community participant
Tips for being a great community host
Why you should participate in a community (and how to do it)

Well Connected

Making personal connections on Guild, inviting people to join groups and communities you appreciate, making introductions or bringing new members to your own network are also good ways to get more out of being a Guild member.
Members who do these things regularly get a link badge on their profile to identify them as "Well Connected".  People with this profile are often generous networkers who like to connect others and bring them in to communities that they'll find useful.
If you'd like to see this badge on your profile you just need to be an active networker, whether that's making 1-to-1 connections on Guild, introducing members to each other, or inviting your own contacts to join you on Guild.  Here are a few ways you can do that:
How to grow your professional network on Guild
How to use Guild for professional networking and personal brand building
Ways to grow your Guild community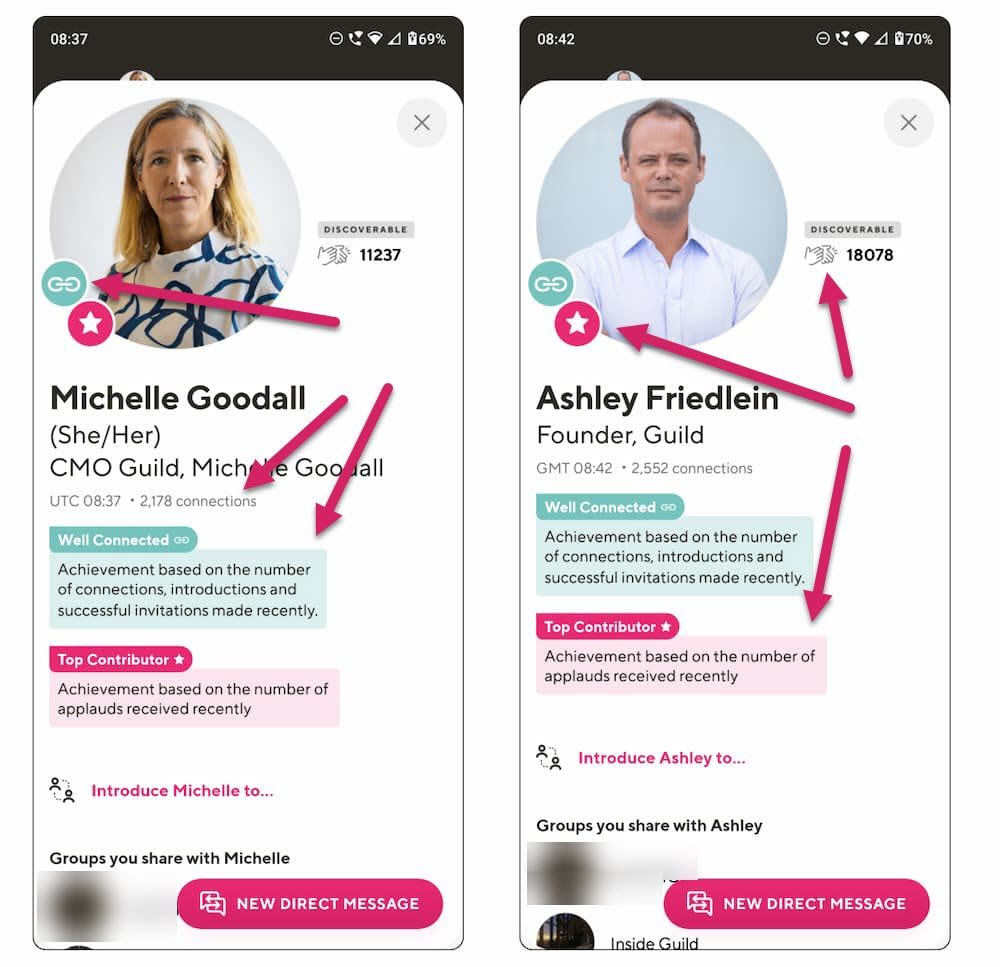 ---
8. Optional - make your profile discoverable
Guild is built with privacy in mind so all profiles are private by default - only fellow Guild members can see it. However if you want to build your profile and be found by people you already know, you can make your Guild profile discoverable by switching the toggle to the right when you edit your profile. Your profile can then be indexed by search engines and you'll be listed on the Guild directory (which is also a great place to explore for people you might want to connect with and get ideas for your own profile).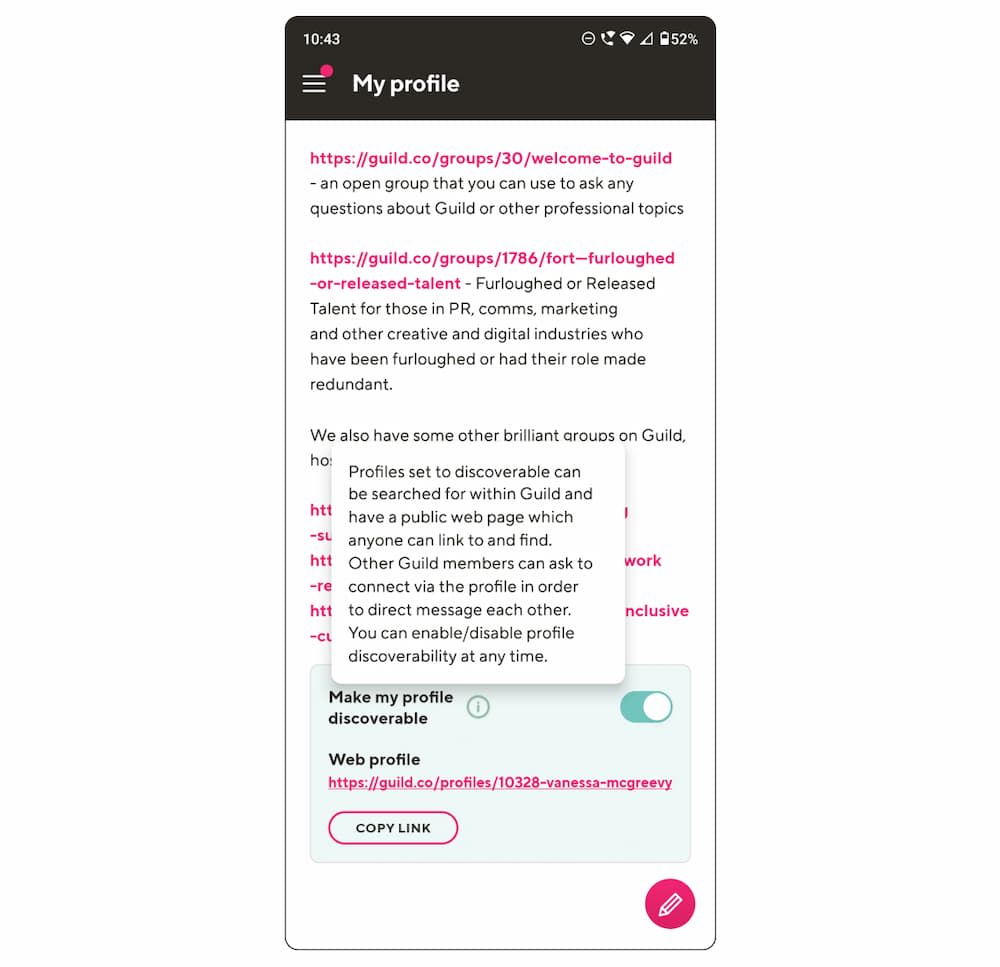 ---
OK, I've got the perfect Guild profile - what next?
Read this helpful guide to getting the most out of Guild, if you want to build your professional network:
How to use Guild for professional networking and personal brand building.

Join some groups - most Guild groups are private and invitation-only so you won't know about them unless you're invited. However, there are also an increasing number which are more open and happy to accept new joiners - sometimes with a vetting process, sometimes not. Take a look at the discoverable groups directory to browse more groups you can apply to join.
---
Join Guild 🤝

See for yourself how the Guild experience is different to WhatsApp, Slack, LinkedIn or Facebook Groups. Guild is a safe space to connect, communicate and collaborate with others.
Join us on a platform that is purpose-built for professionals and businesses.
Contact us if you want to know more or have any questions.