FORT (Furloughed or Released Talent) is a peer support group for anyone who has been released or furloughed from a marketing, comms, PR, digital or creative role as a result of Covid-19.
The online community has over 500 members and is providing an invaluable private space for talented professionals to connect, communicate and collaborate, as well as find new job and contract opportunities.
Members include agency, freelance and in-house professionals across many different industries and sectors, and at all levels of seniority.
How to join FORT
If you have been furloughed or released, or know someone who has and might benefit from FORT you can join the group via this link: https://guild.co/groups/1786/fort---furloughed-or-released-talent
[strictly no recruitment consultants please]
You'll be made to feel very welcome by the community.
Practical help and support
The private FORT group on Guild has enabled members to provide practical help and support to each other.
FORT Group member Vanessa says how invaluable she has found the group:

"It's a difficult time and without colleagues to share ideas and learn from, it's even tougher. I was a bit worried about stepping out into the FORT group but it's an incredibly positive, practical place, with a genuinely welcoming atmosphere. Feeling that you can contribute to others, as well as benefit from the advice and tips is pretty uplifting. There's also a great stream of really relevant jobs posted by members in the group daily."
Over 50 highly relevant jobs were posted in the group in the first week - from openings for heads of digital and heads of communications and corporate affairs, marketing manager roles through to CRM, audience insight, mid-level design and junior PR account management and executive roles.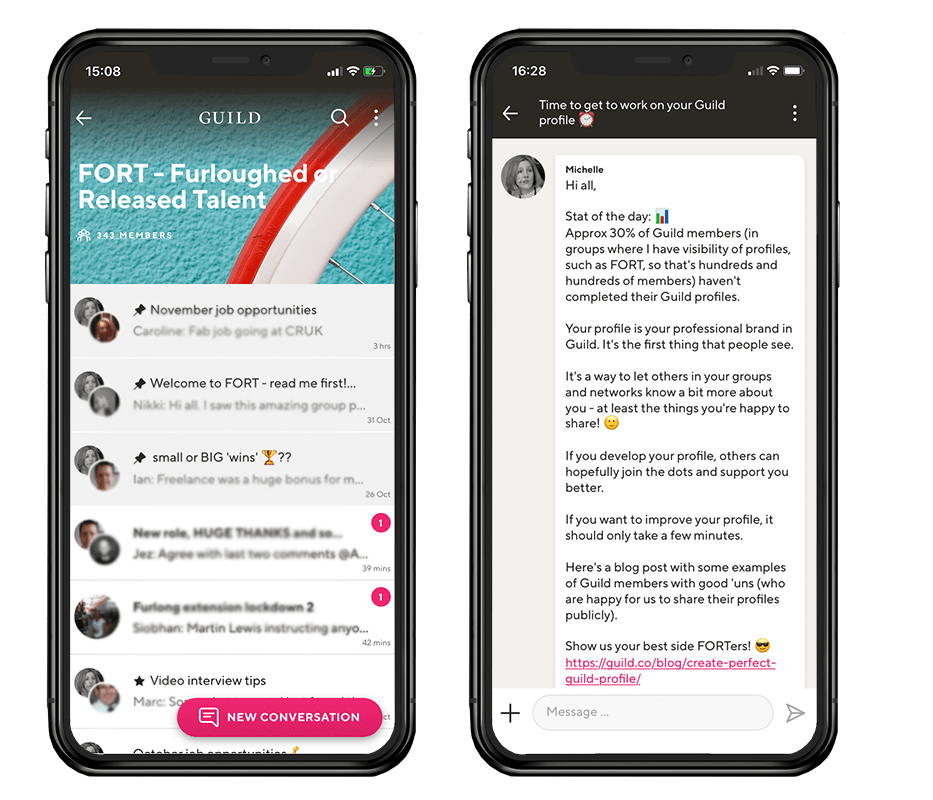 Much more than a jobs board
The community are providing each other with advice and support on job seeking, emotional wellbeing and are posting links to training resources, information and events to "keep tools sharp".
In August the FORT group on Guild welcomed Linda Aitchison for the first of a regular Ask Me Anything sessions with industry experts. Linda trained as a journalist and worked for media outlets in the UK and Russia. She continues to write for national publications as a freelancer alongside her work in writing, publicity and media training.
There was no shortage of questions from the community and here are some highlights from her excellent Q&A session.
Here are some other AMAs from the FORT group:

Inside the FORT - Three comms recruitment leaders discuss their top CV and job application tips
Inside the FORT with The PR Cavalry's Nigel Sarbutts – Making the leap to freelancing
Inside the FORT with BoldMove founder Julia Fenwick - Prospects for the communications industry post-COVID
Do you have jobs that you want to post in FORT or are you a recruiter looking to reach a group of talented, motivated professionals?
That's great!

There's a shared Google doc that recruiters have been adding their jobs to.
You can access it using the following link. Please add details of the role, company and link to any more info on this sheet: https://bit.ly/FORTJobs
---
Join Guild 🤝

See for yourself how the Guild experience is different to WhatsApp, Slack, LinkedIn or Facebook Groups. Guild is a safe space to connect, communicate and collaborate with others.
Join us on a platform that is purpose-built for professionals and businesses.
Contact us if you want to know more or have any questions.
---