In times of crisis, it's important for those who can to roll their sleeves up, dig in and help others.
We're a British, independent technology company. We don't yet have the corporate social responsibility (CSR) million dollar budgets that the mighty tech companies Google, Amazon, Facebook or Microsoft donate to charities.
But what we do have is the technology that can connect people to do good things together.
We have technology that can quickly build and mobilise support communities of people and groups.

We have a platform where professional people can come together, listen, empathise, provide practical help, professional guidance and emotional support.
We believe in the power of community and responsible technology in helping others through bad times and good times.
We are realists. It is going to be rocky for a while yet. We want to do more and we WILL do more (watch this space!).
But here are 2 things that Guild is doing right now to support businesses, charities and individuals in the wake of COVID-19.
Building a FORT for furloughed and released talent
As businesses across the globe adopt cost-cutting measures to survive, including pausing advertising, marketing and PR spend,  client-side professionals, agencies and their holding companies have been furloughed and laid off.
Large agencies such as Wieden+Kennedy and Edelman are reportedly laying off 11% and 7% of staff respectively as revenues decline.  But there's also the unreported release of hugely talented in-house professionals and smaller agencies, who have been furloughed or made redundant.
The impact is being felt at all levels. From senior heads of Marketing and Communications, account managers,  planners, digital and marketing specialists and generalists through to junior executives and assistants.
The more we heard about the job layoffs, in an industry that we know well, the more we felt we needed to do something to help.
Guild launched FORT (Furloughed or Released Talent) at the end of July 2020 as a peer-support community people in marketing, comms, PR, digital and creative looking for jobs, wishing to keep their skills sharp and for those missing day-to day-support, camaraderie and connections at work.

FORT Group member Vanessa says how invaluable she has found the group:

"It's a difficult time and without colleagues to share ideas and learn from, it's even tougher. I was a bit worried about stepping out into the FORT group but it's an incredibly positive, practical place, with a genuinely welcoming atmosphere. Feeling that you can contribute to others, as well as benefit from the advice and tips is pretty uplifting. There's also a great stream of really relevant jobs posted by members in the group daily."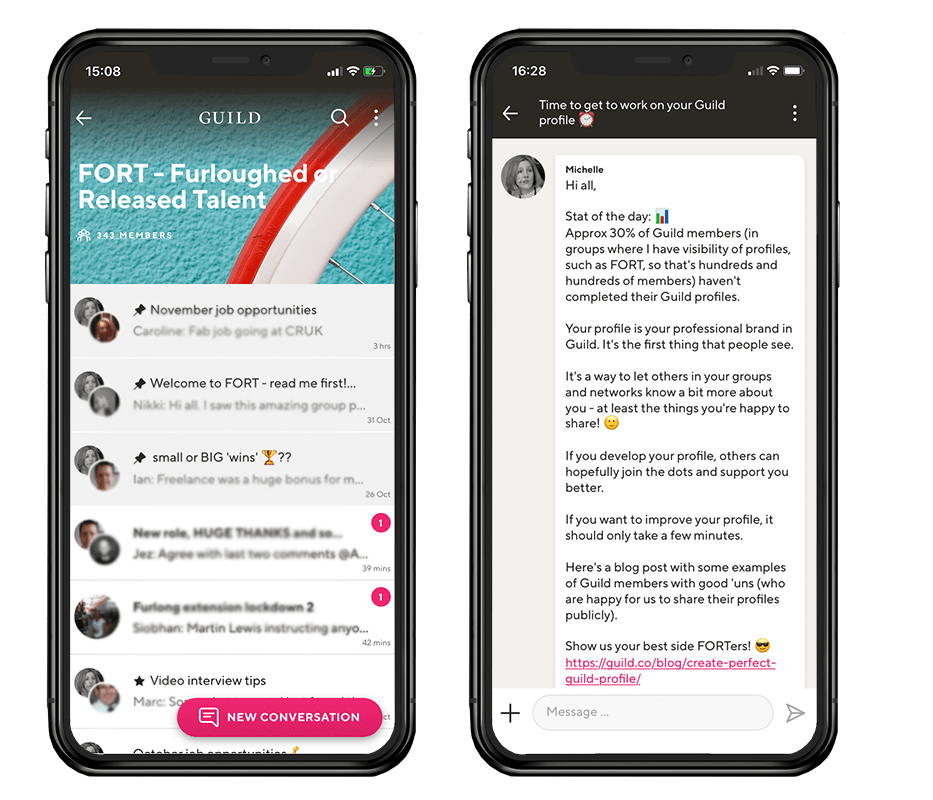 There are more than 530 FORT members providing advice to each other. Supporting job seeking, emotional wellbeing and posting links to training resources, useful information and events.
Read more about FORT here, and if you work in marketing, comms, PR, digital, creative and have been furloughed or released, do come and join this supportive group of people of all levels of experience [no recruiters please].  
Supporting an events industry move rapidly from physical to digital
It feels like a long while ago that we were attending, speaking and networking at physical events.
As COVID-19 spread across the globe, cancellations of large and small physical trade and consumer events in the UK and Europe started at end of February 2020 and gathered pace quickly.
The financial impact on media, events, training and trade show businesses was huge. There was uncertainty around revenue loss, venue cancellation policies and insurance.
Whilst virtual events are nothing new, many organisations needed to adapt quickly and understand which blend of event technology was affordable, effective and suited their needs. For many, this was a whole new world.
As event organisers ourselves, we were also navigating the uncertainty as the pandemic took hold worldwide, so on March 3rd in just 2 hours we set up and launched the Coronavirus Response for Event Organisers or CREO community on Guild with a blog post and a tweet offering to help.

Within 24 hours >100 senior events professionals had joined. Membership quickly doubled and today there are >1,100 people helping each other, creating open source resources, discussing best practice, talking about virtual event technology, crisis management and much more.

The CREO community has also crowd-sourced a document (the "CREO Manual") to capture the advice, resources and insights generated by the group. This is publicly available for anyone to read and share and can be found at https://docs.google.com/document/d/1-uhTOFA0CmhDvRY-FsfLrxV1...
Ben Fletcher, Co-founder of Utterly Events who run Fast Growth Icons, CIO Icons, Velocity² events says this about CREO:

"The events community was left reeling when Covid lockdown measures were put in place and physical events were cancelled around the world. Guild acted quickly to provide a safe space and a home for us to collaborate and speak in confidence with others experiencing exactly the same challenges."

LikeMinds founder Andrew Ellis agrees:

"I've found the [CREO] group to be particularly helpful, open and willing to share case studies, stats and advice from a broad range of event producers both nationally and internationally. The spirit and camaraderie has been supportive, reassuring and rewarding at a very difficult time for us all."
If you are an event organiser, or know someone who is and might benefit from joining CREO then visit the group's public page and request to join: https://guild.co/groups/1101/creo-for-event-professionals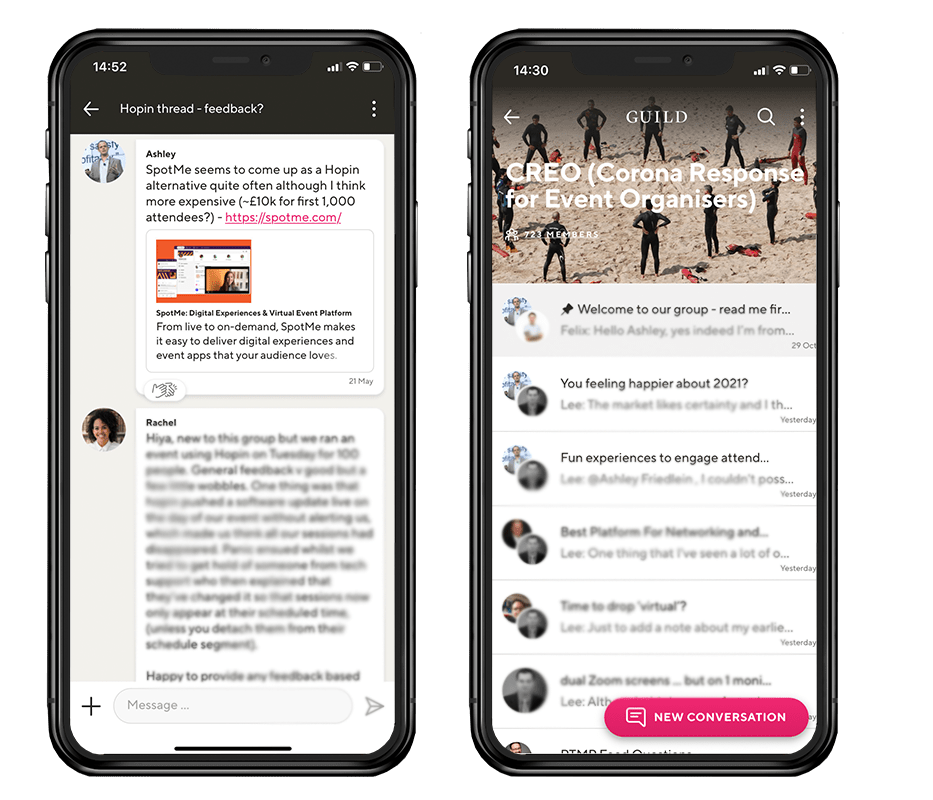 What else are we doing to help with the 'great recovery'?
We do have more plans afoot with some incredible partners that we can't talk about just yet. Watch this space though! ?
Helping you to help others
Hopefully FORT and CREO have got you thinking...
Think about how you can help others. And with a bit of time and motivation, there's nothing stopping you creating your own online groups and communities to support others through these difficult times.

When you bring people together they can do good things.
And if you have a great idea about how we can help you help others through and beyond these tough times, then please do contact us.
---
Join Guild 🤝
See for yourself how the Guild experience is different to WhatsApp, Slack, LinkedIn or Facebook Groups. Guild is a safe space to connect, communicate and collaborate with others.
Join us on a platform that is purpose-built for professionals and businesses.
Contact us if you want to know more or have any questions
---