1. Create an account for your group(s) to belong to
If you're not already registered on Guild (i.e. have not yet set up your login) then go to our Plans page and choose a plan to start with (there is a free option). You'll set up your account in the process of joining.
If you've already joined Guild (i.e. have a login) then go into Settings > My account, click the 'Create Account' button, and give your account a name as shown: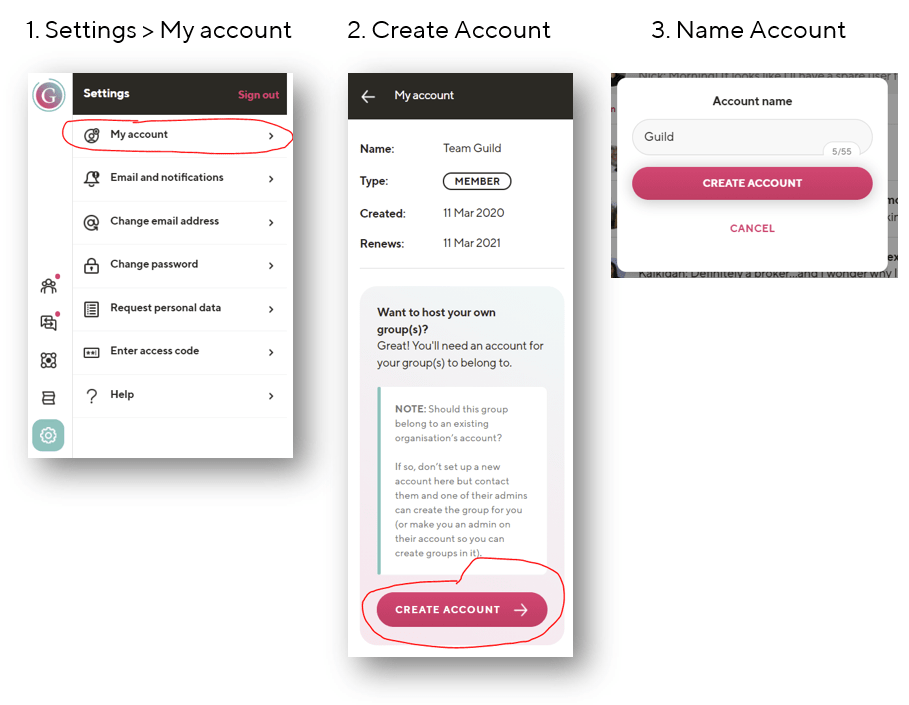 ---
2. Go to the web admin on your laptop / desktop
You need to be on the web version of Guild - visit https://guild.co/app/ on your laptop or desktop and then click the 'Admin' icon at the bottom of the left-hand main navigation: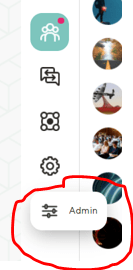 ---
3. Create & customize your group
If you haven't yet created a group, or want to create a new one, then click the 'new group' button and give it a name: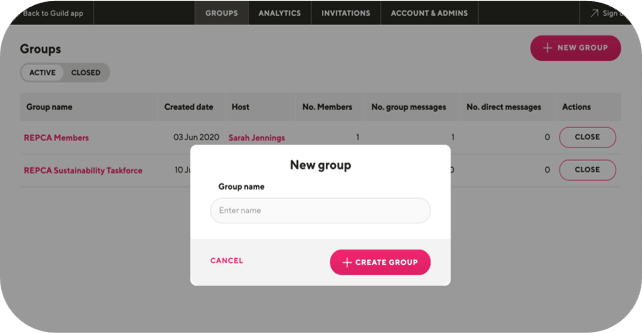 Next, click on the name of the group you want to customize in the list under the 'Groups' tab:

Then update the details about the group: its name (if you want to change it), its purpose, what the cost is to belong, any guidelines you want your group members to follow, the copy that goes in any email invites you send, and an automated welcome DM sent from the host to all new group joiners.
You can also assign a host and moderators to manage your group. Find out more about the different types of Guild users.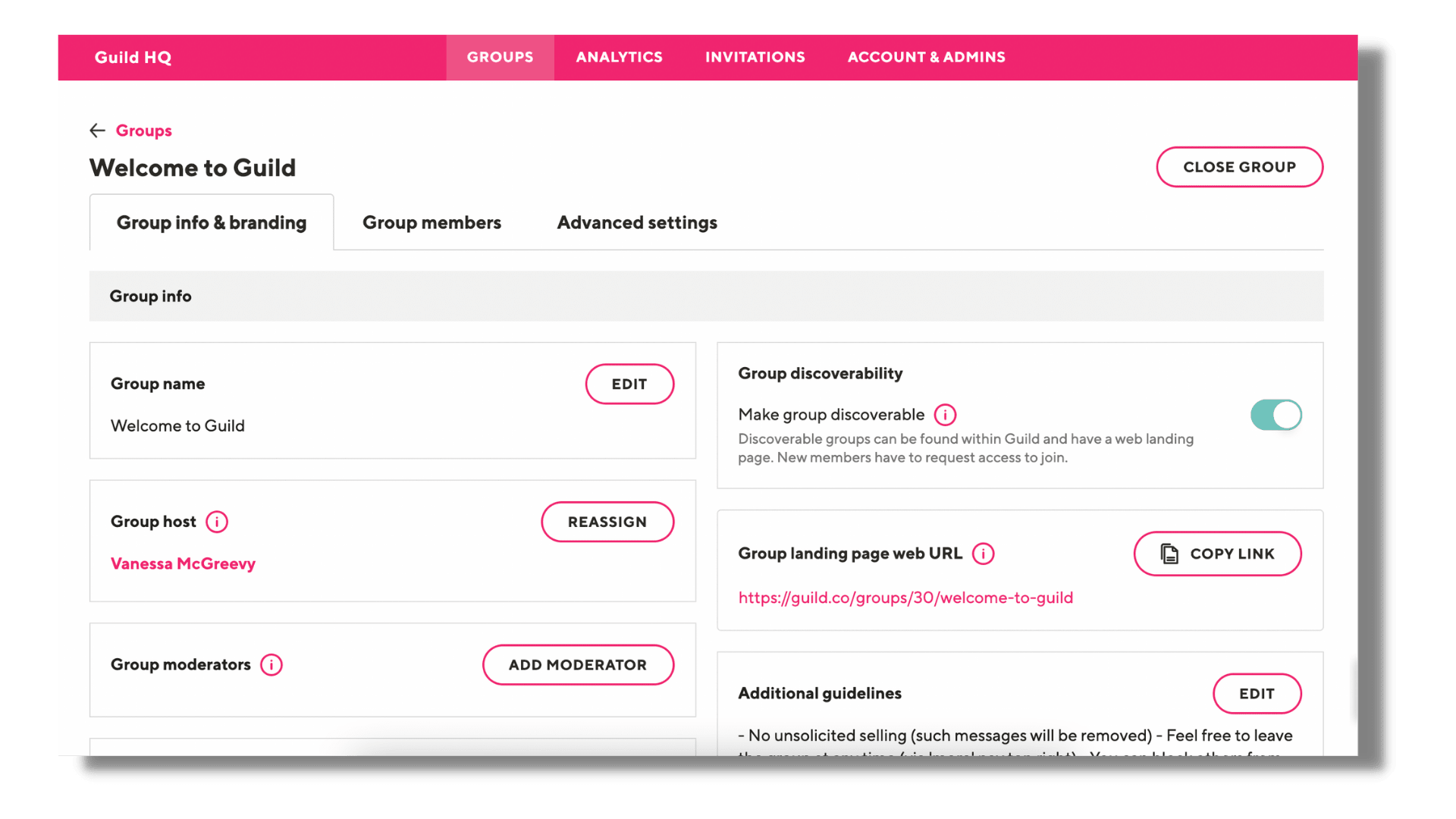 ---
*IMPORTANT*: decide whether you want your group to be discoverable or not and enable/disable this setting accordingly. Learn more about discoverable groups and their benefits here.
---
Scroll down to add your logo and custom cover imagery for the mobile and web versions, or select from our gallery.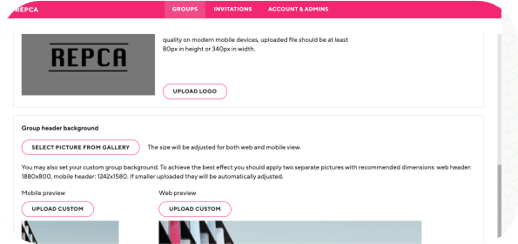 ---
4. Preview your group in the app
Click 'Back to Guild app' in the top left of the web admin so you can preview how your group will look to members: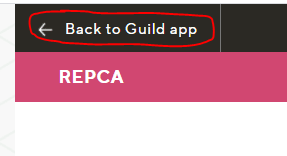 Click on your group's name in the Groups section to see what it looks like. Do the same on your mobile app too.
Repeat steps 1-3 until you're happy with how it looks.
---
5. Post and pin a welcome message
In the app (mobile or web), click on your group name and then the new conversation button:

Write a welcome message for new joiners to your group. Don't worry, you can always edit or delete it at any time later.
Your welcome message can have files attached (e.g. a pdf welcome pack) or you could record and attach a short welcome video via your phone to explain the purpose of your Guild group and introduce the group host. You could adapt this basic message:
Subject: Welcome to [group name]
Welcome to our group. Find out more about this group and its members by tapping the group name above or via the three dots 'more' icon top right.
The main nav has the Groups you belong to, Direct Messages, My Network (everyone you share a group with) and Settings. Tap/click your photo top left to complete your Profile e.g. with links to more about you and your business.
You can use the web version of Guild on your desktop/laptop too – can be easier to type etc. That is at https://guild.co/app/ (only viewable on desktop/laptop).
Please post an intro message to the group about you!
Pin your welcome message so it stays at the top. (Tip: you can pin up to 3 conversations at a time).

The web version should now look like this with your welcome message pinned to the top:

---
6. Send invitations to join your group!
Now it's time for the final and most exciting step - getting members to join your Guild group ?!
There are three ways you can invite your members to join you group: via a unique invite link or email or via your group's landing page (if it is a discoverable group).
Web admin: via the 'Invitations' tab
Go to the web admin (see section 1 above) and into the 'Invitations' tab.
a. Invitation link
This is a unique URL that you can copy and send to people however you choose.
Whether that's via a bulk CRM send, an email newsletter, a link in a web page, via a button on your website, SMS, social media direct messages or posts...in fact anywhere you can safely publish the link. A unique invitation is automatically generated for every group you set up:

b. Invite by Email
Click the 'Invite by email' button which opens up a box where you can type in email addresses of people you wish to send invitations to. You can also copy/paste a list of email addresses separated by commas. They will be sent a branded, tailored email invitation from you via the Guild app. Your email invitation copy can be customized in the Groups > Group Info & Branding > Email Invitation message (see section 2 above).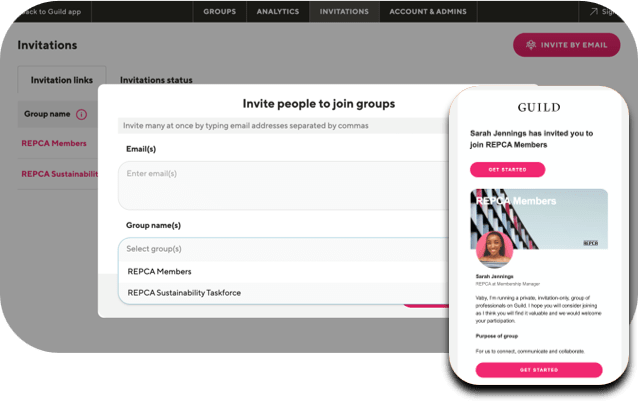 Mobile app: invite members into your group
You can also invite people into your group from the mobile app. In the mobile app you cannot send bulk email invites (see above for that) but you can send invites via SMS/email to people in your phone's address book or to people in your Guild network (i.e. those you share a group(s) with):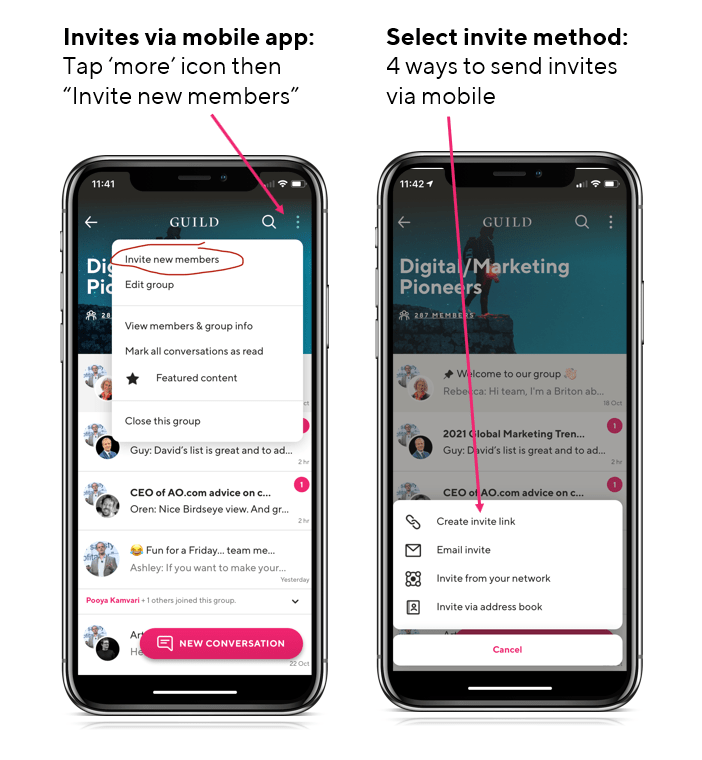 Send a link to your group's public landing page
If you set your group to be discoverable then your group has a public landing page that you (or anyone else) can send prospective members to. They can find out about your group there and request to join. You will need to accept or ignore each join request.
Learn more about how to make your group discoverable and the benefits >>
---
7. [optional] Add Admins, change the group host
If you want help administering, or moderating, your group(s) then you can invite additional Admins onto your account via the web admin in the Account & Admins section: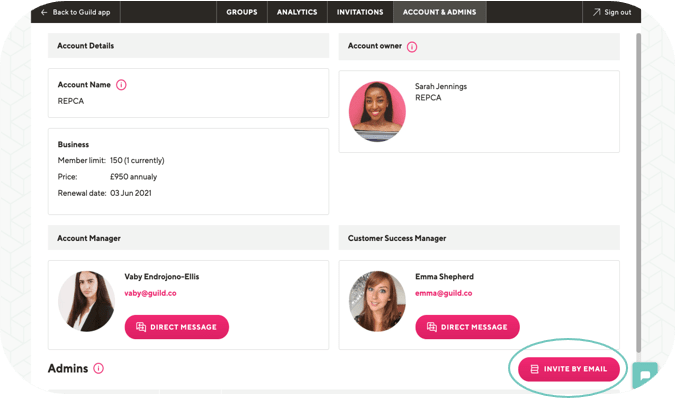 Any Admin who is in a group can invite/remove members and also delete any message.

A group's Host can invite/remove group members and delete any message but he/she does not get access to the web admin unless he/she is also an Admin.
You can (re)assign Host status but only to an existing member of the group (via Groups > Group info & branding). You can only have 1 Host at a time per group but as many Admins as you want in the group.  
What next?
Now you've set up your group(s), we've written some articles on ways to keep your Guild community engaged from the very start:
>> Get off to a great start with your Guild groups
>> 22 ways to create engagement within your groups
Contact us if you want to know more or have any questions.
---
Join Guild 🤝

See for yourself how the Guild experience is different to WhatsApp, Slack, LinkedIn or Facebook Groups. Guild is a safe space to connect, communicate and collaborate with others.
Join us on a platform that is purpose-built for professionals and businesses.
Contact us if you want to know more or have any questions.