Guild is a messaging app for professional groups, networks and communities.
A safe space to communicate, connect and collaborate.
As easy to use as consumer messaging apps and social media platforms, but ad-free and with the privacy, security, control and regulatory compliance necessary for professional use.
Our support team at Guild want to ensure that your on-boarding experience with us is as straightforward as possible.
This step-by-step guide ensures you have all the pieces in place to launch your professional community or groups on Guild with confidence!
Before you get started, there are 4 different types of Guild users
There are 4 types of Guild users.
This post explains more about who can set up, manage and host Business Accounts:
Getting started on Guild: What are the different types of Guild users?

Ready to host your professional community or group on Guild?
Here's what you need to do to get started:
1.Create your Guild Business account
If you're not already signed up to Guild and want to create a Guild account for your business, then follow these steps.

We strongly encourage you to set up a Guild Business account on desktop.
Visit the Guild pricing page and click on the 'Start Free' button.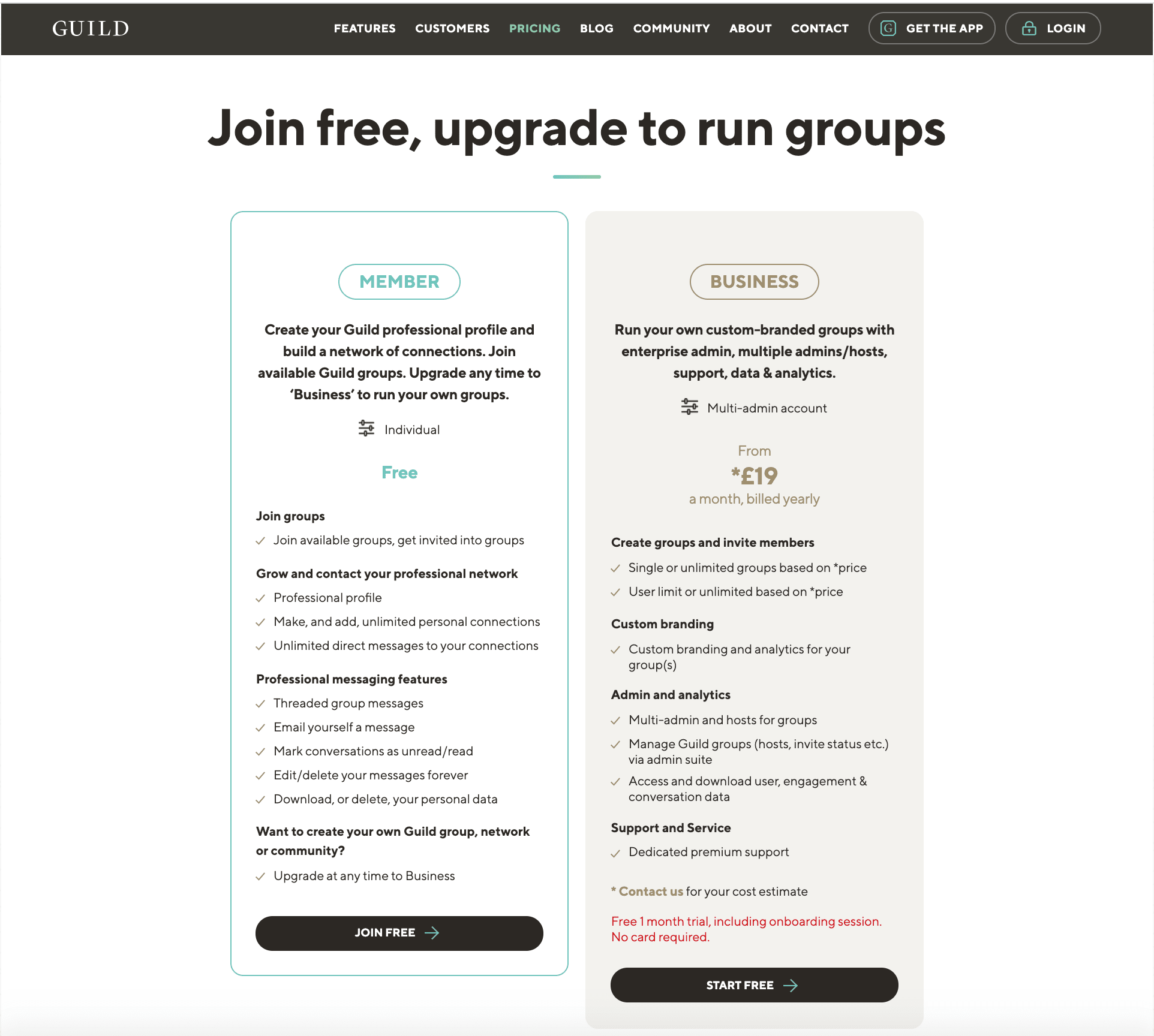 After clicking 'Start Free' you'll see this form.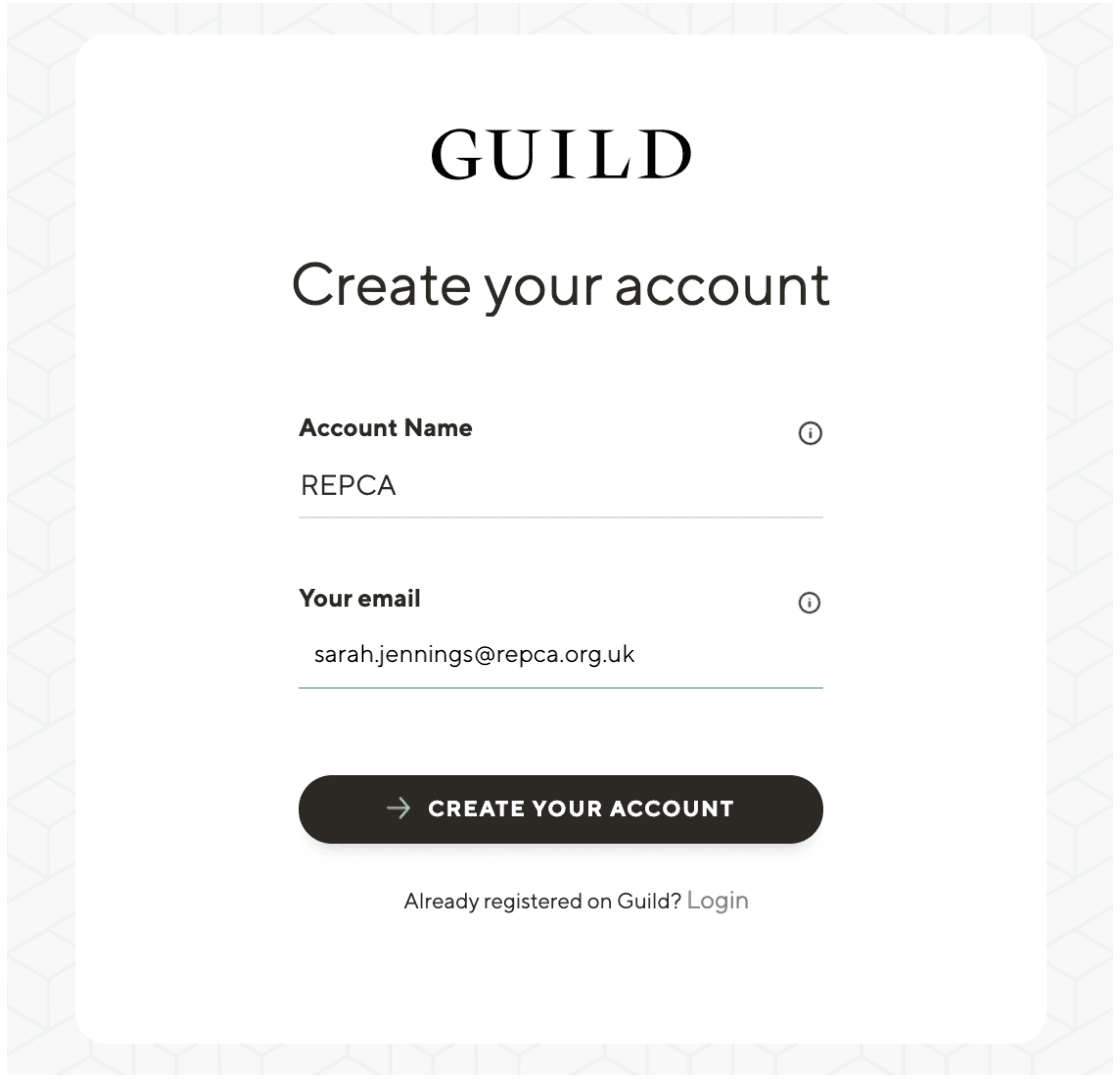 Most Guild users set up a single account for the whole of their company or organisation.

Using the fictional membership organisation, REPCA, as an example, their head of membership Sara Jennings is the Guild account owner. She calls the Account Name 'REPCA' and she signs up using her REPCA email.
Tip: Have you been using Guild for a while? Are you a member of Guild groups, but now want to create your own groups on Guild? Check out our post on "How to upgrade your account from member to business".
2. Activate your Guild Business account via email
The Account Owner will receive an account activation email. If they don't, it is almost certainly because the email has gone into junk/spam so search for it there (e.g. for 'Guild account activation'). If it is not there then it is possible your email system has blocked the email completely - if so contact us and we can set you up.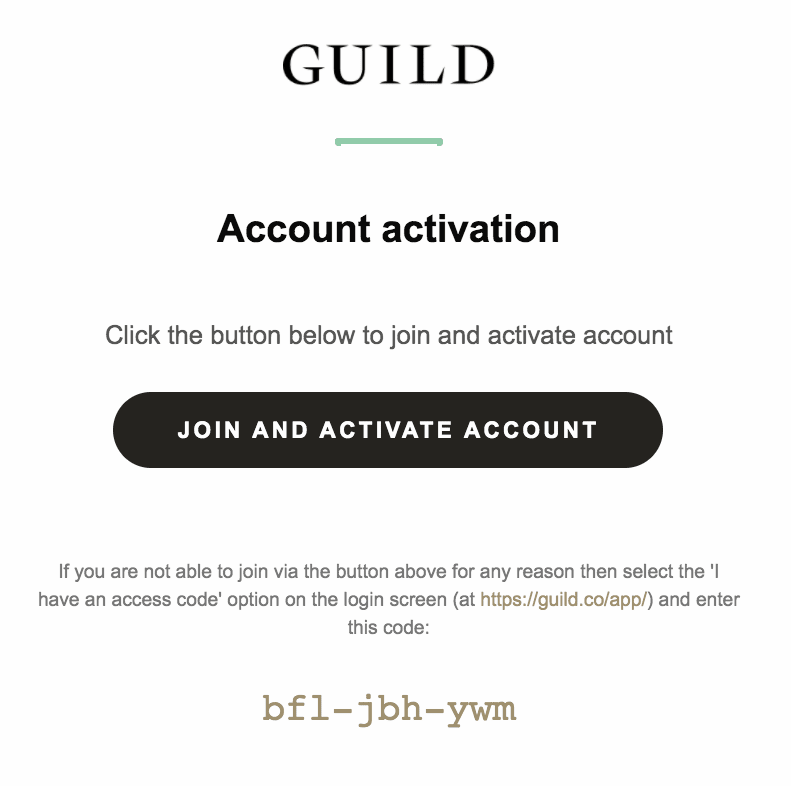 Tip: You can set up Business accounts on Guild using the mobile app, but the admin dashboard and analytics are only available on desktop. The following steps are easiest if you type: https://guild.co/app/ into a browser.
3.Choose who can be an admin or host to help manage your Guild groups
Once the Account Owner has activated the Guild account, it's time to think about the groups you are setting up and which team members or peeople should be involved to manage those groups.
You can invite colleagues to become Admins of the account. Account Admins have the ability to:
Set up and close groups
Invite new members to join groups
Invite new admins to join the account
Access account Admin Section and Analytics for all of the Guild groups on the account
Admins for the Business Account can be added by accessing the 'Accounts & Admins' tab in the Admin Section (browser only).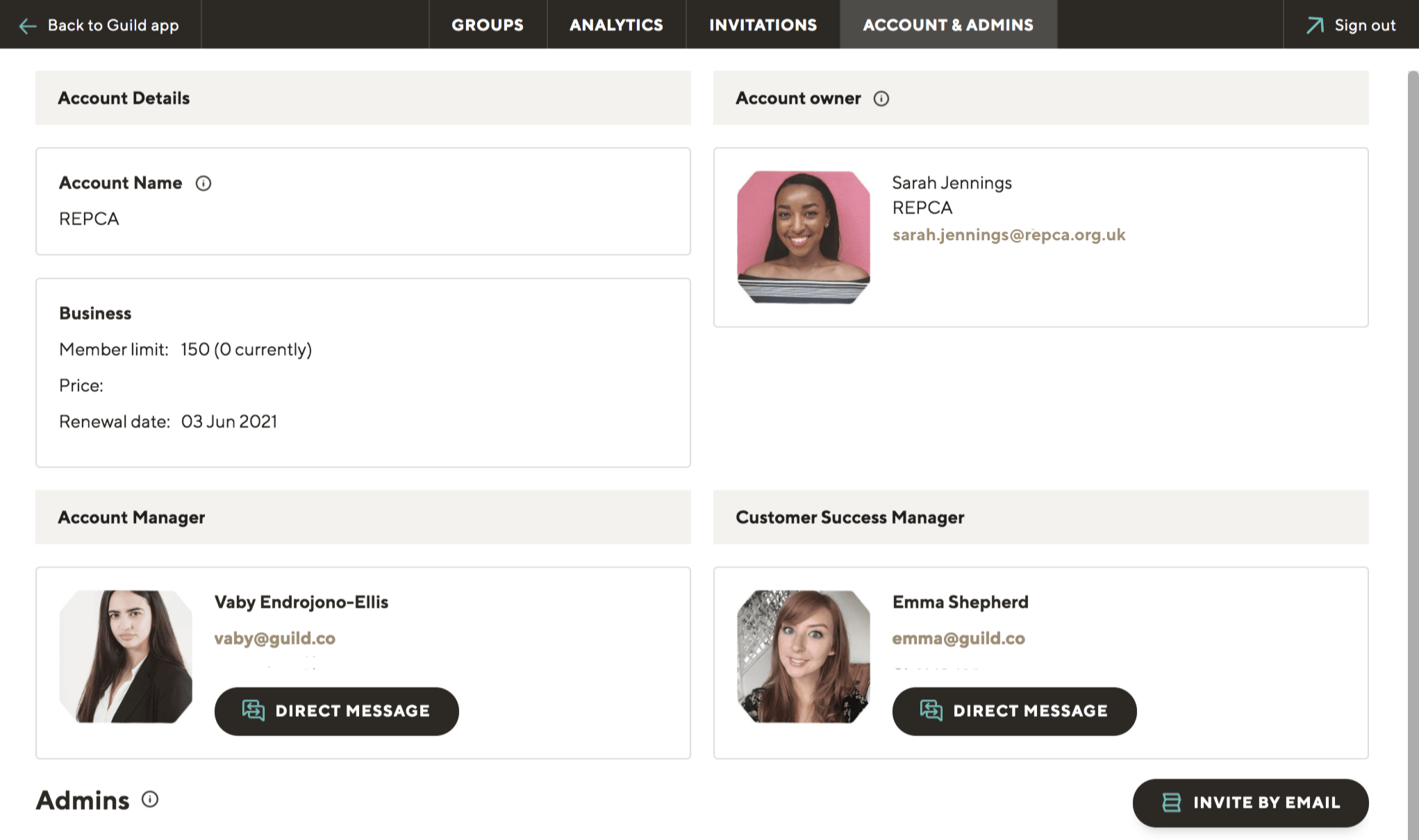 Owners or Admins can also invite Hosts to host and manage Guild groups.
Hosts don't have access to Guild analytics and the Admin Section and have to be a member of your Guild group before being invited.
Guild group Hosts could be partners, customers, sponsors, experts or other invited external individuals who can run a group but won't have powers to set up, edit information about groups or see any analytics data.
Guild group Hosts can:
- post and delete messages in Guild groups
- invite and remove members
For example, REPCA want to ask a sustainability specialist at BVA Energy to help manage the group and answer very specific questions from their members.
They could be invited to be a Host once the group is set up by accessing the 'Groups' tab in the Admin section and then 'Group host' and clicking on the 'Reassign' button.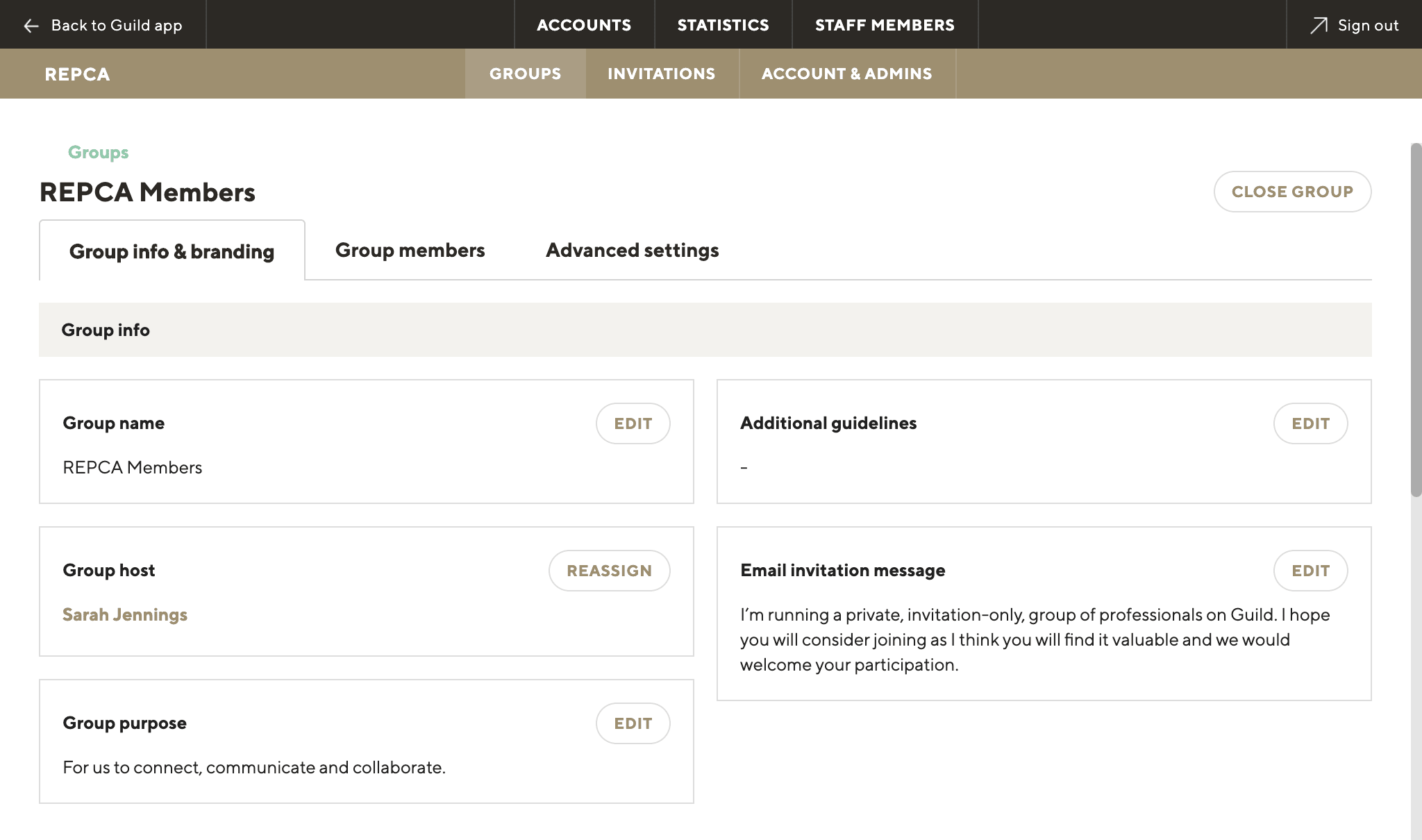 4. Set up your first group
Head over to the Admin Section and create your first group and give it a name. For example, Sarah has started with 'REPCA Members'.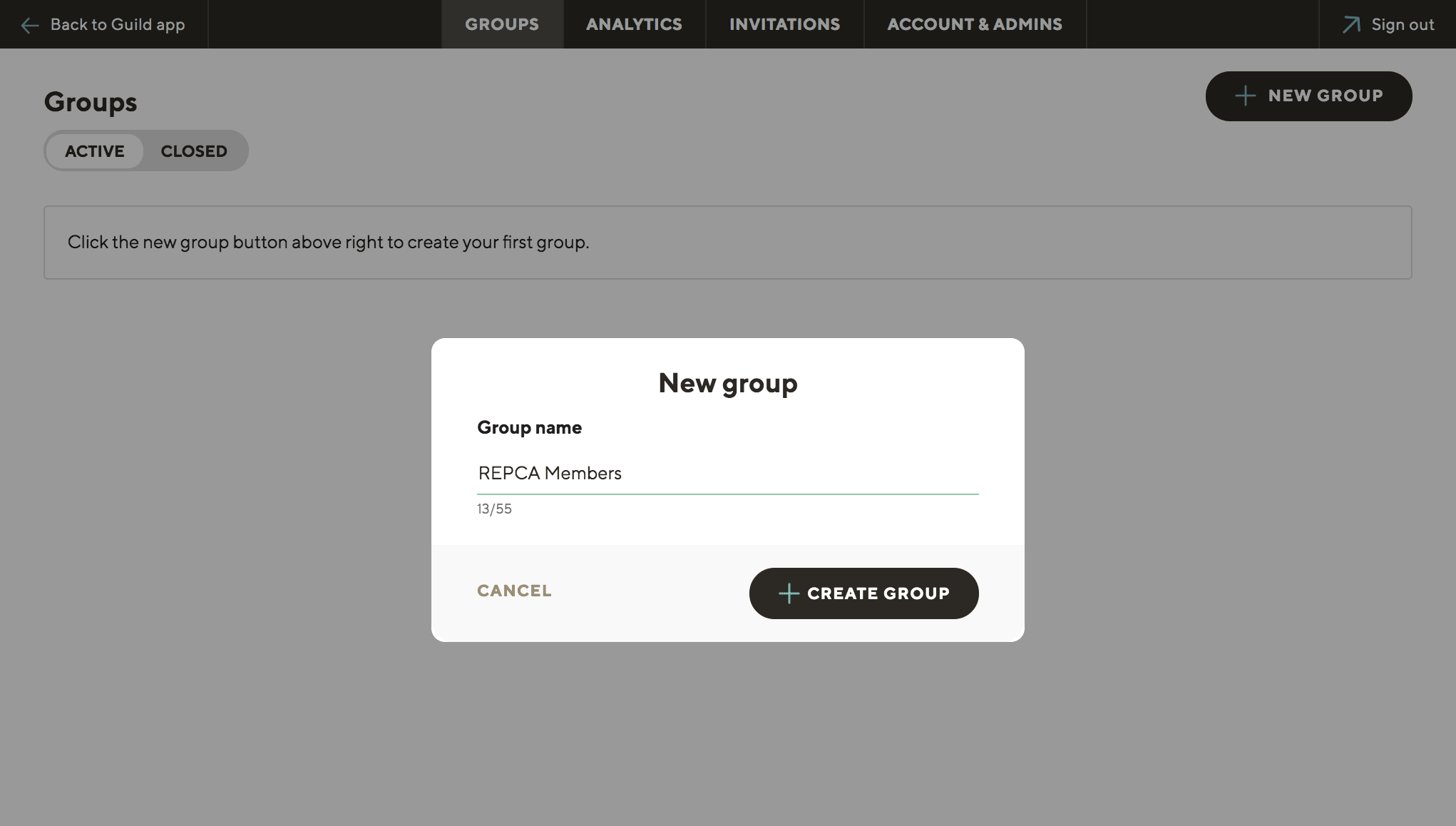 5. Add group details

Your new group will appear in the 'Groups' tab in your Admin section under 'Group Name'. Any new groups you create on this account will also appear here as they are created.
Click the name of the group you wish to edit. You'll see a secondary tab called 'Group Info & Branding'.
Think about the purpose of your group and any group guidelines that you want your group members to follow.
You can draft this text elsewhere and paste it into your group. There is no character limit for 'Group Purpose' or 'Additional Guidelines'.
Want to change your group name? No problem. Simply click on 'Group Name' and edit from here.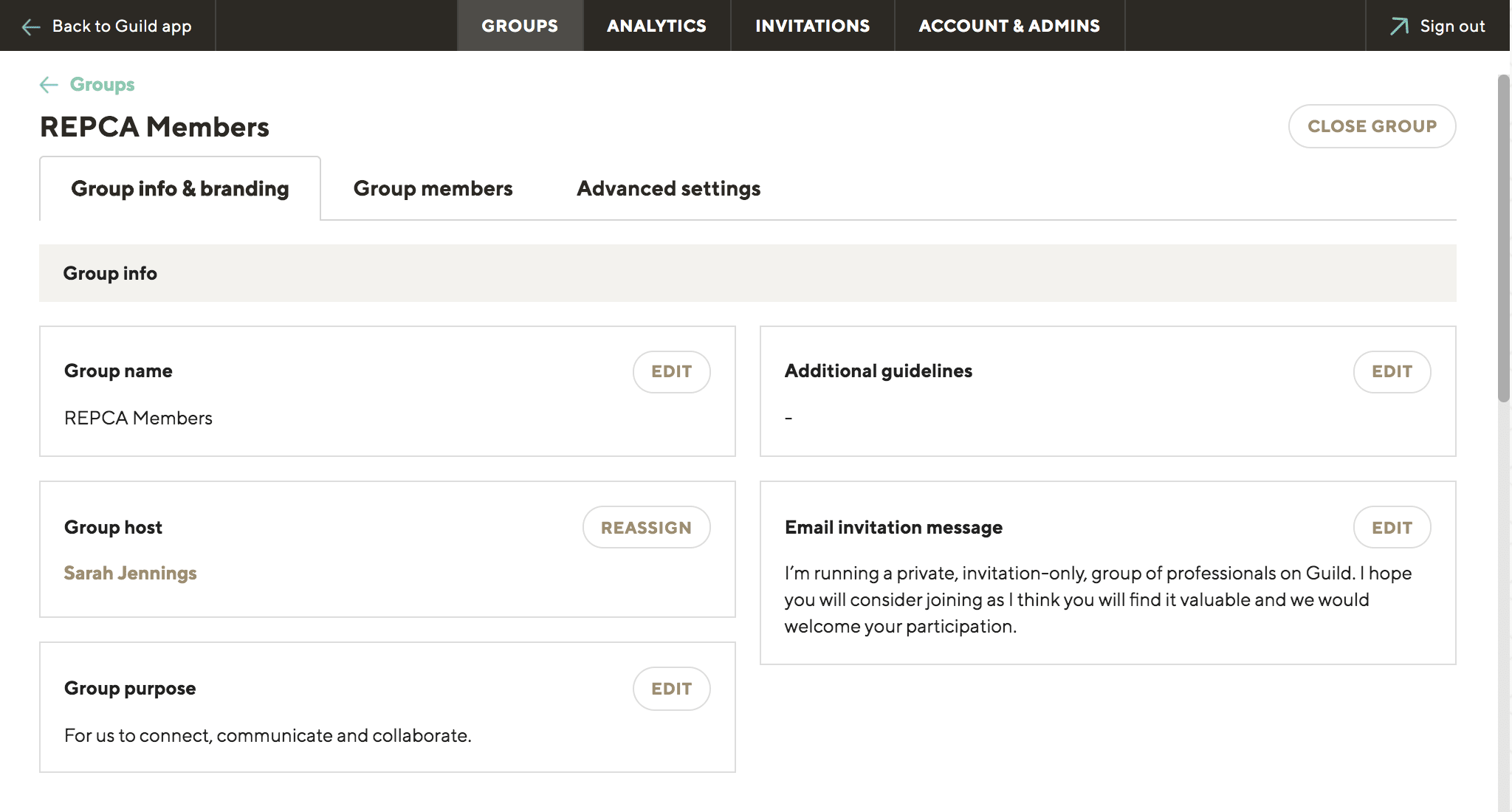 6. Add branding to your Guild group
It's easy to customise your Guild group and add your branding to create exactly the right environment for your group members.
Again, click on the group name you want to brand on the 'Groups' tab.
Then click on 'Group Info & Branding'. Here you can upload a logo and a header image of your choice.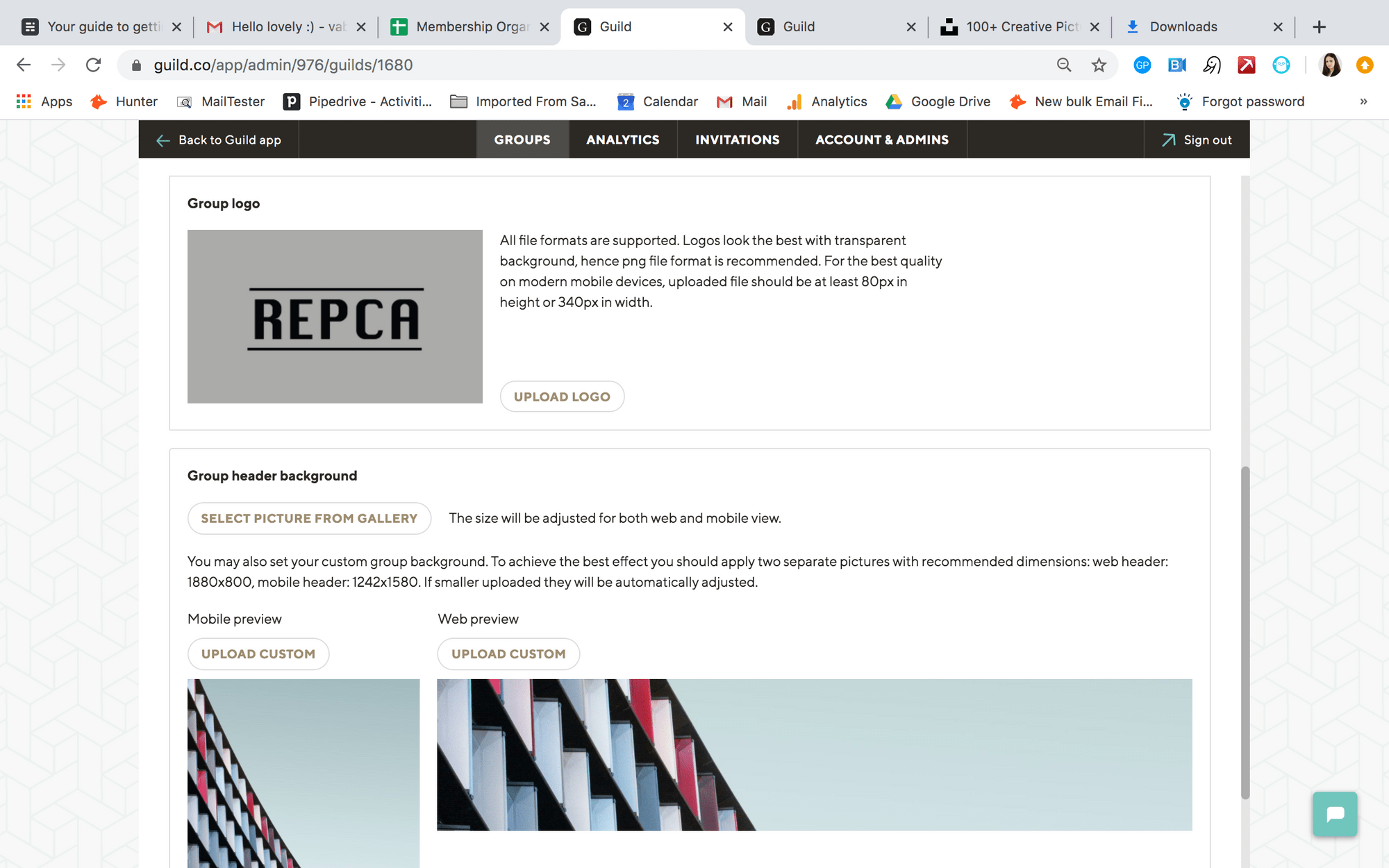 7. Pin a welcome message  
Pinning a welcome message to the top of your Guild group will make your community immediately feel welcomed and it sets the tone for the community.
Your welcome message can be a short text message that can also have files attached (e.g. PDF, PPT or images). You could also record and upload a short welcome video to explain the purpose of your Guild group and introduce the group host.
To pin a message all you need to do is post your first message, click the three dots on the right-hand side of the message and click "Pin message".
Tip: You can only pin one message at a time, but you can 'Feature' as many posts as you like using the same three dots. Featuring posts adds a star so that members can find your most important conversation threads at any time.


8.Send invitations to invite members to join your community
Now it's time for the final and most exciting step - getting members to join your Guild group!
There are two ways you can invite your members to join Guild.
Both are accessed by going to the 'Invitations' Tab in the Admin Section.
Invite members via an invitation link
This is a unique URL that you can copy and send to people however you choose.
Whether that's via a bulk CRM send, an email newsletter, SMS, social media direct messages or posts...in fact anywhere you can safely publish the link. A unique invitation is automatically generated for every group you set up.
Invite members by Email
This opens up a box where you can type in email addresses of people you wish to send invitations to. You can also copy/paste a list of email addresses separated by commas. They will be sent a branded, tailored email invitation from you via the Guild app. Your email invitation copy can be written in the Groups>Group Info & Branding>Email Invitation message.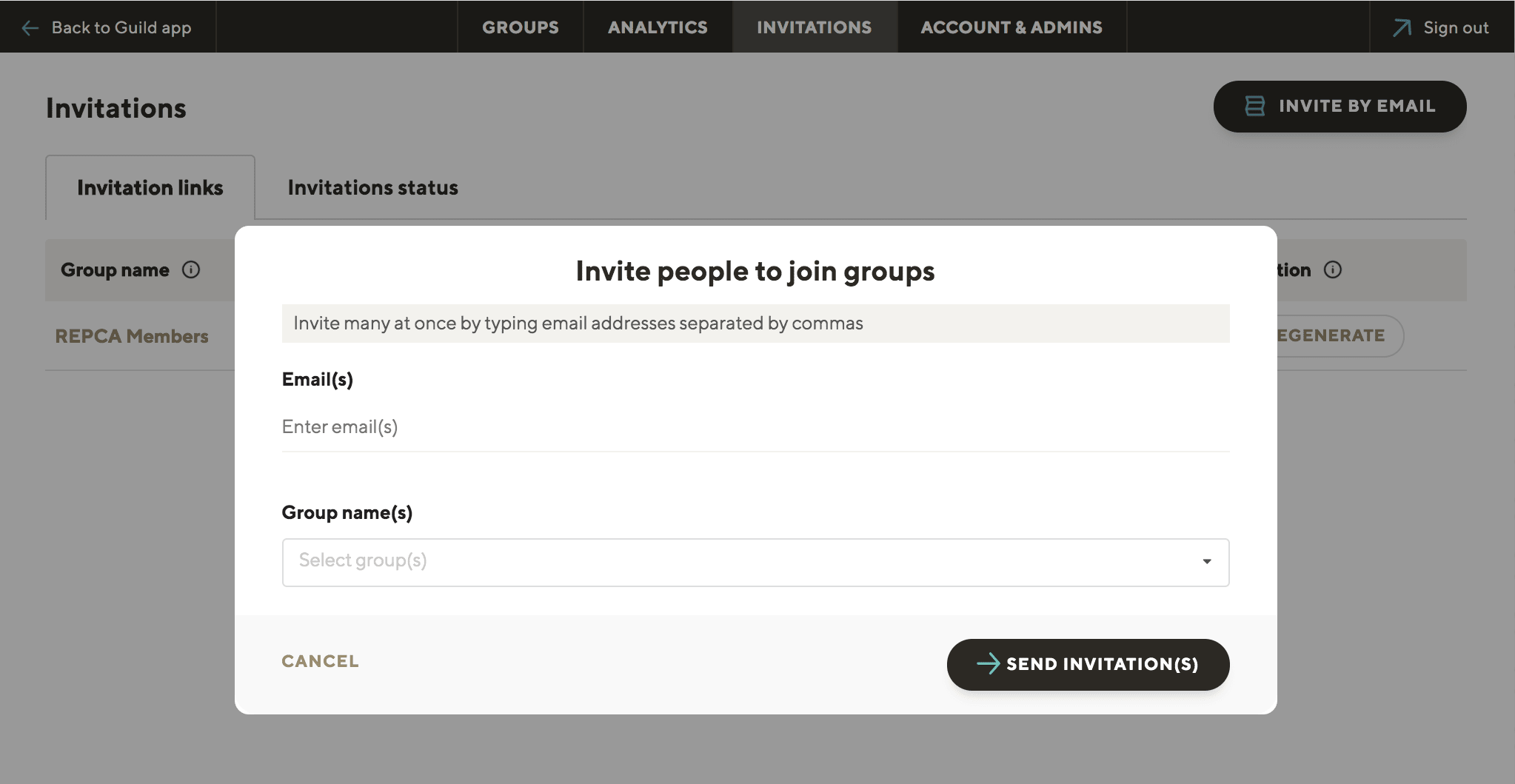 9. Download the app on your phone
Search Guild on any mobile device app store and sign in as an existing member (assuming you have gone through the steps above). That way you will receive push notifications on your mobile app when there is activity on your account.
10. Get your professional group or community started
Now you've set up your groups, we've written some articles on ways to keep your Guild community engaged from the very start:
Get off to a great start with your Guild groups
22 ways to create engagement within your groups
We also run an 'Inside Guild' community on Guild where we invite Guild business and enterprise owners and admins. There you can access more community strategy/engagement advice and Guild support.
Join Guild for free today
See for yourself how the Guild experience is different to WhatsApp, Slack, LinkedIn or Facebook Groups.  
Go to our pricing page and join free as a member, create your Guild profile, join available groups and build your network.  
Ready to run your own professional, private, branded groups, communities or networks? Excellent! Check out our Business (free) and Business Plus (custom pricing) options.  
Guild is proudly British, fiercely independent, ad-free and GDPR compliant. Come and join us on a different and decent kind of messaging platform.
Contact us if you want to know more or have any questions.