Great to see Guild cited in a Green Paper by DigitalAgenda which discusses the unintended consequences of the digital age ahead of its Power & Responsibility Summit on 9th October:
"We call on tech companies to adopt a more mature attitude to regulation. The right regulation can stimulate innovation, rather than stifling it. A recent example is Guild, a messaging app for businesses that is GDPR compliant, to rival WhatsApp, which was not. By showing a 'duty of care' companies can build public trust, develop better products and win over consumers."
The paper (the full PDF can be found here) proposes a move from 'tech fear' to 'humane tech' along the dimensions outlined below.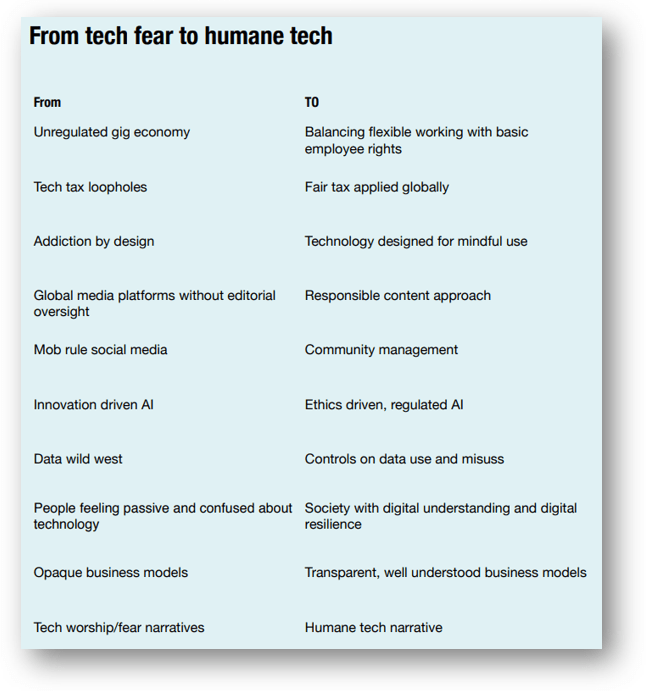 We're pleased to say that Guild is very much in the 'humane tech' camp already ?
Try Guild for free today
See how easy it is to set up and scale private, GDPR-compliant professional messaging groups, networks and communities.
Our pricing and plans page gives details of  cost and what you get including custom-branding, analytics, admin, support, access to conversation and user data etc. We'll also give you a free onboarding call to walk you through the product and answer your questions.
Simply click on 'Start Free' on the Business version to start your 1 month trial and we'll be in touch.
Contact us if you want to know more or have any questions.