We have written before about LinkedIn becoming more like Facebook and also done research which shows the perception of LinkedIn has moved away from networking and community to sales, marketing and recruitment.  
But LinkedIn is the world's largest professional network with 774+ million members in more than 200 countries and territories worldwide.
So what are the differences and similarities between Guild and LinkedIn to help you choose which is right for you?
How are Guild and LinkedIn similar?
Both are designed specifically for professionals and businesses rather than consumers.
Both are free to join as individuals.
Individual members of both Guild and LinkedIn have professional profiles you can create and add to over time.
As well as individuals there are Groups in both Guild and LinkedIn.
Messaging is possible 1-1 between members, and in Groups, in both Guild and LinkedIn.
Both Guild and LinkedIn have a 'My Network' section which shows who you are connected to, both require consent to make network connections, and both then allow direct messaging between connections.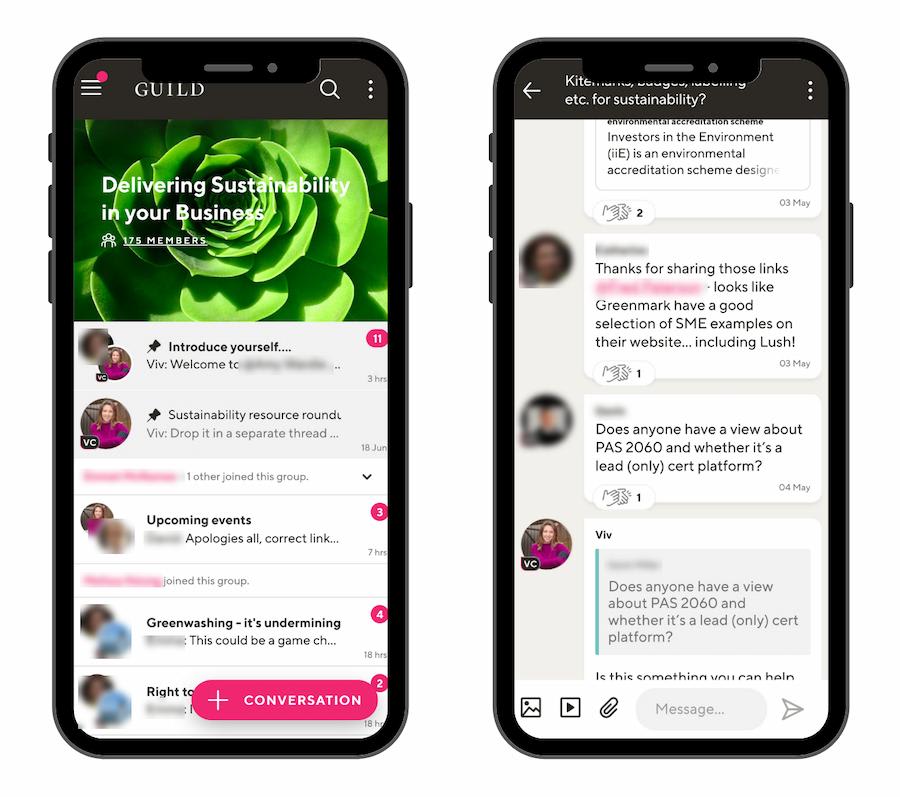 Ok, so how are Guild and LinkedIn different?
LinkedIn's business model is ad funded whereas Guild is freemium SaaS: businesses pay to use the Guild platform if they want additional service and features.
This means that as a LinkedIn member not only will you be marketed to but LinkedIn is incentivised to drive you to the LinkedIn site. For example, LinkedIn email alerts about a new message don't give the message itself, you have to visit the site to get that. Guild's business model is based on value/quality whereas LinkedIn chases volume/quantity and monetises your data.
Whilst Guild is a professional network, the communities in it are run and controlled by the host/admins which means not only custom branding but, crucially, access to the conversation, user and engagement data of their members. LinkedIn does not give access to this data - essentially the members are 'theirs' and do not belong to you as a group host/admin in any way.
Guild is designed mobile/messaging first, also with a web version, so the experience is like a messaging app and optimised for mobile whereas LinkedIn's heritage is as a web platform and is optimised for laptop/desktop.
Guild is all about communities - specifically professional communities of expertise. LinkedIn does have Groups but functionality has been removed over the years, engagement in them has dropped, there is no access to group members' data etc - communities are not the focus for LinkedIn.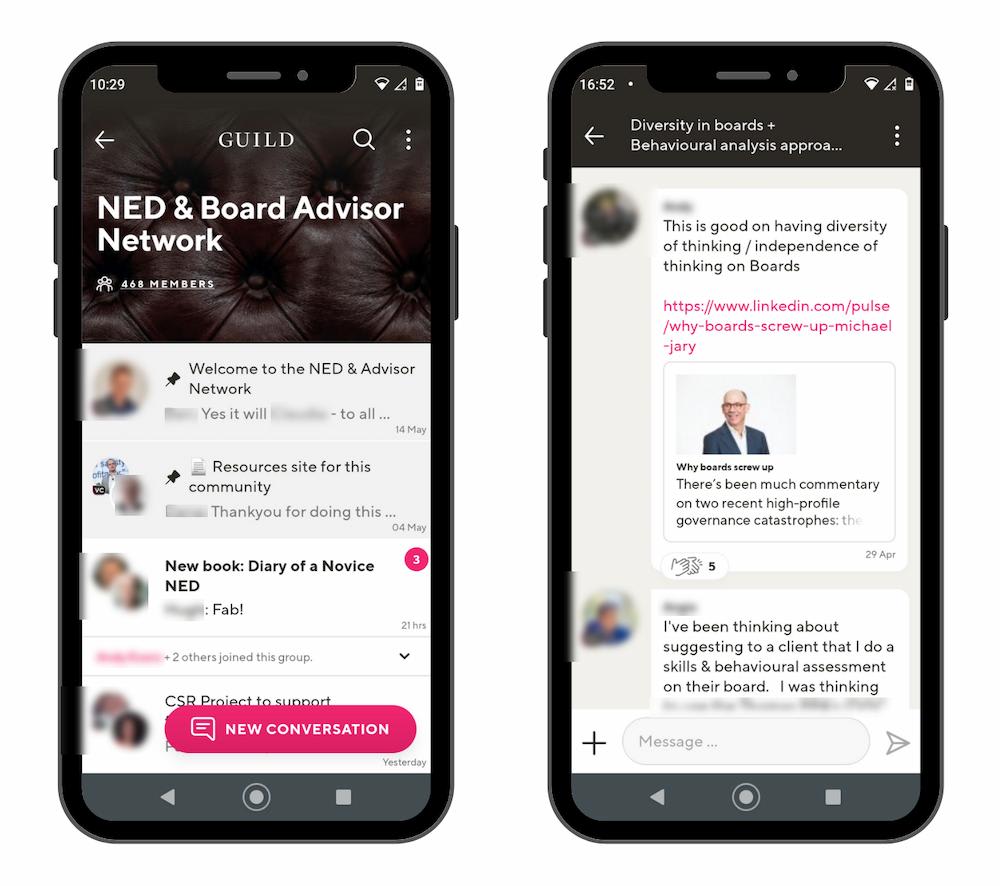 LinkedIn is all about sales, marketing and recruitment - LinkedIn can be very effective, if quite expensive, for build awareness of your business and generating leads. Guild does not offer any such marketing or advertising services and focuses instead on privacy, intimacy and private spaces for its members to connect, communicate and collaborate.
LinkedIn, with 700m+ members, is obviously way bigger than Guild and has much greater reach and brand awareness. It is likely that your target users are already on LinkedIn whereas they may not yet be on Guild.
In LinkedIn you can post publicly, including articles, whereas Guild's messaging is only visible to those in the group you post to or the person you are DM-ing.
LinkedIn has 'Company Pages' giving an organisation its own profile. Guild only has profiles for individual members, although those can be branded to a business.
LinkedIn's platform is broader e.g. elearning and virtual events can be hosted on LinkedIn whereas Guild concentrates on conversations and networking.
Although Guild and LinkedIn have professional profiles for their members, the depth and details in LinkedIn are greater and more factual - essentially a CV / resume. The details in Guild profiles, whilst professional, are more 'human' to create emotional connections and empathy.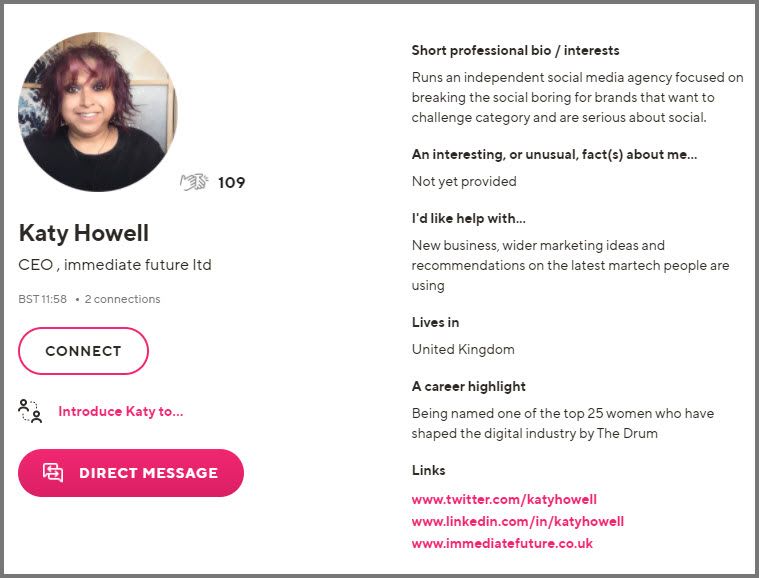 Conclusion - which is best for you?
Let's face it, you really have to be on LinkedIn as it is your professional CV / resume: your profile on LinkedIn is your professional identity online. Otherwise:
If you want to run a group, network or community then choose Guild.
If you want a more private space to engage with prospects or customers which is about quality and value, and where you keep access to the user data and conversations, then choose Guild.
If you're recruiting or looking for a job then LinkedIn is the obvious choice.
If you want awareness, broad reach, or lead generation, then LinkedIn has the advertising solutions for this.
If you need custom solutions or dedicated support and account management then choose Guild.
If you think a mobile/messaging-first experience will work for you better than a web-focused platform then choose Guild.
If you don't want your users targeted with ads then choose Guild.
In practice, the likely answer is that you should use both Guild AND LinkedIn. Particularly from a marketing view, you can combine LinkedIn for top-of-funnel awareness building and lead gen with Guild for lower down the funnel and post-purchase loyalty and engagement. We cover this in Where does community-based marketing fit in the sales and marketing funnel?
---
Join Guild 🤝

See for yourself how the Guild experience is different to WhatsApp, Slack, LinkedIn or Facebook Groups.
Guild is a safe space to connect, communicate and collaborate with others.
Join us on a platform that is purpose-built for creating groups, communities and networks on mobile.