Mike Weston is the Community Manager of Future of Work (which you can join free here).

In the latest in our 'Meet The Community Manager' series, Mike shares tips and thoughts from his experience of both launching and running a professional community on Guild.
Whether you're an entrepreneur, CEO of a PLC, or just taking the first steps in your career, as long as you care about making the world of work a better place, the Future of Work community is the place for you - read on to find out why.


Hi Mike, please introduce yourself and tell us about your journey in digital transformation and researching the future of work?
"I started my first digital transformation before we called it that – way back in 1997 at Associated Newspapers. I discovered quickly that I love operating at the sharp edge of change, where the rules are up for rewriting. It's at that sharp edge where we create a better, more interesting future and where real innovation happens.
I joined the board of Global Tech Advocates' Future of Work group early in the pandemic, recognising that we all need a bit of help in working out what life is going to be like once the dust settles on the pandemic.
My work now is focused on helping create a better type of organisation for the future, driven by both digital transformation and the reimagination of how to create dynamic, flexible, agile businesses that are better equipped for the fast changing world we have to operate in. I work with OpenClassrooms and Stanford to mentor executives on a master's diploma on the subject, and I've recently completed my book (to be published early next year) about how we do that."


You're running the Future of Work: Reimagining Business community on Guild - can you tell us what it is and why you wanted to be part of this?
"The Future of Work community is a place for everyone who cares about how the world of work has changed, and how we can design a future that works for us all. The aim is to share visions and build consensus - or at least a balanced discussion - around strong opinions. When I was invited to form this group earlier this year, I leapt at the chance. I've been a keen participant in Guild for some time (I love the way Guild drives community and discussion!)."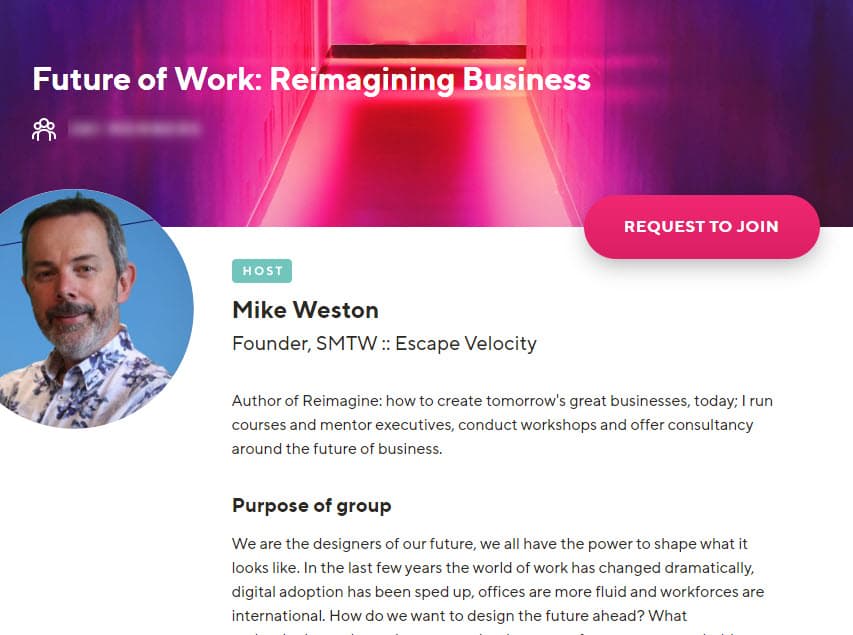 Who should join the Future of Work community?
"The Future of Work community is an inclusive gathering for anyone who is fascinated by how we are going to achieve a better way of building organisations for the future. It's not only for today's senior leaders, managers and executives, but we'd love to bring in insights from people earlier in their careers. We need a broad mix of perspectives to shape a better future."


Could you give us a quick idea of the atmosphere in the community?
"There's a curious, exploring atmosphere in the community. The tone is respectful and, I'd suggest, excited about helping to shape what tomorrow's great companies might look like."


Are there any threads or activities that work well in the Future of Work community?
"As an open-to-all community, our group provides a safe place to explore the issues people care deeply about, such as:
What can / should our relationship with work look like for tomorrow's reimagined organisations.
How do we build inclusion and equity at work?
Where does empathy and trust figure in tomorrow's workplace?
What tools will help unlock different working patterns?
How do we solve the new challenges of a hybrid working environment?
In the weeks and months ahead, we will be exploring guest AMAs (first guest lined up – and a great one!)."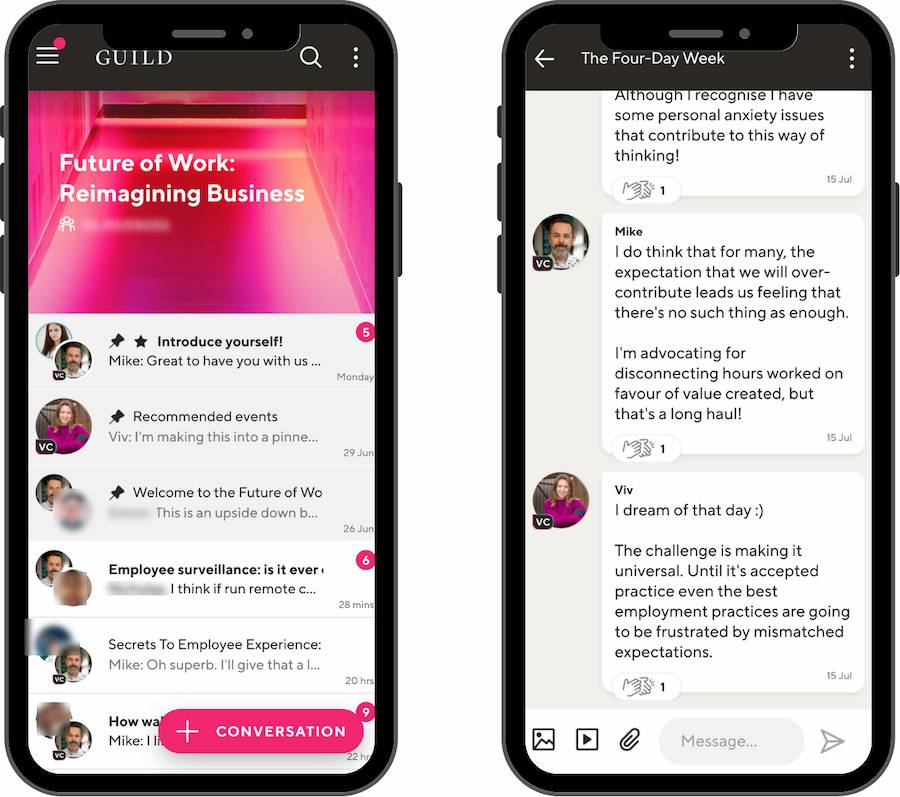 Is there anything you find challenging about managing a community?
"As someone who has opinions about most things, the challenge to start with was to learn to step back and allow the community to raise their voice. I'm still learning but figuring out when to chip in with my own thoughts and when to make room for others is the balancing act to learn!"


What do you love about the Future of Work community on Guild?
"We've come together as a group very quickly (launched just a few months ago), but already the character of the group is beginning to define itself. There's something rather magical about seeing a self-organising group of people find their voice around questions that affect their future together.
I've already made some terrific connections with people I'm sure will be great friends for the future."


What would your advice be for other authors, advisors or experts who are wondering if creating a community like Future of Work would work for them?
"Why would you not want to do this? Guild is terrific for providing an agenda-free and safe zone for people to explore the questions that matter to them."


What are your 'top tips" or tactics for launching and sustaining an online community?
"From a planning perspective, it's a great idea to have a few areas of key interest lined up early, so that the early work of kick-starting conversations becomes a little easier. If you have 'themes' to fall back on, then new conversations come together much more naturally.

From there, I'd balance launching and recruiting early members together: it's a typical platform challenge. You need a few people to get the content going, but you also need content to make people feel there's something worth joining. So take a moment to plan your first 3-4 weeks' activity.
By the time we hit around 50 members, we started to get enough people together for conversations to take off without too much nudging from the community hosts. But do keep an eye on engagement. People are hugely led by first impressions, so if they enter the community and see not a lot going on, it's going to be tough to get them to start coming back.
Measuring success is, I feel, much more about engagement than headline membership numbers. So take a look to see how many people are ready conversations that start up, and how many are applauding and responding.
If engagement is on the low side, it might be interesting to call out people gently and invite them to join in.
A turning point in Future of Work was when we started to send personal welcome messages to new joiners. Some of those personal welcomes led to conversations that gained real traction in the wider community."


One great thing about being part of a community is sharing resources. Obviously people should join Future of Work but can you also suggest a few initial resources for exploring or getting up to speed on how the world of work is changing?
"Closely allied to our community on Guild, there's a terrific group at Global Tech Advocates in the Future of Work working group. The group puts on a monthly series of events that is gaining some interesting traction.
Within that group, Like Minds host Andrew 'Drew' Ellis is very active, along with a number of others, including members of this community (Zoltan Vass, Louisa Steensma, Paul Armstrong, and Eva Pascoe for example).
I'd also call out Qasim Kirmani, who runs a Future of Work software platform that's well worth looking at, especially as you explore how to keep projects, people and communication flowing effectively throughout tomorrow's organisations."
---
Mike hosts Future of Work, a successful professional community on Guild.

If you've got questions about how the workplace and organisations can change for the better, want to share your expertise, or just want to listen, learn and get inspiration, join Future of Work today.



Are you a Community Manager or Social Media professional?

Join this free online community for community and social media professionals, however experienced you are. If you're a community strategist, community builder, community manager or social media professional, this is the place to be to share resources, learn from peers and build valuable relationships in your industry.

---
Join Guild 🤝

See for yourself how the Guild experience is different to WhatsApp, Slack, LinkedIn or Facebook Groups. Guild is a safe space to connect, communicate and collaborate with others.
Join us on a platform that is purpose-built for professionals and businesses.
Contact us if you want to know more or have any questions.