One of the most valuable things you can do in any community is to invite in an expert, or experts to do a live Q&A or an AMA.
What is an AMA?
AMA stands for 'Ask Me Anything' - It's a Q&A and it's not a new idea - they have been a part of online communities, since the early days of bulletin boards and forums. In the mid 1990s; Slashdot and AOL chat rooms featured interviews and at the turn of the century, celebrity webchats on gated parts of websites such as MSN and Compuserve would draw in the crowds.
Today, the AMA is usually linked to Reddit, the American social news aggregation, web content rating, and discussion website. Their AMA interviews with staff led to the creation of the current r/IAmA subreddit and in 2012 the U.S president Barack Obama's AMA made mainstream media.
Why AMAs work so well on Guild?
AMAs are not sneaky 'engagement bait' - content visibility on Guild groups isn't driven by an algorithm. Here are a few reasons why AMAs work well in Guild communities:

1. Like Reddit, Guild threads conversations - so an AMA can and should exist on a single thread. People attending live don't have to jump around and those who return to read the AMA can catch up in a single place.
2. AMAs on Guild seem to encourage honest and interesting questions - because Guild groups are private by default, participants tend to ask more personal and meaningful questions. Asking questions publicly can be tough. It can make some people feel vulnerable. However, the Guild group environment is a safe space to show a little vulnerability.
3. They are great community energisers - even the best communities can suffer sometimes from the 'engagement doldrums'. AMAs are a great tactic to generate energy and discussion in groups that have gone a little quiet.
4. They are incredibly simple to set up and run - take it from us, Guild AMAs are so much more simple than setting up webinars, Twitterchats or virtual conferences. Honestly!
How to do an AMA in Guild?
We set up a group on Guild called FORT (Furloughed or Released Talent) as a peer support space for professionals who have been released or furloughed from digital, marketing, creative, comms and PR roles or contracts.
The group features regular Ask Me Anything (AMA) events that provide an opportunity for the members to ask any questions from the speakers, and gain insight into the latest trends and thinking in skills, recruitment and the jobs market across digital, marketing and communications.
We've had some great AMA 'speakers' like Don't Cry Wolf's John Brown, The PR Cavalry's Nigel Sarbutts discussing freelancing, 3 leading comms recruiters providing CV and interview advice, and BoldMove's Julia Fenwick talking about opportunities for in-house and agency comms professionals.
These AMAs have all been expertly hosted by MD and Co-founder of Hard Numbers, Darryl Sparey.  He shared with us the secret to running a good AMA on Guild:
"From having organised and run these for the last few weeks, here are some tips that I've picked up to make a success of this kind of event on a Guild group, which you may be able to apply to your own:
Source ideas for guests from the group
"We've set-up a thread on the group to source suggestions of speakers from the members, which we can then approach on LinkedIn or Twitter to see if they will be happy to join us for an Ask Me Anything session. Many of the speakers we've sourced for this group so far have come as a result of suggestions from the group."
Promote the event in advance
"Once we have a speaker, we make sure we promote it to the group to ensure members are aware of the event, and encourage attendance. We do this in two ways:

1. We announce the guest speaker on the Guild thread we've created for AMA suggestions.
2. We use the "visibility boost" option, which also emails the members of the group, so that they are aware the event is happening: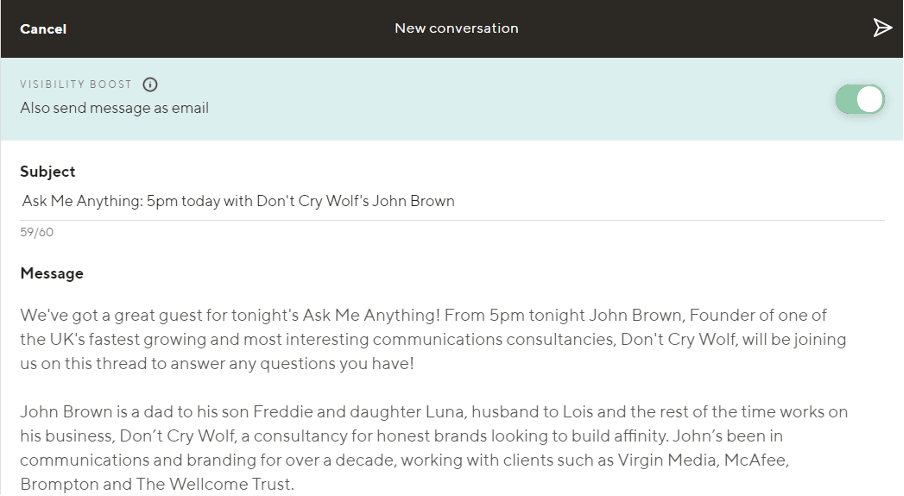 On the morning of the AMA event, we create a separate thread on the group, and then pin this thread to the top of the group, so it's the first thing that everyone sees when they login to the group on the day."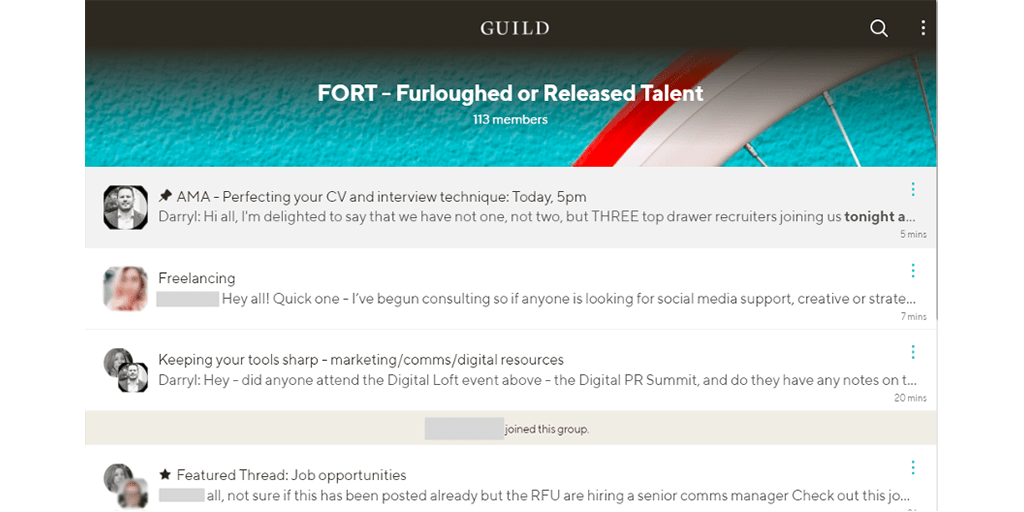 Speaker management
"I have an email with login instructions and other general points of order for the speaker, which I'll send around 9am on the day of the event.
I'll ask that they kindly make 5 to 10 minutes of their day before the AMA starts to login to the site, download the app on iOS or Android, or try on the browser version to check there are no technical issues that will prevent them from taking part. This works well as a way to ensure that everything goes smoothly when the AMA starts. I also give them my mobile number, should they have any major technical problems."
Replies
"To keep replies to questions clear, we ask that all AMA speakers stay on a single thread and use threaded replies to questions.
To do that, they just click on a question they're asked, and then click on the three dots at the top and click "reply". This then means that their response will be included "in thread" with the question. This ensures that chat isn't too noisy or confusing for people joining in, or when joining just after it starts."
Have a "host"
"You need to have a "host" for the AMA – someone to announce the speaker, and start posing the first questions. From experience, the first 5 minutes of an AMA may see the host asking the questions whilst everyone joins. And then the questions come through. Usually by the end of the session it's a challenge to get everyone to STOP asking questions, so that we can keep to time and allow the speaker to leave!"

Announce when the AMA is starting
"When we start the AMA, I then announce the speaker, with a short background about them, and then the specific areas that we're hoping to cover in the session. Since it's an "Ask Me Anything" you can get some interesting, off-topic or unexpected questions, all which make for a livelier discussion!"

Keep to time
"You're asking someone to freely give their time for something. You need to respect this. So we always make sure to keep the Ask Me Anything session strictly to the hour we request from our guests. I'll usually say that we'll need to wrap up five minutes from the end of the hour, and then on the hour post a thank you message to the speaker for their time."

Extend the value of your event
"Write-ups are a great way of getting value from the session, and promoting your group. These can be full transcripts or summaries.
We typically write-up the event for the Guild blog. You can see examples of a recent write-up here and here. These are a great way to help you promote your group, and to get additional value from the event. It's also a great tool to be able to share the insights from the session externally or internally if your Guild groups are more private.
And there you have it! How to run a successful Ask Me Anything session on your Guild group. It's been a great way to help create a regular touchpoint for engagement with the group, and to bring in interesting people into the group. I'd definitely recommend trying something like this out in your own group soon."
---
Join Guild 🤝

See for yourself how the Guild experience is different to WhatsApp, Slack, LinkedIn or Facebook Groups. Guild is a safe space to connect, communicate and collaborate with others.
Join us on a platform that is purpose-built for professionals and businesses.
Contact us if you want to know more or have any questions.