✅ Free guide 'Community Based Marketing – the new play in B2B marketing' now available to download >>
This is the fourth in our series on CBM (community-based marketing) - the first answered the question 1. What is community-based marketing (CBM)?, the second 2. Where does community-based marketing fit in the sales and marketing funnel?, the third looked at the 10 success factors for community-based marketing. Now some thoughts on the business cases to justify investing in CBM.
Following are the four main commercial justifications and ROI from CBM in B2B marketing:
Engagement to improve retention / reduce churn
For any B2B business which has subscribers, members, learners, attendees, regular users it is clearly important to increase retention and yield and decrease churn or downgrades. Professional membership organisations, B2B media and events business, SaaS technology companies, professional training and education establishments all have this in common.
If you can create a community which your customers engage in, get value from, and want to stay part of, then you should be able to measure the impact on retention, or churn, rates. Even if that is simply by asking members of your community if/how their belonging to the group has impacted their commercial relationship with you.
Thought leadership to drive inbound leads
B2B marketers are very accustomed to thought leadership as a marketing approach. Businesses that are rich in expertise, knowledge and intellectual property – where what is ultimately being sold is often an intangible IP asset like advice – are well suited to thought leadership.
By showcase your expertise you hope to gain awareness with your target market and use content to further persuade prospects that you know your subject area better than others and are the obvious choice to turn to when the need arises.
A community of expertise, centred around your thought leadership, and hosted by your organisation, puts you at the centre of your sector and influential players in it. You should be able to track new leads that come from this community, or existing leads that have been successfully nurtured, or accelerated, because of the community.
Premium customer service for top customers
Some customers, or even prospects, are more valuable than others. Not just financially but perhaps because of their influence or the prestige of their brand and how that helps you sell to other prospects. These customers are worth 'super-serving' – looking after in a concierge, or 'velvet glove', manner that shows them just how much you care and impresses them with your progressive use of community to add value to your relationship with them.
It might be a single large customer, like a key account, or it might be a cluster of customers who have a lot in common and would benefit from access to each other, facilitated by you. These groups are likely to be smaller, and more intimate, than communities of thought leadership as above.
You can measure the ROI of this form of community-based marketing through customer satisfaction (e.g. NPS), resulting advocacy or recommendations you get, and growth in the account size e.g. if you get new briefs or projects that you find out about because of the group(s) you are running.
You might find that such communities also help you defend and justify premium pricing for your product or services and support a prestige brand positioning if you have one.
Market / customer insight
There are all sorts of ways, both qualitative and quantitative, for B2B marketers to understand their prospects and customers. This is important to refine your marketing and messaging as well as to inform and prioritise the development of your product or service. Marketers rightly spend a lot of time, and money, on really trying to get under the skin of what their customers want, what they'll want in the future, and how to articulate the ways in which your product/service meets those needs.
What better way to get this insight than to hear it direct from your customers' mouths? Particularly when it is natural, unprompted, honest conversations, questions and answers, that reveal the real needs and wants of your customers using the language that they best understand and will therefore most likely resonate in any marketing you do.
Communities based around conversations that focus on a professional area of practice or interest are goldmines for such market and customer insight.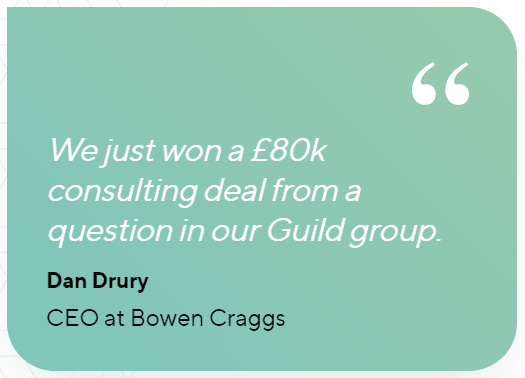 The ROI will come from you doing better marketing, making the best decisions about your product/service development, and even just surfacing unmet needs that you can easily convert to business.
---
Try Guild 🤝

See for yourself how the Guild experience is different to WhatsApp, Slack, LinkedIn or Facebook Groups. Guild is a safe space to connect, communicate and collaborate with others.
Join us on a platform that is purpose-built for professionals and businesses.
Contact us if you want to know more or have any questions.
---