At the tail end of 2018, Activate Tech & Media released its outlook for 2019. Part of it contains approximately 20 slides of beautiful statistics, charts and number-crunching, all to do with the projected route that online messaging will take through 2019 and into the future.
It encompasses some of the main trends we are seeing, and which key tech giants will likely forge themselves into the face of messaging in the future. It also touches on secondary topics such as how companies will look to capitalise on messaging for business, and the evolution of chatbots.
Aside from typical instant messaging services, the outlook expresses through which platforms and for which reasons messaging will continue to thrive:
Commerce, such as customer service and shopping recommendations. Chatbots will also be a big part of how e-commerce sites operate going into the future.
Gaming, including chat-based video games and voicebots.
Gig economy services, such as live chat with delivery people, cleaners etc.
Payments, including consumer banking and live chat in this field.
There are several other methods earmarked at the beginning of the report's section about messaging. A recurring theme is live chat, and how this service will be offered across many industries.
Which companies will remain or become key players in the messaging industry?
Putting it very bluntly, the Activate Tech & Media outlook for 2019 sees three key players going into the future of messaging:
Facebook and Apple, to a western audience, are pretty self-explanatory. Facebook already owns WhatsApp and Instagram, as well as the pretty hefty Messenger service. That is a whole lot of chatting. Apple will continue to successfully integrate its messaging services into third-party apps, as well as work on iMessage.
Tencent is possibly one of the only multi-billion pound companies that many people in the UK will not have heard of. It originated in China, and are the owners of WeChat. This is pretty much the Asian equivalent of WhatsApp, with over a billion monthly active users.
Tencent is still very much investing in the messaging and social media game, as its recent foray into Reddit demonstrates. It also owns Epic Games, the masterminds behind the gaming sensation Fortnite.
According to the outlook, high foreign SMS fees will drive WhatsApp and WeChat growth into the future. Also, the introduction of 5G networks should ensure the continued domination of image and video sharing sites like Instagram. For these reasons, and several others as seen in the chart below, the future is bright for the aforementioned messaging services.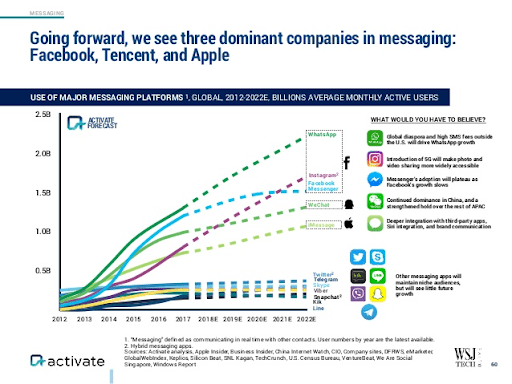 Which will be the deciding factors for the success or failure of messaging apps?
Encryption and security. How well new messaging services can offer end-to-end encryption, comply with privacy laws and protect user data will have a big say as to whether or not they will be successful. Currently, 46% of users who are highly concerned about data privacy use a messaging service with end-to-end encryption.

The ability to facilitate group chat. Recently, large communication services have been making updates to enhance their group chat/collaboration powers. Apple has introduced a group FaceTime for up to 32 users, and Snapchat allows for video chat with 16 people.

Business communication. The outlook predicts that the largest tech companies will clamour to be involved with the most successful professional communication technology. Skype has already rolled out their 'Skype for business' extension, and Slack is heavily active as can be seen below. We don't think that some of the most popular messaging platforms at the moment are secure enough for business talk.

Ease of access to brands. 28% of people surveyed by Active Tech had used Facebook Messenger to live chat with brands before. 7% had used Instagram, and just 3% had used WhatsApp. With the rise in remote customer service and chatbots, new messaging apps will be on the lookout for ways to increase the ease of contacting brands.

The ability to integrate a messaging-type interface into personal assistant services will be crucial, as this builds user comfort. The option to interact via voice or text will also be expected.
What path will the key players in messaging take?
Naturally, the giants of messaging will look to grow their active users by following the same principles which made them successful in the first place. For example, WhatsApp will continue to place emphasis on their end-to-end encryption service and Apple will look to lock iPhone users into iMessage, as well as expand on video communication services.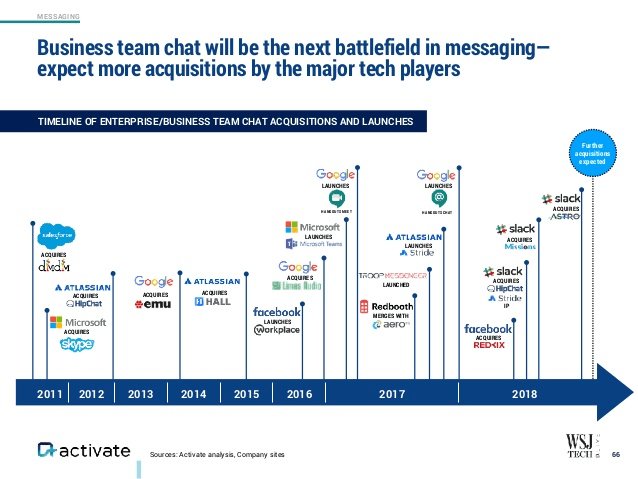 It is a competitive field already, and it looks like it is only going to get more so.
Join Guild 🤝

See for yourself how the Guild experience is different to WhatsApp, Slack, LinkedIn or Facebook Groups.
Guild is a safe space to connect, communicate and collaborate with others.
Join us on a platform that is purpose-built for creating groups, communities and networks on mobile.