Since launching this blog in summer we have been busy exploring the future of work. It is a vast, fascinating subject, and it is clear that change is coming, whether we're ready for it or not.
The industry leaders we talk to are anticipating some major - and minor - shifts in how they conduct their business. The scope and speed of change will differ from sector to sector, though some common themes are emerging.
The organisations that prepare for change are those most likely to best adapt. Mike Tyson once said that "everyone has a plan until they get punched in the mouth", but with a bit of foresight you might have bought yourself a crash helmet, or a plane ticket to another continent.
Presumably you've given some thought as to what the future may hold for your organisation. You may have discussed it informally with your peers, or in a strategy pow wow with your colleagues. If you're yet to do this I have created a framework for you.
The Future Of Work Canvas
I've used the Business Model Canvas a number of times, and found it to be useful for planning workshops. The format lends itself to structured thinking in any given area, so I thought I'd adapt it for the future of work.
Here it is....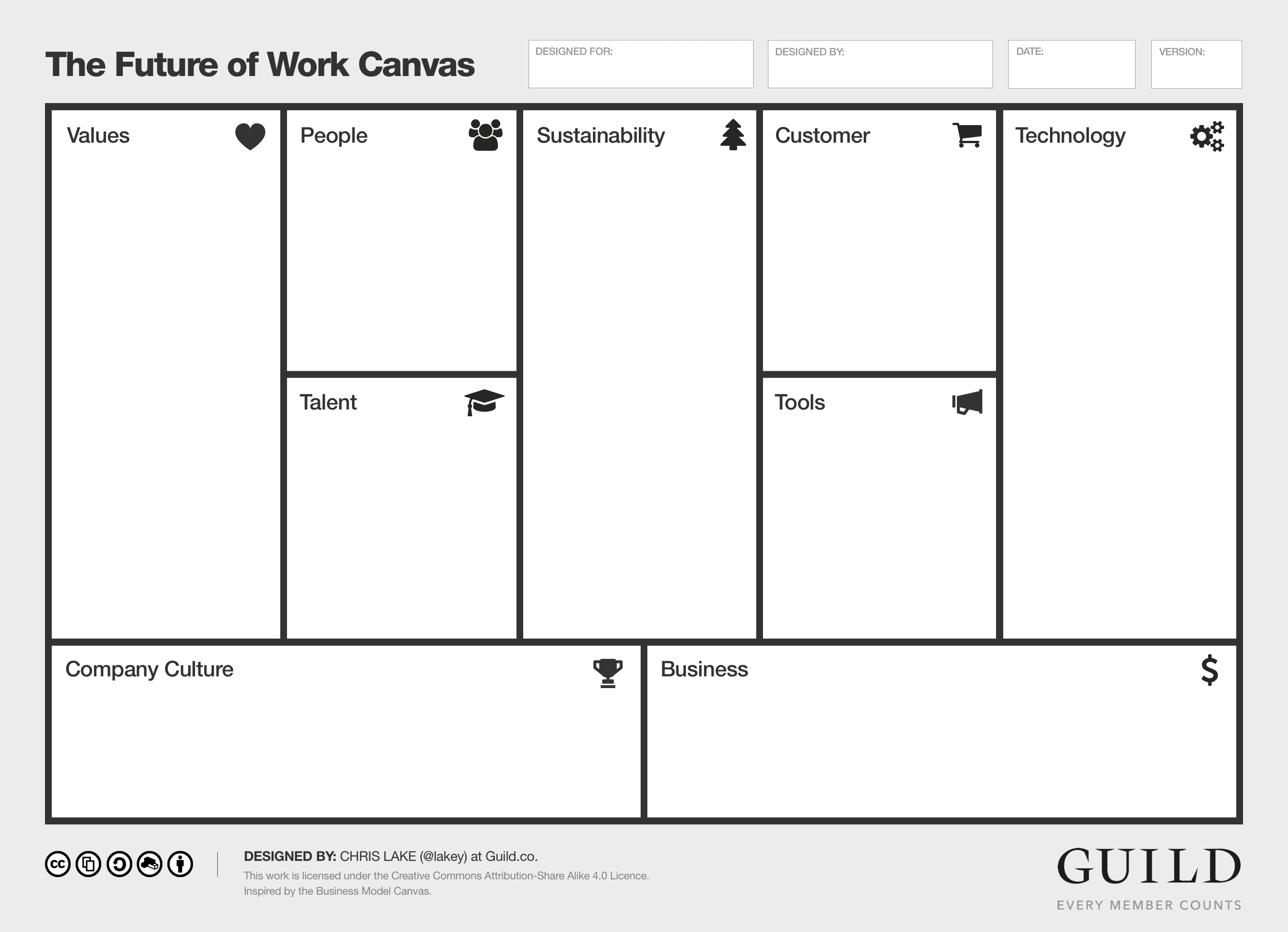 How to use the canvas
This is just a simple visual aid to guide you through some of the key areas that you might want to think about. Typically, when conducting a canvas-based workshop, you'll need a bunch of Post-It notes and a big wall. For smaller groups printouts may be enough.
Since every organisation is different I don't want to be too prescriptive, but I've listed below four themes in each area that may be worth thinking through.
Values
Brand values
Brand perception
Mission
Transparency
People
Diversity and equality
Generational change
Leadership
Workforce demographics
Talent
Hiring
Lifelong learning
Skills and development
Workforce distribution
Sustainability
Packaging
Production
Supply chain
Workplace
Customer
Consumer ethics
Customer experience
Data and privacy
Single customer view
Tools
Comms and collaboration
Connectivity
Performance management
Productivity
Technology
AI and machine learning
Automation
Internet of Things
Smart offices
Company Culture
Employee experience
Flexible working
Health and wellness
Purpose
Business
Opportunities and threats
Organisational design
Regulatory and compliance
Transformation
I hope this proves useful in your planning. No doubt I will need to revise the canvas based on feedback so by all means fire over an email if you have any comments or suggestions (or if you need a larger version of the canvas).
Good luck, and don't be a stranger!
---
If you'd like to discuss issues around the future of work, then you can join the Future of Work community on Guild. Discussion centres around how we design the future of work together and what technologies and practices we can use to foster a more equitable, sustainable future. Find out more and join (free) on guild.co/groups/2731/future-of-work-reimagining-business
---
Join Guild 🤝
See for yourself how the Guild experience is different to WhatsApp, Slack, LinkedIn or Facebook Groups. Guild is a safe space to connect, communicate and collaborate with others.

Join us on a platform that is purpose-built for professionals and businesses.
Contact us if you want to know more or have any questions.
---