When I first started  the Delivering Sustainability Guild group in March 2021 I thought I had all the right ingredients for success.
Last year I worked with a sustainability start up and joined a private group as part of the project. I became immersed in the subject, fascinated by the variety of sustainability initiatives, and how organisations handle the challenges and opportunities of becoming more environmentally responsible.
I wanted others to feel more equipped to make positive changes in their own businesses, so I started my own Guild community to help sustainability champions learn, collaborate and take inspiration from one another as they drive change.
I called the group 'Delivering Sustainability in your Business'  and wrote a clear community purpose:
"To support sustainability champions at all levels to implement practical, achievable programmes in their organisations. Through collaborative peer support,  knowledge sharing and expert contributions,  the community aims to become the go-to hub for professionals who want to make a sustainability impact in organisations of all sizes."
I set up my community on Guild and invited a small number of well-connected sustainability professionals. I appointed a well-respected expert host. And, of course,  I was able to tap in to the community strategy and management wisdom of the broader Guild team.
But, as any community strategist or community manager will freely tell you, community can be unpredictable. Even the best laid plans can't guarantee lively discussion and new-found friendships.
Bringing people together is one thing. Creating a community is quite another.

There are lots of community tactics you can experiment with, but the biggest lesson I've learnt is  that it is important to develop a 'community mindset' that will power you through the first few months - especially if your community feels quiet, there are fewer conversations than you expected and you're not sure you're seeing results.
Here are my personal  lessons and affirmations from the first 90 days of my community to help any new community managers on Guild feel a little less alone.
---
Articulating a compelling community purpose is important - it can also adapt over time.

Sustainability as a subject is easy - if we don't take  action, then we simply won't have a survivable planet to live, work and play on. But what about if your community is a bit more 'fluid'? What if you're a collective of management consultants, or you're a membership organisation, a B2B publication or event for example?
Unless you have a specific outcome that's easy to write down, people will interpret your community purpose in multiple ways. It's essential to adapt as the community develops, but you don't have to try and accommodate everyone's needs. Be clear on the impact you'd like to have and work towards that.Your audience will shake itself out over time.
Your community purpose might well be defined, but your participants' reasons for joining probably aren't.

I speak to lots of participants who are 'here to learn' or joined the community 'as a reminder to come back when I have a specific question'. You need to be prepared to fulfil your own purpose in the early days and understand that many of your community members will simply be reading and absorbing until they feel that they can engage.
Your expectations of what 'good engagement' looks like are probably wildly ambitious.
If participants regularly return to the community you're winning a place in their routine, which is where community forms. Many communities are respectfully quiet until people meet or connect in real life (IRL) or connect around an event or major stimulus like a publication, a big cultural moment, a universal problem or opportunity, e.g. how do HR teams and working practices adapt in a pandemic.

Community engagement can go up as well as down.
It's natural that people will dip in and out of your community as work and life is busy or when they have a specific need for information, advice or support. But there will also be times when everyone seem to have something to say. Just watch your community go crazy after a virtual or physical meet up. Awards and event communities on Guild like Digiconf, Good Growth Conference and The Great British Entrepreneur Awards have year-round engagement. But the rhythm quickens and participation in conversations increases as the event draws near. This continues during and after events. Then the communities go back to their original rhythm.
It's easy to underestimate the value you're providing to your community members.
I found 1-2-1 chats with members via direct messaging in Guild helped me understand what they were finding useful and gave me confidence that the community and what we were posting was the right thing, even if it didn't elicit lots of engagement. Many events organisers have also thanked us personally and offline for creating the CREO Guild community to support them through Covid.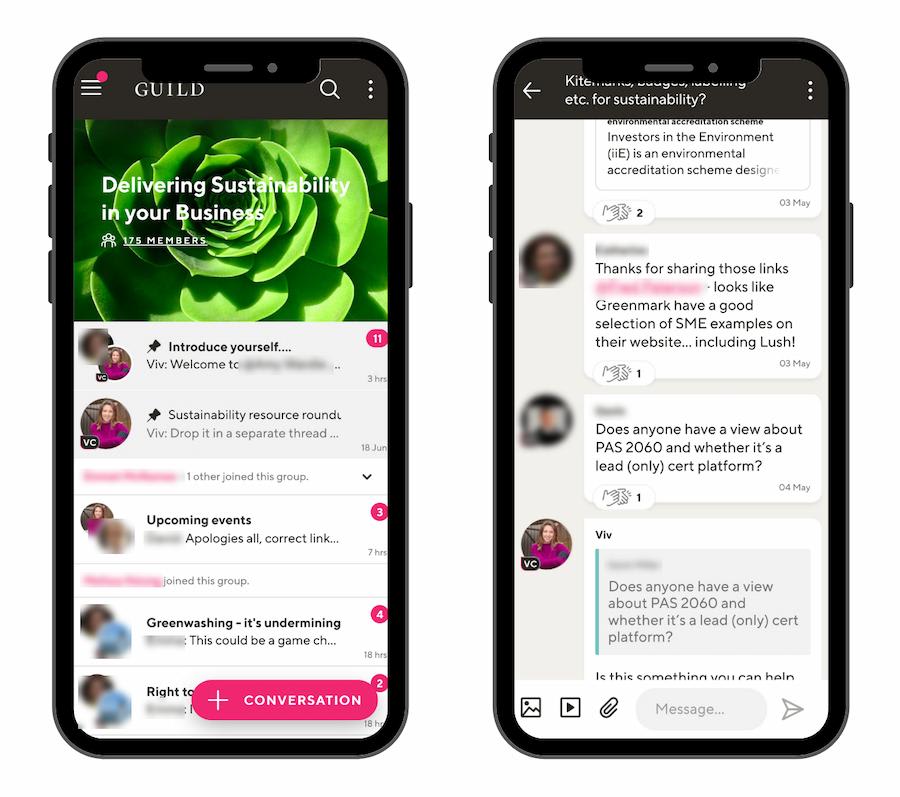 Very few people see themselves as 'qualified to comment'.

This is blindingly obvious, but so few new community managers consider it.
Think about a professional community that you've joined where you see event speakers, authors, mentors and coaches commenting...people you think have way more experience than you. It's natural to keep respectfully quiet whilst these people are active. Obvious expertise on display can be off-putting for many, even if you're an extrovert and confident in your opinions.
You can help as a community manager by:
Giving them multiple ways of engaging that take the professional risk out of participation. For example, 'low friction' threads for comment asking people to name their favourite professional or fiction books/podcasts. In the Sustainability group we asked people to recommend their 'top reads' and pulled them into an ever-evolving reading list, which not only encouraged engagement but also gave us a resource we could share on social media and across other groups to grow community participation.
Not worrying about being all 'me, me me'. Be confident in your own qualification to comment (and lead); but do keep your tone welcoming, humble and participatory.
Overtly highlighting and acknowledging good community participation by members and the value of contributions, both within discussions but also via a personal thank you and follow up.

Numbers matter.

Especially in communities where you don't have pre-existing relationships or a particularly robust mission. It's easy to get caught up with engagement concerns, but growth will generate content and you can get the community involved in spreading the word.

As the community manager (or co-manager) you are part of the value proposition.
Even if you're not the subject matter expert, an ability to connect with people, make introductions, recognise needs, find information and respond to events is a huge part of what creates the community culture. You're the difference between a party in a fancy hotel and a party in a fancy hotel no one wants to leave.
Your early adopters will drift away.
Seeding your community with people you know is a great way to build a sense of belonging and personal connection. But it takes a while to build a community of value and they may not be invested from the start. Don't be disheartened if they seem to drift away. You can work to re-engage them as the community matures.
Practice patience.
Community building is like brand building - it's a long-term commitment and will provide value and return on investment over time. The best community 'hacks' are consistency, relationship building and tenacity. Keep their attention, keep going and keep the faith.
I hope that helps. Oh, and please do come and join me and a wonderful group of people discussing and driving sustainability in their businesses and organisations.
---
Want more community management help and advice?

Read our free 'Community Based Marketing Guide' with advice from 16 community experts, including CEOs, CMOs, senior marketing strategists, authors/academics and community strategy specialists at the leading edge of B2B community design and development.
Want to set up a Guild community?

Speak to us directly about setting up a Guild community account, creating a successful launch plan and any questions you might have. You can DM Viv directly via Guild or Contact us if you want to know more or have any questions.
---
Join Guild 🤝

See for yourself how the Guild experience is different to WhatsApp, Slack, LinkedIn or Facebook Groups. Guild is a safe space to connect, communicate and collaborate with others.
Join us on a platform that is purpose-built for professionals and businesses.
Contact us if you want to know more or have any questions.
---
Photo by Peter Conlan on Unsplash