A new study of over 1,200 UK workers highlights that businesses are taking risks if they allow employees to use consumer messaging apps for professional purposes.
This week Facebook announced that their consumer messaging app now has 2 billion users worldwide. The extent of WhatsApp's professional use by employees should be concerning for businesses.
The study of 1,261 UK workers in January 2020, shows that 41% of UK workers admit to using WhatsApp for work purposes despite it being against WhatsApp's terms of service to use it in ways that involve any non-personal use.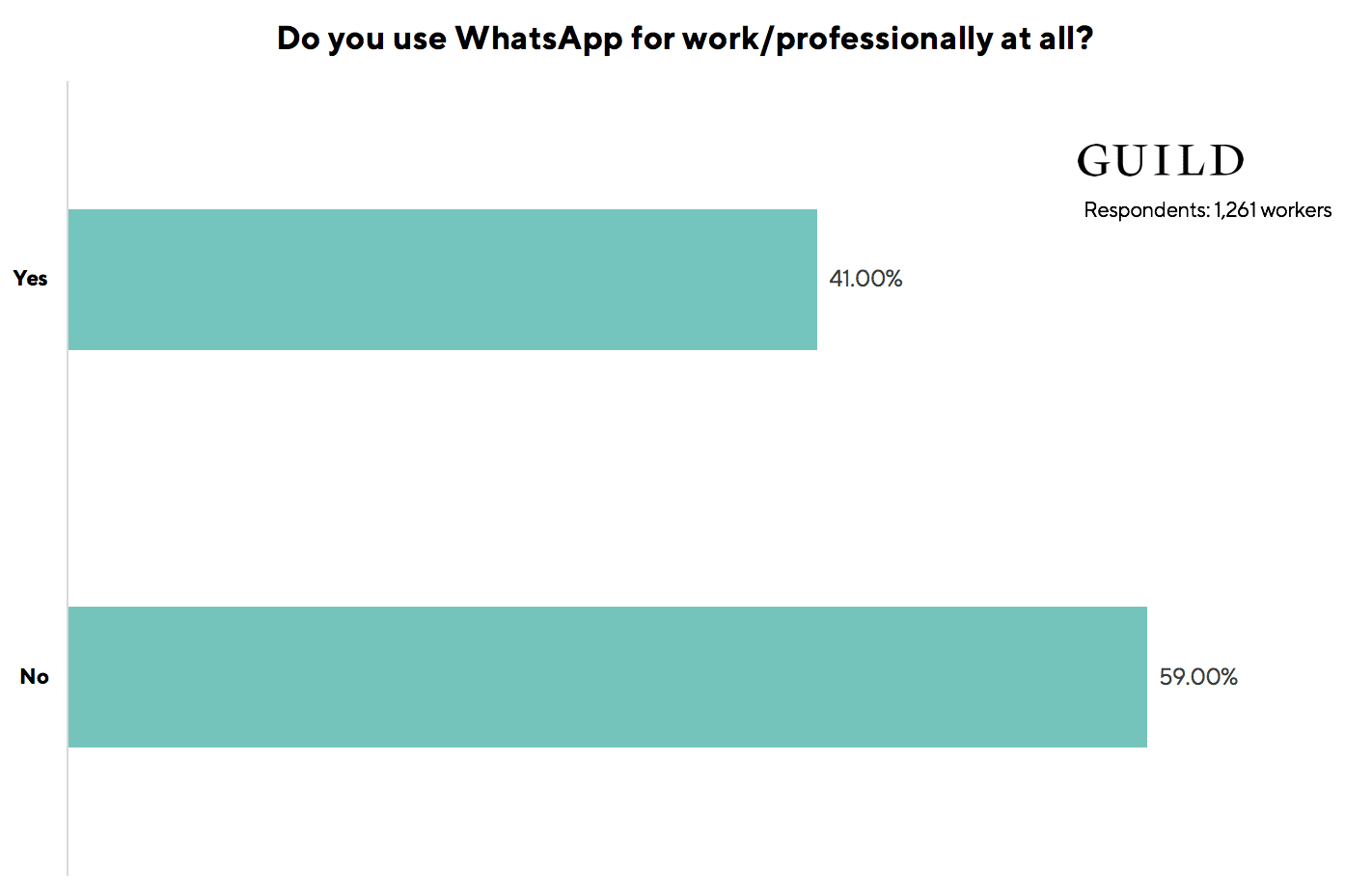 This figure rises to 53% for the under 45's, and in Greater London the percentage using WhatsApp professionally hits a staggering 58%.
Last week, Ireland's GAA (Gaelic Athletic Association) joined other organisations in banning the use of WhatsApp by its clubs because WhatsApp is not GDPR-compliant.
David Naylor, Partner at law firm Wiggin, which specialises in media, technology and IP, confirmed "It is difficult to see how WhatsApp could claim to be fully GDPR compliant and it is against WhatsApp's own terms of use to use it for work purposes. Businesses are taking risks if they allow employees to use consumer messaging apps which operate completely outside their governance, making it impossible to protect company data or comply with their own data protection obligations."
"WhatsApp users are unlikely to be aware the platform isn't for business use" said Ashley Friedlein, CEO and founder of Guild. "However businesses cannot hide behind ignorance or turn a blind eye. They need to educate their employees around the importance of using platforms designed for professional use that provide the necessary levels of control and regulatory compliance," he concluded.
Shadow communications via consumer messaging apps is a growing issue
Shadow IT and Shadow comms refer to technology, apps and communication channels which are set up and used within an organisation without the approval of the organisation. In many cases this is done by employees without the knowledge of IT, communications and compliance teams.
The results of this study indicates that professional 'Shadow Communications'  via consumer messaging apps like WhatsApp could be a much bigger issue that many businesses realise.
---
Join Guild 🤝

See for yourself how the Guild experience is different to WhatsApp, Slack, LinkedIn or Facebook Groups.
Guild is a safe space to connect, communicate and collaborate with others.
Join us on a platform that is purpose-built for creating groups, communities and networks on mobile.