Online networking, done well, can be a positive career force and can have an impact on your personal and professional wellbeing.
Online networking is simply using digital tools and platforms to develop meaningful, long lasting social and professional connections.
Typical reasons for online networking include:
to find a new job or to seek suitable candidates for a role you may have
to get advice / to give advice
to be social and to feel connected to others
to build your network
to meet new people
to expand your knowledge /to share your knowledge
to collaborate and do something good/positive
Here are our top 10 online networking tips to help you get the most from your efforts:
Establish your goals

In order to gain something meaningful from your online networking attempts, you first need to be confident of what you're looking to achieve. This is different for everyone.
For example, you might just be starting out in a new job or maybe a new sector and looking to build your knowledge.  Career progression could be top of your agenda and so you're keen to get in front of the right people.
Your goal may be focused on creating a network for support and advice, or simply finding a sounding board of like-minded peers to help you with a specific challenge.
For people who have been online networking for many years, it may be that they are seeking to break their existing networking 'bubble' and are seeking out inspiring people, new and fresh ideas. Some people use online networking to find new challenges that they can put their time and effort behind.
You may have more than one goal, but do be purposeful with your time and establish these before you get going.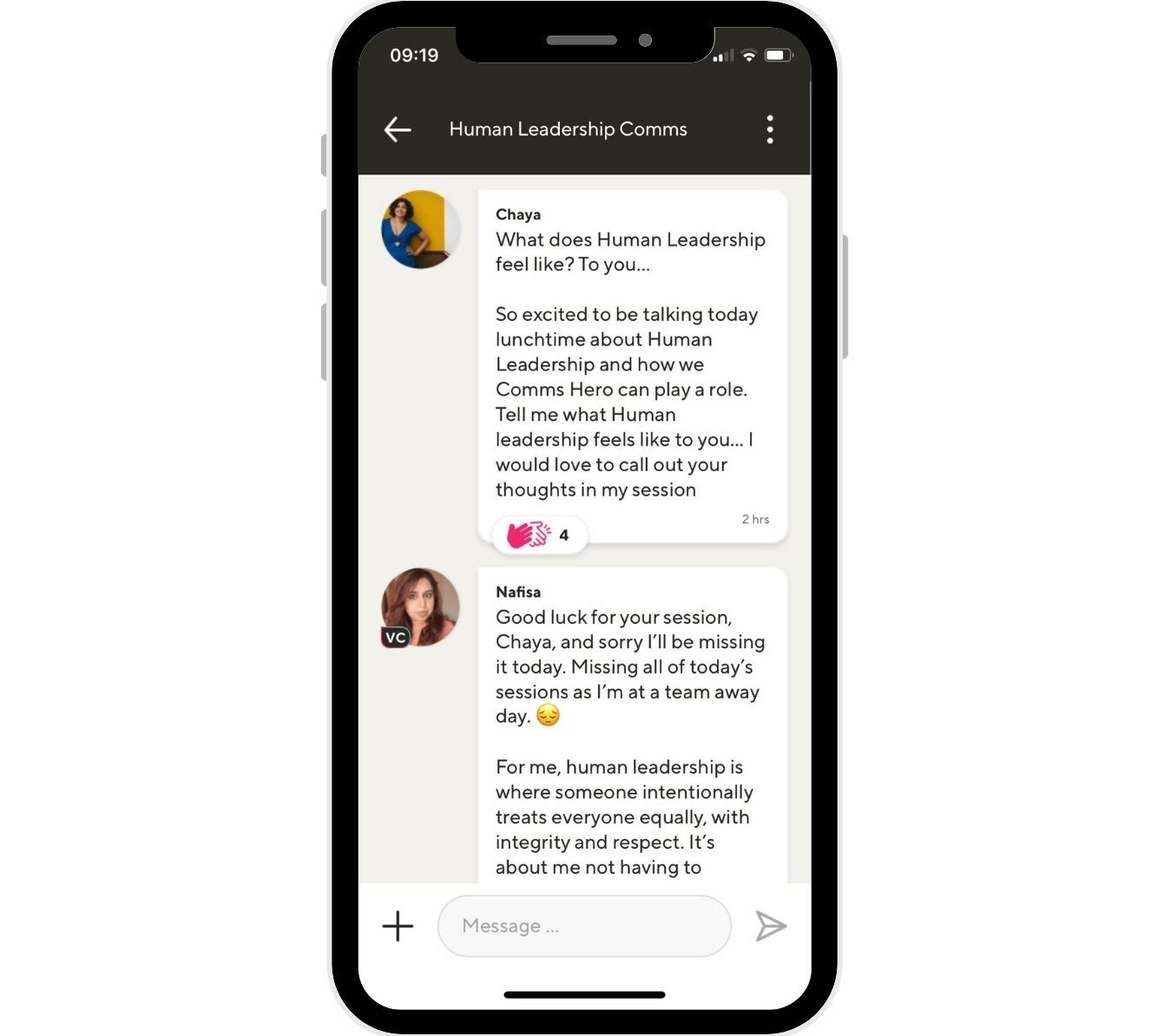 Connect with the right people

One of the first steps towards establishing those goals is to surround yourself with a few of the right people who can help you achieve them and who can connect you to others.

That doesn't necessarily mean only connecting with senior or influential individuals, the types of people who speak at events, for example, but people with a wide range of experience, varied outlooks and backgrounds.
There should be a reason you want to interact with someone – whether that's for their advice, because you find their work inspiring, you admire their approach to problem solving or have seen something that they may have said, written or posted on social media that resonates with you.

The important thing is quality over quantity. Don't simply build up large numbers of connections for the sake of appearing popular.
Choose the right platform(s)

A common mistake many people make is spreading themselves too thinly.
It's great to be enthusiastic but setting up multiple different profiles in different platforms is likely to mean you don't make significant strides in a single direction.
Think about what you hope to gain from your networking and where the people who you want to connect to are spending their time and where you can see quality conversations happening. Then seek out platforms that are best geared to this.
For example, the niche professional communities in Guild are well suited to meaningful, quality discussions in many sectors including marketing, digital, communications and PR, HR, law, risk management,  finance, sustainability, entrepreneurship, charity/not-for-profit etc.
Consistency and care across your profiles

Just because you intend to focus your time and energy in one place, doesn't necessarily mean that's how people will find you.
Be aware of your online presence and the different portfolios, networks and social media platforms to your name and ensure they do you justice, and that the information you provide is consistent across them all.
Different platforms provide different profile 'real estate' for example, Twitter bios are 160 characters long, whereas LinkedIn and Guild offer much more space. A nice Guild touch is that we ask people to share something unusual about themselves which can often be a conversation starter!
Remember that Google indexes some online networking platforms so your profile will appear in search results.
Proofread everything. From your profile blurb, to your intro messages, to your day to day posts, proofreading really can make such a difference in how you come across to others. Taking the time to look out for spelling errors and typos.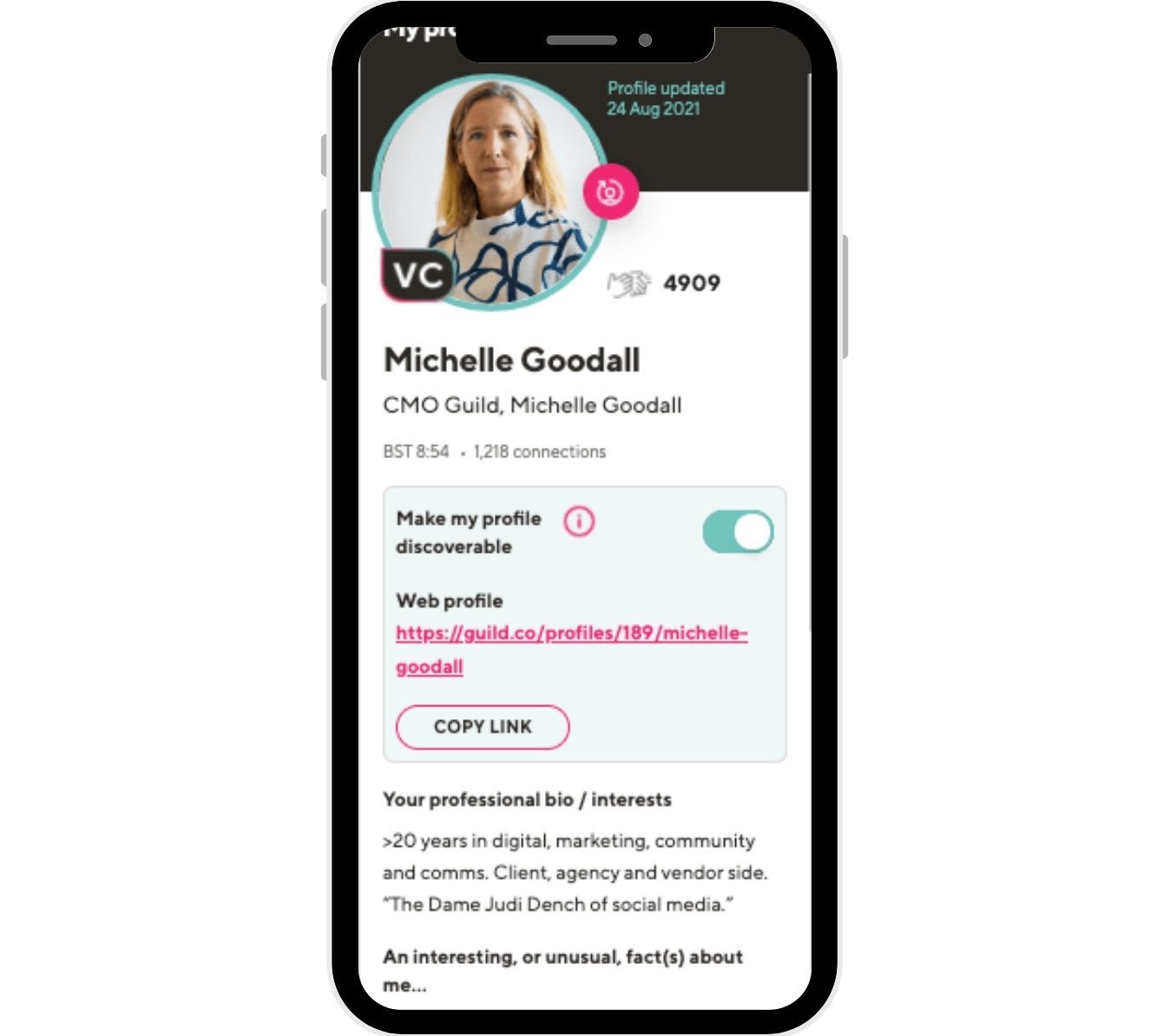 Prepare your introduction

Whether you're on a networking group video call and have 30 seconds to introduce yourself, or you're sending a connection request to someone new on a networking app, it's a good idea to prepare a short personal introductory message.
This should be tailored to suit you and it's helpful to have some template text you can work from. Remember, you need to offer people a reason to connect with you.
Don't be salesy - focus on what you can offer them.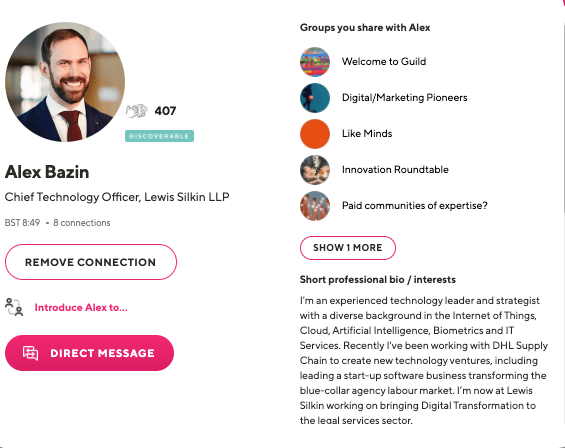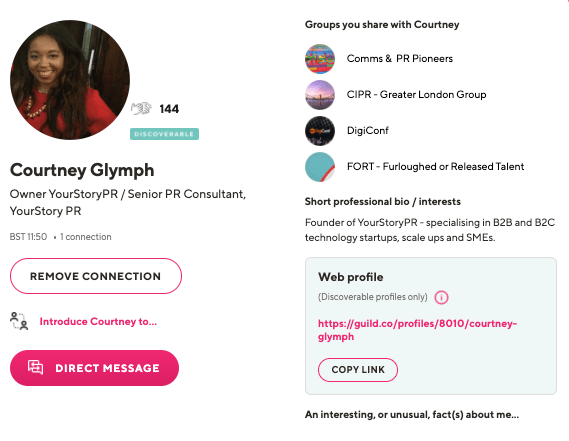 Listen before engaging

Technically this is sound advice whether you're networking online or in-person.
However, it feels that many have forgotten some etiquette following the rise of professional platforms like LinkedIn, which have become much more about 'broadcasting' and pushing sales and marketing messages out than engaging in two-way conversation.
It's important to listen and take time to digest what other people are saying, the language that they use, and the topics that seem interesting.
Make interaction more meaningful and therefore more valuable for both parties by listening and seek meaning from conversations - and don't solely broadcast!

Vulnerability is OK
The best professional networks and communities are ones where people feel comfortable showing their vulnerabilities. Where they are happy to highlight things that they don't know and where they seek answers to questions from others.
Never underestimate the pleasure that others gain from helping. Not knowing everything and showing this vulnerability in business is not a weakness. Use it as an opportunity to ask for help and then to give help in return when it's needed by others.
Online networking should make you feel good by impacting how people feel about you, what you have to offer and your vulnerabilities. Focus on feelings.

Remember this Maya Angelou quote as you make your way networking: "I've learned that people will forget what you said, people will forget what you did, but people will never forget how you made them feel."
Give more than you take

Focusing on what you can offer your group or community first is more likely to result in long term connections. Others are more likely to want to start conversations with you, as well as return the favour when appropriate.
Not only does it feels good to help people but it also puts credit in the bank for when you need help from others. Helpful people do get noticed in online networks and communities.
Many career starters worry that they can't offer much to established professionals, but that simply isn't the case. The best leaders in business always seek fresh opinions, different ways of approaching problem solving and different learned experiences and distinct attitudes.
Exercise caution

There are many benefits to networking online,  including the ability to connect with people across the globe.
But there are also some challenges.  
Obviously it's much more difficult to read the room when using a networking app or social media platform, and in the absence of social cues and subtle changes in body language, it's not always easy to gauge other people's reactions to what you're sharing.
With this in mind, it's worth exercising caution and thinking twice before making controversial statements or sharing jokes that could easily get lost in digital translation.
Do also take time to do a little due diligence if someone you haven't met in real life - or virtually - requests that you connect. A quick Google search can help you establish whether that person exists or is a potential bot or spammer.
Set aside time for online networking
Much like anything in life, whether that's getting fit or learning a new skill, to really make progress with your networking, you need to carve out time for it on a regular basis.
Simply planning on getting to it "when you've got time" is a surefire way for it not to happen, and there will always be something more urgent that you could prioritise.
Scheduling in 15 minutes a few times a week can really help you make headway.
And a great way to get started or enhance your existing networks is to look at and join some of the open and discoverable communities and groups in the Guild directory to see what feels like the best fit for your online networking goals.
---
More ways to improve your professional networking with Guild
Our guide to the benefits of being a community participant
10 tips for being a brilliant community member
How to grow your professional network on Guild

How to use Guild for professional networking and personal brand building

The most common professional networking mistakes to avoid
---
Join Guild 🤝

See for yourself how the Guild experience is different to WhatsApp, Slack, LinkedIn or Facebook Groups.
Guild is a safe space to connect, communicate and collaborate with others.
Join us on a platform that is purpose-built for creating groups, communities and networks on mobile.
Contact us if you want to know more or have any questions.