In brief

The Design Community Hub aims to create careers and skills opportunities for young designers by connecting them to industry leaders who can share knowledge and forge new collaborations.
Created at the height of the pandemic as a response to its impact on young designers' careers, its founders include Callum Lumsden, Design Business Association chief executive Deborah Dawton and Landor & Fitch chief creative officer Tim Greenhalgh, Born Ugly chairman Jonathan Sands, Claire Blyth of Red Setter and Phil and Clare Jones from Podge Events.
It also offers a network of support and guidance through access to webinars, live events mentoring schemes, portfolio surgeries and internships.
The founders wanted to convene and connect online a diverse membership consisting of people at all stages of their design career; from industry leaders to new entrants to the industry.
They opted for Guild to host their online community -  easy for busy design mentors to use and professional/flexible enough for younger designers to create professional profiles and make valuable industry connections.
Project Director Emily Foulkes manages the Design Community Hub on Guild and we spoke to her to find out more about the launch of the community.

Why was creating a design industry support community important to you?

"The Design Community Hub team wanted to provide support to keep the best talent in our industry and open up new paths for the next generation of designers.
"It was important for us to have a community created for our industry, by our industry."
We have more than 200 supporters. But we also need to work closely with young designers, graduates and those looking to join the industry. Our aim is to make the most of the design skills and talents we have, and to ensure the events, mentoring, advice and work opportunities we provide really help to open up new paths for that next generation of designers."


How has Guild helped The Design Community Hub with its aims?

"We needed an easy to use community platform that was intuitive for everyone.
For our graduates and new entrants, it's especially helpful that they can build a professional profile on Guild that showcases their skills and links out to their portfolios and other experiences.
At the same time our mentors and supporters who are giving their time to help need a platform where they can get started quickly and drop in and out of conversations whenever they are able to help."


Why use Guild and not other community platforms like Slack, Facebook Groups, LinkedIn or Mighty Networks?

"Many of our members already use other platforms, but because we've got people at different stages of their careers, none of those platforms seemed to work for everyone."

"Communities placed on LinkedIn Groups tend to be tumbleweed, Slack feels impersonal and not visual enough for our sector. As for Facebook? Well let's just say that Facebook Groups or WhatsApp Groups weren't even on our radar.
We're fully conscious of the data and privacy issues with social media platforms for hosting communities. When we're dealing with something as important as people's careers we don't want to hand over that personal data to a social media platform. We also don't want anyone's questions to go unanswered.
Creating a new community on Guild meant that everyone could start on a level playing field.
And as we move on with the project and new members join the Design Community Hub, they will easily be able to catch up with past conversations as the threaded conversations and community search function make it easy to navigate."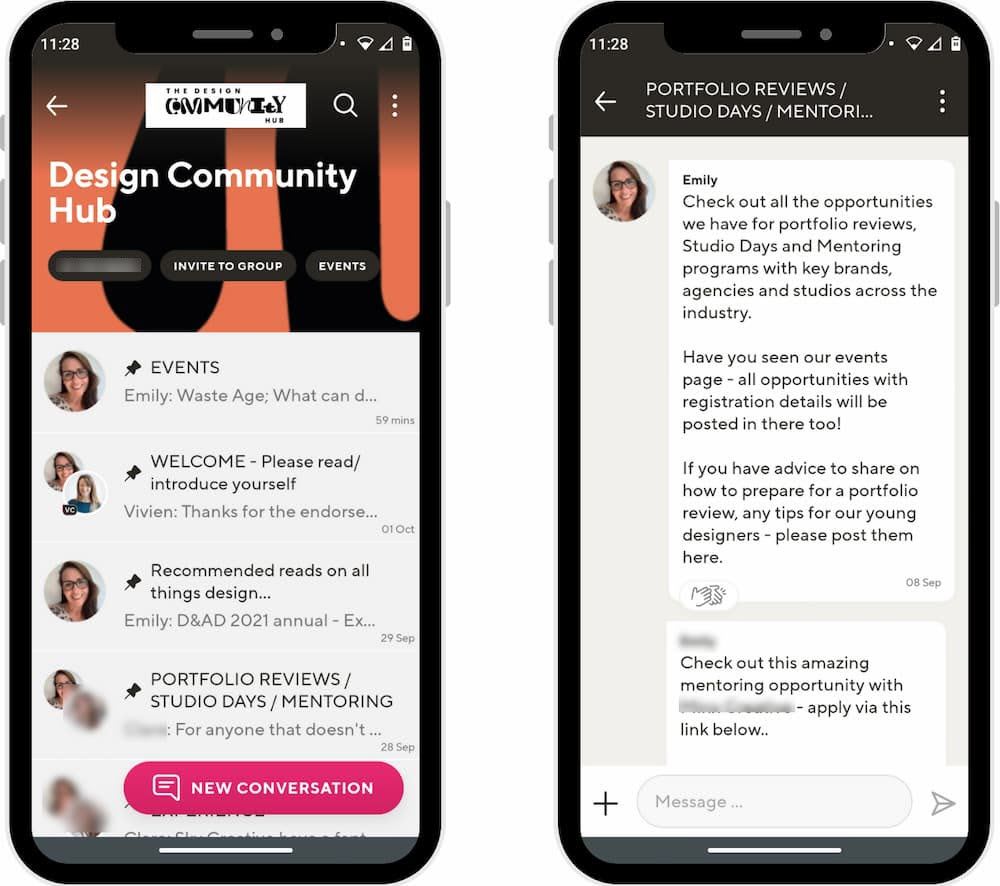 Who should join the Design Community Hub and what will they find there?

"Anyone across the design industry who cares about the future of design!

Design is one of the UK's most powerful and globally admired industries.
Leaders and experienced design professionals can join to offer insight, ideas, inspiration or practical help like work experience and mentoring. They can also access fantastic talent, ideas and collaborate with peers.
New graduates and designers whose careers have been affected by the pandemic are welcome. Both to benefit from the help and inspiration we're already offering and to share their thoughts and ideas on what they would like to see in the future."
"It's an opportunity for everyone to contribute what we can, both to each other, and to impact the future of the design industry."
We're sharing as many useful resources as we can - from jobs and events to portfolio surgeries and mentoring - to help the design industry to unite for the good of everyone."
Find out more about the Design Community Hub and join here


What tips would you give to other industry initiatives wanting to start a professional community on Guild?

"Just do it!

But it's also important to spend time planning your community launch properly.

Consider what resources and people you need to bring in at the earliest stage. Make sure you send personal invitations to those early members you want to join as well as publicising your launch on your all existing platforms and channels - newsletters, social media, email signatures, at virtual or physical events etc.
We're at an early stage with the Design Community Hub on Guild so we're really appreciating the community building support and tips provided by them.
Creating an industry community on Guild means that we and our members can also easily join and network across other relevant communities on the Guild platform. It's a great opportunity to grow our sector and an understanding of the wide range of design services our members provide."

---
See how other industries have used the power of community for positive change:
How CREO (Coronavirus Response for Event Organisers) was set up to offer a peer support group for event organisers facing a shift to virtual and hybrid events.
Learn about FORT (Furloughed or Released Talent) the PR and comms industry's reaction to the industry employment crisis during lockdown.
Discover how the CIPD answered the urgent needs of HR directors with a Guild community.
Read about the NEU's community to support teachers switching to remote education
---
Join Guild 🤝

See for yourself how the Guild experience is different to WhatsApp, Slack, LinkedIn or Facebook Groups. Guild is a safe space to connect, communicate and collaborate with others.
Join us on a platform that is purpose-built for professionals and businesses.
Contact us if you want to know more or have any questions.