Community Management events and Community Manager meet-ups are the best ways to learn, connect and share best practice.
To be the first to hear about the latest community events around the world join Guild Community Collective - a free community of 1,100+ global community professionals and community managers.
We'll also list upcoming events for Community Managers below.
Do contact us if you're hosting a community event. We're open to publicising and supporting your community meet-up however we can.

---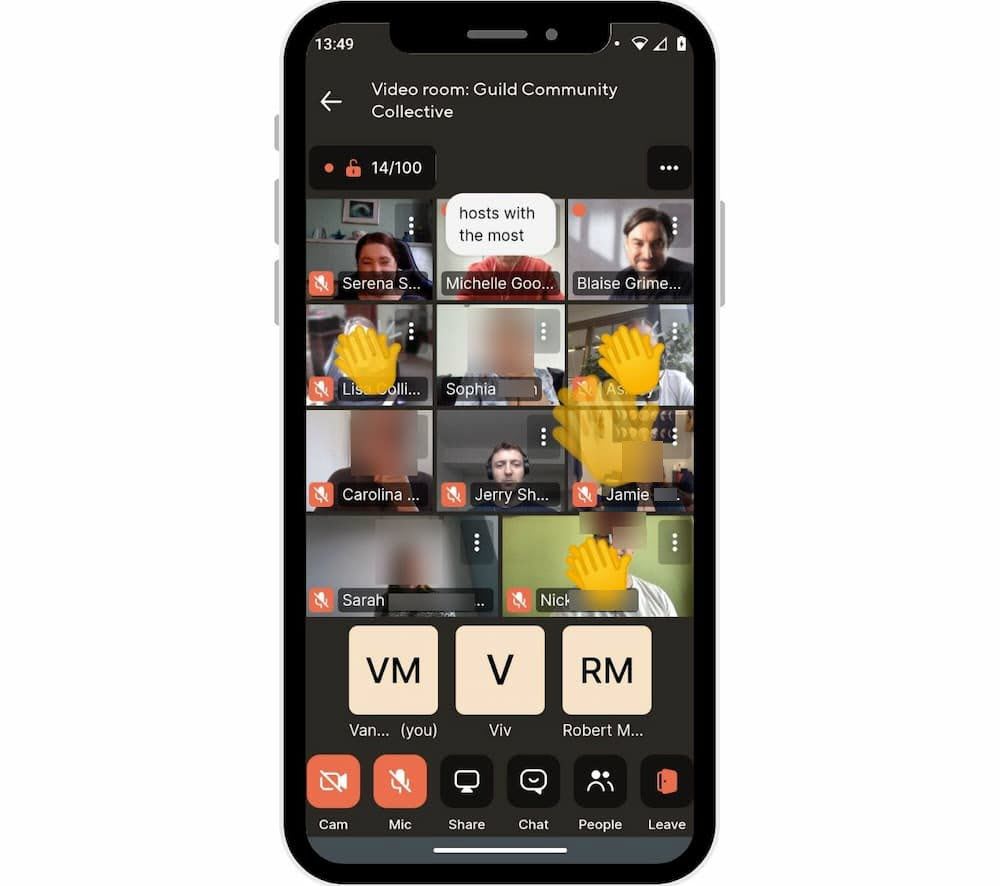 Guild Community Collective events for community managers and community professionals

The Guild Community Collective hosts regular free virtual events and meet-ups for newbie and experienced community managers using the Guild Video Room feature.
Join host Blaise Grimes-Viort and other supportive community professionals on regular informal, drop-in sessions and community management discussions to learn, share and evolve your own community strategy.
Join the Guild Community Collective and add these events to your calendar.

Upcoming events for Community Managers include:
AI & Community - opportunity or risk?
In Guild's community trends for 2023 we highlighted that AI would impact Community building.
But could anyone have predicted just how disruptive AI would be in such a short time frame?
*Join global community experts Richard Millington, Venessa Paech, Blaise Grimes-Viort and Gregor Young at this free, 45 min webinar/event.*
They will be discussing the impact, opportunities and risks that AI brings and how it will shape community building today and in the future.
What we'll cover:
- Opportunities, risks and practical applications of AI for Community professionals/ Community builders
- Predicted impact of AI on the community profession and day-to-day community management
- Ask the experts - pre-submit or ask questions on the day
Sign up to reserve your place - free event.
Tues April 18th 2023
14:00 - 14:45 BST
15:00 - 15:45 CEST
09:00 - 09:45 EDT

---
All Things in Moderation Conference - 11 - 12 May 2023

All Things in Moderation is a global online conference about the art and science of online moderation, gathering diverse experts from around the world to share knowledge and best practices across platforms and industries.
It's a must-attend for online community professionals and anyone gathering people online. Early bird tickets end March 31 2023.

Available at: http://bit.ly/allthingsinmoderation
Past events include:
Community Surgery sessions: Open discussion, successes, peer-supported planning
Using Journalism to Stay Close to the Community- summary write up here
Guild Community Summit 2022 - summary write-up and link to speaker presentations and videos here

Sourcing Ideas for Community Content - summary write-up here

Community Engagement Discussion - summary write-up here
The Power of Rituals in Community
Community Marketing and Member Acquisition Techniques
Competitor Analysis and Your Community Strategy
Working With Community Volunteers
Safe Community - Governance, Moderation, Privacy and Security
What is Community Based Marketing (CBM)? webinar
The ROI of community for Membership Organisations
Webinar: Key Trends in Community for 2023
Community exploded in 2022. McKinsey called community the "big idea" in marketing for the decade. Marketing and events management is rapidly converging with community, community roles are specialising, and there are a growing number of specialty community tools and platforms.

Guild's annual community industry review with 30+ experts highlighted 14 trends for 2023, including the rise of Community Based Marketing (CBM), Pop up communities, Subscription/MicroPayment and DAOs and an increased alignment to Influencer Marketing and Employee Advocacy.

Community and marketing experts Ashley Friedlein, Michelle Goodall, Evan Hamilton and Shana Sumers came together for a webinar in January 2023 "Key Trends in Community for 2023" - to catch up with the recording, join Guild Community Collective.


How to join regular free events for community managers in the Guild Community Collective Video Room
1) Join Guild Community Collective
2) Click on the Events button to see all upcoming events
3) Add events you wish to attend to your calendar
4) Go to the community on the day/time of the event. Click the Video Room icon on the top right to enter the event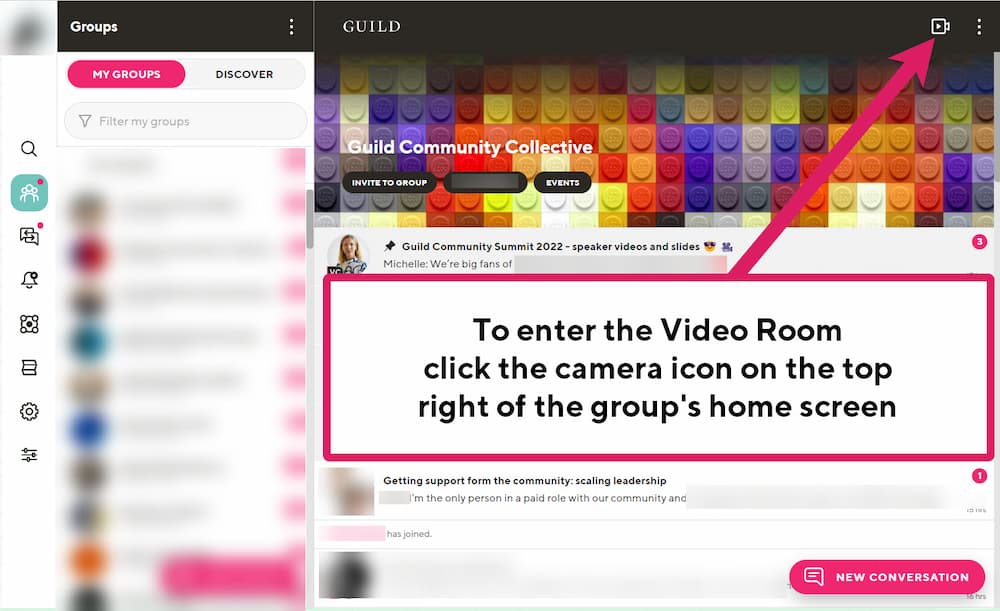 Other upcoming events for community managers and community professionals
All Things in Moderation 11-12 May 2023 will unite moderation practitioners from all over the world alongside researchers, policy-makers, technologists and "anyone who cares about moderation as a critical cultural practice". This is a two-day event by Australian Community Managers with "knowledge sharing, learning and action-focused collaboration".
---

Want to run events with your community members with a private Video Room?
With Guild's Video Room feature, holding video meetings and events for your Guild community is easy. You don't need any additional apps, subscriptions or passwords. Find out more about Video Rooms on Guild.


Want to learn how to combine community and events?
Read our best practice guide: How to Combine Events with Community
---
Join Guild 🤝
See for yourself how the Guild experience is different to WhatsApp, Slack, LinkedIn or Facebook Groups.
Guild is a safe space to connect, communicate and collaborate with others.
Join us on a platform that is purpose-built for creating groups, communities and networks on mobile.
Contact us if you want to know more or have any questions.