To help you understand how Guild compares to WhatsApp we created the table below.
The short answer is:
WhatsApp is not legal for professional use. WhatsApp is designed for consumers who don't mind their data being used by Facebook for ad targeting. WhatsApp is not compliant with GDPR or other business legislation so cannot be used legally by businesses. Guild has many privacy and security advantages over WhatsApp.
Guild is purpose-built for professional use. Note: 15 things you can do on Guild that you can't with WhatsApp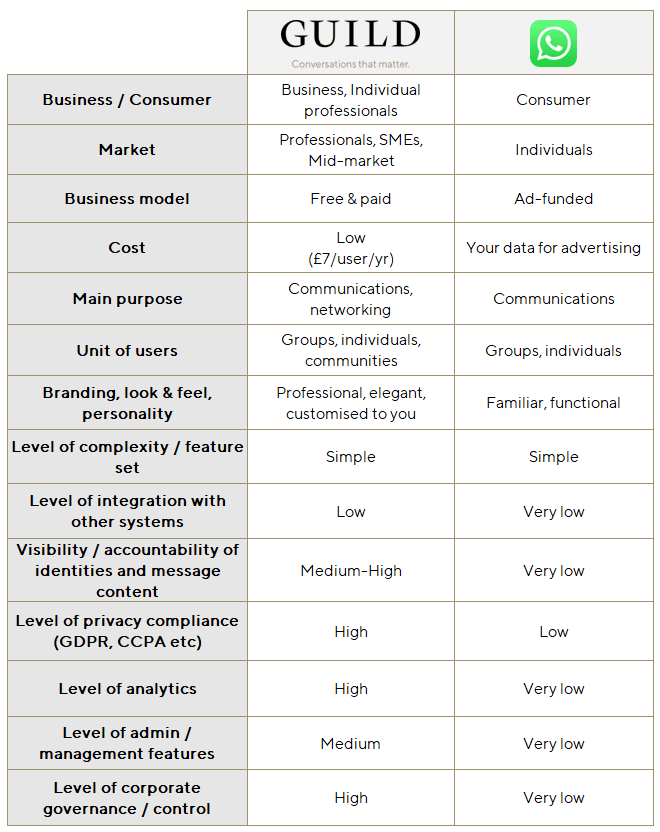 Join Guild for free today
See for yourself how the Guild experience is different to WhatsApp, Slack, LinkedIn or Facebook Groups.  
Go to our pricing page and join free as a member, create your Guild profile, join available groups and build your network.  
Ready to run your own professional, private, branded groups, communities or networks? Excellent! Check out our Business (free) and Business Plus (custom pricing) options.  
Guild is proudly British, fiercely independent, ad-free and GDPR compliant. Guild is the best place for professionals to connect and communicate. Come and join us on a different and decent kind of messaging platform that is designed for business and done with integrity.
Contact us if you want to know more or have any questions.