[Update Sept 2021 - WhatsApp issued second-largest GDPR fine of €225m]
To help you understand how Guild compares to WhatsApp we created the table below.
The short answer is:
WhatsApp is not legal for professional use. WhatsApp is designed for consumers who don't mind their data being used by Facebook for ad targeting. WhatsApp is not compliant with GDPR or other business legislation so cannot be used legally by businesses. Guild has many privacy and security advantages over WhatsApp.
Guild is purpose-built for professional use. Note: 15 things you can do on Guild that you can't with WhatsApp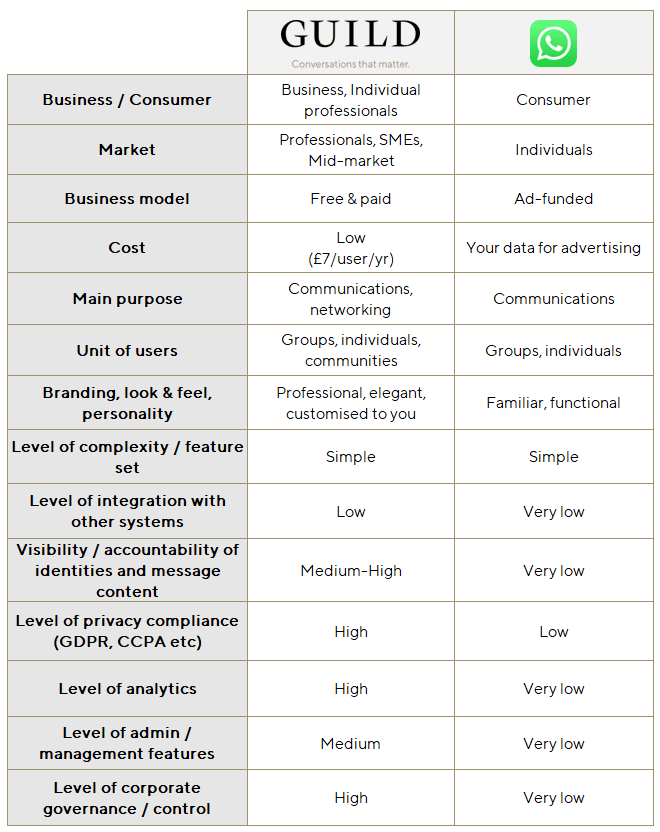 ---
Join Guild 🤝

See for yourself how the Guild experience is different to WhatsApp, Slack, LinkedIn or Facebook Groups.
Guild is a safe space to connect, communicate and collaborate with others.
Join us on a platform that is purpose-built for creating groups, communities and networks on mobile.